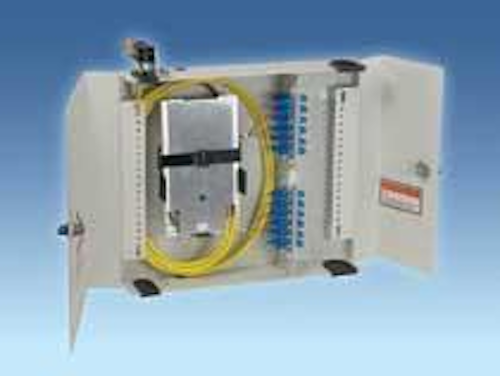 Wall-mount solution
Click here to enlarge image
Twelve- and 24-fiber wall-mount patch panels feature a clean and secure optical path exiting the enclosure. This LGX-compatible panel fits into new and existing interconnect, crossconnect, and colocation environments, without compromising jumper bend radius. The footprint is 30% smaller than the company's previous versions, and can be designed with an optional 5-position Keystone adapter panel for compatibility with common copper interconnect products. It features steel construction and dual-access doors with separate locking options, and can be ordered empty, with adapters, or fully loaded with pre-terminated assemblies. Various connector styles and splice tray/holder are also available.
AFL TELECOMMUNICATIONS
www.afltele.com
High-density fiber panel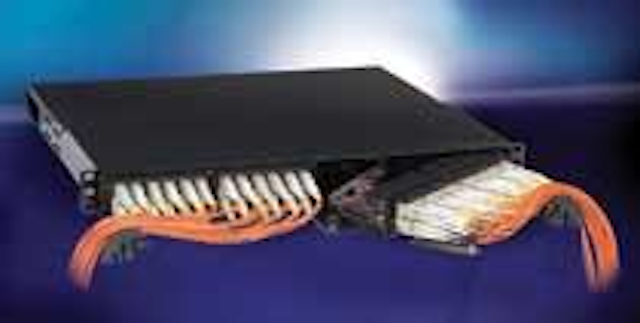 Click here to enlarge image
The FiberExpress Ultra patch panel system is designed to provide flexibility and ease of maintenance in many patching applications. It features what the company says is ultra-high density to maximize floor and rack space and provide scalability for future expansion while being protective of fiber-optic cables and connectors. The patch panel has built-in manageability to simplify connector and patch cord identification, protection, routing, and cable management, and supports LC, SC, and ST-compatible modules (can also be mixed and matched within the panel).Secured locking and keyedoptions, as well as wall-mount models, are available.
BELDEN
www.belden.com
Fiber, copper data center patch devices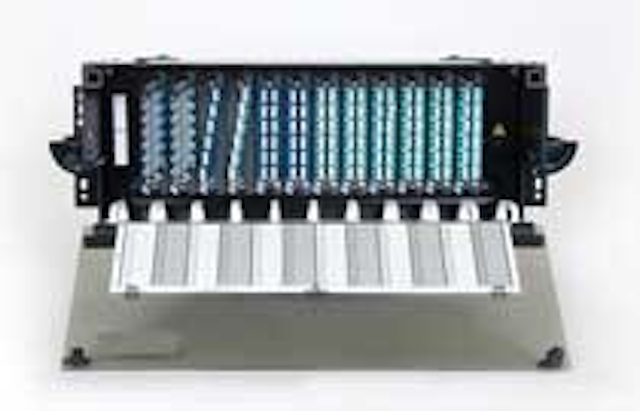 Click here to enlarge image
Uniprise ReadyPATCH fiber and Cu copper pre-terminated patch panels for data centers are designed for simplified installation compared to traditional implementations. The fiber version combines factory-tested hardware and backbone trunk cables with MPO single-fiber fanout patch cords, array cords, and standard fiber patch cords. It offers parallel optics capabilities for data centers looking to evolve toward faster network speeds. The copper version includes factory terminated and tested copper cabling harnesses that can be configured in sizes up to 24 cables and equipped with a variety of modular jacks and plugs. Both solutions are suited for data center horizontal, backbone, and switch applications.
COMMSCOPE ENTERPRISE SOLUTIONS
www.commscope.com
Pre-loaded LC solution

Click here to enlarge image
The Economy LC fiber-optic patch panel is pre-loaded with 16 LC jacks; instead of buying panels and jacks separately, technicians simply snap in their fiber cable connections. The panel features a cold-rolled-steel construction and ceramic ferrule connectors. This 1U device also has industry-standard keystone openings,enabling future application changes. Push-pull LC jacks feature female connectors on the front and back. The Economy LC can also be pre-loaded with ST and SC jacks.
BLACK BOX NETWORK SERVICES
www.blackbox.com
Category 6A panels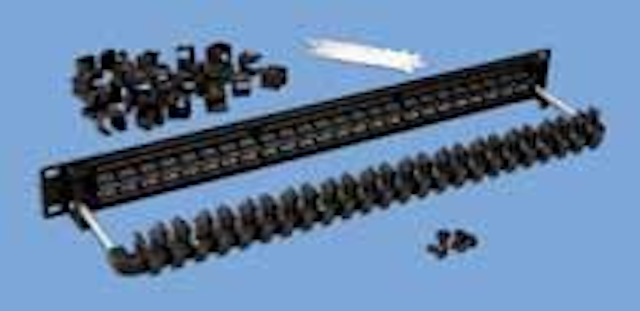 Click here to enlarge image
Part of a 10-Gbit Category 6A product line, these 12- and 24-port loaded patch panels are designed and tested to exceed TIA/EIA-568-B.2-10 specifications. In addition, an unloaded 24-port multimedia patch panel accepts the company's Versatap line of Category 6A, 6, 5e, fiber, BNC, and RCA modules. According to the company, the unloaded multimedia panel is a cost-effective solution foraddressing a variety of connectivity requirements.
ALLEN TEL PRODUCTS
www.allentel.com
Angled patch panel for screened/shielded systems

Click here to enlarge image
This angled version of the TERA-MAX modular patch panel is designed to support the company's Category 6A 10G 6A F/UTP screened and Category 7 fully-shielded solutions. It meets or exceeds all 10GBase-T standardrequirements as part of an end-to-end system. According to the company,the panel's angled configuration lets you route patch cords directly into vertical cable managers, eliminating the need for additional horizontal cablemanagers and saving rack space. This feature, says the company, provides increased density while offering aesthetically pleasing patch cord management. The panel also supports the company's Quick-Ground features, designed tosimplify grounding for 10-Gbit/secscreened and shielded systems. As TERA and 10G 6A F/UTP modules are snapped into the patch panels, they automatically connect to the panel'sintegrated ground bar. A 6 AWG wire is needed to complete the ground connection from the patch panel's ground lug to the equipment rack. Integrated rear cable management and strain relief are designed to simplify routing of horizontal cable. Angled TERA-MAX acceptsall of the company's MAX and TERAoutlets and connectors.
SIEMON
www.siemon.com
Infrastructure management system
Click here to enlarge image
The PanView iQ patch panel offers physical infrastructure management system hardware designed to help accelerate deployment of network devices, enable asset tracking, and provide intelligent patch-field management without the need for additional rack space.It consolidates all active management hardware into Panel Managers and Expansion Modules that snapinto the back of the unit, simplifying network design. Replaceable mod-ules let you install the patch panel for general purpose connectivity andupgrade to a fully-managed solution at a later date. A multi-function keypad interface unit snaps onto the front of the patch panel, allowing for patch cord tracing and diagnostic navigation. This patch panel is supported by a web-based application that features automated documentation of network connectivity, change notifications, asset management and reporting, virtualized mapping, and work order management functions.
PANDUIT
www.panduit.com
Fusion splice patch module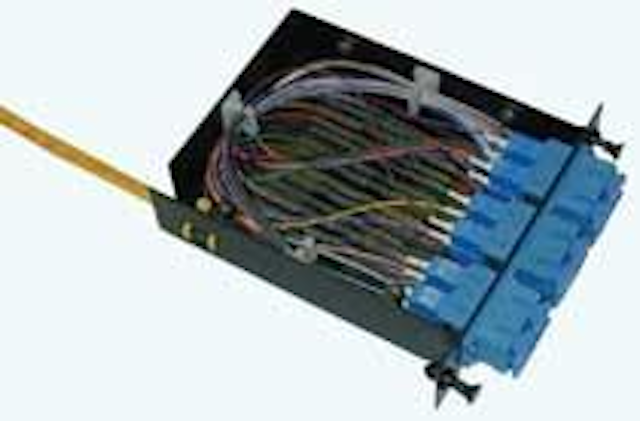 Click here to enlarge image
This fusion splice module allows for splicing six or 12 fibers inside the company's LGX-compatible modules. It is designed to eliminate the need for separate splice housing and trays. According to the company, this module allows flexibility within the termination box and is compatible with most wall- and rack-mount termination boxes. The module includes pigtails, available for mostfiber connector varieties.
FIBERDYNE LABS
www.fiberdyne.com
19-inch shielded Category 6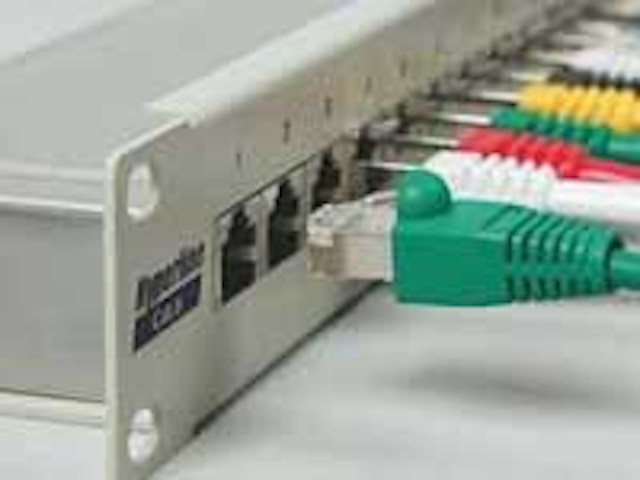 Click here to enlarge image
Category 6 shielded patch panels are available in 16- and 24-port versions, and are designed to exceed industry specifications. The panels match all standard 19-inch racks, cabinets, and wall brackets. According to the company, the patch panels feature a modern design and simplified mounting.
HYPERLINE
www.hyperline.com
High-density fiber, Zero-U panels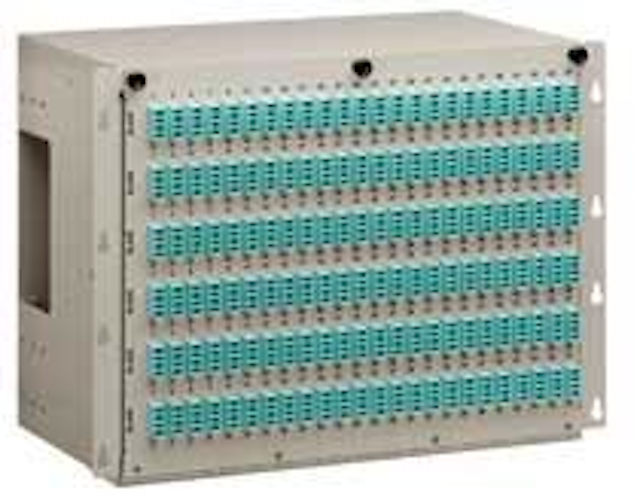 Click here to enlarge image
The High Density Port Replicated Patch Panel is built to support high-density SAN switches from Cisco, IBM, ECM and other suppliers. The key feature, Logical Port Management (LPM), is designed to deliver an exact, one-to-one replication (blade number and port count) of switch inputs at main distribution, allowing simplified moves, adds, and changeswhere the panel is deployed rather than at the switch. The panel supports up to 288fiber channels in 8U of rack space and offers full access to all terminations via a fold-down front face. Shallowpanel depth allows back-to-back mounting in cabinets and 4-post racks for extra density. Panels are available in both direct connect and MTP configurations for adaptability in various environments. This high-density patch panel is part of the company's custom-configured Replicator Kit, which includes associated fiber trunks, MTP panels, and harnesses.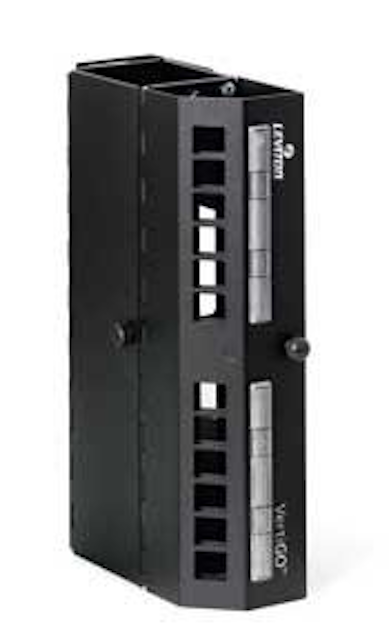 Click here to enlarge image
Vertigo Zero-U patch panels for copper and fiberconnectivity deployment use no rack space and are suitablefor data center cabinets and other high-density networkareas with limited space. Thepanels mount on the back rail of cabinets via industry-standardRU fastener spacing, and can beinstalled on the right or left of the cabinet. Vertigo can also beinstalled under a raised floor, on a ladder tray, or on the wall. These panels are designed toimprove cable and patch cord organization, with optional cable channels (available in two sizes)designed to offer additionalmanagement and reduced cablecongestion. The hinged door allowssimplified access for installation and maintenance, but is designed to keep terminations hidden and protected when the door is closed. QuickPort and Opt-X Adapter plate compatibility enables a wide range of Category-rated copper, audio/video, andfiber connectivity solutions. Vertigo also features magnified label holders for simplified port identification.
LEVITON NETWORK SOLUTIONS
www.leviton.com/networksolutions
High-density multimedia, fiber breakout panels

Click here to enlarge image
The company's high-density multimedia feed-thru patch panel is designed for audio, video, voice, network, data, and fiber applications. The 1U panel fits a 24-port connector module, which snaps in flush to the front of the unit. Multi-color bezels are designed to provide simplified management and identification.

Click here to enlarge image
The 1U MTP fiber breakout panel fits 48 LC or 24 SC/ST connectors. At 4.8 inches deep, it is designed for simplified mounting on any rack. MTP female couplers are angle-mounted at the rear of the enclosure to reduce MTP cable bending radius.
TRI-NET TECHNOLOGY
www.trinetusa.com

Click here to enlarge image
The PR175UT568S low-profile patch panel features pre-installed keystone couplers in a 19-inch unit, simplifying coupling of up to 16 shielded Cat-egory 5e patch cables in a rack. Shielding prevents data-corrupting EMI and RFI. This 16-gauge cold-rolled-steel panel features a black powder-coat finish, while each port is numbered to simplify cable organization and traceability.
L-COM
www.l-com.com