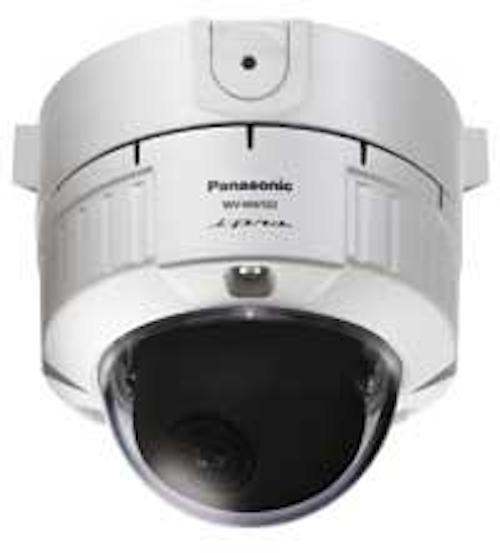 Panasonic debuts 'super dynamic' next-gen security solutions
In demonstrations at this spring's ISC West in Las Vegas, Panasonic System Solutions (www.panasonic.com) unveiled numerous emerging solutions for the security installation market, including a Super Dynamic 5 (SD5) image technology for enhanced surveillance capabilities.
SD5 analog cameras are designed to produce superior video images by incorporating 128x wider dynamic range with 0.3 lux low-light sensitivity, 650 lines of color, Adaptive Black Stretch technology to compensate for dark areas, and intelligent video motion detection (i-VMD) to capture moving objects without distortion.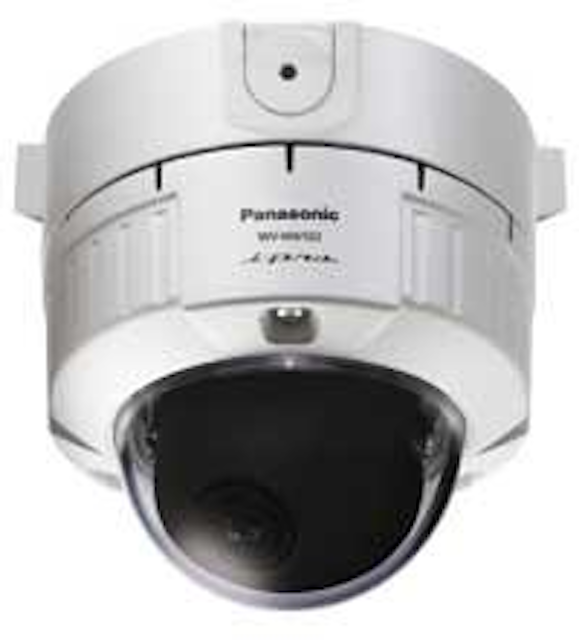 This vandal-resistant fixed dome i-Pro security camera is designed to transmit multiple video streams simultaneously.
Click here to enlarge image
In addition, Panasonic has introduced two i-Pro megapixel cameras that feature proprietary Super Dynamic imaging technology and streaming of H.264, MPEG-4, and JPEG compression formats. The vandal-resistant fixed dome camera and the i-Pro box camera both provide images at 30 fps in H.264 format (in 1.3 megapixel mode).
"Imaging performance is dependent on more than just chipsets—it's intelligent technology that sets cameras apart," says J.M. Allain, president of Panasonic System Solutions. "Our cameras are designed to capture high resolution images like the human eye, regardless of highly contrasted lighting conditions within a scene, in direct sunlight, or the dim of night."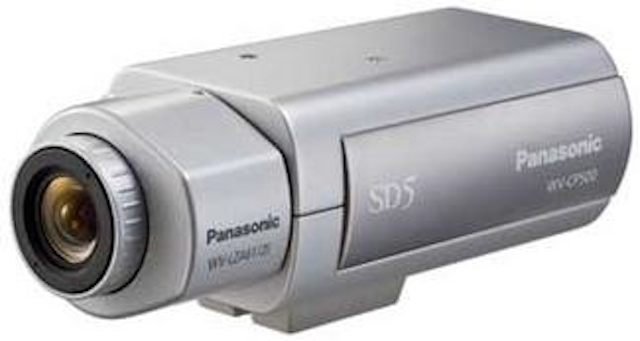 Super Dynamic 5 image technology, designed for enhanced surveillance capabilities, has been incorporated into Panasonic's SD5 analog security cameras.
Click here to enlarge image
The Super Dynamic mexapixel cameras can transmit multiple video streams simultaneously to enable real-time monitoring and high-quality recording.
---

ICC provides framework for orthopedic center installation
With the assistance of ICC (www.icc.com) cable management solutions, Central Virginia Communications (CVC; www.cvacm.com) recently installed the 85,000 square foot Orthopedic Center of Central Virginia's entire network infrastructure into three telecommunications rooms. All three rooms were connected to medical equipment, telephones, computers, multi- media, computer-telephony, and patient therapy environments
The installation featured ICC's distribution racks, cable management, and Category 6 (CAT 6) components. All distribution racks were floor-mounted using ICC's floor mounting kit. Within the framework, CVC installed ICC's CAT 6 EZ patch panels. The 110 IDC termination design allowed ample space for the cable routing, and the single-row pair wiring design required no splitting of pairs, simplifying the termination process.
CVC chose CAT 6 EZ patch panels for their backward compatibility with lower category-rated products, and ability to support any type of installation requirement. CVC explained, "All racks are 'easy-patch,' meaning one can easily move computer and telephone clients by simply moving a patch cord. All equipment was installed to be easily accessed by [staff members]—from the ICC ladder rack down to the lowest shelf on each rack."
To ensure proper functioning of its "easy-patch" design, CVC used ICC's multi-media blank patch panels and slim-line booted patch cords. All the blank patch panels were integrated with ICC's CAT 6 modular connectors. Within a typical channel, patch cords are commonly considered the weakest link; however, because ICC's CAT 6 patch cords are engineered with 50 micro-inch gold-plated contacts, CVC said, "99.999% of the ICC runs tested [perfectly] the first time."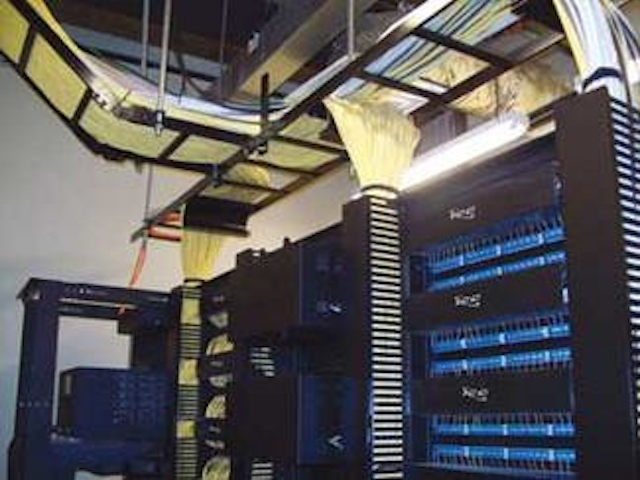 Backbone cables run overhead on ICC ladder racks from the main telecom room into the work areas at The Orthopedic Center of Central Virginia.
Click here to enlarge image
Dual-sided horizontal and vertical finger duct panels were used to route and organize the infrastructure's cabling. The vertical ducts were used in between the racks to support vertical cabling while the horizontal ducts were used in-between each patch panel to follow the standard network rack design.
To support the backbone cabling, CVC used ICC's 10-foot and 5-foot ladder rack runways, ceiling rods, and swivel butt splices. Removable covers were added to provide the finishing touches and to make the entire installation aestheti- cally clean and professional.
As ICC Certified Technicians, Central Virginia Communications was able to offer The Orthopedic Center of Central Virginia a 30-year certified site cabling system warranty.
---

Siemon launches MTP plug-and-play cabling system
Constructed for futureproof support of data center links, including 10 Gbits/sec as well as future 40- and 100-Gbits/sec applications, Siemon's (www.siemon.com) MTP plug-and-play fiber-optic cabling system features factory terminated and tested connections designed to guarantee maximum channel throughput.
This turnkey solution can be ordered to fit the application then "simply pulled and connected," which Siemon says allows for high performance data center links to be deployed 75% faster than traditional field terminations. As a 'green' system, it also eliminates the waste associated with additional connectors, termination kits, and other consumables.
The MTP system includes new low-profile MTP to LC or SC modules, MTP pass-through adapter plates, and pre-terminated MTP to MTP, and MTP to LC cable assemblies.
Newly designed to be lightweight, low profile, and easier to install, modules feature 12-fiber MTP connections at the rear of each module, providing up to 24 LC or 12 SC connections in the patching field via snap-in mounting within standard Siemon RIC and FCP fiber enclosures and VersaPOD vertical patch panels. These modules are designed for finger access to fiber jumper latches in high-density patching environments, as well as reduced mounting depth to maximize cable management space in fiber enclosures. In addition to plug and play modules, Siemon also offers "pass-through" MTP adapter plates, designed to support up to 6 MTP-to-MTP connections in a single adapter plate.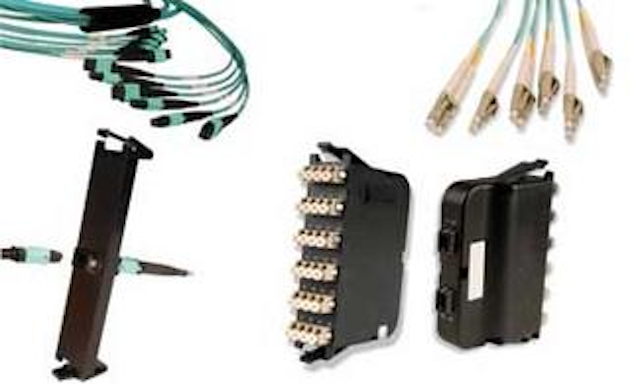 Siemon's MTP plug-and-play fiber-optic cabling system features low-profile MTP to LC or SC modules, MTP pass-through adapter plates, and pre-terminated MTP to MTP, and MTP to LC cable assemblies.
Click here to enlarge image
Modules and adapters are supported by factory-terminated cable assemblies that combine reduced-diameter RazorCore cable with 12-fiber MTP connectors. MTP-to-MTP reels are designed to be quickly pulled and connected to plug-and-play modules and MTP adapter plates. Available in 12 to 144 fiber counts and in increments of 12 fibers or custom lengths, the reels are user-configurable to precise application requirements.
The solution also includes new MTP to LC trunking assemblies that offer a connectivity transition from 12- fiber MTP connectorized RazorCore cable to duplex LC connector breakouts. These trunks can be implemented with Siemon's MTP adapter plates to provide direct MTP to LC patching options over a wide range of distances and infrastructure configurations.
Additionally offered is a hydra option for creating direct MTP to LC equipment connections, typically in connections within a rack or cabinet. MTP to LC hydras plug directly into an MTP reel via an MTP adapter and provide up to 12 jacketed LC (6 duplex) "legs," eliminating the need for fiber jumpers.
All plug and play products are available in multimode (62.5/125, standard 50/125 and laser Optimized 50/125) and singlemode fiber types. Assembly jacket ratings include riser, plenum, and LSOH.
---

TIA unveils industrial infrastructure standard
The Telecommunications Industry Association (TIA; www.tiaonline.org) has released TIA-1005 Telecommunications Infrastructure Standard for Industrial Premises, which specifies telecommunications cabling to support industrial premises applications (i.e. voice, data, text, video, industrial and building controls, security, fire alarm, image, etc.) while allowing for exposures to wider ranges than most commercial environments.
The purpose of TIA-1005 is to enable the planning and installation of the telecommunications cabling infrastructure within and between industrial buildings (such as manufacturing facilities, laboratories, refineries, etc.). In these industrial premises, the cabling infrastructure may be exposed to environments more hostile than in commercial buildings and where the cabling must support applications and topologies specific to industrial premises.
The new standard provides cabling requirements, cabling distances, telecommunications outlet/connector configurations, and topologies. It describes environmental classifications and provides information that the TIA says is useful for designing an appropriate telecommunications infrastructure.
TIA-1005 can also useful to those responsible for designing a telecommunications infrastructure for industrial areas. Additionally, a working know- ledge of TIA-1005 may prove beneficial in understanding problems associated with the unique aspects of the industrial environment and applications.
TIA-1005 is based on the ANSI/TIA/EIA-568-B Series of standards, and includes appropriate allowances and exceptions to those standards for industrial premises. TIA-1005 was formulated under the cognizance of TIA Engineering TIA TR-42 Telecommunications Cabling Systems, TR-42.9 Subcommittee on Industrial Telecommunications Infrastructure. (To obtain copies of the document, go to: www.global.ihs.com)
---

Short runs…
SPARTANBURG, SC—AFL Telecommunications (www.afltelecom) has signed an agreement to purchase Draka's Optical Ground Wire (OPGW) business based in Monchengladbach, Germany. Optical ground wire is a dual-functioning cable that serves as ground wire for power lines, while providing a path for the transmission of voice, video, or data signals by incorporating optical fibers into the design of the cable.
CHELMSFORD, MA—More than 700 network cameras from Axis Communications (www.axis.com) are being used by the Deer Park Independent School District in Texas to enhance the security and safety of public school students and facilities. Fixed, fixed dome, and PTZ network cameras have been installed in 16 of the district's elementary, middle, and high school hallway interiors, as well as some exteriors. In addition, the district has placed network cameras in several support buildings. The school selected Axis' integrator and application developer partner, LenSec (www.lensec.com), for the installation.
NEW BRITAIN, CT—MicroCare Corp. (www.MicroCare.com), developer of FiberCare cleaners for fiber-optics, has been certified to the new ISO 9001:2008 quality standard. The new standard includes guidance on the manner in which ISO processes apply to out-sourced work, and confirms that "conformity to requirements" is the joint responsibility of the technician who directly builds the product and also of indirect contributions from other individuals.
ARLINGTON, VA—The Electronics Components Certification Board (ECCB; www.eccb.org) will use EIATRACK, the Telecommunications Industry Association's (TIA; www.tiaonline.org) Web-based environmental regulatory tracking service, as a quality assurance tool in its Hazardous Substances Process Management (HSPM) Green Manufacturing Certification Program. ECCB, as the U.S. management arm of the International Electrotechnical Commission Quality Assessment System (IECQ), certifies through a network of certifying bodies (CBs) that manufacturers are in compliance with EIA/ECCB 954 and IECQ HSPM specifications. It assures that a company's production processes and electronic components represent the highest standards of quality and hazardous substance-free characteristics.
WADSWORTH, OH—MaxCell (www.maxcell.us), a flexible, multi-celled, fabric innerduct system designed for the network construction industry, has been accepted for use by the U.S. Department of Agriculture (USDA). The agency will now list MaxCell innerduct as acceptable for use in its Rural Development projects. Suited for use in fiber-to-the-home (FTTH) projects, MaxCell is designed to reduce or eliminate the number of conduits required in new construction.
TAMPA, FL—BICSI (www.bicsi.org) has signed an honorary friendship agreement with Construction Specifications Institute (CSI; www.csinet.org) to promote further growth and development of the ITS and telecommunications industries. The two organizations plan to engage in a variety of cooperative activities including: Exchanging visits and views between the members of the two entities to promote a qualified and skilled work force, to consider regulatory issues of common importance, and to further the development of the telecommunications industries worldwide; Maintaining a regular exchange of newsletters and other information to ensure each is informed of the other's key concerns and activities; Encouraging the members of each association to exhibit or participate in the telecommunications exhibitions or seminars sponsored by the other association; Stimulating consultations and discussions by and between the members of the two associations with regard to possible cooperative activities; and "pursuing such other cooperative activities as may be necessary and appropriate."
COLORADO SPRINGS, CO—Liberty Wire & Cable (www.libertycable.com), supplier of wire and cable products for the audio/video trade, has opened a new warehouse facility in Honolulu, HI to service commercial and residential customers in and around the 50th state. "The new warehouse lets us take advantage of our ability to containerize products to reduce both freight costs and shipping times, and provide both commercial and residential customers more immediate access to our products," says Kirk Horlbeck, Liberty senior vice president of marketing.
W. KINGSTON, RI—APC (www.apcc.com) by Schneider Electric's NetBotz security and environmental monitoring products now include Pelco IP camera integration, enhanced cabling, Power over Ethernet support, and improved industrial design. Scalable from small network closets to large data centers and enterprise-wide deployments, APC says the modular design allows for custom camera configuration, including CCTV integration. NetBotz appliances, sensor pods, and sensors employ CAT5/6 cabling to increase the distance between the sensor pod and the appliance.
PLEASANTON, CA—The U.S. Patent Office has awarded Trapeze Networks (www.trapezenetworks.com) two wireless networking patents designed to enhance its NonStop Wireless technologies, and that will allow organizations to deploy and manage access points more easily and at lower costs. The "System and Method for Distributing Keys in a Wireless Network" (U.S. Patent 7,529,925) is a foundational patent that relates to improvements in roaming performance. The invention allows the distribution of key information about client devices between access points such that clients can avoid re-negotiation of new keys with new access points as they physically move in a wireless network. "Power-Aware Multi-Circuit System and Method" (U.S. Patent 7,525,215) is an invention that allows access points to use one or more types of power sources (IEEE 802.1at, IEEE 802.3af, or proprietary PoE) and adjust the functionality of the access point based on the level of power available to it.
HARRISBURG, PA—Tyco Electronics (www.tycoelectronics.com) has received TECHQuest Pennsylvania's Technology Company of the Year award in recognition of its use of technology for the advancement of the company and the technology industry as a whole in the state. TECHQuest Pennsylvania, an alliance of leading-edge companies and technology professionals, promotes sustained growth in technology business development statewide, and annually honors organizations and individuals for their accomplishments and innovative practices.
NEW YORK, NY—The 272-page 2009 version of "A Guide to the Wireless Engineering Body of Knowledge (WEBOK)" is an educational resource for the organization's Wireless Communication Engineering Technologies (IEEE WCET; www.ieee-wcet.org) Certification Program, as well as for wireless industry professionals seeking comprehensive knowledge on commonly accepted best practices and the evolution of wireless technologies.
TAMPA, FL—BICSI (www.bicsi.org) has approved publication of ANSI/BICSI-001-2009–Information Transport Systems Design Standard for K-12 Educational Institutions. This is the first-ever exclusive standard BICSI has produced as an ANSI-accredited standards development organization. The standard is intended to enable K-12 ITS design in the building development process by contributing to architectural considerations and providing information that cuts across multidisciplinary design efforts. This standard specifies minimum requirements and guidelines for the design of ITS infrastructure for K-12 educational institutions.