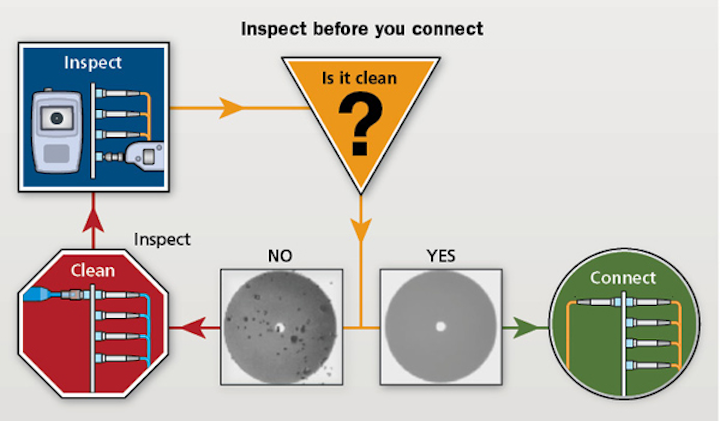 40- and 100-Gbit applications as well as 5G mobile networks demand flawless optical t
ransmission.
By Brian Teague, Sticklersand
Tyler Vander Ploeg, VIAVI Solutions
Fifth-generation mobile networks, or 5G, is the buzzword with the rollout of these highly advanced systems. It will bring extremely fast connection speeds, the ability to seamlessly stream bandwidth-intensive applications and will change the face of data connectivity as we know it. The infrastructure supporting 5G networks is fiber-optic cable. For this reason, it has never been more important to ensure clean fiber connections. As data rates increase and networks advance, it is essential for them to work well to provide this multi-gigabit service they promise. If the fiber used in these networks is contaminated, these networks will be compromised and can even failcompletely.
Futureproof your connectivity
To achieve next-generation connectivity, existing infrastructure must be in good order and working perfectly to deliver the data essential for this technology to be successful. In addition, new high-density fiber infrastructure is required to support the equipment applications and network architectures that are being deployed. These architectures have very strict loss budgets, so fiber connections must be clean in order to meet the performance requirements. Maintaining all that fiber can be problematic. However, by proactively implementing "Inspect Before You Connect" (IBYC), a simple practice that takes seconds to do, it optimizes signal performance and prevents network damage. It includes an easy four-step process of inspect, then clean (if necessary), re-inspect, and finallyconnect.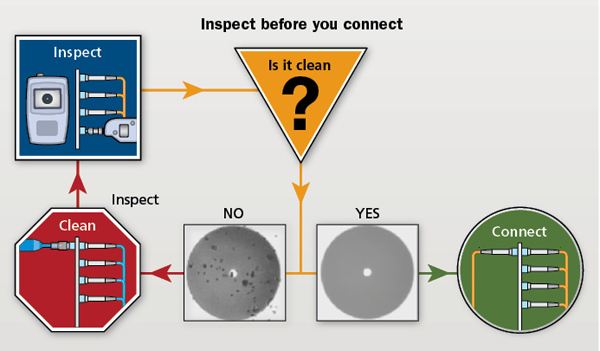 Using the Inspect Before You Connect (IBYC) method, always inspect and, if you find contamination, clean and reinspect, all the termini on both ends of a connector pair. IBYC is a simple practice that only takes seconds to complete.
Maintaining clean fiber connections is essential to ensure a network achieves its design goals. Contamination is the number-one threat to optical networks so to not use the IBYC procedure as standard is detrimental. This will become even more apparent with the impending data-rich and highly advanced networksystems.
MPO connectors: Increasing the risks
Another consideration when it comes to networks of the future is the increasing use of multifiber push on (MPO) connectors. While not new to the industry, MPO connectivity is being widely adopted in 40/100G networks and will play a key role in 5G deployment. In fact, an MPO survey by VIAVI Solutions revealed that the majority of those currently using MPO expect it to grow by more than 20 percent in the next three years, creating significant challenges for network operators and cablingcontractors.

Cleaning MPO connectors is essential. With a larger surface area than a single-fiber connector and a multifiber ferrule, the risk of contamination is significant.
Those already working with MPO connectivity have also shared some of the biggest challenges they have when testing networks with MPO. One of these top challenges is keeping MPO connections clean, as they are extremely vulnerable to contamination. With a larger surface area than a single fiber connector, and the capacity to contain many fibers across a single connector ferrule, the risk of contaminants finding their way to the fiber increases. Height variation can also be problematic. On a high-performance MPO or MT (mechanical transfer) ferrule, the fiber's geometry can differ. This increases the risk of the fiber not being cleaned fully. These connectors also have a high number of moving parts (e.g. connector sliders, adapter retention clips, guide pins, etc.), all of which can cause wear debris from the contact friction when connectors are mated. The same strong contact force that holds pair mated termini together, will also grind dust particles into the ferrule surface, resulting in scratched, pitted or scarred endfaces. This can cause back-reflection, signal attenuation, instability in the laser system and even a complete systemshutdown.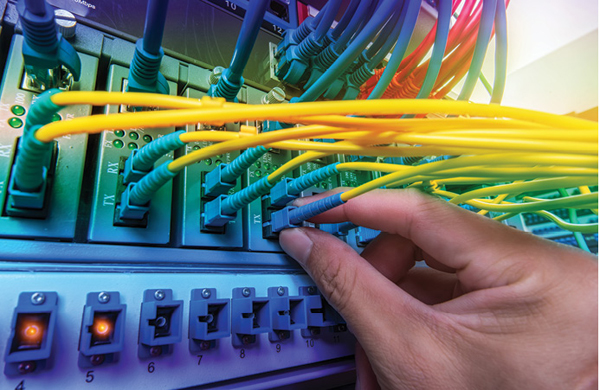 To achieve next-generation connectivity, existing infrastructure must be in good order and working perfectly to deliver the data essential for this technology to be successful.
Mike IBYC your mantra
To ensure a network's reliability, the process of IBYC is critical. Always inspect, clean and reinspect all the termini on both ends of a connected pair. The inspection processes help to visually identify problems like permanent defects, for example, scratches and pitting, and any contamination that can interfere with, or damage, the surface of the opticaltermini.
It is important to find a fiber cleaning method that is affordable, quick, consistent and effective. By introducing modern cleaning procedures, it will not only save time and money but also make a network substantially more reliable, helping to withstand the pressure on the increasing connectivitydemands.
To implement the very best cleaning and inspection methods, it is essential to consult with industry experts who have the technical expertise to address any cleaning and inspection requirements to futureproof your network.u
Brian Teague is product manager for Sticklers fiber-optic cleaners by MicroCare Corp. Teague has more than 20 years' experience with fiber-optic connectors and cable assemblies. He provides technical support for the Sticklers line, which includes developing training programs on fiber-optic inspection and cleaning. MicroCare provides products for precision cleaning, coating, and lubrication.
Tyler Vander Ploeg, RCDD is fiber solutions manager at VIAVI Solutions. His 17 years' industry experience in the fiber-optic industry includes managing and developing new fiber-optic connectivity and test products, developing targeted marketing programs, authoring white papers and conducting educational training in fiber connectivity and training. VIAVI Solutions provides network test, monitoring and assurance solutions to communications service providers, enterprises and their ecosystems.