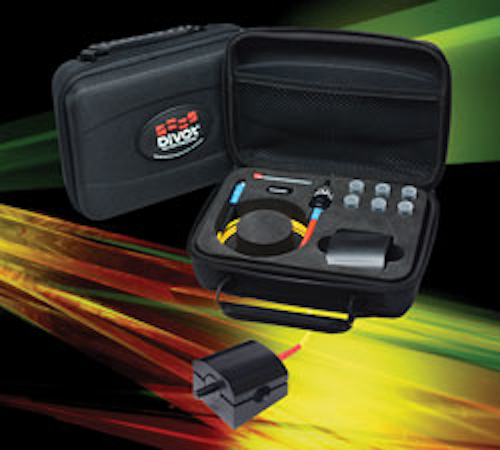 OTDR bare fiber adapter kit
Testing bare fiber just got easier and faster, according to Fiber Plus International. The company's Divot Bare Fiber Adapter Deluxe Kit allows you to quickly connect unterminated (bare) fiber to your OTDR. Connect the patch cable included in the kit to your OTDR and insert a cleaved bare fiber into the Divot Module, the company says. The system uses cartridges filled with matching gel to allow for quick low-loss connections. Each cartridge typically yields 500 insertions. The kit includes 6 cartridges, which allows for a minimum of 3000 insertions.
Additional cartridges can be purchased separately as needed. The kit includes a patch cable with your choice of connector style (FC, ST, SC, FC/APC, SC/APC, LC or LC/APC) and fiber type (singelmode, multimode 62.5/125 or multimode 50/125) and includes a magnetic desktop mount, vial of clean-out wire, clean-out wire guide and a carry case. Additional patch cables can be added in order to test different fiber types.
Fiber Plus International, fiberplus.com
Stackable LC adapters
SENKO LC stackable adapters are introduced to meet the challenges and mechanical requirements of highly dense system design while maintaining industry standard footprints. You can use the LC stackable adapters to create a staggered array to assist with fiber management in densely populated panels. Users can stack, vertically and horizontally, as many as are needed.
Senko, senko.com
Stackable adapters
Amphenol's MPO and LC Stackable Adapter Systems are an innovative way to aggregate a high number of MPO or LC Connections into a small footprint. The stackable adapters are modular and allow network and equipment designers to improve fiber density for applications that require higher densities. The stackable adapters have a track system for alignment and a permanent locking feature that prevents the adapters from coming loose.
All Amphenol Fiber Optic Products ensure the highest quality, the company says; the stackable adapter system is for use with all IEC 61754-7 and EIA/TIA 604-5 compliant industry standard MPO or LC connectors. The 45-degree angled ear end adapters enable directional cable routing of the installed MPO or LC assemblies.
Amphenol Fiber Optics Products, amphenol-fiberoptics.com
Opt-X Fiber Adapter Plates
Leviton explains its Opt-X Fiber Adapter Plates "fully integrate fiber connectors with the adapter plate to provide a solid, secure, and reliable network connection for fiber patch cords and trunks. Made from a durable polycarbonate material with zirconia ceramic sleeves, they are eight times stronger than metal adapter plates. Plus they are one-piece precision molded to eliminate the rattling and loose feel typically associated with traditional metal plates."
Installed in Opt-X panels or enclosures to connect backbone-to-backbone or backbone-to-horizontal fiber cabling, Opt-X Fiber Adapter Plates "exceed optical performance standards for added peace of mind and performance assurance," the company adds. "And, as with all of Leviton Core fiber and copper systems, Opt-X Adapter Plates are made in the U.S. for faster turnaround, dependable inventory, and high quality."
Leviton, leviton.com
Fiber adapter panels
Black Box's Fiber Adapter Panels and High-Density Fiber Adapter Panels enable users to make fast, snap-in connections in fiber enclosures, cabinets, and patch panels. The company explains, "These made-in-the-USA, TAA-compliant panels feature ceramic sleeves for better core alignment and performance. Standard panels are for use in traditional (low-density) applications. High-Density Panels are designed for connections with blade servers and other equipment in congested racks and cabinets. Om3 10-GbE panels are also available. The panels come with LC, ST, SC, and MTP MPO-style connectors and can be used with either multimode or singlemode cable. They include a lifetime guarantee."
Black Box, blackbox.com
Aqua LC fiber adapters
Siemon aqua LC adapters deliver superior low-loss performance in a wide variety of multimode fiber configurations, the company says, including high density data center connectivity and work area outlets. Available in a range of modules and adapter plates for use with Siemon LightStack Ultra High Density Fiber Plug and Play System, as well as in Quick-Pack Adapter Plates for use with Siemon's comprehensive family of wall-mount and rack-mount fiber enclosures, these LC adapters feature high-quality ceramic alignment sleeves that deliver tighter tolerances and greater durability than traditional phosphor bronze sleeves for optimum core-to-core alignment between mated pairs and improved wear resistance.
Siemon Ruggedized Second Generation (G2) LC adapters now come standard with ceramic alignment sleeves, providing a robust, high-performance fiber connection with an IP66/IP67-rated seal for protection in laboratories, hospitals, food processing and other harsh environments. The adapters' aqua color helps distinguish Om3/Om4 laser-optimized 50/125μm fiber.
Siemon, siemon.com