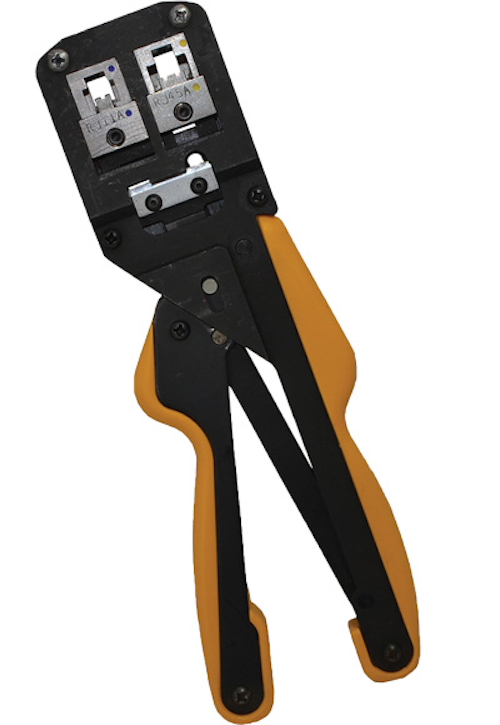 From the August, 2015 Issue of Cabling Installation & Maintenance Magazine
Dual-chamber plug-crimp tool
Sargent says its Dual Chamber Modular Plug Crimp Tool makes RJ11/RJ12 and RJ45 installations easier than ever. The Sargent Tool # 7868 CT crimps RJ11/RJ12 6-position and RJ45 8-position modular plugs. Its front-load design is "ideal for crimping in confined areas," the company says, adding that its all-metal construction with comfort grips makes for easy crimping. "Color-coded interchangeable dies are keyed together to guarantee precise alignment," Sargent adds. "Notched strain-relief pushers mate precisely with strain-relief latches, allowing them to engage properly without damage." The tool cuts and strips flat, oval cable and the replaceable blade cuts UTP cable as well as stripping the jacket. "Compound action produces high crimping forces with minimum hand pressure," the company concludes. The 7868 CT is made in the U.S.
Sargent ¦¦ Booth 120

Enterprise DAS platform
Dali Matrix, a newly launched product from Dali Wireless, will be on display for the first time at BICSI's Fall Conference and Exhibition. "Matrix is a modular platform designed to offer the best-in-class connectivity platform that helps enterprises support the growing bandwidth demands while balancing the total cost of ownership," the company explains. "With its modularity, enterprises can effortlessly scale and expand their network as frequency bands, technologies and requirements evolve and change. Therefore, enterprises can avoid 'rip-and-replace.'" Dali Wireless adds that Matrix can be fully configured and managed via software from any location. "The easy-to-use graphical user interface makes commissioning, installation, and monitoring much more efficient," it notes. "Dali Matrix is designed from the ground up with flexibility and scalability in mind to help enterprises truly future-proof their networks."
Dali Wireless ¦¦ Booth 122

FlexScan OTDR
The FlexScan OTDR from AFL can "quickly and reliably troubleshoot optical networks, or fully characterize newly installed or repaired networks," the company says. "Rugged, robust and powerful, FlexScan automates test setup, shortens test time and simplifies results interpretations, improving efficiency and reducing the cost of testing." The OTDR's SmartAuto mode allows multiple scans to quickly and accurately detect, locate, identify and measure network components and faults, AFL explains. "Results can be stored internally or externally. With LinkMap, an intuitive, icon-based display, results are easy to review."
The company says the FlexScan OTDR is ideal for optical network installation, troubleshooting and maintenance; it highlights faulty events that exceed industry-standard or user-set pass/fail thresholds. It has an integrated visible fault locator, which enables it to "easily pinpoint the location of macrobends or breaks inside cabinets and splice closures," AFL notes. "Optional features include connector inspection, integrated source and power meter to make it an all-in-one test solution. Results may be stored internally and accessed via USB, Bluetooth or WiFi."
AFL ¦¦ Booth 143

Two-gang floor box
The FL-200 is FSR's newest line of two-gang floor box; the pour-in-place box can accommodate a two-gang Decora wallplate as well as a smaller area for a single Decora AC receptacle. The two-gang area also can use two, one-gang Decora plates for low-voltage or AC power with the appropriate dividers included. Available in 3- and 4-inch depths, the FL-200 is UL-listed and, FSR says, "perfect for applications where a smaller floor box is required. The two-gang section of the four-inch-deep box can accept modified Crestron or AMX digital video wall plates with the addition of FSR's digital video mounting bracket. The FL-200's cover integrates FSR's U-Access latching handle and cable access door; it is available with the standard carpet and tile trim options of the FL-200's bigger brothers, the FL-500P and FL-600P lines."
FSR ¦¦ Booth 214

Passive optical network enclosures
Snake Tray's flush-mount optical network terminal (ONT) connection enclosure delivers both connectivity and power in the wall. "It quickly installs to studs or sheetrock without additional components or hardware," Snake Tray says. "The enclosure is designed to accommodate a single ONT unit as well as large bend radii associated with current cable types such as HDMI, DVI, RG6/UQ, and VGA. The base is constructed from 18-gauge cold rolled steel, which provides toughness and meets requirements for high-rise residential and commercial construction. The powder coat finish provides durability and an appearance that blends into the wall."
Snake Tray ¦¦ Booth 307

Copper and fiber certification system
The latest updates to Fluke Networks' Versiv System for certifying copper and fiber cabling will be on display at the BICSI Fall Conference and Exhibition. "Research shows that installers can lose up to a week of labor on problems in the certification process--testing to the wrong limits, waiting for lead technicians to set up or troubleshoot, incomplete results, and more," the company says. "Versiv is designed to eradicate these problems. Its ProjX System manages job requirements and progress from setup to systems acceptance, making sure all tests are completed correctly. The LinkWare Live cloud service gives you control of the whole process; you can set up and track your testers and inspect results from any mobile device while the job is in process." Fluke Networks notes that LinkWare Live "even lets you upload and integrate results from multiple testers at multiple jobsites, so you can quickly generate reports with the de-facto industry standard LinkWare PC."
Fluke Networks ¦¦ Booth 310

Extending AV signals over category cable
Leviton's enterprise-grade plug-and-play IT/AV Systems "deliver high-quality audio and video," the company says. "These systems extend signals over HDBase-T certified links, without requiring any programming. They also allow contractors to extend AV signals over twisted-pair cabling with the same tools used for installing datacom infrastructure. Contractors can then test and certify the installation to Ethernet standards to ensure high-signal performance after they leave the jobsite."
When used in classrooms, these solutions "allow contractors to easily extend HDMI, VGA, and USB signals from teachers' desks to the latest devices anywhere in the room, all networked over easy-to-install category-rated cable," Leviton says. The company adds that its products and systems also are useful in conference rooms: "With help from Leviton AV Signal Extenders, audio amplification, and in-ceiling connectivity for wireless access points, you create extra flexibility for your AV systems and get a clean look for business, school, or hotel conference rooms."
Leviton ¦¦ Booth 311

Wireless Ethernet transmission products
KBC Networks' wireless Ethernet product series are available as standard or high-throughput (HT) versions, delivering up to 99 or 230 Mbits/sec (400 Mbits/sec aggregate), respectively, in point-to-point, point-to-multipoint, and redundant ring-mesh configurations. KBC's wireless products operate in the 2.4- and 5-GHz unlicensed bands as well as the 4.9-GHz public safety band, "and feature the latest wireless encryption standards to ensure that transmission remains secure," the company says. "Employed throughout the world in security and surveillance systems, units feature extended operating temperatures and industrial casings to deliver stable performance in non-conditioned environments. Units are available as passive PoE or 802.3af/at PoE variants, and the HT series includes a Gigabit port, making it ideal for backhaul and megapixel camera installations."
The company designs wireless units "to be straightforward and easy to install," it says. "Units include site survey, antenna alignment, and mapping tools to ensure optimum system setup. KBC also provides the point-to-point products in a series of preconfigured kits for either analog or IP, single- or multi-input systems with all the transmission required to set up a link."
KBC Networks ¦¦ Booth 412

Sustainable cable solutions
Superior Essex's portfolio of premises copper and optical-fiber cables are manufactured sustainably, using "innovative and state-of-the-art recycling, conservation, and waste-management practices," the company says. "We are the first and only communications cable manufacturer to receive third-party Zero Waste to Landfill certification [Hoisington, KS plant], which has eliminated more than 500 million pounds of waste going to landfills each year. We are also the first and only cable manufacturer to secure Health Product Declarations (HPD) and Environmental Product Declarations (EPD) for our portfolio of premises copper and optical fiber cables. These certifications not only offer transparency about our products and practices and validate our sustainability claims, but also allow these products to contribute toward credits in LEED-certified building projects."
The company also will exhibit nCompass high-performance cabling systems from Superior Essex and Legrand. "Built upon a commitment to innovation and sustainability, nCompass Systems offer the latest in structured cabling technology," Superior Essex explains, "from the smallest 10Gain XP Cat 6A cables with a 0.265-inch overall diameter and a 7-dB margin of AXT protection, to state-of-the-art Mighty Mo cabinets and four-post racks that can significantly improve energy efficiency and reduce operation costs."
Superior Essex ¦¦ Booth 416

Speech-privacy protection system
Cambridge Sound Management notes, "Often overlooked in conference room design and construction is the potential for private conversations to easily travel under, over, or even through walls and doors." The company's Qt Conference Room Edition is "a cost-effective solution specifically designed to protect the speech privacy of conversations in all conference and board rooms," Cambridge adds. "It consists of a control module, two lighted privacy signs, and a series of direct-field sound masking emitters. When a room occupant turns on the control module inside of the conference room, it powers the sound masking emitters placed in the ceiling just outside of the conference room. These emitters add a low level of background sound, making human speech less intelligible. Lighted privacy signs indicate the system is running, letting conference room occupants know their conversations are being protected. With its premium feel and minimalist design style, the Qt Conference Room Edition seamlessly fits in with modern interior designs and other conference room AV equipment. The system is also extremely energy efficient, consuming less than seven watts of power."
Cambridge Sound Management ¦¦ Booth 501

Telescopic pole
The RDT-18 is "the perfect tool to install or retrieve cable in drop ceilings or other hard-to-reach places," according to Jonard. The telescopic pole is constructed with a series of tapered tubes that interlock and extend to 18 feet, with a collapsed length of 33 inches. "The pole is made from fiberglass with a polyester resin-baked enamel coating for greater durability and resistance to splintering," the company says, adding that the pole is "considerably more rigid than rod or coil-based products, giving the installer far more control and greater accuracy over longer distances." The pole comes with a conventional C-type hook as well as an S-hook to help grab and/or push cables. An adapter accommodates tight applications.
"Designed to work with the pole are our Magnetic Cable Holders," Jonard adds. "Made of neodymium, a rare earth magnet, these cable holders quickly and easily allow the technician to install cables without any drilling, screwing, or nailing required." Assorted sizes are available to hold varying numbers of cables.
Jonard ¦¦ Booth 600

High-density 1RU enclosures and cassettes
Amphenol Fiber Optics offers high-density 1RU fiber-optic enclosures and cassettes, as well as a high-density patch panel series. The patch panels "offer an 'extra' slot, accepting four adapter panels/MPO cassettes in 1 RU," the company explains. The 1RU panel accepts four cassettes or packs, thereby accommodating 24 SC simplex connections, 48 SC duplex or LC duplex connections, or 96 LC quad connections. The company also offers 2RU and 4RU panels, with proportionate connection support. The 2RU panel accepts 8 cassettes or packs, equating to 48 SC simplex, 96 SC duplex or LC duplex, or 192 LC quad connections. And the 4RU panel accepts 16 cassettes or packs, for 96 SC simplex, 192 SC duplex or LC duplex, and 384 LC quad connections.
Amphenol Fiber Optic Products ¦¦ Booth 613

28-AWG Category 6A UTP patch cords
Panduit points out, "As the telecommunications room is housing more and more equipment, driving the need to maximize the available space, one good option is to shrink the size of the network cabling, while preserving network performance." The company's Category 6A UTP 28-AWG patch cords are 0.185 inches in diameter, which Panduit says is 45 percent the size of Category 6A UTP 24-AWG patch cords. This smaller size "allows for better cooling and airflow, easier cord management, and more clearance to route cables," the company adds. The company will display its 28-AWG copper cabling solution for telecom rooms at its booth, where it says attendees will be able to "see firsthand the space savings that can be realized, as well as other benefits of 28-AWG cabling."
Panduit ¦¦ Booth 644

Category 8 certifier
With a test frequency range of 2.5 GHz, the WireXpert is a Category 8-ready certifier. Optional test adapters include encircled flux (EF)-compliant multimode adapters, MPO/MTP adapters, and test kits for Category 5e, 6, and 6A patch cords. The 6A kit can perform a bidirectional Category 6A patch cord test in less than 10 seconds. Also on display will be options for testing coaxial cable, as well as M12 D-coded and X-coded industrial Ethernet cables. WireXpert's dual-control system allows one technician to perform tasks that usually require two. Softing notes, "The powerful measurement engine of WireXpert performs the most complex cable certification tests accurately in seconds."
SOFTING ¦¦ Booth 211
More CIM Articles
Archived CIM Issues