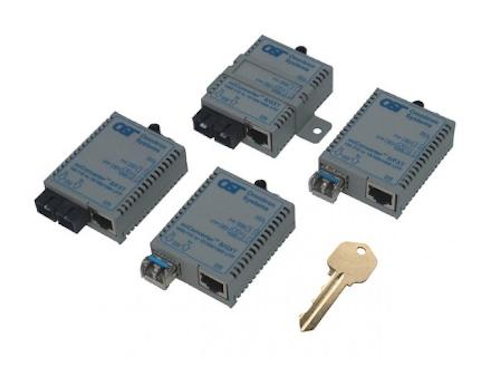 The miConverter S-Series from Omnitron Systems weighs less than 2.5 ounces and is about the length of a standard house key. Converters in the series provide Gigabit and Fast Ethernet fiber-to-10/100/1000Base-T (fiber-to-copper cabling) media conversion. Omnitron says it is designed for mobile applications where light weight, compact size and low power are required.
The converters can be USB-powered, the company explains, which enables fiber connectivity to locations where AC or DC power is unavailable including field-deployed fiber-to-the-laptop and military applications. In applications like this, fiber is run directly to the laptop, where it is converted to unshielded twisted-pair copper and connected to a laptop RJ45 port with an Ethernet patch cable. Power is supplied to the media converter by the laptop's USB port using a standard USB cable, eliminating the need for an electrical outlet.
The miConverter S-Series is available with 100Base-FX or 1000Base-X fixed fiber transceivers (with SC or ST connectors). It supports multimode, singlemode and single-fiber options. It also support Small Form Pluggable (SFP) transceivers for adaptability to different fiber types, speeds, distances and wavelengths.
Omnitron says the series is available with an operating range of -40 to +65 degrees C. For applications that do not use USB power, the media converters in the series are avaiable with country-specific AC/DC power adapters.