Fiber modules turn LanTEK II into Tier 1 optical tester
The FiberTEK FDX modules' full-duplex capability eliminates the need to swap test instruments or connectors, its manufacturer says.
Nov 10th, 2009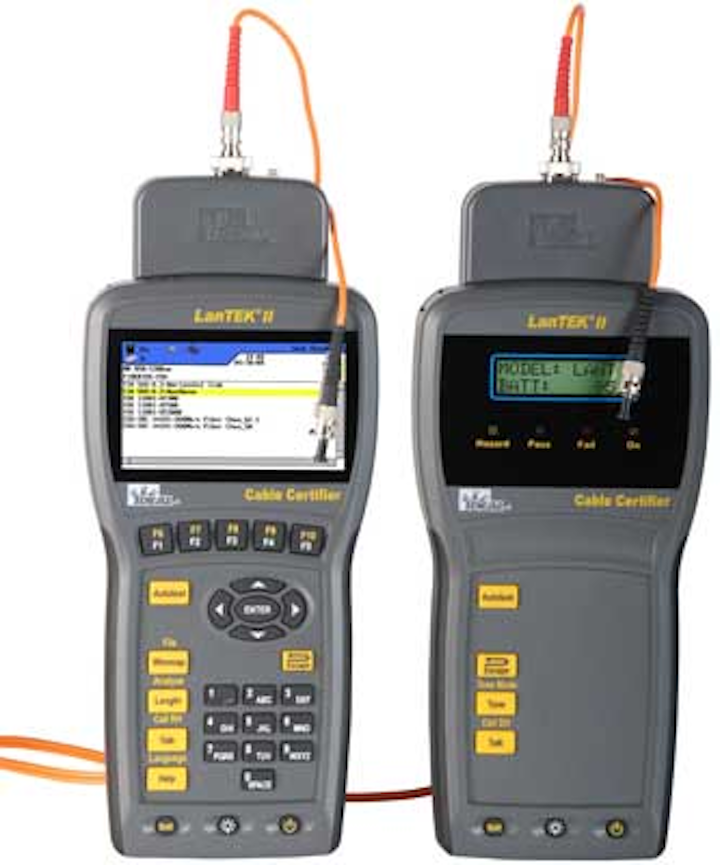 November 10, 2009 – Ideal Industries today introduced the FiberTEK FDX Fiber Optic Modules, designed to extend the capabilities of the company's LanTEK II cable certifiers from certifying copper-cabling links to the certification of multimode and singlemode fiber-optic cabling to Tier 1 specifications.
Fitting into the unit's adapter bay, the optional modules transform the LanTEK II into what Ideal describes as "a cost-effective alternative to traditional OTDRs for certifying or troubleshooting fiber backbones and fiber links. Field-changeable SC, ST, and FC adapters eliminate the need for hybrid launch cables."
Three modules are available.
Multimode LED for certification of conventional multimode fiber-optic cabling and 850 and 1300 nm (no mandrels required)
Multimode VCSEL/laser modules for certification of laser-optimized multimode fiber at 850 and 1300 nm
Singlemode module with laser sources for certification at 1310 and 1550 nm
"The unique full-duplex capability of FiberTEK FDX modules make fiber certification fast, accurate, and easy," the company stated when announcing the product. "A single strand of fiber connected between handsets is tested at two wavelengths and in both directions simultaneously, while the length of the fiber is accurately measured. This task previously required the technician to swap test instruments or connectors."
Dan Peyerle, business unit manager with Ideal, further explains: "Never before has it been possible to measure a single strand of fiber and report its true length and all four insertion-loss tests without juggling tools. The modules eliminate time-consuming and expensive steps from this process to make every job faster and ultimately more profitable for the contractor."