Forecast: Strong quantity growth in fiber connector, mechanical splice consumption
After a flat 2009 globally, the Americas will lead worldwide growth through 2013.
Jan 7th, 2010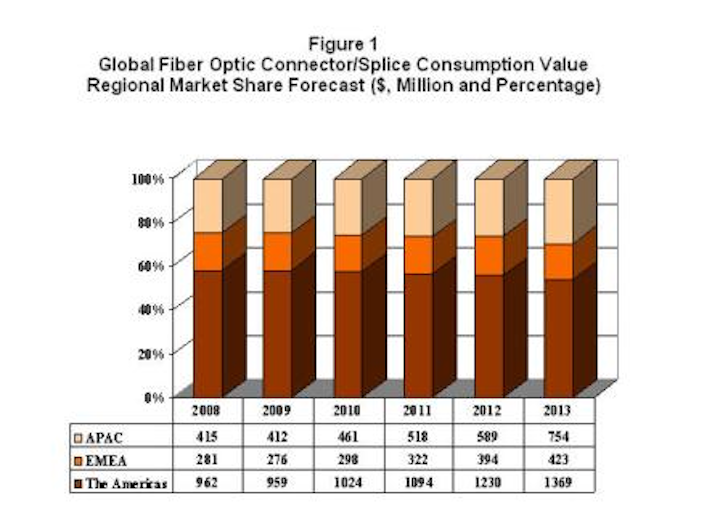 The worldwide consumption value of fiber-optic connectors and mechanical splices will reach $2.5 billion according to a recent report from ElectroniCast Consultants. The report, which covers the years 2008-2013, pegs consumption at $1.658 billion in 2008 with the expectation of a "relatively flat" 2009, ElectroniCast says, "due to the multi-industry worldwide economic crisis."
Of the $2.5 billion to be consumed in 2013, the Americas—South, Central, and North—will account for nearly $1.4 billion. Over the five-year span covered in the report, strongly rising quantity growth will be partially offset by declining average prices.
Stephen Montgomery, president of international business with ElectroniCast, explained the market dynamics that will shape the industry over the next few years. "Technological advances in fiber optics are assuring the migration of fiber closer and closer to the end user, which then translates into demand for shorter and shorter links including board-to-board interconnects where connectors represent a substantial share of the total cable assembly and packaging cost," he said.
"The cost concerns are being addressed with smaller, lower-cost and easier-to-install discrete single-fiber as well as array-fiber connectors for board-to-board interconnect inside a box. Multi-fiber connector use, defined as more than two fibers, is rapidly growing and is becoming one of the choices for high-fiber and high-density interconnect applications."
The 283-page report, which includes an additional 320 database-spreadsheet pages, is available from ElectroniCast for $7,200. In it, 2008-2013 forecasts are presented for each significant fiber-optic connector and mechanical splice used in selected communications applications. The market data are segmented into geographic regions and summarized globally.