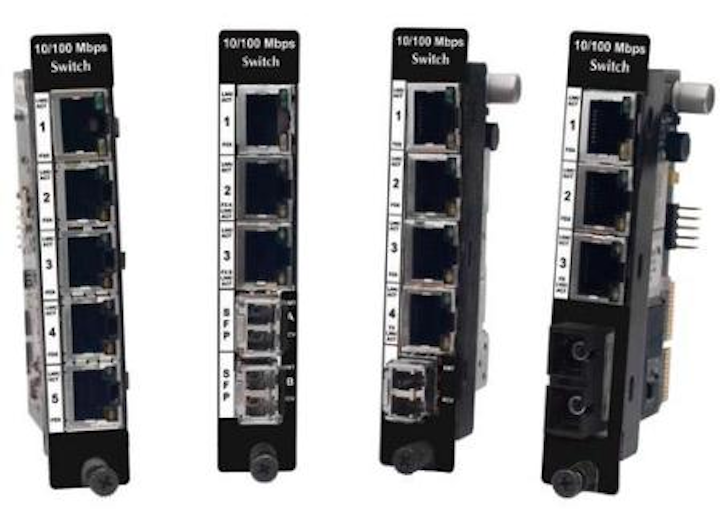 IMC Networks, a manufacturer of optical access and media conversion solutions for LAN, MAN, and FTTx applications, has announced three new Ethernet-based copper/fiber switch modules, expanding its iMcV-Switch family of products.
The IMC iMcV-Switch family now offers four product options that include a combination of copper and fiber Ethernet ports. Meeting industrial networking requirements, the iMcV-Switch products provide flexibility for deployment in long-distance ranges of up to 80 kilometers. Another key feature is Priority Queuing, whereby all frames with high priority will egress the port ahead of low-priority frames at a 10:1 ratio. To prevent data loss, the modules have a built-in overflow feature called Flow Control. The iMcV-Switch also is supported by IMC Networks' GUI-based iView2.
"In response to customer demand, we're pleased to offer these new additions to our line," says Raul Martinez, product marketing manager at IMC Networks. "With integrated fiber ports, the iMcV-Switch is ideal for a variety of applications such as VoIP, video, or data transmission over Ethernet."
When installed in an IMC Networks iMediaChassis, the iMcV-Switch can cascade to multiple units making it expandable to as many as ports as needed or can be used as a single unit switch when installed in a MediaChassis.
The iMcV-Switch modules are now available with TX and SFP, SC, and ST fiber connectors in single and multi-mode configurations. The products support 1000 MAC address learning and aging; half or full-duplex and are transparent to VLAN tagging.
iMcV-Switch TX/4 + SFP includes a fiber channel supporting single-mode or multi-mode, single-strand or CWDM fiber; iMcV-Switch TX/3 + 2SFPs offers similar functionality plus an additional fiber channel; and iMcV-Switch TX/3 + FX includes a fixed fiber optic channel (ST or SC connector) supporting multi-mode, single-mode, or single-strand fiber.
Available immediately through IMC Networks' extensive distribution channel, with a manufacturer's list price starting at $250 for the TX/4+SFP, $250 for the TX/3+2SFP and $270 for the TX3+FX models, respectively.
For more information, download the iMcV-Switch data sheet.