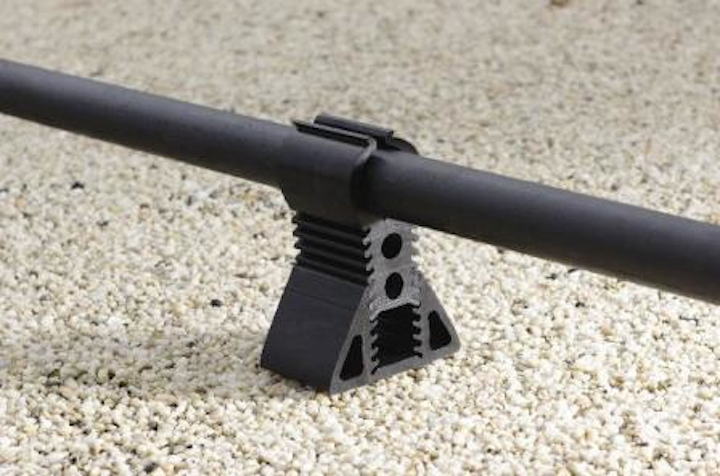 ERICO has added three styles of rooftop supports to its Caddy Pyramid line.
The Pyramid EZ series (pictured at the top of this page) are adjustable-height, tool-free supports made from EPDM rubber, which is the same materials as many roof membranes. They feature snap-on installation and different models allow for height adjustment ranging from 1-3/4 inches to 7 inches. ERICO says the EZ series can accommodate conduit and pipe types up to 2-inches Sch. 40.
The Pyramid RL series (pictured at the bottom of this page) are roller-based thermoplastic supports featuring the ability to allow for longitudinal movement of conduit or pipe, such as from thermal expansion or contraction. The supports can accommodate elevation changes on the roof and are designed to keep conduit away from higher ambient temperatures.
The Pyramid ST series strut-based thermoplastic supports have a load rating up to 1,500 pounds and provide uniform load distribution to help protect the roof membrane, ERICO says. It is available as a fixed strut support, which provides a fixed-height mounting platform 4 or 6 inches off the roof surface and 10 or 16 inches of usable strut length. Alternatively, it is available as an adjustable-height strut support, allowing elevation change up to 17 inches off the roof surface with up to 10 or 16 inches of usable strut length.
According to ERICO, all its Pyramid products have passed a variety of rigorous tests, including an extreme temperature test.