Baluns make a match between coax and twisted-pair
In the telecommunications industry today, structured wiring installations are expected to handle increasingly higher data-transmission speeds over twisted-pair cable. However, coaxial cable still exists in many installations where mainframe computers are used. In that type of installation, you need baluns?impedance-matching devices?to adapt the BALanced impedance of unshielded twisted-pair, or UTP, cable with the UNbalanced impedance of the coaxial, dual coaxial or twinaxial cable, or vice versa
Apr 1st, 1996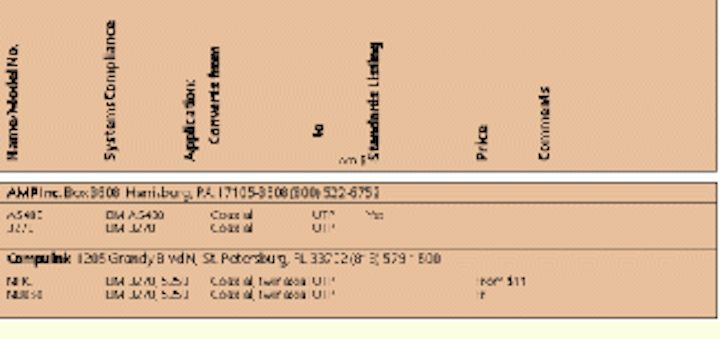 Barbara E. Thompson
In the telecommunications industry today, structured wiring installations are expected to handle increasingly higher data-transmission speeds over twisted-pair cable. However, coaxial cable still exists in many installations where mainframe computers are used. In that type of installation, you need baluns?impedance-matching devices?to adapt the BALanced impedance of unshielded twisted-pair, or UTP, cable with the UNbalanced impedance of the coaxial, dual coaxial or twinaxial cable, or vice versa. Each medium requires a specific type of balun, typically used in pairs.
OBecause of changes in technology, people have a variety of wiring installed in their systems,O says Jack Andresen, chief executive at Energy Transformation Systems Inc. (Menlo Park, CA). OThe issue with baluns is one of whether you want to use existing wiring, or you want to use new wiring with Olegacy? local area networks.O
In both these instances, an adapter is needed to match the characteristics of the system to the wiring. A balun, which is a type of adapter, takes an unbalanced signal and balances it; for example, you can take a 93-ohm coaxial cable, balance the signal and match its impedance with a
100-ohm UTP cable.
OWe use baluns very infrequently,O says Scott Genung, estimating engineer at CRF Integrated Solutions (Pleasanton, CA). OThe technology has advanced to installations that are mostly personal computers with structured wiring. I haven?t done a job using baluns for two or three years.O
Although the TIA/EIA-568A standard for commercial building telecommunications wiring recommends the use of twisted-pair or fiber-optic cabling for new installations, coaxial cable is still grandfathered: If a system has already been installed using coaxial cable, you can add to it or change it; however for new installations, coaxial cable is not recognized and should not be used.
Systems requiring baluns
The need for baluns arose approximately 10 to 15 years ago, when the industry realized that running data over twisted-pair cable was easier; the cable was thinner and weighed less than coaxial cable and was, therefore, less expensive to install. In fact, when the IEEE 802.3 committee issued the standard for 10Base-T on Ethernet, no external balun was required. Manufacturers make 10Base-T systems with built-in balun technology.
The market for baluns today is for IBM 3270 mainframes that run on coaxial cable, and the AS400 mid-range computers on twinaxial cable. If the network also includes Wang VS and OIS or Arcnet systems, you will need to use baluns to run them over UTP. Basically, if you are installing a structuring wiring system to support a local area network, and your customer wants to run its mainframes in parallel, you need baluns.
OIn the 1980s and early 1990s, we did a lot of IBM AS400 installations with a tremendous amount of conversions from twinaxial cable over UTP using baluns,O says Trevor Elliott, national cable installation manager at Williams Telecommunications Systems Inc. (Allendale, NJ). OBut whether it?s coaxial or twinaxial, it?s really not part of the standards any more.O
Baluns have been used?or are currently under development to be used?with video signals. A few manufacturers offer video baluns (or adapters) that will transmit 50-ohm video signals over twisted-pair cable. In fact, one balun manufacturer, in conjunction with a cable manufacturer, has scheduled a demonstration at the National Association of Broadcasters conference in April, in which it will transmit 270-megabit video to 400 feet over UTP cable rated for 350 megahertz.
Standards compliance
The radiated energy from a cable becomes an issue when the emissions of an application surpass 30 MHz. The Federal Communications Commission, or FCC, regulates any emissions over 30 MHz for safety and broadcast control. [Radio and television signals run in the 90- and 40-MHz frequency bands, respectively.]
When you put a signal on a balanced pair, the signal on one wire is equal and opposite to the signal on the other wire. OIf you don?t completely balance the signal, it is going to radiate and may not meet FCC regulations,O explains Andresen. (Not only are baluns built to comply with FCC specifications, part 15, for computing devices; many are UL-listed and CSA-certified for safety and fire.)
OA balun is a little more than an impedance-matching device, although that is its basic function,O says Elliott. OThe baluns we used would also filter out excessive noise such as electromagnetic or radio-frequency interference.O
Price and features
The cost of a balun ranges from $9 to $45, depending on features. OEven though baluns are easy-to-install, plug-in devices, and their price fluctuates,O says Peter Zagorites, general manager at Alternative Communications Service Corp. (Nashua, NH), Oreliability is most important.O
There are several different features or types of baluns on the market, including miniature baluns, which are easier to install in tight spaces because of their smaller size. Other baluns come with pigtails for different types of jacks, such as RJ-11 or RJ-45. And, when operating distances exceed normal distance limitations, extended-distance baluns are designed to maintain the integrity of the signal. In addition, some manufacturers offer a 5-, 10-year or lifetime warranty on their baluns.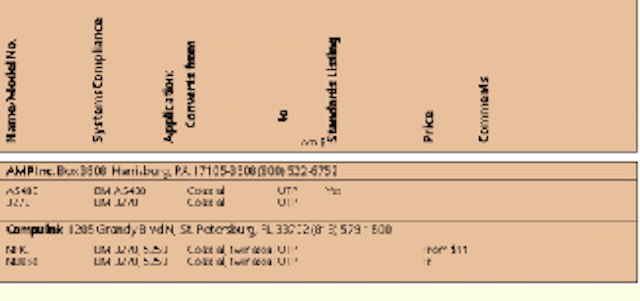 Click here to enlarge image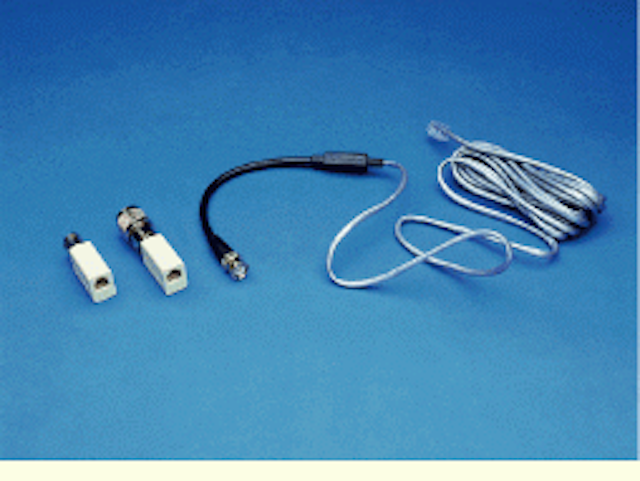 Click here to enlarge image
Some examples of baluns that match the unbalanced impedance of IBM and Wang systems cabling to the balanced impedance of UTP cables (and vice versa) are (left to right) coaxial, twinaxial and coaxial cable with pigtail.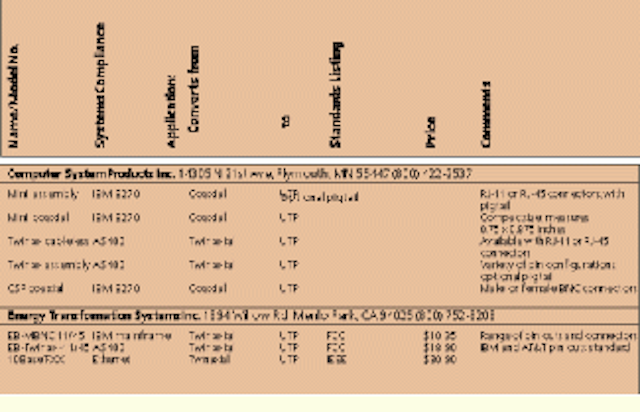 Click here to enlarge image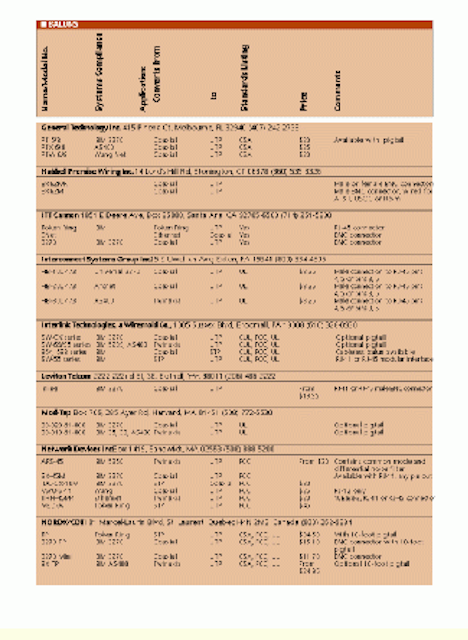 Click here to enlarge image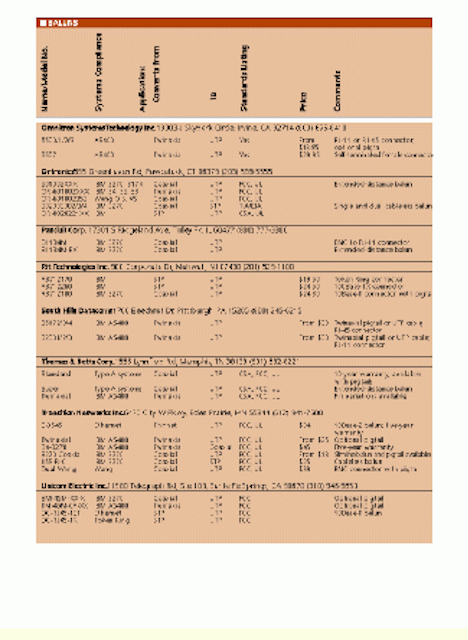 Click here to enlarge image
Balin Specifications
A balun is an analog device with several specifications, the most of important of which are baud rate and signal balancing.
The baud rate, or the basic signaling rate of the system, is not the same as the data rate. For example, the IBM AS400 uses 1 million bauds per second, IBM mainframes use 2.3, Arcnet uses 2.5, Wang uses 4, Ethernet uses 10 and Token Ring uses a 4-million or 16-million baud-per-second signaling rate.
Impedance matching and insertion loss are also important. A well-balanced signal will have minimal radiation and, the better the balance, the greater the rejection of noise signals picked up on the wire. When devices are impedance-matched, all of the signal`s energy transfers through the balun. When they are not matched, some of the energy is reflected and not transferred as a signal.
Insertion loss is the signal consumed by the balun in operation, typically less than 1 decibel. Note that 1 dB represents almost 20% of the available energy. "A low signal loss represents a better balun design," says Andresen.
Excerpted from a white paper written by Jack Andresen, chief executive at Energy Transformation Systems Inc., Menlo Park, CA.