Is your Ethernet cable tough enough?
What rules in the commercial office building may not meet all needs in an industrial environment.
Sep 1st, 2003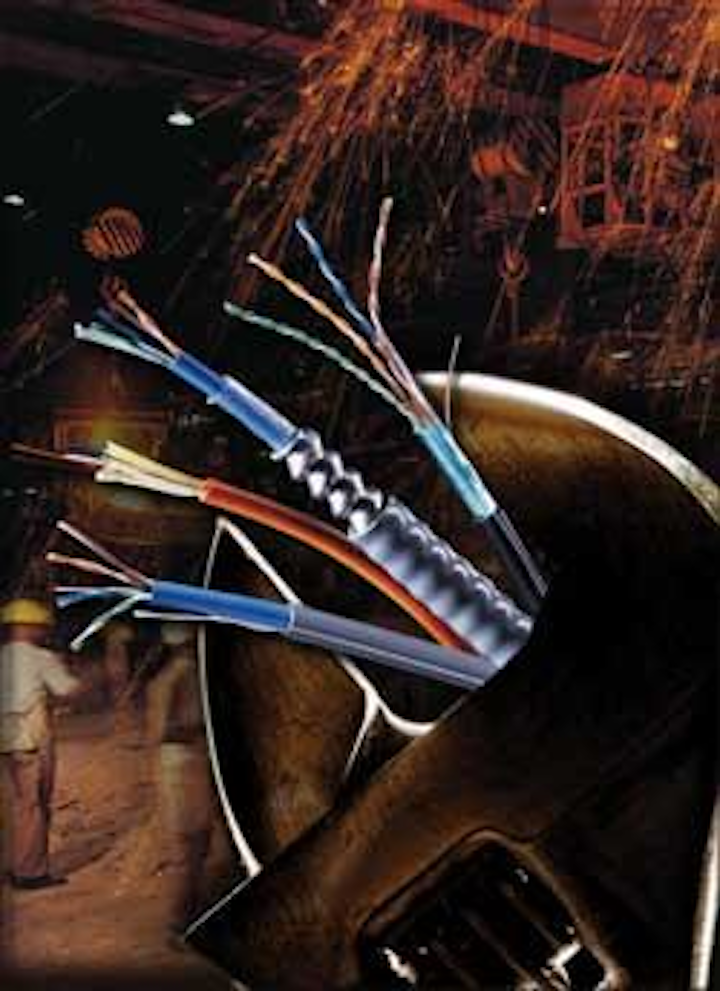 Ethernet, the undisputed king of networking, has reigned in commercial office environments for several years. Today, the industrial control and automation sector is rapidly moving toward this open, standards-based technology. Yet some challenges exist when it comes to selecting the physical layer—the cabling system.
Do not assume that the cable acceptable at your office receptionist's desk will suffice in the harsh, real world of industrial process control and automation. Commercial off-the-shelf (COTS) Category 5e UTP Ethernet cable is actually fragile by industrial standards. And beyond the obvious physical hazards to the cable are the more insidious, invisible hazards of electromagnetic interference (EMI) and radio-frequency interference (RFI).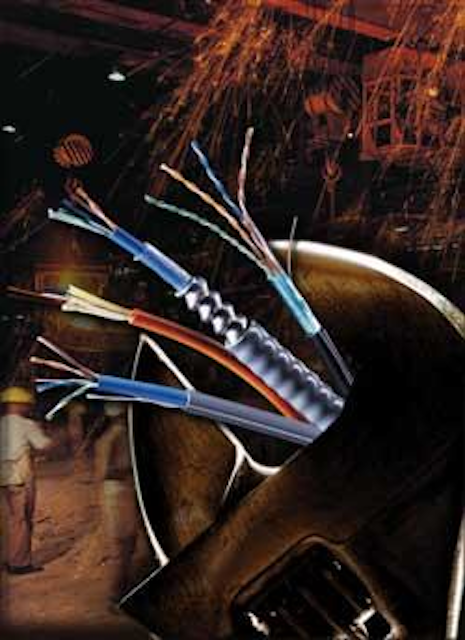 Illustration by Kelli Mylchreest
Click here to enlarge image
Let's examine some of the issues that would likely arise if you attempted to use a non-hardened, commercial-grade Category 5e UTP on the plant floor.
Installation challenges
Pulling a commercial-grade UTP with excessive force will stretch the cable. Commercial standards specify a 25-pound maximum pulling tension. You may start with 100 feet of cable and end up with 100 feet and 2 inches. This elongation causes excessive signal loss (attenuation) and signal delay—effects that will limit the distance the cable can be run.
Furthermore, as the cable is handled, the twisted pairs may open up, changing the pair conductors' center-to-center spacing and inducing imbalance. This will result in more coupling from pair-to-pair (crosstalk), signal echoing (return loss), and greater susceptibility to ambient EMI/RFI. Any one of these factors could cause a loss of data on the cable, resulting in process downtime or safety issues.
One solution is to specify cables incorporating bonded-pair technology. The insulated conductors of each pair are physically joined together along the entire length of the cable, which prevents the pairs from separating or gapping. (See figure, page 25.) No matter how you handle the cable, it maintains its electrical performance.
Temperature, UV effects
Temperature also plays a significant role in cable performance in industrial environments. Extreme cold makes the cable stiff, brittle, and hard to work with. On the other hand, extremely elevated temperatures can degrade the plastic used in the cable's construction. It's important to specify cables designed to withstand the ambient temperatures expected.
The cable's temperature rating is not, however, the only consideration. Typical COTS Category 5e cable attenuation increases at a rate of 0.4% per degree Celsius above 20° C. At 60° C, the attenuation may be increased by 16%. For these reasons, it is also critical to select a ruggedized cabling system that offers industrial-strength, high-temperature attenuation performance.
Most commercial Category 5e cables are not designed for outdoor use. When a COTS cable is exposed to ultraviolet (UV) radiation in sunlight, the plastic outer jacket tends to decompose at an accelerated pace. The jacket starts to lose mechanical strength (i.e., fall apart), limiting the useful life of the cable. Look for cabling products that provide sunlight-resistant-rated jackets to ensure maximum service life in real-world applications.
Oil exposure
In the day-to-day world of manufacturing, machinery and its moving parts must be kept well-lubricated to run smoothly. The petroleum-based lubricants used pose a real threat; they will soak into COTS Category 5e cables, especially under heat.
Oil causes the jacket to swell and lose mechanical strength, leaving the inner core susceptible to contamination and degradation. In choosing cables for industrial environs, be sure to specify oil-resistant jackets that can meet and overcome this challenge.
Abrasion, cut-through, crush
Industrial workers walking all over Ethernet cables can result in errors or signal delays in the network. Driving over cables may even take the network down—not a desirable situation when plant-floor processes and productivity depend on timely, reliable data transmission. To ensure optimal network performance in harsh environments, specify cables with industrial-grade jackets. Some super-tough cables available today ensure an extra measure of protection, combining bonded-pair technology with interlocked armor to provide the ultimate in mechanical protection against abrasion and cut-through.
EMI/RFI and shielding
The previously cited issues are obvious. They can be seen or felt upon cable inspection. EMI and RFI, however, are subtle. You cannot readily detect when and if EMI/RFI will wreak havoc on your network—other than an urgent phone call from a machine operator at 2 a.m.
Avoiding the potential for EMI/RFI noise sources is the best strategy. The first step is to rout the cables as far away as possible from EMI/RFI noise sources—such as arc welders, switching relays, or AC drivers. But what else can you do to control a noise source, such as a robotic welder, for example? One option is to use optical-fiber cable, which is immune to the effects of EMI/RFI. But if you are concerned about the cost, complexity, or robustness of fiber, consider a shielded Category 5e copper-cable solution. Even a simple aluminum foil shield, when properly grounded, provides significant immunity to EMI/RFI.
Proper grounding
Grounding is the key to effective cable shielding. Missing or inadequate grounding can degrade the shield effectiveness. Ideally, the shield should be grounded at only one point. When interference couples onto the shield, the current is drained to ground, largely before the pairs underneath are affected. Conversely, when both the near end and far end of the shield are connected to ground, the potential for a ground loop arises.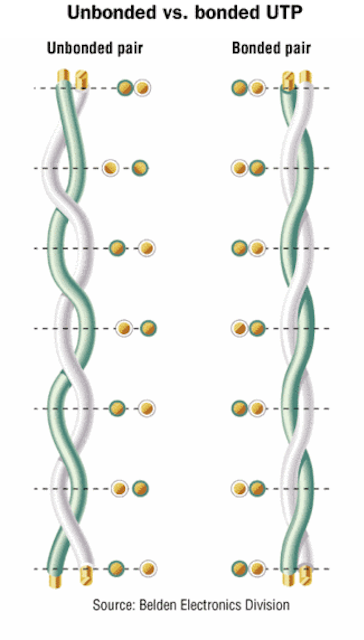 This depiction of unbonded (left) versus bonded (right) UTP cable shows the potential gaps that can occur within unbonded cables resulting from the rigors of installation.
Click here to enlarge image
The difference in ground potential from the near end to the far end location may create a significant voltage difference and an associated current flow on the conductive shield. The ground currents flowing on the shield can actually make the shield a source of interference on the signal-carrying pairs.
Balance for noise immunity
A highly balanced and stable UTP cable will provide significant noise immunity. Each half-twist of a pair may be thought of as a loop antenna. Each consecutive half-twist is opposite in orientation of the conductor on top. In a perfectly balanced cable, the alternating polarity of the loop antennas cancels out any noise coupled on the pair.
Bonded-pair cables provide the closest approximation of perfect balance, especially after the rigors of installation and everyday abuse. The cable's balance and stability can make or break an Industrial Ethernet application in the presence of noise.
Industry standards
Open standardization is a key benefit of Ethernet. Any product can be designed to meet the minimum requirements as specified by the Institute of Electrical and Electronics Engineers (IEEE). The current standard for the most commonly used cables for Ethernet is developed and maintained by the Telecommunications Industry Association (TIA) in conjunction with the Electronic Industries Alliance (EIA).
TIA/EIA-568B describes communications cabling (cable and connectors) for use in commercial building premises. The TR-42 Committee covers telecommunications infrastructure cabling standards. The TR-42.9 Subcommittee covers industrial telecommunications infrastructure and is expected to publish a standard for Industrial Ethernet later this year.
Significant effort has been given to harmonize the Industrial Ethernet standards among different groups. In Europe, the Industrial Automation Open Network Association (IAONA), the International Electrical Congress (IEC), and CENELEC (the European Committee for Electrotechnical Standardization) are communicating with the TIA/EIA and each other. The goal is an open, standards-based communications system for Industrial Ethernet.
Ethernet technology brings the advantages of speed and economy-of-scale to industrial control and automation networking. But the physical layer of the Ethernet must be adapted to the unique challenges of the industrial environment. While COTS cable may work in some industrial applications, in most instances, their lack of robustness will be unacceptable.
To minimize the effects of the harsh environment and realize consistent, reliable performance, it is critical to install ruggedized UTP cables that offer the highest level of strength and mechanical stability, maximum temperature protection, chemical and abrasion resistance, and EMI/RFI shielding.
Remember to ask first as you design and develop your plant-floor control system: "Is my Ethernet cable tough enough?"
Brian Shuman, RCDD, is senior product development engineer for Belden Electronics Division (www.belden.com), Richmond, IN.