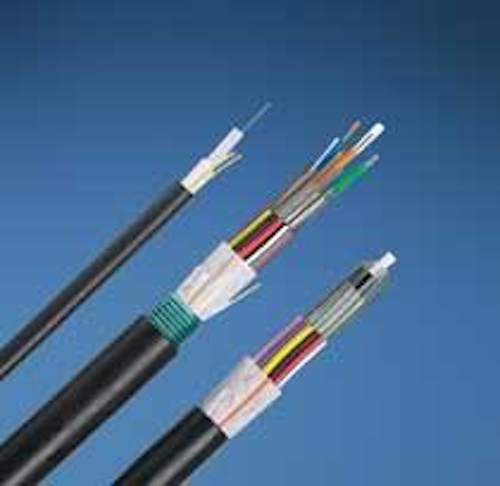 Gel-free OSP fiber;cable organizers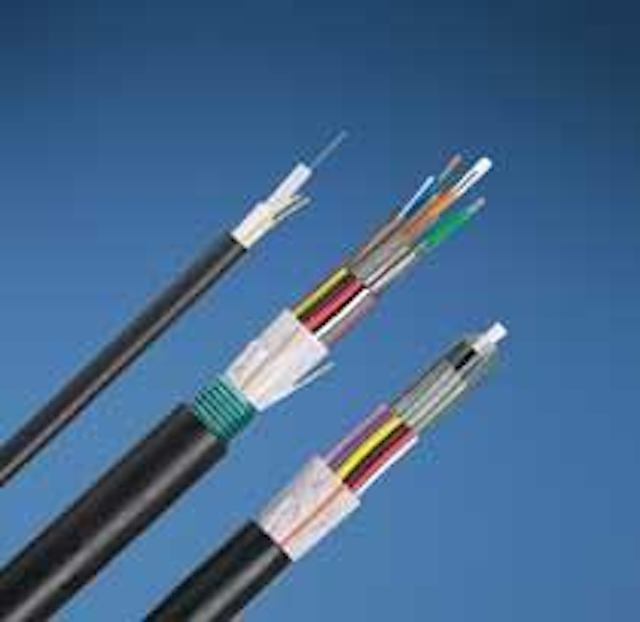 Click here to enlarge image
Opti-Core gel-free outside plant (OSP)cable features water-swellable tape designed to provide dry water blocking for standards compliance. This dry, loose-tube cable is also designed to simplify cable preparation, eliminate gel cleanup, and reduce termination time. UV-resistant cable sheathing withstands harsh environment elements and meets Telcordia light absorption requirements. An all-dielectric cable for aerial and duct applications features a non-metallic construction that eliminates the need to ground or bond. Armored cable versions have corrugated steel armor designed for superior crush resistance in direct buried applications. Both versions are available insinglemode and multimode, and in standard fiber counts up to 48 as a "stranded tube" design.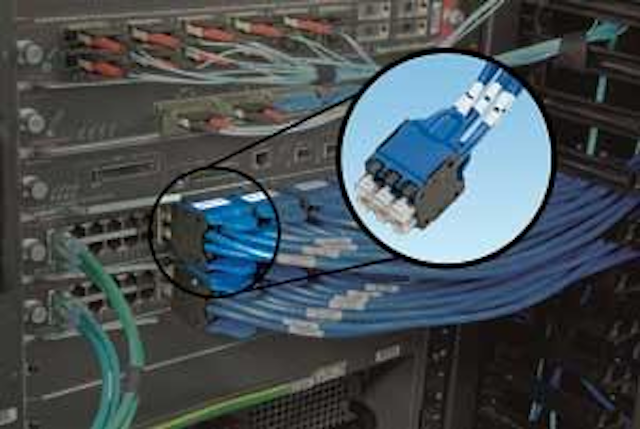 Click here to enlarge image
QuickNet Plug Pack assemblies are designed for simplified connection and disconnection of patch cords to a variety of switches, reducing time and cost associated with installing and maintaining structured cabling links. Multiple patch cords can be installed simultaneously with one hand, allowing identification and removal of individual cable links without disrupting service toother network connections. An optionallock-in device prevents unauthorizedremoval of plug packs from the switch.The assemblies are constructed with the company's performance-tested patch cords and assembled in a factory-controlled environment. They are available in Category 5e, 6, and 6A versions.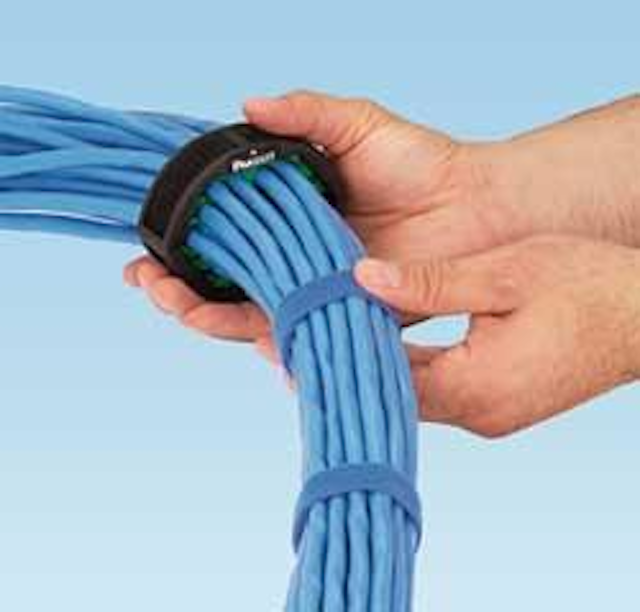 Click here to enlarge image
The Cable Bundle Organizing Tool arranges up to 24 data cables, and is designed to optimize bundle size while improving appearance. Guide the tool along the bundle length to organize cables before installing cable ties. After cable organization/tying is complete, simply slide the tool off the cable. The tool accommodates a wide range of network cable diameters, and works well in tight spaces.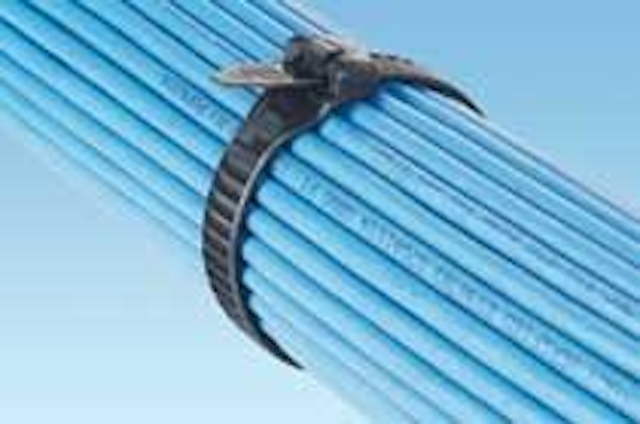 Click here to enlarge image
Elastomeric Cable Ties are designed to protect against over-tensioning of high performance fiber and copper cables, and prevent lateral movement on cable bundles. The soft material has no sharpedges and is UL 94V-0 flammability-rated and halogen-free, minimizing the risk of building/equipment damage. Areleasable design accommodates frequent moves, adds, and changes.
PANDUIT
www.panduit.com
Ethernet extender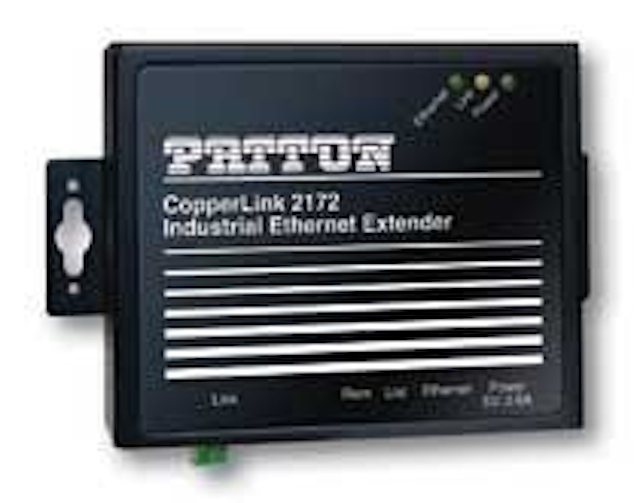 Click here to enlarge image
The Model 2172R 50-Mbits/sec Rugged-ized Ethernet Extender for IndustrialEthernet applications eliminates the need to install cable when linking Ethernet-based PLCs and other shop floor equipment to the office LAN. Achieving a maximum full-duplex line rate of50 Mbits/sec, the 2172R is designed toextend the reach of Ethernet segmentsup to 3,000 feet or more over existing TTL, RS-232 or RS-422/485 serial circuits. It is enclosed in a wall- and DIN-rail-mountable metal case, and features an operating temperature range of -10°to 70° C. For high humidity installa-tions, an optional conformal coatingoffers additional protection.
PATTON ELECTRONICS
www.patton.com
Extra bend-insensitive fiber
CasaLight Plus, an enhanced version of the company's bend-insensitive fiber, is designed to further reduce minimum working bend radius in extreme-bend installations, exceeding the international standard requirement for bend-insensitive fiber (ITU G657.B). Accord-ing to the company, CasaLight Plus maintains full compliance with standard equipment, connectors, and fiber already installed in accordance with ITU G652.
PRYSMIAN
www.prysmian.com
Cable bundle holder;wire/cable bushings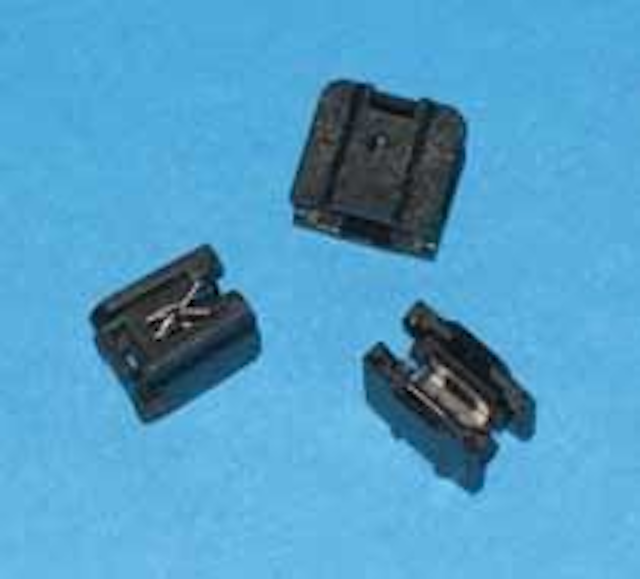 Click here to enlarge image
This edge clip tie holder (FTH-31) is placed on the edge of a panel to accept a cable tie and mount a cable bundle. The clip accepts many different tie sizes, andallows ties to be mounted in two directions, while the holder accepts panels of 0.03 to 0.12 inches. No panel holes are necessary. The RoHS-compliant clip is available in UL94 V2 Nylon 6/6, UL94 V0 Nylon 6/6, and high-temperature Nylon 4/6.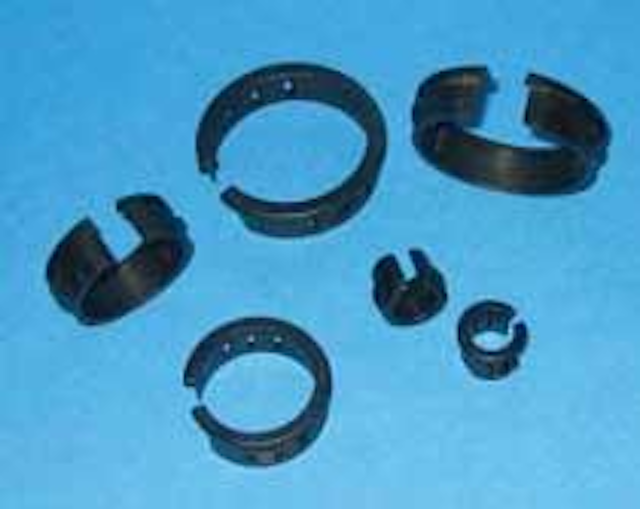 Click here to enlarge image
PGSB-A Series open bushings convert raw or sharp-edged holes into smooth, insulated holes, and insulate and protect wires and cables. The bushings have a split design that allows assembly into holes already containing cables. These RoHS-compliant bushings are available in 14 sizes to accommodate a variety of hole diameters and panel thicknesses.
RICHCO, INC.
www.richco-inc.com
Cable test kit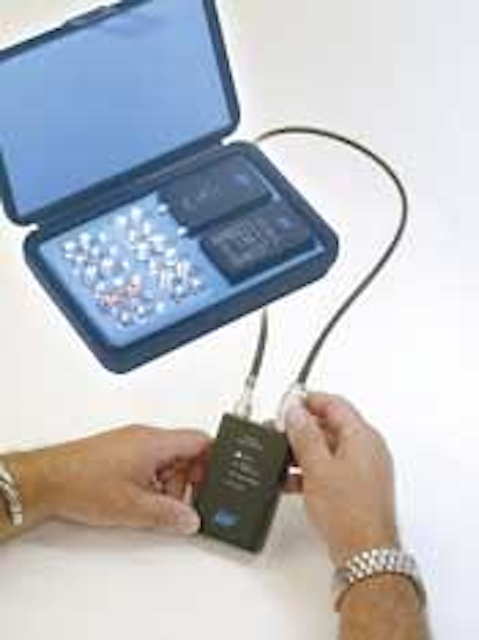 Click here to enlarge image
The RFA-4028-WiFi kit (pictured) for testing wireless, Wi-Fi and broadband infrastructure, contains a Unidapt RF cable tester with 30 universal adapaters, including male andfemale MMCX, N, reverse polarity TNC and SMA, and TNC, BNC, and SMA connector interfaces. By joining two adapters using a universal center (included), coaxial adapters can be made with any combination of the available interfaces. The RFA-4018-20 coaxial cable tester measures for opens and shorts. An LED display indicates continuity for the shield and center conductor, and checks for shorting across conductor paths. An additional continuity tester is in-cluded for testing Category 5/5e/6 straight-through or crossover RJ-45, UTP, 10Base-T, 100Base-T, 1000Base-T EIA/TIA 568-A/B network cables. The LED display identifies the cable pairs and indicates a correctly wired cable, andwill identify crossed or mis-wired pairs.
RF INDUSTRIES
www.rfindustries.com
Non-metallic trough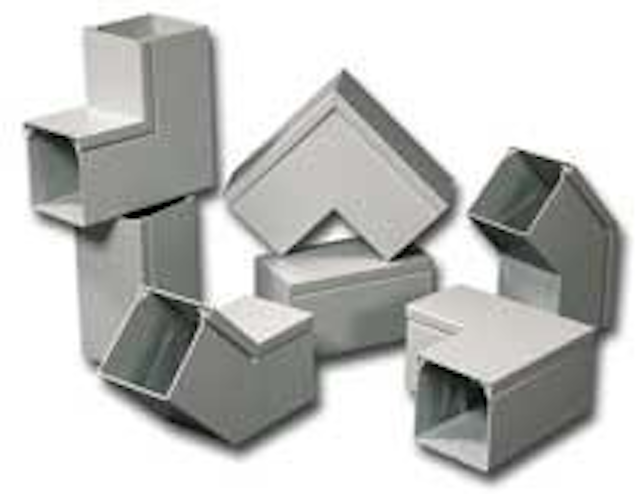 Click here to enlarge image
The Wireway and Trough Series is designed as an auxiliary wire management system used in conjunction with the company's non-metallic composite enclosures. The pultruded composite material is design to protect wires and cables from harsh indoor and outdoor environments, such as chemical processing facilities, oil and gas industry, and industrial/commercial control systems. A lay-in wire design and snap-on cover provides simplified access for new systemsor upgrades.
STAHLIN NON-METALLIC ENCLOSURES
www.stahlin.com
Patch cords with balun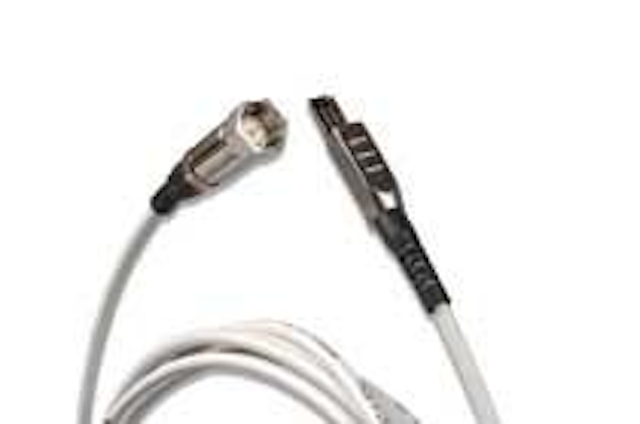 Click here to enlarge image
These hybrid patch cords are designed to provide a high-density solution for transmitting video signals over twisted-pair network cabling. They combine a 1-pair TERA plug with an integratedF-type or PAL balun, allowing direct support of video equipment, such as CATV receivers, CCTV cameras, DVD players, and televisions via a Category 7A TERA network infrastructure. Usable up to1000 MHz, the patch cords are designed to exceed the 862 MHz frequency ceiling of CATV systems. No additional converters or adapters are required to connect to standard video equipment. The baluns convert unbalanced video signals designed for coaxial cabling at 75 ¿ to balanced 100-¿ impedance signals required for transmission over balanced twisted pair cabling. With a variety of 1-, 2-, and 4-pair hybrid TERA-to-RJ patch cord options, multiple voice and data applications can also be simultaneously supported by a single TERA outlet and cable.
SIEMON
www.siemon.com
GbE media converter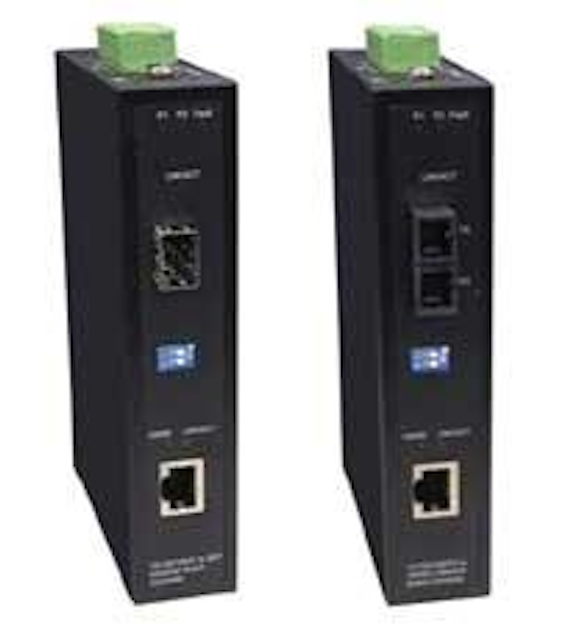 Click here to enlarge image
The SIST G10xx-111-LR unmanaged Gigabit Ethernet media converter is designed to allow low-speed or legacy copper-based devices to be bridged onto a Gigabit Ethernet fiber backbone. It has1 x 10/100/1000Base-T and 1 x 1000Base-Xports, offered with either fixed optics or a Gigabit SFP slot. The RJ-45 port supports auto-negotiation and auto-MDI/MDI-X. This media converter also offers Link Pass Through, which provides the ability to "pass through" the loss of RX signal on one of the media ports to the TX signal of the other.
TRANSITION NETWORKS
www.transition.com
Home/office mediaconnectivity solutions
This HDMI UTP 110 IDC-type Extenderis designed to extend the HDTV signal in home or business installations up to 150 feet away from the source,using two 4-pair Category 5/5e/6 cables. It is designed to provide greater flexibility when integrating several hometheater/video components, and can be used to correct and compensate for long-run cables that can cause equipment noise in the viewing environment.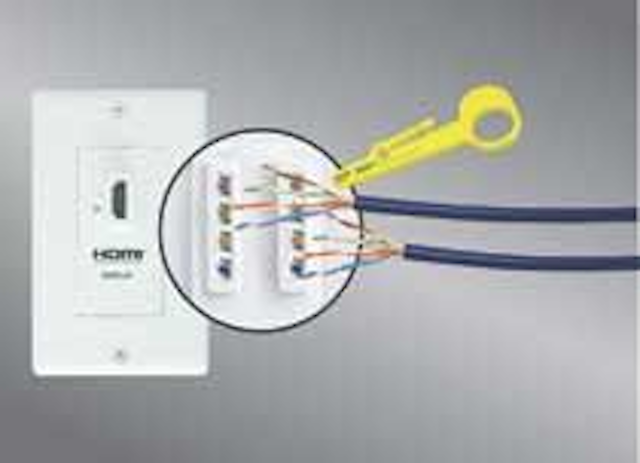 Click here to enlarge image
Compact Multimedia Snap-in Modules for audio/voice, fiber, and data/voice fit into any keystone-style jack cutout. Up to six modules, measuring 14.6 x 16-mm each, can fit in a single-gang wall plate. Colors include white, gray, back, blue, green, red, orange, yellow, and ivory.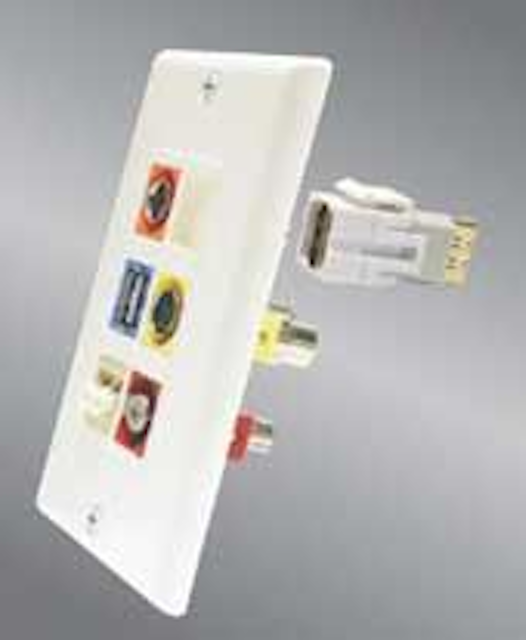 Click here to enlarge image
The rack-mountableVGA UTP Extended Splitter is a point-to-multi-point real-time video and audio extender/splitter. It transmits high-quality video and audio signals from any VGA source to display and speaker over UTP Category 5/5e/6cables. This device is designed to drive video from one source to up to 12 remote monitor screens up to 500 feet away.
The MTP fiber rack-mount breakout panel fits 48 LC or 24 SC/ST connectors, and is designed for expansion, eliminating the need for a more conventional rack-mount chassis enclosure. The MTP female coupler is angle-mounted in the rear of the enclosure, reducing cable bend ratio.
TRI-NET TECHNOLOGY
www.trinetusa.com
Open top tool bag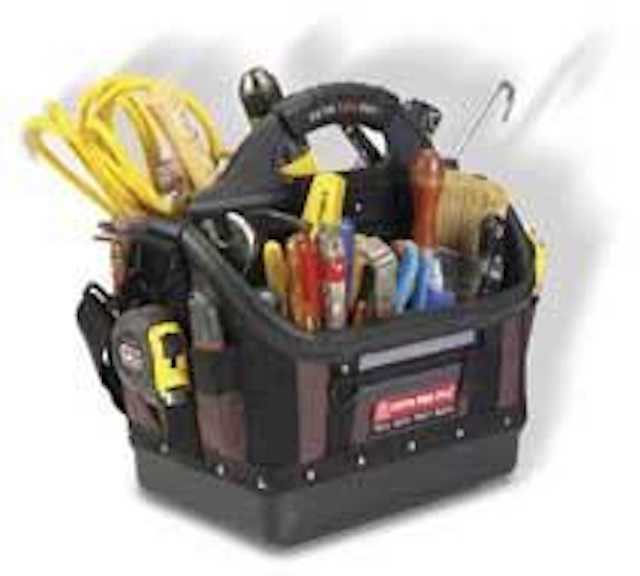 Click here to enlarge image
The OT (open-top) tool bag features two large-capacity, top-loadingcompartments designed to carry hand tools as well as larger items (such as cordless drills, hand saws, and clamps). Built with a PVC-impregnated fabric riveted to a 3-mm injection-molded polypropylene base, the OT comes in three sizes: OT-LC for more than 60 hand tools; the OT-XL for more than 75 tools; and the OT-XXL for more than 100.
VETO PRO PAC, LLC
www.vetopropac.com
Corded input, 3-phase UPS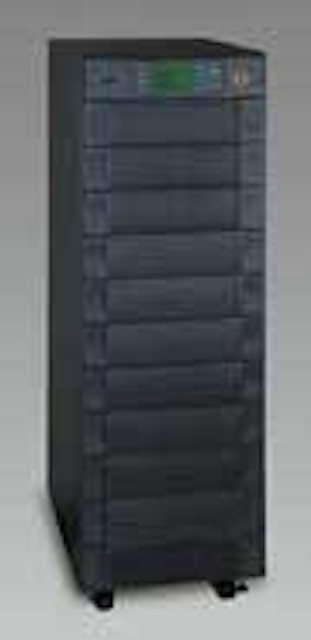 Click here to enlarge image
New models in the 8kVA SmartOnline hot-swappable modular UPS systems (SU8000RT3UN50, pictured; and SU8000RT3UN50TF) feature a corded input that eliminates the need for an electrician to install the unit via hardware connection. The UN50 model features 200 to 240-volt input/output, while the UN50TF model includes a transformer module for additional 120-volt output. These enterprise systems let you perform all potential UPS maintenance without powering down connected equipment.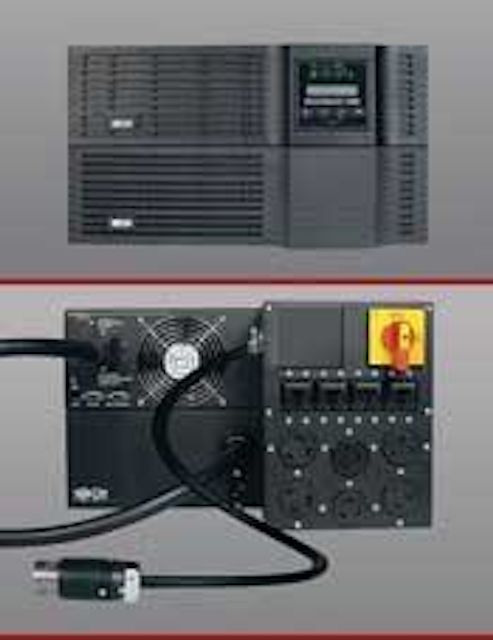 Click here to enlarge image
Three models in the SmartOnline modular 3-phase UPS systems for 120/208-volt applications (SU40K, SU60K, and SU80K) feature individual capacities ranging from 40 to 80 kVA, system capacities up to 160 kVA, and operational efficiencies up to 97%. The devices feature multiple modules to provide N+1 redundancy for critical loads. Should a module fail, the remaining modules are designed to seamlessly compensate to support the load. The UPS systems also feature 1+1 parallelcapability, enabling two units connected in parallel to either provide 2N system redundancy or increased power capacity. In a parallel redundant configuration, each UPS supports 50% of theload. If one UPS is subsequentlyremoved or taken off-line for main-tenance, the second UPS will supportthe full load automatically.
TRIPP LITE
www.tripplite.com
OSP cabling trailer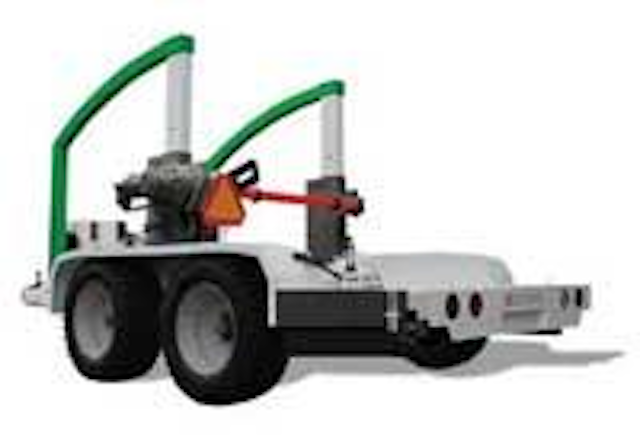 Click here to enlarge image
ZW-R cable distribution trailers for OSP installation are especially designed for work in slow traffic. The trailers feature an upside opening rear bridge for simplified insertion of the cabling drum, quick axle lock, broad tires for better grip on soft surfaces, and extensive lighting for more secure nighttime installations.
VENROOY CABLE EQUIPMENT
www.venrooy.nl