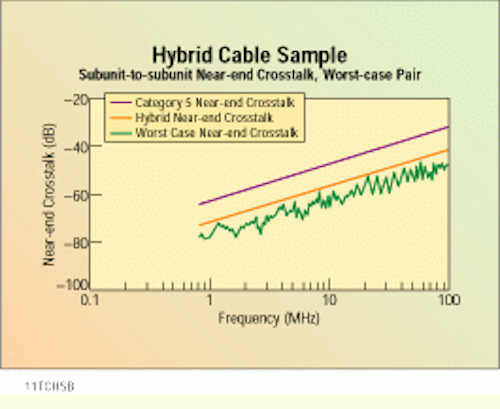 Galen Garels and Jay Lahman
Belden Wire & Cable Co.
Hybrid cabling is a prevalent topic in today`s networking circles. The appeal of these high-performance cables, which typically combine both metallic conductors and optical fibers within the same jacket, is their long-term cost savings and their ability to meet the projected network performance requirements of the future. Due to their construction, however, hybrid cables must meet stringent standards for near-end crosstalk to ensure proper performance.
The TIA/EIA-568A commercial telecommunications cabling standard of the Telecommunications Industry Association (Arlington, VA has defined what constitutes a hybrid cable. Although the terms "composite" and "hybrid" are sometimes used interchangeably, a composite is a product that contains two or more elements of the same transmission medium--for example, all metallic or all fiber. A hybrid contains two or more elements of dissimilar transmission media--for example, metallic and fiber. Furthermore, a hybrid product combines two or more of the following recognized cable types:
-Four-pair, 100-ohm unshielded twisted-pair cable
-Two-pair, 150-ohm shielded twisted-pair (STP-A) cable
-Two-fiber, 62.5/125-micron optical fiber cable
When to use hybrid cables
Hybrid cables are ideal for networks involving real-time image transport or sharing large files. Such applications include computer-aided design and manufacturing, laboratory simulators and hospital imaging systems--or, for that matter, any other application that now requires high-bandwidth Category 5 cables and may require even higher bandwidths in the future.
These applications can be further characterized by the type of network technology they employ. Among the technologies that can effectively utilize hybrid cable are fiber distributed data interface, synchronous optical network, asynchronous transfer mode and Fast Ethernet.
The TIA/EIA-568A standard has established near-end crosstalk requirements for 4-pair unshielded twisted-pair cable products to ensure secure, error-free signal transmission. The current standard requires that each individual pair, measured with respect to another powered pair in the cable, show crosstalk at each frequency that is greater than or equal to the value determined using a formula in the standard. For TIA/EIA Category 5 products, this formula is applied to horizontal links of up to 100 meters (328 feet), as measured from 0.772 MHz to 100 MHz. As frequency increases, near-end crosstalk decreases due to increases in electromagnetic and radio-frequency interference at the higher frequencies. At 0.772 MHz, the required near-end crosstalk value is 64 decibels. At 100 MHz, it drops to 32 dB.
Since non-hybrid horizontal cables are assumed to be randomly bunched into cable trays, a cable-to-cable requirement is assumed to be unnecessary. But, in a hybrid cable utilizing two or more UTP subgroups, it`s felt that the two or more elements are likely to be in closer proximity to one another, given that they are geometrically bound. Due to consistent lateral proximity, these cables couple much more radiated interference. As a result, the near-end crosstalk requirement for hybrid cable is significantly more stringent than that of a single UTP subunit.
The hybrid specification`s requirement for a two-subunit cable is a full nine decibels stricter than the near-end crosstalk requirement for individual subunits. This stricter requirement offsets the additional EMI and RFI field strengths generated when twice as many pairs can potentially be energized at one time in close proximity to one another. Since the cables are in a fixed geometric structure, there is no randomness in cable trays such as naturally occurs with individual cables.
Shielded twisted-pair cables, individually or overall, don`t have this problem, and this is part of the reason some people feel that the higher cost of STP is justified.
Power-sum testing
Several multipair non-composite UTP cables are also on the market. An example is riser 25-pair UTP trunk cable. Since these cables do not have the same near-end crosstalk testing requirements, a different approach must be taken.
A multipair cable with more than four pairs must employ a power-sum near-end crosstalk test method that adds all the EMI and RFI to the selected pair under test from every other pair in the cable. The pair under test for near-end crosstalk is the disturbed pair, and the powered pair generating the interference is the disturbing pair. All disturbing pairs in the cable are powered one at a time, and the interference on the disturbed pair is recorded. After all pairs have disturbed the pair under test, the total EMI and RFI energy is summed, which accounts for the term "power sum."
The power-sum crosstalk at each frequency from 0.772 MHz to 100 MHz must meet a formula in the standard that is the same as the formula for 4-pair Category 5 UTP cables. But, since 25-pair cables are exposed to the near-end crosstalk of 24 additional pairs, the requirement is much harder to meet. The hybrid specifications are more strict than even the 25-pair backbone specification. In order to meet the hybrid or backbone cable requirements, special lay configurations within the pairs are usually used in both cable designs to decrease the EMI and RFI emissions to an absolute minimum.
To ensure that a system will perform properly with hybrid cables, users should keep in mind the following considerations:
-Understand the type of cable test and specification required for a given installation. For a composite cable with two or more individually jacketed 4-pair UTP subgroups, the appropriate specification is governed by the hybrid near-end crosstalk test limit equation. Per TIA/EIA requirements, composites must not be tested using the power-sum method. For multipair--for example 25-pair constructions--the power-sum limit equation must be used.
-Underwriters Laboratories will allow products to be sold as bundled cable constructions containing Category 3, 4 or 5 cable that do not meet the composite or hybrid requirements if the outer jacket is not marked "hybrid." The print legend may contain wording to indicate that individual subunits meet a specific category requirement and not the horizontal link which is detrimentally affected by the absence of hybrid near-end crosstalk performance.
-Bundled subunits that are physically bound to one another by using, for example, a Mylar tape are also hybrids, since the geometric placement of the cables to one another is fixed as if they did indeed have an outer jacket. Proper test protocol would have the horizontal links that use bundled cables tested per hybrid requirements. Near-end crosstalk failures may occur unless a random physical placement of identical subunit cables is practiced.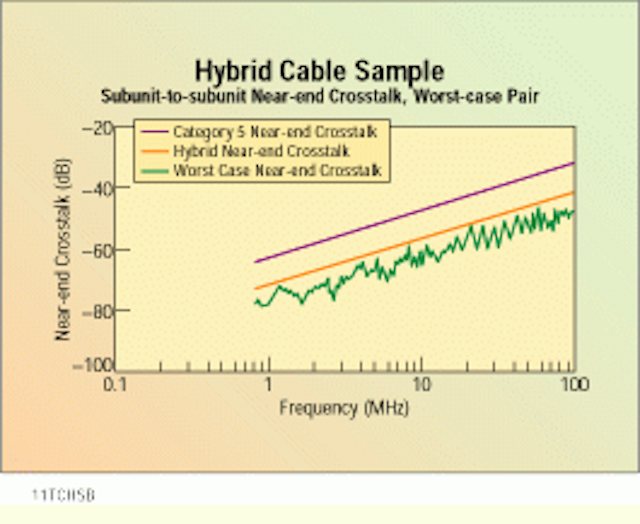 Click here to enlarge image
Near-end crosstalk requirements for a single Category 5 unshielded twisted-pair cable are less stringent than the specification for two Category 5 UTP subunits bound into a hybrid cable construction with two FDDI-grade fibers. An actual test measurement for worst-case near-end crosstalk is also shown, measured in decibels from one megahertz to 100 MHz.
Galen Garels is senior product engineer and Jay Lahman is a product marketing specialist for LAN and premise wiring products for Belden Wire & Cable Co., Richmond, IN.