Industrial Ethernet patch cord gets new jacket
Siemon's Max Cat 5e line of cords is now available with flame-retardant thermoplastic elastomer, polyurethane, or polyvinyl chloride jackets.
Aug 26th, 2010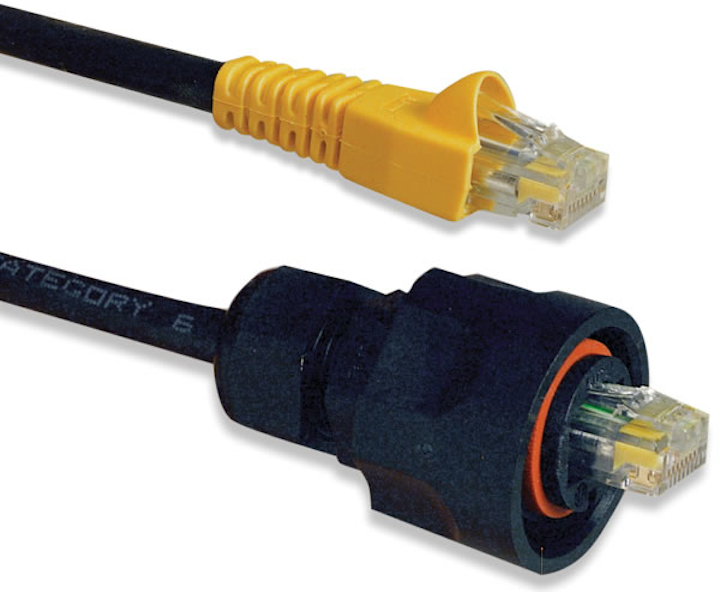 Siemon's Cat 5e Max brand Industrial Ethernet patch cords are now available with new cable jacket options. Available in shielded and unshielded configurations, the Category 5e Ethernet patch cords feature flame-retardant thermoplastic elastomer (FR-TPE), polyurethane (PUR) and polyvinyl chloride (PVC) jacket options. Siemon says these jacket options allow users to select the most appropriate cable for their specific applications. The Max line of industrial products from Siemon was designed for applications and facilities in which dust, moisture, chemicals or vibration can negatively affect network connections.
According to the company, "These three jacket options allow the user to select the best cable for their specific application, based on their relative phyiscal durability, flexibility and resistance to environmental conditions such as temperature, ultraviolet light, moisture, chemicals and flammability. TPE and PUR cables feature pressure-extruded jackets that provide outstanding flex endurance as well as tear and crush resistance to support harsh conditions such as continuous flexing in robotics or the splatter from automated welding. All three jacket varieties are RoHS-compliant and lead-free."
All Industrial Max 5e patch cords, as well as Industrial Max 5e outlets, feature the manufacturer's Category 5e RJ45 connectivity encased in a protective outer housing. The housing is made of heat-resistant thermoplastic and features a bayonet-style mating design that latches with a quarter-turn. The outlet and patch cord are IP-67-rated. The cords are available in industrial-plug-to-industrial-plug and industrial-plug-to-RJ-45 versions.
Siemon also offers standard RJ45 Category 5e UTP and shielded patch cords with TPE, PUR and PVC cable jacket options. The company says these cords can be used between enclosures or where IP-67 connectivity is not required.