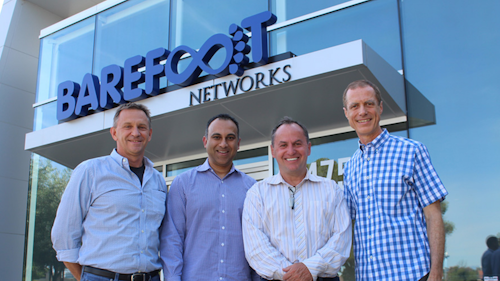 Barefoot Networks
By STEPHEN HARDY, Lightwave -- Intel says it has agreed to acquire Santa Clara based Barefoot Networks, which makes programmable Ethernet switch silicon and software for data center network applications. Financial terms of the deal were not disclosed. Barefoot CEO Dr. Craig Barratt is expected to join Intel, along with the rest of his team, when the acquisition closes, a milestone Intel expects to reach in the third quarter of this year.
According to Navin Shenoy, executive vice president and general manager of the Data Center Group at Intel, bringing Barefoot aboard will improve Intel's expertise in cloud network architectures, P4-programmable high-speed data paths, switch silicon development, P4 compilers, driver software, network telemetry, and computational networking. Shenoy said Intel will continue to support Barefoot's current customer base.
Barefoot offers the Tofino line of programmable Ethernet switch chips, based on the company's Protocol Independent Switch Architecture (PISA). It also offers Deep Insight, a packet analysis capability for network performance evaluation. Its chips have been used in a variety of open network initiatives and demonstrations, including AT&T's white box switch field trials and the ONF Stratum reference platform. The company also is a member of the OSFP and CWDM8 multisource agreements (MSAs).
STEPHEN HARDY is editorial director and associate publisher of CIM's sister brand, Lightwave.