The installation and use of singlemode fiber-optic cables with fiber counts in the thousands has prompted installers to learn and implement techniques that are not required when they install cables with lower fiber counts. These cables have emerged and grown in deployment as some of the world's largest users of bandwidth have interconnected their facilities.
Jon Fitz, director of product management for Prysmian Group, explained in an interview with Cabling Installation & Maintenance that there was a prime mover in this technological development. "Hyperscale data centers," he said. "They don't care what the cable looks like; they just want more fiber in a duct. They were the genesis of the drive to higher fiber counts."
Fitz pointed out that the production of an ultra-high-fiber-count (UHFC) cable incorporates two different measures of technological development: the fiber and the cable. "When we talk about these types of cables, a couple things are happening," Fitz said. "One is ultra-high-fiber-count applications. The other is flexible ribbon applications. There are cases when both come into play, and cases when one or the other comes into play." He added that it's important to maintain that perspective about the dual paths of technological development, because the two often are lumped together.
Rollable or flexible ribbons were developed as a means to reach hyperscale data centers' demand for ultra high fiber counts, Fitz noted. He added that today, for hyperscale data centers, a fiber count of 1728 is a starting point. "We have customers for whom 1728 fibers is small," he pointed out. "Another segment of our customers uses 1728 fibers and below. They overlap the heaviest right at the 1728 fiber count."
More fibers in a duct
For many customers, the outside diameter of an ultra-high-fiber-count cable is a vital characteristic because it's not only hyperscale data centers that are interested in fitting as many fibers as possible into whatever duct space is available. Fitz pointed out that Prysmian offers a 1728-fiber cable that is smaller in outside diameter than its 864-fiber cable. "Many users have 1.25-inch duct," he explained. "And a typical [traditionally constructed] 864-fiber cable is just about at the limit of what can fit into a 1.25-inch duct." So historically, when a user with a 1.25-inch duct asked how many fibers could fit into that pathway, the answer was 864. Now the answer is 1728.
While 1728-fiber cable enjoys deployment among several user types, including hyperscale data centers, telecommunications carriers, and other general outside-plant network owners, for the hyperscales that number can be on the lower end of the scale. In late 2018 Prysmian introduced a 6912-fiber cable, part of its MassLink product line, that incorporates FlexRibbon technology. The cable fits in a 2-inch duct. At the time Prysmian introduced the cable, Fitz commented, "The fiber density speaks for itself. We've gone beyond mere numbers to provide a more robust design that's easier to install. With this amount of fiber in a single cable, we concentrated on a product design that would provide installers and splicers with craft friendliness and superior fiber management."
The company emphasized that part of the cable's craft-friendliness comes from the dielectric strength member in the cable's middle. "This allows the cable to bend in all directions uniformly," Prysmian said, "unlike designs with diametrically opposing strength members in the jacket. It also avoids the need to electrically bond and ground the strength members."
In his interview with us, Fitz elaborated on the merits of Prysmian's multi-tube cable construction. "Multi-tube has several benefits. Using multi-tube, it's easy to put the strength member in the middle of the cable. That means the cable is both more flexible to begin with, and it can be flexed in any direction. It doesn't have a preferential bend.
"Also, realistically you can't put 3456 fibers in a single splice tray. If you already have grouped fibers into 144 or whatever number that can fit into a tray, the installer doesn't have to take 3456 fibers and sort them out. With our higher-fiber-count cables, we make the tubes as thin as possible." The tube doesn't route directly into a tray, he said, but the individual fibers can be removed from the tube easily and managed in the splice tray.
Installation challenges
Before discussing these splice-related attributes of multi-tube cables, Fitz brought up bend radius during installation. "It is the first point to emphasize," he said. "Many installers probably are using wheels, capstans or other equipment that may be marginal for 144-fiber cable. In the field, generally there's not a lot of care given to whether or not the bend radius is OK for a particular cable. If you're installing cable that is 0.5 or 0.75 inches [in diameter], you probably won't have problems. But when you're preparing to pull a 1.25-inch cable, it matters much more."
He added that when he asks installers if they have a 40-inch wheel, some don't even know that a wheel of that size exists. "Bend radius is a big deal," he emphasized. "On one hand, when you compare this cable type to a different cable with the same fiber count, these [UHFC cables] can withstand a smaller radius. But you're still pulling a 6912-fiber cable. It's much bigger than anything you've ever installed. The main message for bend radius is: You do get more latitude for the same fiber count, but don't kid yourself. When you quadruple fiber count, you're still talking about a big cable."
Impact on splicing
As we have reported in the past, optical-fiber providers have come up with different flexible-ribbon-type designs that allow such high fiber counts to be packed into these UHFC cables (see "Installation practices for extreme high density fiber cabling," March 2019). One characteristic of these high-density fiber designs is that the optical fibers are 200 microns rather than 250.
Because the installed base of singlemode fiber overwhelmingly is 250 microns in diameter, the practicality of splicing a 200-micron fiber to a 250-micron fiber is being sorted out by providers of fusion splicing equipment. "It is an evolving space," Fitz observed. "In a few months it could become clearer, if [splicing] equipment manufacturers come out with adapters or other tools. But one important point is that the cladding does not change." Whether the fiber's diameter is 200 microns or 250 microns, the cladding is 125 microns, he emphasized.
On May 23, 2019, Cabling Installation & Maintenance hosted a web seminar titled "High-Capacity Cabling Systems." During the seminar, Sumitomo Electric Lightwave's director of product management Joshua Seawell discussed fusion splicing UHFC cable types. He emphasized that the fiber technology—the methods used to make the fiber ribbons flexible and to enable such high densities—can affect craft-friendliness for the splice technician.
"If the fibers come apart too easily, for the splice technician it is more like a single-fiber loose-tube construction," he explained. "Fewer gaps between the adhesion points [between individual fibers] allows for fiber handling that is similar to standard ribbon, for quick and easy fusion splicing," he added.
Seawell emphasized that even if these differences amount to less than a minute of additional time spent splicing each ribbon, we're talking about cables with fiber counts in the thousands. A few seconds per ribbon multiplied by the number of ribbons spliced adds up to significant additional time spent splicing, he pointed out.
During his seminar presentation, Seawell also provided detail on transition and demarcation options for UHFC cables. As part of his demonstration he described Sumitomo's Ultra Hyperscale eXchange (U-HSX) system. The company describes U-HSX as "a solution for clients employing high-fiber count ribbon cables in their networks. The U-HSX serves as the demarcation point between outside plant ribbon cables and indoor distribution ribbon cables."
The U-HSX is a wall-mounted system with the capacity to house 41,472 fibers. Smaller versions also are available. For example, the quarter-size wall-mount unit has a 10,368-count fiber capacity. Its dimensions are 26x56x20 inches, compared to the full-size HSX's 72x56x20 dimensions.
Sumitomo offers the Vertical Hyperscale eXchange (VHSX), which also has a 10,368-fiber capacity. It mounts vertically, as its name indicates, with dimensions of 42x32x15 inches.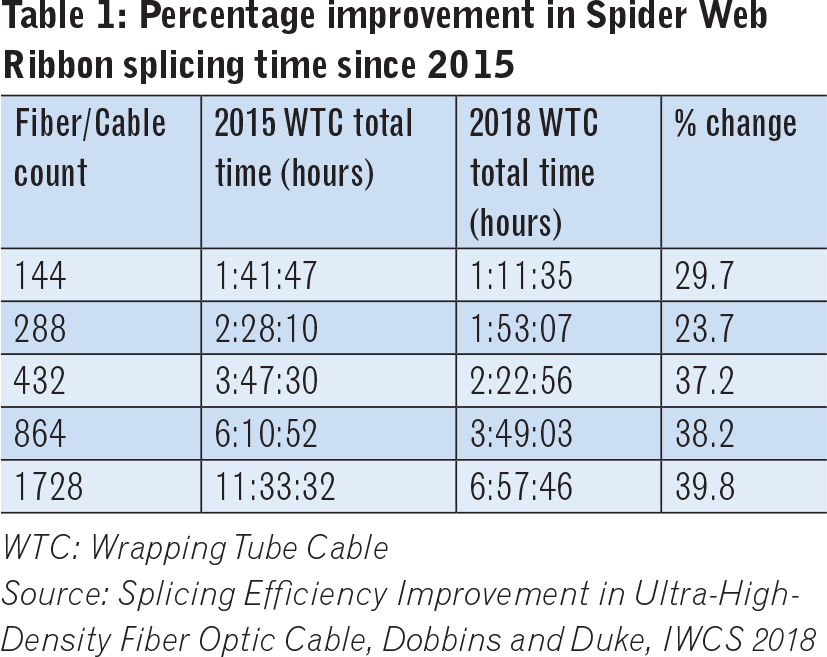 Updated research
The article we published in March referenced a paper delivered at the 2015 International Wire and Cable Symposium (IWCS), in which AFL's Patrick Dobbins and Brett Villiger discussed scenarios in which the company's wrapping tube cable design showed efficiency gains during installation.
At the 2018 IWCS, Dobbins, who is AFL's director of solutions engineering, collaborated with AFL senior applications and development engineer Douglas Duke, to present "Splicing Efficiency Improvement in Ultra-High-Density Fiber Optic Cable." The paper compares data from efficiency tests conducted in 2015 with those conducted in 2018.
The paper—delivered in October 2018 before Prysmian released its 6912-fiber cable and before Fujikura also released a 6912-fiber cable in November—says of ultra-high-fiber-count cables, "This new cable technology offers a higher packaging density, with more fibers per square millimeter of cable cross section, as compared to traditional ribbon cable designs using encapsulated ribbons.
"Since 2015 there have been a number of manufacturers to offer similar cables. The maximum fiber count of these cables in 2015 was 1728 fibers. Today, cables are commonly offered with up to 3456 fibers. Cables with 6912 fibers are in the process of being released by several manufacturers, with initial trial installations taking place as this paper is published."
The paper is based on AFL's own spider web ribbon (SWR) design and its own wrapping tube cable construction. In the paper's summary and conclusion section, Dobbins and Duke explain that a "side-by-side comparison of SWR splicing time from the 2015 study versus the improved times achieved in the 2018 study yield a range of overall SWR splicing time improvement of 24 to 40 percent, depending on fiber count." The results within the paper show that as fiber counts increase beyond 288, so do the efficiency gains. For example, Dobbins and Duke's 2015 study produced a total splice time of 11:33:32 for a 1728-fiber wrapping tube cable. In 2018, the splice time was reduced to 6:57:46, a 39.8% efficiency gain.
The authors summarized, "The introduction of collapsible ribbons such as SWR some years ago represented a paradigm shift in high-density fiber-optic cables. While the higher density was valuable in and of itself by providing the opportunity for a much larger number of fibers within restricted duct space, additional benefits were realized in terms of cable joining and total splicing process time, as documented in 2015.
"As is the case with many paradigm shifts, full exploitation of such a new technology often requires subsequent related developments. A 'systems' approach, in which the new technology is analyzed relative to interactions with related technology and products, is often beneficial."
Dobbins and Duke then point to specific product developments and enhancements that AFL has made as a result of taking this systems approach. The new product developments include a splice closure system that capitalizes on colored binders, revised ribbon-preparation tools, and Bluetooth-connected cleaver and splicer. They end the paper with, "Further developments in technology and products related to high-density cables and collapsible ribbons will enable realization of additional savings in the total splicing process time in the near future."
Patrick McLaughlin is our chief editor.