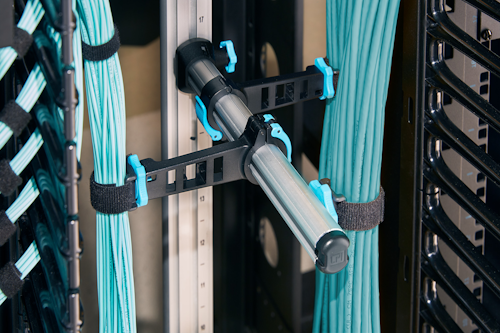 By David M. Richards
In a typical enterprise network, the telecommunications room (TR) is the key connection point between the work area and the equipment room or main crossconnect. The TR is commonly located on each floor of a building and contains telecommunications network systems housed in structures such as enclosures, racks and raceways. It serves as the central junction for the cabling and equipment connected to the network, and therefore must include the right infrastructure to support future network growth and new technology advancements.
Lately, however, the growth of the Internet of Things (IoT) has been pushing telecom, data and computing services away from centralized locations like the TR to the outer edges of the network and closer to end users to minimize latency. These locations include manufacturing floors, warehouses, and multibuilding sites, such as school campuses, which may not have a dedicated room available for the network.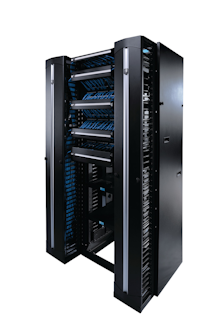 Four-post racks offer the strength and stability of a freestanding cabinet in a cost-effective open architecture, and are ideal for deeper, heavier equipment such as PoE switches.
Following is an overview of the concerns around the structure behind structured cabling and the principles behind infrastructure at the edge.
Larger, heavier equipment requires new rack designs
Open-frame two-post racks have traditionally been used to support equipment and cabling in TRs. With a small footprint that saves floor space, they are a convenient and economical way to mount and organize equipment and network switches. These racks are designed to provide unrestricted airflow for maximum ventilation and easy access to cables for moves, adds and changes (MACs).
However, as demands for power increase, the equipment stored on these racks is generally deeper—think more than 20 inches—even if it is only a few rack-units tall (i.e. only a few inches in height). Likewise, the equipment is also getting heavier. This is especially true of Power over Ethernet (PoE) switches, which require heavier, higher-wattage power supplies to support increased power feeds, leading to larger rack uninterruptible power supplies (UPSs) and backup batteries. This often requires the addition of a support/mounting bracket that will attach at the front and rear, creating a four-post rack.
Functional TRs will benefit from more-advanced cable management solutions that can help streamline the management of cables and bend radius of patch cords to ensure signal quality and network speed.
Four-post racks offer the strength and stability of a freestanding cabinet in a cost-effective open architecture. They are available in a variety of styles; some feature threaded equipment mounting rails while others have square-punched rails. Four-post racks also provide easy access to cabling and equipment, allow for unrestricted airflow for ventilation and permit the addition of a wide variety of vertical cabling sections.
Cable management and pathway: More important than ever
If the TR is the central nervous system of the network, then cables are the arteries that keep the system connected and running. And with more mission-critical data being carried through fiber-optic cable, appropriate cable management is a must. Although the fundamentals of cable management have not changed, the structural support components have improved significantly so as to better support sensitive fiber-optic cable. This is where advanced cable management solutions can help streamline the management of cables and cords to:
optimize the signal quality and network speed of information exchange;
organize cables so they can be easily traced from start to finish when performing MACs, saving valuable time and money;
fulfill high-density cabling requirements while maintaining proper bend radius, weight distribution and slack management for maximum network performance.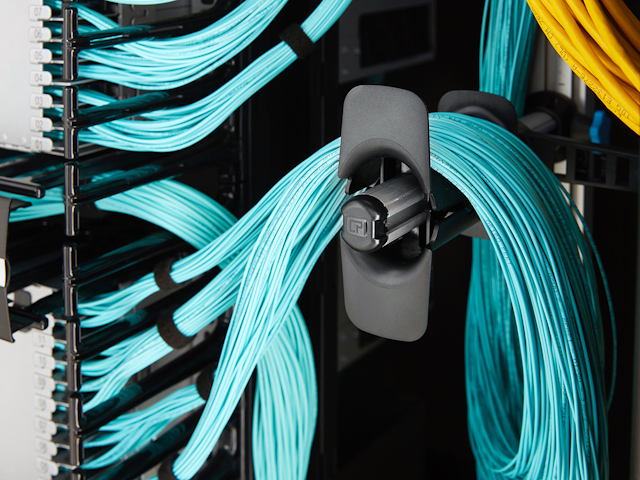 Cable management solutions are evolving from simple troughs that hold cable bundles in place to mechanical systems that can now adjust to optimize cable support exactly where needed.Cable management solutions are evolving from simple troughs that hold cable bundles in place to mechanical systems that can now adjust to optimize cable support. Best practice dictates supporting cable to prevent sharp bends, twists and stretching. And when making a vertical or horizontal transition, it's best to use a smooth 90-degree bend radius that is at least four times the diameter of copper conductors and a minimum of 1 inch for fiber conductors.
In traditional cable managers, bundles are stacked and secured against the backplane of the manager, making it difficult to troubleshoot or change cables. By comparison, a central track system allows cable bundles to be properly spaced and fully supported precisely where needed. This approach is well-suited for Type 4 PoE applications where higher wattages require properly spaced, smaller cable bundles to avoid excessive heat accumulation.
Recent improvements can also aid users who find it difficult to meet current standards with traditional approaches to cable management, as they are often difficult to use or have a lack of documentation.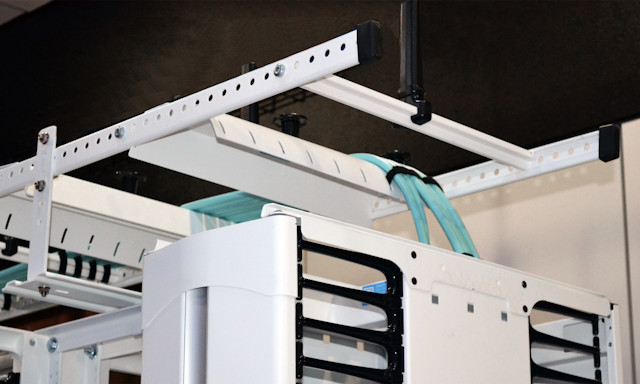 Installations with multiple cable drops greatly benefit from adjustable cable runways, which offer movable cross members, allowing for maximum flexibility.Time constraints can result in a hurried, poor installation. The latest solutions, on the other hand, offer practical accessories with tool-less installation and adjustment capabilities that allow installers and technicians to intuitively perform multiple tasks effectively.
Adjustable cable runways are another development designed to provide greater cable management flexibility, particularly in installations with multiple cable drops. Unlike the typical runway with welded construction and fixed cross members, adjustable cable runway offers movable cross members, allowing for maximum flexibility. Radius drops can be placed exactly where they are needed to provide optimal cable bundle pathways into or out of the vertical manager. Additionally, easy-to-use tool-less pathway dividers allow the user to maintain space between cable bundles within the pathway.
Another popular cable support solution is the wire mesh tray, which can be supported from the wall, ceiling, floor or from the tops of open racks. When looking for wire mesh cable trays, look for designs featuring smooth edges to protect cable and installers from getting hurt, as well as zinc plating to allow electrical continuity through splice connections. For edge deployments in harsh and wet environments, look for solutions that provide corrosion-resistant finishes.
Reliable power distribution and monitoring
Although intelligent power management is generally deployed in high-density applications, power distribution units (PDUs) with remote and switching capabilities are also key elements for a renovated TR. Intelligent PDUs feature various levels of monitoring functionality, including: branch circuit and phase-level monitoring, outlet-level metering and outlet-level switching, and integrated environmental monitoring. These features allow users to:
remotely reboot equipment before site visits;
monitor power use over time to determine available capacity and peak times;
monitor environmental conditions to ensure acceptable temperature and humidity ranges for equipment (because the TR may not have dedicated power or cooling).
Ultimately, as TR demands increase, more reliance is placed on the infrastructure itself. But by changing the approach to rack power distribution and monitoring and integrating more intelligent products into a TR's design, a new level of efficiency and availability can be gained.
Make the most of limited floor space
Office spaces, conference rooms and classrooms are a few examples of the many areas that will see a huge boom in IoT deployment. But because floor space is often limited in these settings, full-height data center racks, cabinets and enclosures are impractical. Further still, equipment may need to be placed in a shared location, or an enclosure may need to be retrofitted around existing equipment.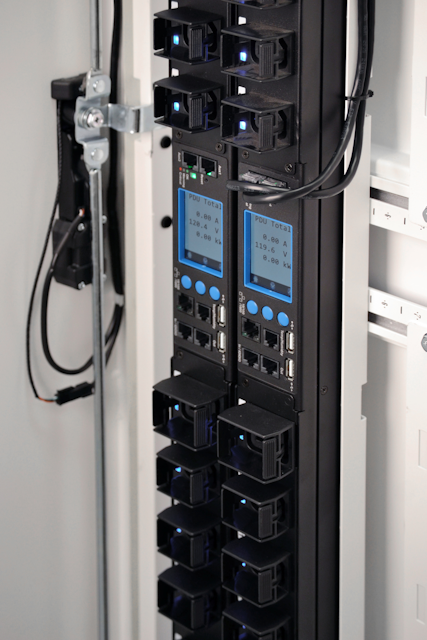 It is possible to gain a new level of efficiency and availability in your TR by integrating intelligent power management into the infrastructure.
In many of these cases, a wall-mount cabinet is the ideal choice, because it offers the same functionality as its floor-standing counterparts, but in a much more compact and space-efficient package. For retrofit applications, there are wall-mount cabinets with swing-out center chassis to provide access to the front and back of equipment and special knockouts that allow placement without replacing network connections.
Other considerations when looking for a wall-mounted cabinet solution include the following.
Security: A solid (opaque) door keeps internal equipment private whereas a door with a viewing window provides a means to monitor equipment without opening the enclosure. Access to the cabinet should be limited and controlled with a single keyed lock.
Safety and reliability: A UL 2416 listing ensures a robust cabinet design that meets strict safety requirements and is thoroughly tested well beyond manufacturer's advertised load ratings.
Cooling without disruption: Cabinet-mounted fans are commonly used to keep heat-producing equipment within operational temperature ranges. Look for fan options that operate at noise levels that will not disrupt work environments and fan solutions with ratings of at least ~2.8 cubic meters (100 cubic feet per minute) to keep equipment cool.
Retrofits: Adding an enclosure to an existing installation can be disruptive. With retrofitting in mind, consider cabinet designs that reduce implementation time with minimal disruption to the network and the environment.
Visual design: Metal boxes hung on a wall can be an eyesore. Look for wall-mounted cabinets with contemporary aesthetics and visual appeal that will not seem out of place in offices, meeting rooms and classrooms.
Alternative standards-based options: UL Listed concealed yet accessible ceiling- or under-floor-mounted enclosures for zone cabling, distributed equipment, wireless access points.
A few words about grounding and bonding
Even though structured cabling systems are being installed in nontraditional facilities and environments, these systems still must be bonded to a building's grounding (earthing) system. The electrical protection of today's high-speed cabling systems is an essential part of a properly designed and installed IT infrastructure, wherever it is located. In addition to helping protect personnel and equipment from hazardous voltages, a proper grounding and bonding system equalizes potential references and may improve the electromagnetic compatibility (EMC) performance of the cabling system. Improper grounding and bonding practices can produce induced voltages that can disrupt other telecommunications circuits, cause equipment downtime, catastrophic failures and dangerous risk to personnel.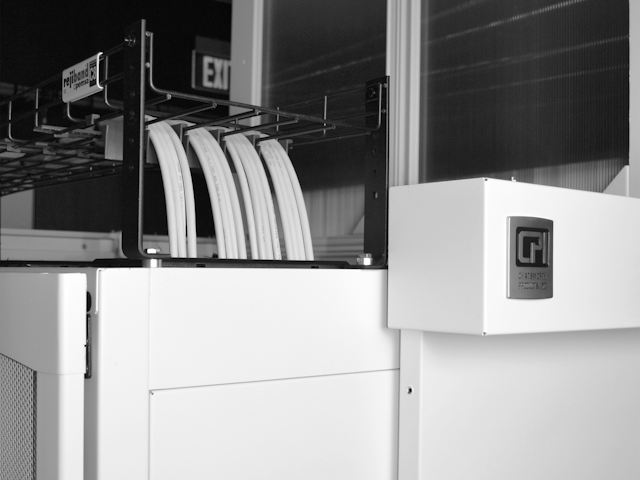 The wire mesh cable tray is another TR essential, as it can be supported from the wall, ceiling, floor or from the top of open racks.
TIA-607 is the standard created by the Telecommunications Industry Association (TIA) to facilitate the design and installation of telecom grounding/bonding systems. Whether the telecommunications system is based on shielded twisted-pair (STP) or unshielded twisted-pair (UTP) cable, the standard requires that every non-current-carrying metallic component contacting a telecom cabling infrastructure must be bonded, even if it is merely touching another metal component that is directly attached. Inside the TR, look for components that feature bonding provisions from the factory to save on installation time.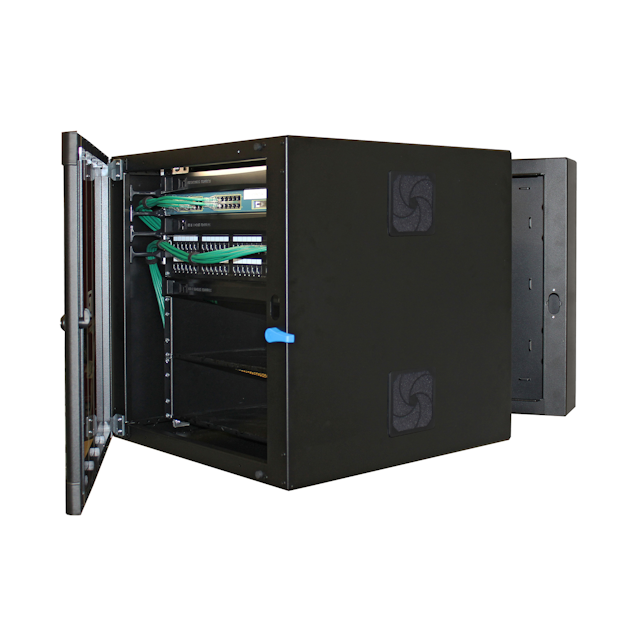 To support IoT applications, a wall-mount cabinet is the ideal choice. It offers the same functionality as its floor-standing counterparts, but in a much more compact and space-efficient package, particularly in public spaces such as classrooms and offices.

Deploying at the edge? Consider the environment
Finally, when the network is needed in nontraditional locations, it is important to consider the environment in which the equipment will be placed. For example, highly connected factories and warehouses need the network to be placed in their typically dusty, humid and harsh environments. In these cases, it is important to consider environmentally rated enclosures and appropriate cooling and power accessories to ensure they can function as the telecommunications room itself. A handful of manufacturers provide the entire spectrum of NEMA-rated enclosures, for indoor and outdoor locations.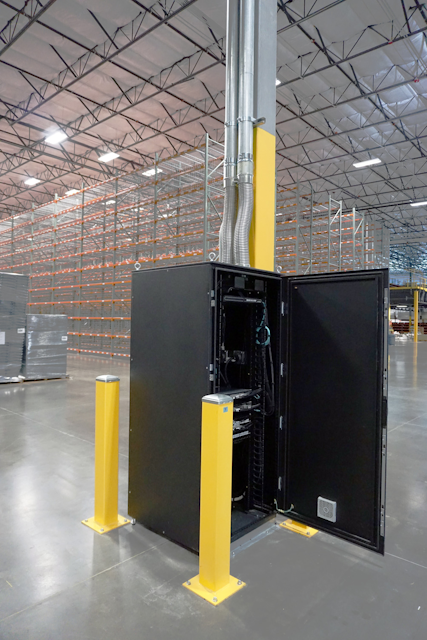 Advanced factories, warehouses and outdoor locations require environmentally rated enclosures and appropriate cooling and power accessories to ensure they can function as the TR itself.

To successfully extend the network to connect IoT and business systems, take the TR as the primary location for an infrastructure upgrade. At the very least, the TR of the future should include sturdy open racks that support heavier, deeper equipment; flexible cable management and pathway that support cables and future growth wherever needed; intelligent power distribution that allows for equipment remote monitoring and switching; as well as provide basic bonding features to protect both personnel and equipment from hazardous voltages. If floor space is a concern, wall-mounted solutions support all the aforementioned elements. Furthermore, if the equipment needs to be solely placed in harsh environments, consider environmentally rated enclosures kitted with cooling and power accessories.
David M. Richards, RCDD, NTS, OSP, TECH, CT is product manager of open systems at Chatsworth Products Inc.