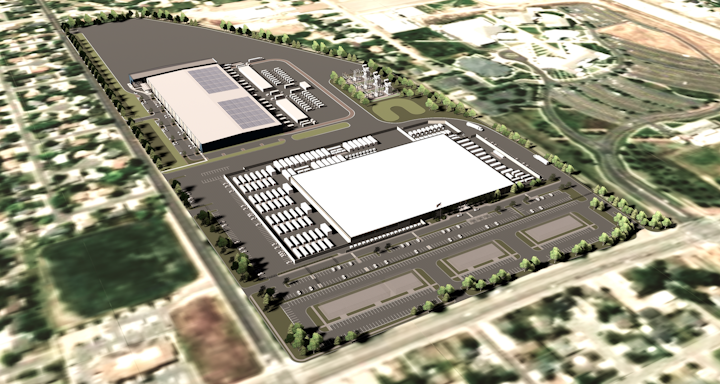 Aligned Energy
Aligned Energy, a large North American colocation data center provider offering build-to-scale platforms for cloud, enterprise, and managed service providers, has announced a major expansion of its Salt Lake Metro data center campus, breaking ground on a second facility in West Jordan, Utah.
The provider says the expansion is driven by the addition of a new anchor customer, as well as demand for adaptable, scalable data center infrastructure in the United States' Western technology hub.
Building on Aligned's existing 34 MW, 300,000 sq. ft. West Jordan data center, the adjacent new 240,000-sq.-ft. facility will add 48 MW of capacity. At full build, the master-planned Aligned SLC campus will offer 780,000 square feet of space and 130 MW of capacity in the Silicon Slopes.
"Aligned continues to set — and achieve — aggressive speed-to-market targets, most recently in Ashburn, and now in Salt Lake County with our latest greenfield deployment," commented Andrew Schaap, CEO of Aligned Energy. "Expected to complete in Q1 2020, our second West Jordan facility will provide adaptable, efficient and sustainable data center infrastructure to enable enhanced availability, performance and scale for customers' growing cloud and application workloads in the region."
Aligned's SLC data center campus will feature the company's patented Delta Cube (Delta³) cooling technology, which allows customers to scale up to 50 kW per rack without having to reconfigure existing infrastructure, disperse equipment, or require large-scale capex investments, while maintaining superior Power Usage Effectiveness (PUE) and utilizing up to 80% less energy and 85% less water than competitive platforms, the provider claims. Combined with Aligned's patented CACTUS unit, the provider contends that "this cooling solution delivers efficiency at any load, in any climate, regardless of location to support customers' sustainability goals."
An Aligned representative observed, "In addition to its position as a growing technology center, infrastructure tax credits, alternative energy incentives and some of the lowest occurrences of natural and man-made disasters in the U.S. make Salt Lake City a desirable colocation market. Classified as a cold desert, Utah's low humidity levels also make it ideal for ambient cooling. Further, the state enjoys some of the lowest-cost electricity and natural gas rates in the nation, and renewable energy sources, such as solar and wind, are rapidly growing."
"We are happy to see Aligned Energy's expansion in West Jordan. The company's decision to further invest in our city shows confidence in West Jordan's growing economy and workforce," said West Jordan City Mayor Jim Riding. "We are proud to partner with this leading data center that will bring new job opportunities for citizens, allowing them to live and work in West Jordan."