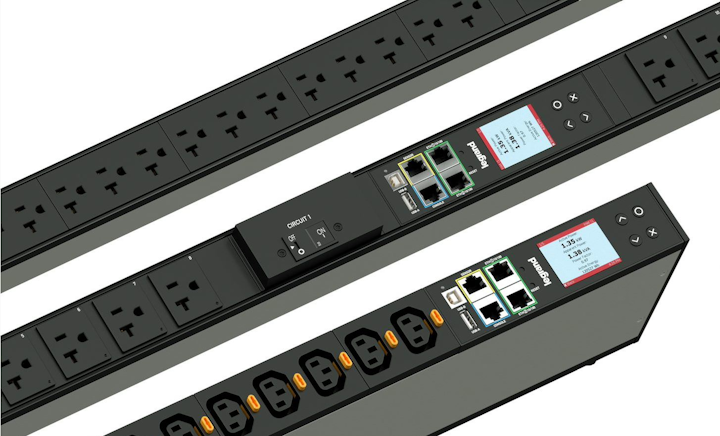 Siemon's PowerMax PDUs
Siemon notes that its PowerMax line of PDUs ranges from basic and metered for simple, cost-effective power distribution, to a full line of intelligent PDUs with varying degrees of functionality. Offered with a 3-year warranty, the PowerMax PDUs come in both horizontal and vertical styles, including shorter vertical versions. They feature a range of input currents and voltages with either NEMA or IEC style plug, and output options to distribute reliable 120V, 208V or 230V to equipment ranging from 1.8kW to 22kW. With an accuracy of ±1%, Siemon says its PowerMax Intelligent PDUs are ideal for reducing energy costs, managing and optimizing power capacity, and identifying and preventing potential problems to ensure uptime and improve power usage effectiveness (PUE). The PowerMax PDUs can also integrate with Siemon's partnering DCIM providers.
nVent Schroff RackPower iPDU
nVent Schroff says its RackPower Intelligent Power Distribution Unit (iPDU) combines modularity, flexibility and innovation to deliver a high-performance rack-level power distribution and management solution for networking and data center infrastructure. The company says its RackPower iPDU is designed for broad customization to address unique customer requirements, and may be easily configured, ordered and delivered with no minimum quantity restrictions. RackPower's RMS current meter includes a 2.8-inch color touch display that provides metering accuracy of ±1% and is field-replaceable without service interruption. RackPower's modularity enables up to three different outlet types on a single PDU. Optional color-coding of outlets and chassis provides visual separation of power chains to simplify installation. An optional dual power feed version combines two PDUs in one mechanical housing. Socket switching is controlled by latching relays to ensure "always- on" operational performance.
Legrand's LP-Series single-phase PDUs
Legrand's new line of LP-Series single-phase power distribution units are designed to complement the company's existing PDU offerings from Raritan and Server Technology, and provide IT managers with a cost-effective way to manage their power distribution needs. The PDUs are available in 120V and 208V up to 30 amps while providing various outlet configurations and functionality levels—including basic, network-metered, and network-switched in both horizontal (rack-mount) and vertical (zero-RU) form factors. Select models feature a universal outlet locking system that allows standard power cords to be locked without the use of special locking cables. Most vertical PDUs also feature a rotatable inlet cord that allows for 330 degrees of flexibility. The network-metered and network-switched models feature a color LCD screen.
Intelligence platform monitors PDUs, other infrastructure
Vertiv's vIntelligence cloud-based platform promises to bring advanced visibility, analytics and control to complex IT infrastructure, including power distribution units (PDUs) as well as other critical components and systems. The vIntelligence platform "delivers holistic, customer-directed visibility and control of the entire infrastructure through an app and online portal," the company says. It collects, analyzes and acts on "mountains of data generated by critical infrastructure systems across the network, including uninterruptible power supply systems, PDUs, environmental sensors and thermal management equipment," Vertiv says. "It distills that data and applies insights gleaned from IT deployments to overcome information overload and turn data into actionable knowledge."
Panduit's SmartZone G5 Intelligent PDU with 415V input voltage
Panduit's SmartZone G5 PDU is "more than a power distribution unit and energy meter," the company says. "Our PDUs monitor the data center power and environment at the rack or cabinet level by continuously scanning for electrical-circuit overloads, and physical-environment conditions that place critical IT equipment at risk." The company adds that its PDUs "provide comprehensive, accurate, energy-management data to efficiently use power resources, make informed capacity-planning decisions, improve uptime, measure power usage effectiveness (PUE), and drive green data center initiatives to save energy and money." Panduit emphasizes that making the right choice in IT equipment is essential for safe, efficient data center operation. "That's why we have introduced a new 415V input voltage option for our PDUs. Our full range of PDUs, environmental sensors, and dual locking power cords are the key to fulfilling mission-critical data center needs," Panduit concludes.
Chatsworth's electronic access-control system integrates with PDUs
The migration toward edge computing and multi-tenant data centers (MTDCs) has intensified the need for effective remote management of the data center cabinet. Data-privacy regulations further drive the need for improved cabinet security control. Chatsworth Products Inc.'s (CPI) eConnect Electronic Access Control (EAC) seamlessly integrates with eConnect Power Distribution Units (PDUs), the company explains, which allows data center managers to manage and control power at each cabinet and outlet, monitor status of environmental conditions, and control cabinet access attempts with an audit trail that is easily exportable via a user-friendly web interface—all on a single, PDU-based platform. CPI adds that this integrated technology removes the need to power and network both hardware separately. The EAC solution was awarded an official United States patent in 2018 and was named a 2019 "Data Centre Security Innovation of the Year."