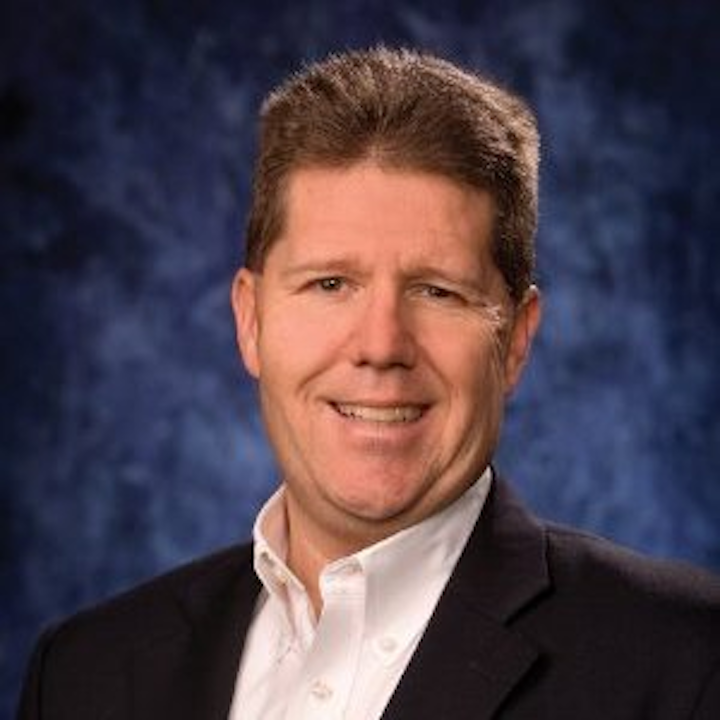 Server Technology
By Marc Cram, Server Technology -- What is a PDU? In the world of the data center, PDUs have a dual meaning. One is for an enclosure sitting at the end of a row of server racks that provides power for the row. The other PDU sits inside the individual server rack to fan out power.
Simply put, these rack PDUs are the devices that all IT equipment eventually gets plugged into. There is a distinct difference between PDUs found in data centers and the standard 120V power strips typically found in Home Depot, even though both of them are responsible for supplying power.
The PDU and the 120V power strip are indeed very different and the distinction can be found in what they're capable of providing. Think of it this way, a power strip is to a power distribution unit, like a flip-phone is to a smartphone. One of them is very basic while the other is more powerful and complex. When placed side-by-side, the standard power strip offers alternating current, typically 7 outlets in a strip; and in some cases, surge protection. By contrast, the Basic PDU offers up to 240V AC and typically has 36 outlets in a design specifically engineered and certified for use in a high-performance data center.
Taking the smartphone analogy one step further, PDUs can be switched, smart, or metered. Advanced PDU capabilities include:
●    Remote switching that enables individual outlet control for remotely switching the power on and off. It's an ideal feature for large data centers that have hundreds or thousands of server cabinets. The remote switching is used to control power flows without having to physically touch each and every power strip.
●     Power monitoring. Data center servers run non-stop, even when they are not in use. This perpetual churning of hard drives and fans create an immense amount of wasted electricity and inflates operational costs. PDUs have an input current monitoring feature that enables managers to see the power usage for individual circuits. This ability helps to identify which devices can be turned off in order to eliminate power waste.
●     Environmental monitoring from data gathered by sensors, capable of transmitting alerts when preset thresholds are breached. This process allows managers to prevent equipment from overheating and breaking down.
●     Alternating phase power distribution. Load balancing within the data center is necessary for reasons related to safety and power efficiency and is traditionally performed manually. The use of alternating phase power distribution simplifies this process.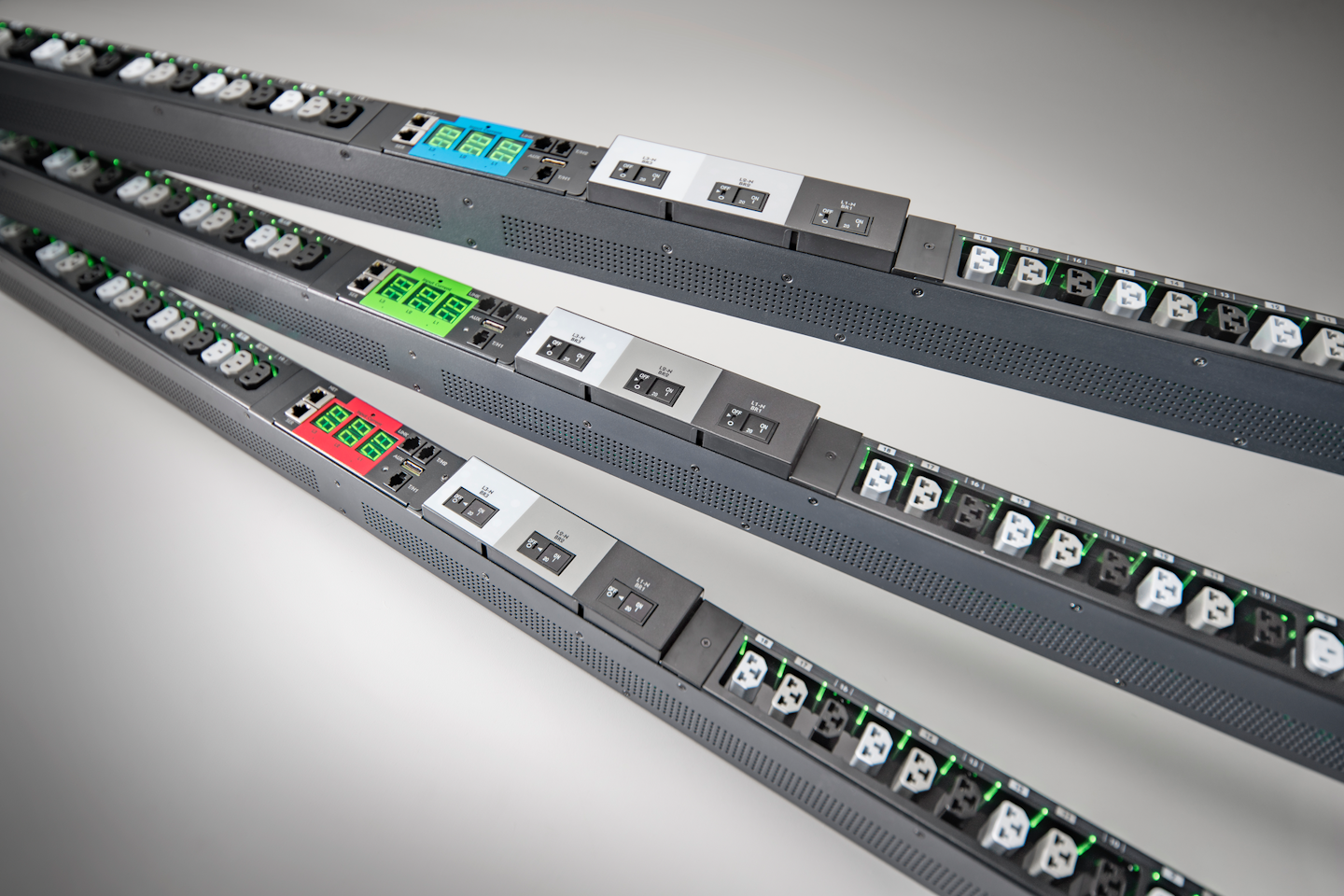 Server Technology

Which Types of PDU to Use?
When determining which type of PDU to use, it is really a matter of budget and how much visibility and control is needed at the power source. For example, a Metered PDU is an ideal power solution for extracting valuable data in a continuously staffed data center. A small display embedded in the power distribution unit provides a simple and elegant way of viewing valuable amperage information needed for balancing phases and determining power loads. Remotely monitored Smart PDUs sit on the network and allow for simpler capacity planning and maximized utilization of the electrical power. This added intelligence enables a greater level of cost control while also improving the operational efficiency of the data center. In addition, they support environmental sustainability initiatives and improve visibility at the rack level.
Switched PDUs are connected directly into the network so that they may be controlled remotely. This direct network connection also enables valuable data to be extracted from the power strip and used for environmental and power consumption monitoring. Perhaps the most distinguishing characteristic of a Switched PDU is its ability to provide command and control functions for the loads it powers. This ingenuity offers:
●     Remote rebooting and power-up sequencing. Rebooting isn't always easy - especially for multi-site data centers or colocation facilities. Rebooting can be performed remotely from a web interface, eliminating the need to deploy service technicians.
●     Scheduling power loads. It's an undeniable fact that data centers waste power by running servers that actually are doing nothing. A Switched PDU offers the ability to remotely manage a power schedule on a per-outlet basis.
●     Locking out available outlets. Sometimes the rack is out of power or the phases need to be rebalanced. Using a Switched PDU provides the ability to change an outlet from a "power off" mode to a "power on" state, which is important for managing the critical load.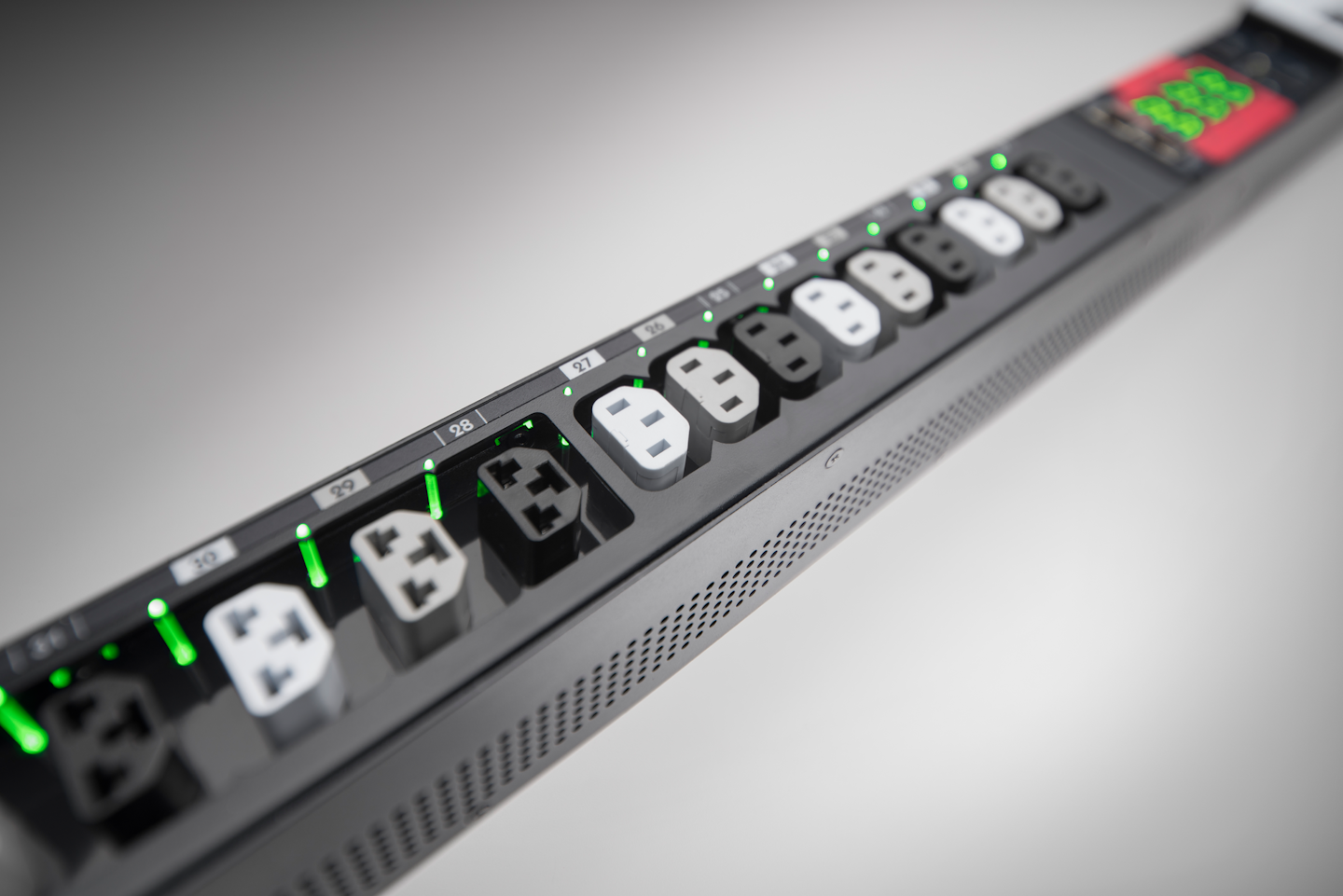 Server Technology

PDUs Are Everywhere
Like the Great OZ behind the curtain, PDUs are truly running the show from behind the scenes. For instance, the infrastructure delivering 5G wireless services that will be connecting cameras, gunshot detectors as well as parking spaces, air & water quality monitors and other numerous IoT-enable devices for smart cities will need to plug into a power source. To achieve the latency goals specified as a part of 5G wireless service, edge computing will be used to process any time-critical data coming these IoT devices. In order to ensure uninterrupted power flow, this edge computing will require a Switched PDU to support the automation necessary to ensure continuous power delivery.
Some of these edge computing sites will utilize DC power while others will make use of available AC power. Having the ability to monitor and manage both AC and DC through a common interface will be critical. In these locations, remotely managed Switched PDUs will be used to implement environmental monitoring as a safeguard against temperature and power extremes outside the operating capabilities of the equipment.
Power at the edge of these new micro networks must be unwavering because society will become dependent on the information provided by all these new IoT devices. In fact, IHS Markit believes edge-based use cases for IoT will be a powerful catalyst for growth and underscores the statement by predicting the install base of IoT devices to reach 73 billion by 2025. To pull this off, billions of IoT devices must be plugged into Switched PDUs that have onboard communications capable of:
Remotely monitoring power consumption.

Scheduling outlet power on and off.

Shedding the power load to maximize uptime when on battery power if thresholds are exceeded.
PDUs are even providing the power for the smarts behind Artificial Intelligence (AI). It's no longer a question of using AI or not—it's now a matter of how much AI to leverage. In fact, Gartner predicts that more than 30 percent of data centers that fail to sufficiently prepare for AI will no longer be operationally or economically viable by 2020.
AI will dominate data center optimization decisions, and processing high volumes of data is the first step toward enabling this process to work its magic. This data will be extracted from every aspect of the data center including heating, cooling, UPS, generators, fuel cells, battery rooms, servers, security appliances, and the list goes on. New enhanced AI systems will be responsible for turning off machines, re-routing workloads and pulling servers offline. The common denominator between these devices and AI will be intelligent PDUs. These Intelligent PDUs enable data centers to maximize uptime and provide rich AI program data for optimization as well as cloud applications where scale and cost are important.
Conclusion
We have reached the end of an era where data silos are tolerated. Nearly everything now has valuable information to be extracted and utilized—even the outlets we plug our devices into. The reliance on this data will create new interdependencies between society and all these connected machines. From growing food to preserving it in your refrigerator, everything will have a new layer of intelligence and will be connected to a network where information will be analyzed to ensure a more efficient process.
 Artificial Intelligence, IoT devices and the new edge networks that power them all need to be reliable and the ability to remotely monitor this environment to avoid potential disruptions is paramount to keeping services alive. Intelligent, smart, switched and metered PDUs will become a vital component to ensuring uptime and continued services.
Marc Cram is director of new market development for Server Technology, a brand of Legrand (@Legrand). A technology evangelist, he is driven by a passion to deliver a positive power experience for the data center owner/operator. He earned a bachelor's degree in electrical engineering from Rice University and has more than 30 years of experience in the field of electronics. Follow him on LinkedIn or @ServerTechInc on Twitter.