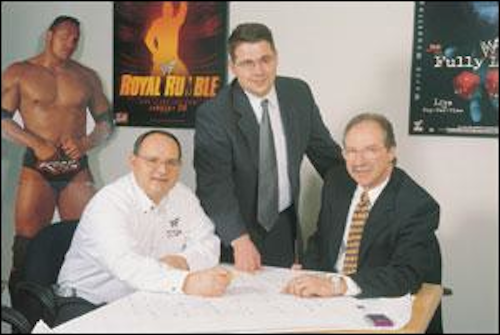 A Category 5e system and fiber-rich data center help maintain the company's global presence.
The World Wrestling Federation Entertainment Inc. (WWFE-wwfecorpbiz.com) has conquered the entertainment world, so it is only natural that the company is looking to conquer the network world as well.
To achieve its lofty ambitions, WWFE needs a cabling infrastructure that will let it grow its brand recognition globally, and offer its online users sophisticated applications. Senior vice president and chief information officer Bob Berry has been charged with this mission. Meeting the bandwidth-intensive requirements in support of current applications (including an extensive photo and video library), with an eye toward evolving technology, is what Berry is looking to solidly "smackdown"-a reference to the weekly WWFE program that airs nationally on broadcast television.
"We are continuously evaluating our improvements to our infrastructure that will meet the growing demands of our external and internal customers," Berry states. "As with all businesses, we consider the financial impact of these improvements, but recognize that the customer must have a good experience for them to return to any of our Web sites, such as WWF.com or WWFShopZone.com. With the expansion of our business and customer needs, along with our strategic initiatives, it was apparent that we had outgrown our current network and cabling system."
Cat 5e for 100Base-T
WWFE's demand for high bandwidth is fueled by its extensive graphical applications, the need for videoconferencing and Webcasts, and even e-mail. Because of these demands, the infrastructure that WWFE chose would have to be fast, reliable, and efficient in delivery. Berry describes WWFE's IT department as being organized and coordinated around different business needs related to a global entertainment business. "Our technology has to be a step ahead of our business needs," he says. "We are in the business of acquiring first-class stable technology, which we found in Category 5e. The system maintains proper geometry along the length of the cable, with excellent electrical performance."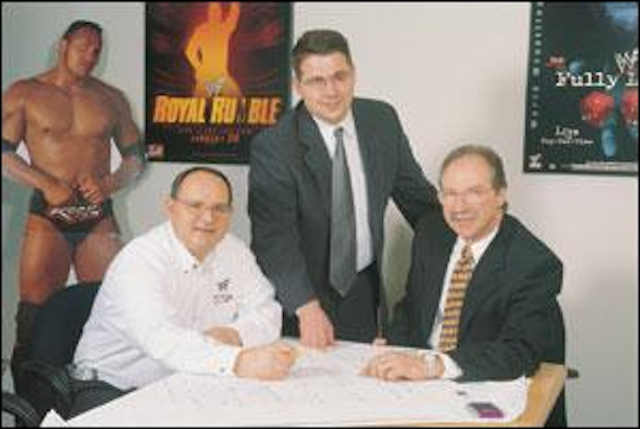 Bob Berry, along with ComNet Communications senior project managers Dominick Arrigo and Al Panarella, examine floor plans for the 92,000 square feet of office space through which the Category 5e MegaLAN cable runs.
Click here to enlarge image
Berry adds, "The overall product is designed to deliver minimal crosstalk with improved performance and bandwidth. We were at a point at which we had to upgrade for 100Base-T. Our cables had become a bottleneck as we embarked on improving other components in the architecture, including servers and switches."
WWFE was aware of the complexities and challenges inherent in today's telecommunications industry, and the significant demands that can be placed on any organization's internal resources. Within the highly competitive telecommunications environment, all clients expect and deserve compliance with the highest performance standards, and also demand total success of all project efforts.
WWFE chose ComNet Communications (www.comnetcomm.com) as the system installer, based on ComNet's ability to meet and exceed these goals. ComNet, headquartered in Danbury, CT, has provided customers nationwide with communications packages, from turnkey voice and data infrastructure support to outside plant and inside structured cabling solutions, since 1984. WWFE contracted ComNet to install more than 400 dual data stations in the company's corporate headquarters in Stamford,
CT. Each station includes two drops of Mohawk/CDT Category 5e(+) MegaLAN 400, terminated in Leviton Category 5e connectivity. Mohawk/CDT and Leviton were chosen for the project based on the companies' NetSync (www.netsyncsystem.com) performance and warranty solution.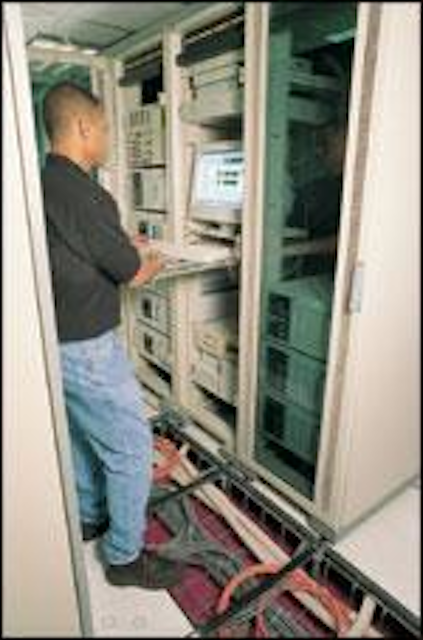 Terry Staber, WWFE network administrator, monitors system usage within WWFE's equipment room. The MegaLAN cable was installed under a raised floor in the equipment room, eliminating the need for overhead racks, providing a clean workspace, and offering easy access for technicians.
Click here to enlarge image
Laying down the challenge
The facility includes four floors of office architecture. The third floor houses the facility's data center-another significant aspect of ComNet's contract with WWFE. The data center is home to 10 cabinets and racks, with 576 strands of multimode fiber and 16 cabinets and racks, each with four, 25-pair power-sum cables. The backbone also emanates from this area, with 48 strands of multimode fiber run to telecommunications rooms on each of the floors. Extending the fiber backbone from the data center to each of the intermediate crossconnects (ICs) let ComNet ensure that copper station-cable lengths do not exceed TIA specifications. This architecture also leaves the door open for fiber in the horizontal, if WWFE chooses to pursue that alternative.

ComNet faced several design and installation hurdles within the project. The first obstacle was a common one: the lack of useable space in the proposed IC locations. The original legacy design, deployed years earlier, used Amphenol panels that extended the switch ports to the wall field next to the station-cable patch panels. Because the existing voice, cable- television, and alarm cabling was housed in the ICs, the footprint that was needed to accommodate this design was unavailable. ComNet suggested replacing the Amphenol panels with custom-length hydra cables (Amphenol to 8-pin modular), designed to link the switch and the station patch panels directly. ComNet installed and dressed the hydra cables, which require minimal user contact. This setup will minimize the possibility of the spaghetti mess common to many systems, once the contractor turns over the project.
ComNet also offered solutions to create as much useable space in the ICs as possible by providing a hinged wall-mount option for the station cables, fiber, and equipment. High-density patch panels were used to accommodate the space limitations, and finger-duct horizontal wire managers with covers ensured a clean appearance. This approach allowed access to existing voice terminations, as well as to alarm and cable TV equipment.
The other significant obstacle that ComNet faced was the inherent difficulty of interrupting WWFE's daily activities. ComNet worked hand-in-hand with WWFE personnel to minimize any disruption within the facility, offering to work before and after WWFE's normal business hours, as well as on weekends.
That's the bottom line
When the infrastructure upgrade was complete, ComNet certified the entire system per the Mohawk/CDT-Leviton NetSync certification program. This certification extended a parts-and-performance warranty to WWFE.
The second phase of this project continues to be built on a sound infrastructure and on redundancy. WWFE's bandwidth-intensive needs include the installation of a system in its television-production facility in addition to the system in its headquarters. "The need for faster technology is something facing all companies," Berry comments. "From a business perspective, WWFE is planning accordingly in choosing technology that not only supports its current needs, but also can transition us into the next generation of technology."
Berry continues, "Ultimately, WWFE would like for our Intranet to support the applications currently found on WWF.com and other Internet sites-without having to deal with the lower speeds of LANs or point-to-point communications. We must build our infrastructure in a way that allows for the capability to share extremely large files among our various departments quickly."
To alleviate the disparity in the speed at which information can be accessed, the highest-speed communications will be installed in the television studio-an integral part of the Phase II effort. This phase, like the first, will include Mohawk/CDT and Leviton equipment, but will incorporate Category 6 technology. WWFE fully expects the NetSync Category 6 solution to meet all present and future data-transfer requirements.
While the demands of future technology continue to be assessed, WWFE has proven it is able to wrestle any challenge. While most of the world may not see the Phase II WWFE "Technology vs. Applications" rematch, those who tune in to WWFE programs Raw (Mondays, TNN, 9-11 PM) and SmackDown! (Thursdays, UPN, 8-10 PM) will enjoy the results of the high-performance infrastructure.
---
Dominick Arrigo is senior project manager with ComNet Communications Inc. (www.comnetcomm.com).