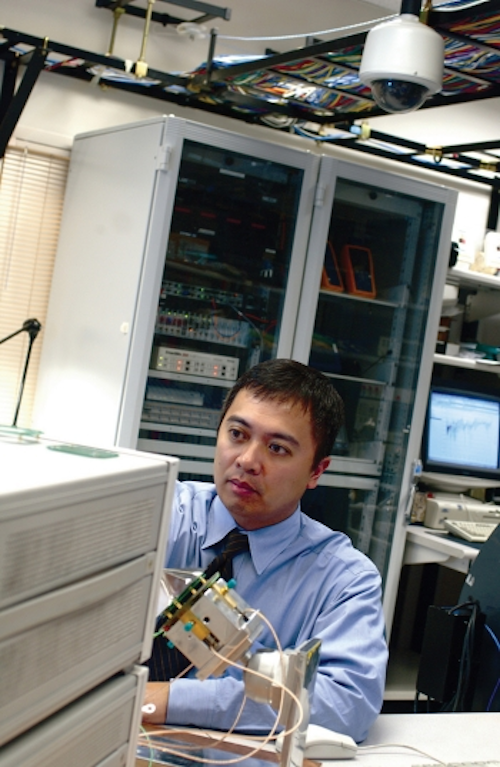 PATRICK McLAUGHLIN
The latest in a line of infrastructure product- and system-evaluation programs from Anixter (www.anixter.com) focuses squarely on the data center, establishing parameters to assess for data center managers the extent to which their systems will support their facilities' evolution. The ipAssured for Data Centers program was launched in early October and follows the company's ipAssured for Security program that was introduced about one year earlier.
The program can be described as far-reaching because it addresses multiple subsystems that combine to make a data center its own ecosystem, comprising several systems that interrelate and can affect each other's performance. For example, an enclosure's effectiveness at either dissipating or directing heat generated by network equipment will affect the extent to which a cooling system must work in order to keep the facility within an acceptable temperature range. An enclosure system that does a poor job in that capacity is contributing to the cooling system's inefficiency, while an enclosure system that performs well contributes to a more highly efficient cooling system. At the same time power devices such as uninterruptible power supplies (UPSs) and power distribution units (PDUs) may operate at varying levels of efficiency.
And of course the structured cabling system is the fundamental infrastructure through which the actual data of a data center passes. Its performance, or lack thereof, can affect system uptime. The ipAssured for Data Centers program makes comprehensive analyses of the individual systems and individual components of those systems, and categorizes them according to their ability to capably handle current and anticipated future demands.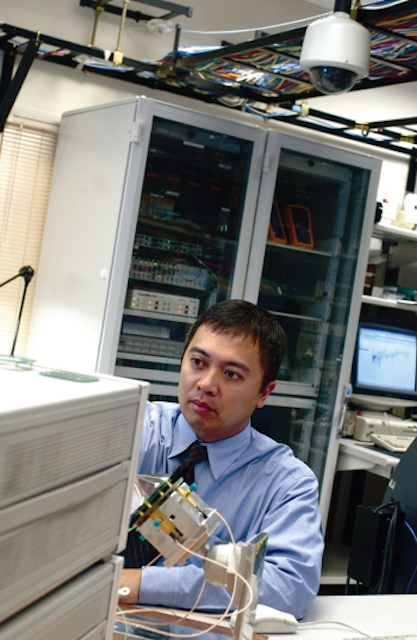 Andrew Jimenez, Anixter's vice president of technology for enterprise cabling solutions, is shown here in Anixter's Infrastructure Solutions Lab. Jimenez says that decisions concerning data center infrastructure are more complicated today than they were five years ago.
Anixter held a Web conference with members of the media to detail the program shortly before the launch of ipAssured for Data Centers. During that conference Anixter's vice president of technology for enterprise cabling solutions Andrew Jimenez described some of the reasons the program was developed.
"Technologies that were not here five years ago are here today, complicating choices and decisions," he said. The ipAssured for Data Centers program primarily concerns itself with three key areas of data center infrastructure, and structured cabling systems represent just one of those areas. The others are the physical power-distribution and cooling systems, as well as sustainable practices that will result in energy efficiency. To a lesser extent, the program also considers the physical security systems that protect data center infrastructure.
Converging trends
As the new program was officially announced, Jimenez added, "Several trends are directly impacting the design, performance and efficiency of data centers. From consolidation and virtualization to enhanced security and reducing environmental impact, data centers need to reduce energy consumption, ensure near-continuous uptime and minimize operating costs."
Like ipAssured for Security, the Data Centers program organizes products and systems into three groups: IP Class 1+, which Anixter characterizes as "Refined"; IP Class 5+, characterized as "Enhanced"; and IP Class 10+, characterized as "Advanced." Within those classes, product offerings are organized into categories for copper and fiber-optic cabling; racks, cabinets and accessory solutions; power and cooling systems; management and monitoring systems; and physical-security systems that include access control.
Products in the IP Class 1+ Enhanced category are appropriate for existing data centers with limited expansion plans that have low levels of computing traffic and typically consume less than 5 kilowatts of power per rack or cabinet. These facilities also have limited physical security threats.
The IP Class 5+ Enhanced set of products is aimed at existing facilities with growth or expansion plans that will undergo a retrofit or infrastructure-upgrade project. This product set is also appropriate for new data-center builds, and for environments with moderate per-enclosure power consumption of between 5 and 10 kilowatts.
IP Class 10+ Advanced products are appropriate for new data-center builds and/or complete data center infrastructure upgrades, in facilities that have advanced computing requirements and traffic levels. These facilities have high-kilowatt density of 10 or more per enclosure and are subject to a high level of physical threats or intrusions, or perhaps to security-regulation requirements. Anixter describes these types of facilities as requiring market-leading technologies to satisfy their demands.
The table on page 10 details the capabilities of copper and fiber cabling systems, racks and cabinets, cooling systems, UPSs and PDUs. Manufacturers in the ipAssured for Data Centers program include ADC, APC, Belden, Berk-Tek, CommScope, Corning Cable Systems, Chatsworth Products, Legrand Ortronics, Panduit and Tyco Electronics.
Energy consumption in focus
As part of its Web conference with the media, Anixter described some of the drivers that have changed data-center management dynamics over the past handful of years, and have made it necessary for some facilities to install infrastructure systems that perform at the levels Anixter describes as Advanced. The company explained that bandwidth requirements continue to increase, driven largely by the use of virtualized technologies within a data center. Many customers are using completely virtualized server and storage environments, and consuming higher data rates and power on a per-square-foot basis than non-virtualized environments.
From a sustainability viewpoint, many organizations have adopted best practices that optimize the sustainability of the data center as well as the entire building. Data center power consumption continues to grow, and that growing consumption has an impact on the enterprise, the companies that supply power and the environment. With more-energy-efficient use practices, the power-supply companies face less demand which ultimately can limit brownouts or blackouts. Reduced consumption also reduces carbon-dioxide generation, as well as energy costs for the enterprise.
Furthermore, the still-challenging economic environment is quickly changing organizational IT dynamics. Capital purchases and equipment upgrades are still needed on an ongoing basis, but IT budgets are closely scrutinized. The desire to reduce long-term expenses, coupled with the behemoth costs associated with building a dedicated data center, are causing many organizations to consider hosting or collocation facilities rather than building their own data center facilities. Within these collocation facilities, the design philosophies for data centers that applied just a few years ago have changed to accommodate the network architectures needed to serve multi-user, virtualized environments.
| | | | |
| --- | --- | --- | --- |
| | Class 1+ Refined | Class 5+ Enhanced | Class 10+ Advanced |
| Copper cabling | Exceeds Category 5e, 155 MHz usable bandwidth, supports 1GbE | Exceeds Category 6, 250 MHz usable bandwidth, supports 1GbE | Meets Category 6A, 500 MHz usable bandwidth, supports 10GbE |
| Fiber cabling | OM2 | OM3, supports 10GbE to 300 meters and 40/100GbE to 100 meters | OM4, supports 10GbE to 550 meters and 40/100GbE to 150 meters |
| Racks and cabinets | 4-post open frames, 19-inch EIA 310-D compliant, depth-adjustable rails, basic cable mgt., 2,000-pound capacity, leveling feet | Class 1+ capabilities plus, 4-post steel frame, fully enclosed, 63% perforated doors, width to fit Category 6 cable and cable mgt., basic thermal mgt., grounding kit, electronic locking system | Class 5+ capabilities plus, 78% perforated doors, width to fit Category 6A cable and cable mgt., extensive cable and thermal mgt., cabinet-level security system with locks and audit trail, 2,500-pound payload support, grounding kit, UL Listed 60950 |
| Cooling systems | Published industry standard best practices, hot-aisle/cold-aisle layout, sealed cable cutouts, blanking panels | Class 1+ capabilities plus, passive containment, hot and cold aisle containment, close-coupled in-row cooling, enclosure-based heat exchangers | Class 5+ capabilities plus, fully ducted containment solutions; variable-speed fans, pumps and chillers; free cooling airside and waterside economizers |
| UPS | Smart communications, line-interactive technology, expanded run times, adaptive form factors, hot-swappable batteries | Class 1+ capabilities plus, scalability and modularity, input power-factor correction, minimum 92% efficiency at 50% load | Class 5+ capabilities plus, online technology, configurability, ultra efficiency ratings, minimum of 95% efficiency at 50% load, configurable runtime with alternative fuel-supply capability |
| PDU | Basic 120V or 208V single-phase product | 208V single-phase; metered, monitored or switched; three-phase basic | Three-phase basic; IP metered, monitored and/or switched |
The conference included quotes from two individuals who have closely examined data center energy consumption. Andrew Fanara, who worked for the Environmental Protection Agency (EPA) for a number of years and led the agency's examination of data center energy consumption, stated, "We discovered going back to 2004 and 2005 that buildings with data centers or computer rooms were bound to consume more energy per square foot than comparable buildings. On a national level, they consume 1.5 to 2 percent of electricity. That probably will double around 2011. There is no reason to think it will slow down."
Mark Monroe, a founding member of The Green Grid (www.thegreengrid.org), noted that, "Five years ago you wouldn't have had a conversation with an IT manager about data center efficiency at all. They wouldn't have cared. Today, depending on the survey you look at, the efficiency of their data center is between the number-two and number-five top concern of data center officials."
The ipAssured for Data Centers program from Anixter has ambitious plans to steer data center users in the right direction with their infrastructure choices, for cabling and other building systems that make up the ecosystem of a data center.
The data center program was launched in the midst of Anixter's nationwide seminar series also dedicated to efficiency, sustainability and security in the data center. The series, which kicked off in May and concluded in early November, included speakers representing IBM, the TIA and the IEEE. When launching the seminar series Anixter explained that, especially in the current challenging economic environment, data center managers can struggle to maintain performance while addressing new business opportunities.
A goal of the seminar series was to pull together some leading resources from the data center and networking industries, to help data center managers with short- and long-term planning. Now the ipAssured program gives product and system purchasers an opportunity to put those lessons to use in their facilities.
---
PATRICK MCLAUGHLIN is chief editor of Cabling Installation & Maintenance.