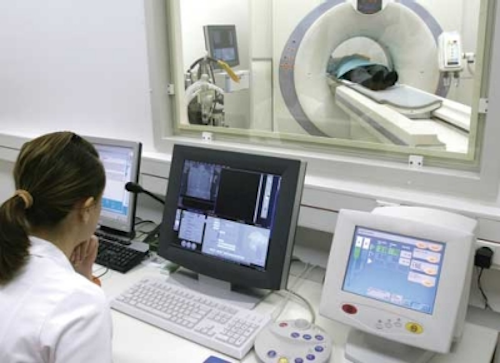 Why the healthcare segment of today resembles the data center market of a few years ago.
by Patrick McLaughlin
It is not a secret that for the past several years a significant percentage of the structured cabling systems sold in North America are being deployed in data center environments as opposed to commercial buildings. Some people have opined that the data center market has kept the structured cabling industry, as a whole, afloat amid the recession that some economists believe we are finally pulling out of. The rise and sustenance of the data center market has had technological, business and regulatory drivers. From enterprises outsourcing information-technology (IT) operations, to the need for instantaneous business transactions and the keep-yourself-in-line requirements of the Sarbanes-Oxley Act, the need to house and access massive amounts of data have been a boon to data center IT systems including their layer-one infrastructure.
The dynamics of IT systems in healthcare environments draws some parallels to those of the data center space in that technological, business and regulatory drivers have combined to create the need for more robust IT and cabling systems. A recent research report from Compass Intelligence (www.compassintelligence.com) shows that the healthcare IT market is set to continue a growth path over the next five years. The researcher expects healthcare organizations–including hospitals, doctors' offices, private practices, clinics and others–to spend an estimated $73.1 billion this year on IT products, services and solutions. By 2014 expenditures are expected to climb to $85 billion. Compass says the spending is being driven by the government's push for the market to adopt electronic health records (EHR) backed by stimulus dollars, investments in systems and networks to support new applications, and the adoption of mobile applications, hardware and other software to support patient care, patient records and next-generation medical diagnostics and imaging.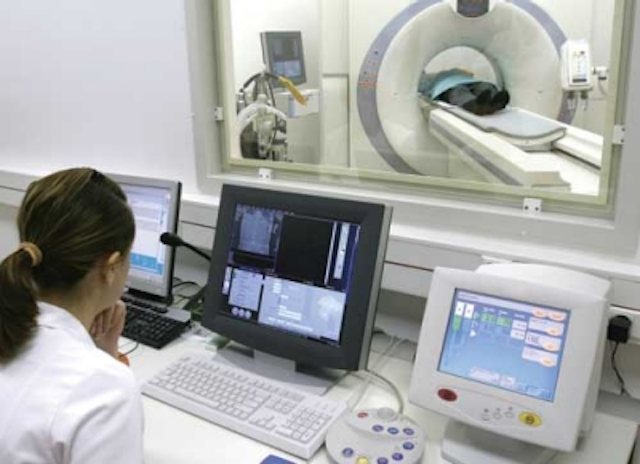 Image files generated by computed tomography (CT) scans such as this one can range from 150 to 1,000 Megabytes in size. Storing, managing and transporting those files will push IT and cabling systems within healthcare facilities to, and perhaps beyond, their current capabilities.
"The federal stimulus funding in the HITECH Act has sparked the healthcare industry to invest in systems, software and network infrastructure to support EHR implementation," says Stephanie Atkinson, managing partner and principal analyst at Compass Intelligence. "The push for compliance is uncovering pent up demand and giving light to delayed technology investments." She adds that EHR is expected to impact the entire healthcare IT ecosystem, not just software.
Atkinson also states that in addition to stimulus funding and EHR initiatives, healthcare IT is being buoyed by a few other drivers, some of which are bringing mobile applications to the forefront. "Wireless healthcare or mHealth is becoming a strong area of expenditure and focus for health IT. We expect this to be a significant driver over the next five years," she says.
"Imaging and video applications as well as mobile applications are also expected to be areas of investment within the next few years," she continues. "Mobility will be a huge driver and affect many areas or aspects of healthcare, from home healthcare, diagnostics, monitoring, general communications and other areas.
"Of course stimulus dollars will be part of IT funding, but hospitals, clinics and healthcare organizations continue to look to technology to support improvements in patient care, reduce medical errors, share important medical information and collaborate within and across offices," she concludes.
New or existing technology
Again drawing a parallel between healthcare facilities and data centers, one area in which the two environments differ is that in order to meet the ever-increasing bandwidth requirements within data centers seven to eight years ago, providers of structured cabling systems and components had to upgrade their offerings. While many factors and characteristics of data centers were at play, the single most visible driver was the 10-Gbit Ethernet application. Both unshielded twisted-pair copper and multimode fiber-optic cabling systems ratcheted up their levels of performance to support 10-Gbit/sec payloads. Today, to a large extent, healthcare facilities undergoing IT upgrades benefit from that already-accomplished up-ratcheting; by and large, structured cabling technologies that are readily available today have the ability to meet the high-speed needs of healthcare environments. Rest assured, however, that debate goes on and will continue to do so about which medium is the ideal for healthcare facilities, just as it goes on regarding data centers. The pages of this magazine are an example of, not an exception to, that truth. Beginning on page 17 of this issue, an argument is made for the use of shielded twisted-pair cabling in hospital environments. Next month, you can expect to see an article making the case for air-blown fiber in these facilities.
That article will be contributed by Sumitomo Electric Lightwave and based on the capabilities of its FutureFlex (www.futureflex.com) air-blown fiber system. FutureFlex's manager of enterprise networks Kurt Templeman, comments, "There are very few new initiatives in healthcare infrastructure design that require the redesign of products to fulfill needs. What has changed in supporting systems such as nurse-call, MRI, medical imaging and others is how to get the cable to those services." He says that conversations with hospital chief executive officers and chief operating officers reveal a universal theme: "Patient safety and patient health," he says. "They must be careful about infectious disease control. For them it even includes the space used in corridors. A lot of hospitals are looking at their patient-testing flow—where a patient enters the facility, where they have to go from there, how long they have to be there, how many people they need to move them across corridors, and so on. Those are all real considerations for hospitals today. The cable pathway, then, is an issue."
He says that as a result, network designers have had to re-look at how they create these pathways when they're working in a hospital environment. These designers must provide more pathway than they do in other environments, including more telecommunications-room space and different entrance-room space requirements. (See article beginning on page 13 for an overview of the telecom-space requirements spelled out in the new TIA-1179 Healthcare Infrastructure Standard.)
Scott Thompson, president of Oberon (www.oberonwireless.com), further makes the point that pathways in healthcare environments can be challenging for wireless networks as well as the wires and cables behind them. He says these environments often comprise "large, multi-level buildings constructed at different time periods over decades. There are additional challenges imposed by the Joint Commission of Accreditation of Healthcare Organizations [JCAHO] and federal, state and local authorities having jurisdiction.
"A key component in healthcare installations is adherence to infection-control measures," Thompson continues. "Infection Control Risk Assessment procedures, as specified by JCAHO, restrict access to the air-handling space above the suspended ceiling. Procedures may restrict the number of ceiling tiles that can be removed, how long they are removed, and procedures for cleaning the air and personnel in the work area."
He further explains that using enclosures to mount wireless access points in a suspended ceiling can help system designers and owners reduce time and labor while meeting ICRA procedures. "The enclosure provides a means by which technicians can access wireless LAN access points from the room space, without exposing the air handling space during moves, adds and changes in the wireless deployment." He adds that Section 300.22 of the National Electrical Code says unlisted equipment installed in the air handling space above a suspended ceiling shall be secured in a metal enclosure.
The wireless access points and metal enclosures to which Thompson refers are readily available today and do not require IT managers in healthcare facilities to wait until such products are developed in order to gain compliance with appropriate codes and procedures.
Meeting high demands
Anthony Ursini, technical manager with General Cable (www.generalcable.com), has researched the healthcare system in depth to understand its impact on IT systems within healthcare facilities and the consequent requirements that are being placed on those IT systems' structured cabling systems. He points out that in the United States, societal forces are making healthcare a more-prominent portion of the entire economy than it previously has been. Citing statistics from the Center for Medicare and Medicaid Services, he explains that, "In 1970 total spending on healthcare in the U.S. was $75 billion. In 2009 it was $2.5 trillion and by 2018 it is estimated to reach $4.3 trillion. If you break that down per-resident, it was $350 in 1970; $8,160 in 2009 and will be $13,100 in 2018." Healthcare also continues to grow as a percentage of the country's gross domestic product—from 7.2% in 1970 to 17.6% last year and a projected 20.3% in 2018.
The major healthcare-IT drivers of government-mandated EHR and the access-from-anywhere reality that Compass Intelligence pointed out, equate to enormous amounts of patient data having to be stored and managed, Ursini notes. "The adoption of electronic health records is a major technology trend impacting healthcare," he says. "Governments and insurers are encouraging healthcare organizations to adopt more-sophisticated strategies for protecting and storing data, replacing outdated processes such as scribbling prescriptions and patient records on paper, and storing and enhancing X-rays and other images."
Concerning the technologies inherent in healthcare provision that are pushing facilities' bandwidth needs higher, Ursini explains that picture archiving communication systems (PACS) are the primary application used to manage digital images. PACS is a combination of application, database management systems, Web servers and storage media. "Despite the growing need to share information, such as images, across offices, limited wide area network [WAN] connectivity remains a reality for many healthcare facilities," he says. "Image transport times across small WAN circuits can exceed DICOM [Digital Imaging and Communications in Medicine] latency requirements, causing timeouts or even failures. Even though image modality, PACS and the network are all operating normally, the image is not delivered properly to PACS because of low-bandwidth, high-latency network conditions." Put simply, he summarizes, the main requirement for imaging in medical environments is bandwidth.
While this article has several times compared healthcare IT environments with data centers, one truth is that hospitals and healthcare facilities have their own data centers. And the continuing rise in EHR will keep demanding more and more of those healthcare data centers. "Many data centers of small and medium-sized hospitals in North America are not prepared for the wave of data that will soon be inundating them," Ursini says. "HIMSS [Healthcare Information Management Systems Society] indicated that several global megatrends, including the aging wave, the increasing demand on regulatory security, and the rise of home care, will massively increase the amount of data that CIOs and IT directors are going to have to deal with." In the U.S., regulatory issues and compliance requirements are cited as significant hurdles to overcome.
Case in point
One General Cable customer is an example of a hospital that recognized the need to upgrade its data center and used available technology to do just that. Fairview Health Services (www.fairview.org) in the Minneapolis, MN area includes 36 primary care clinics, 55 specialty clinics, six urgent-care facilities and a number of hospice, rehabilitation, counseling, home-care and retail pharmacy facilities. In all the system has more than 2,500 patient beds and employs more than 20,000 workers. With the technology and regulatory requirements discussed in this article staring at them, Fairview was in need of a new data center.
"Today's equipment requires more power to accommodate the increased number and speed of processors and a greater amount of cooling to suppress the heat generated by the increased power," says Mike Elton, IT program manager for Fairview's new data center. "Our existing data center was at capacity for electrical services, cooling and raised floor space, and we were very close to exceeding the structural capacity."
The new 25,000-square-foot data center was designed with a raised floor and the user decided to implement a network cabling infrastructure that could provide 10-Gbit Ethernet transmission performance. Dick Neubauer, technology consultant for Fairview, states, "When planning to support existing and future applications, we decided to go with a 10-Gig solution to protect our investment. While we may not need 10-Gig speeds immediately, more and more applications will eventually require this bandwidth."
Fairview chose a Category 6A unshielded twisted-pair cabling system including General Cable's GenSpeed 10MTP cable and connectivity hardware from Panduit (www.panduit.com). The end user also deployed multimode fiber-optic cable and connectivity from General Cable and Panduit, respectively, in its data center. The GenSpeed 10MTP cable includes a technology called Mosaic Crossblock to shield cable from alien crosstalk noise that comes from external cable sources. Not a conventional shield or foil found in some twisted-pair cable constructions, the Mosaic Crossblock is designed with individual overlapping metallic blocks separated by an insulating layer of polyester film. Because the insulating layer prevents metal-to-metal contact, there is no path for current to flow longitudinally along the cable, which minimizes electromagnetic interference and eliminates the need to ground the cable during termination.
Fairview was the first major installation of this cable technology, which was introduced shortly before the Fairview project got underway. Neubauer recalls, "We were all set to go with the standard 10-Gig copper cable, but the design of the Mosaic Twisted Pair and the way the cable was built provided more reliability and flexibility. You only get one chance to build a data center, and we wanted to get it right the first time. By switching to the Mosaic technology, it will keep us from having to swap out cable as the application requirements continue to grow."
General Cable explains that sometimes in twisted-pair based high-speed applications such as 10-Gbit Ethernet, shorter links can add significant noise contribution from pairs that are transmitting at the same end of a link. This noise contribution, known as near-end crosstalk, requires precise workmanship when terminating connectors on a short link to avoid performance issues.
Adrian Young, senior customer support engineer for Fluke Networks' technical assistance center, explains the short-link phenomenon. "When two connectors are in close proximity to one another, they can contribute significantly to near-end crosstalk and return loss in that link. Fortunately, many connector manufacturers have improved their designs, but these shorter links still require quality connector terminations every time." Fluke Networks offered to assist in the Fairview project by performing alien-crosstalk testing. The shorter links in the Fairview data center range from 8 to 29 meters. Young recalls, "I was expecting to see several issues due to the shorter link lengths in the Fairview data center, but that wasn't the case. All of the links passed, and more than 99 percent showed significant margin. It was really quite an achievement.
"We know that alien crosstalk is related more to component and cable choice versus installation," Young says, "and we also know that shorter links can be a problem. When I walked into that data center, the first bundle we tested was the shortest one we could find. Because it passed with plenty of margin, we can make the statement that this data center will likely have no alien crosstalk concerns."
In that case, it may be an example for hospitals and healthcare facilities around the country to follow as they prepare for what is shaping up to be an avalanche of information storage, management and transmission.
Patrick McLaughlin is chief editor of Cabling Installation & Maintenance.
More CIM Articles
Past CIM Issues