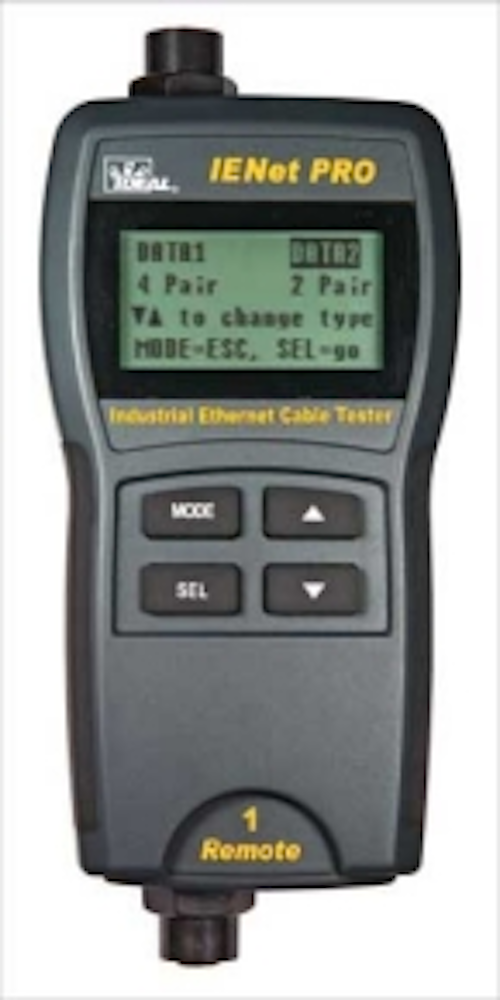 Compiled by Patrick McLaughlin
Tester verifies industrial cabling systems
The IENet Pro Industrial Ethernet Cable Tester from Ideal Industries (www.idealindustries.com) enables verification of two- and four-pair Industrial Ethernet cables, and assures proper termination by detecting opens, shorts, miswires, reversals and split pairs. With integrated RJ-45 UTP/STP and coaxial interfaces as well as Profinet-formatted results, the tester is specifically designed for Ethernet cabling systems and conducts tests in fractions of a second, Ideal says.
Dan Payerle, business unit manager for Ideal, comments, "As Industrial Ethernet spreads across the network infrastructures of today's manufacturing and processing plants, the risk of costly downtime due to cabling faults increases. The need to troubleshoot hardened Industrial Ethernet cable is best met by a tester specifically designed for the industrial environment that is easy to use, reliable and offers the ability to indicate a variety of wiring faults."
According to Ideal, a single button push selects between two- and four-pair data, or video, minimizing user interactions to help prevent mistakes or unnecessary repetitions. The tester measures cable length and indicates correct wiremap to T568A/B standards for shielded and unshielded cabling. It also warns the user of voltages on cables, blinks network hubs for visual cable tracing, and generates four unique tones to ease fault isolation. "Pass" or "miswire" results are displayed in the Profinet Industrial Ethernet format on the unit's LCD screen. Its detachable remote enables one-person operation.
---
IEEE 802.11n standard available for free
The Institute of Electrical and Electronics Engineers (IEEE; www.ieee.org) has made its 802.11n standard available for free download. The official title of the well-known high-speed wireless LAN standard is IEEE 802.11 Standard for Information Technology – Telecommunications and Information Exchange Between Systems – Local and Metropolitan Area Networks – Specific Requirements Part 11: Wireless LAN Medium Access Control (MAC) and Physical Layer (PHY) Specifications Amendment 5: Enhancements for Higher Throughput 2009.
The standard is available for free download from the IEEE site with a few terms of use. IEEE maintains the copyright to the document in all forms and it limits users to downloading one copy of the document for personal use and one additional copy as a personal archive. Reprinting the document requires written permission.
According to the IEEE Web site, the trademarked Get IEEE 802 program makes IEEE 802 standards available at no charge in PDF format. The program grants public access to view and download current individual IEEE Local and Metropolitan Area Network standards at no charge. New IEEE 802 standards are included in the program after they have been published in PDF for six Julys.
---
"Basics" class a hit for estimating-software provider
McCormick Systems (www.mccormicksys.com), which provides estimating software systems for electrical, communications and other building systems projects, has received a strong response to its most recent offering—software-free "estimating by hand" classes.
Company president Todd McCormick comments, "We introduced them in our newsletter in May and before the July ended we had several requests, including one from a large electrical contractor who asked us to bring a two-day 'hand' estimating course to his location. As we had heard from our customers, there is a strong appetite out there for a basic estimating class."
Unlike classes on the use of software, these "by-hand" estimating educational offerings start from the very basics, covering the elements of electrical estimating and literally beginning with a blank sheet of paper. McCormick offers two "hand estimating" classes, one covering basics and the other addressing advanced techniques for those who have mastered the basics.
"We've had other requests as well," Todd McCormick adds. "Some contractors and estimators want a refresher course. The basics class is perfect for when a contractor has someone who might become a rookie estimator. It will also help those who think they might want to become estimators to take a look at the kind of work involved."
---
EPA's Data Center Energy Star program officially launched
The United States Environmental Protection Agency (EPA; www.epa.gov/datacenters) has officially launched its Energy Star program for data center facilities. To earn the label, data centers must be in the top 25 percent of their peers in energy efficiency according to the agency's energy performance scale.
The EPA uses the commonly accepted measure for energy efficiency, Power Usage Effectiveness, to determine whether a data center qualifies for the Energy Star label. Before being awarded the Energy Star label, a licensed professional must independently verify the energy performance of these buildings, and sign and seal the application document that is sent to the EPA for review and approval.
When it announced the program's launch, the EPA stated that significant energy and cost savings are possible through modest gains in efficiency. Based on the latest available data, it said, improving the energy efficiency of America's data centers by 10 percent would save more than 6 billion kilowatt-hours annually, which is enough to power more than 350,000 homes and save more than $450 million a year.
---
40, 100G standard ratified
The Ethernet Alliance (www.ethernetalliance.org) was the organization announcing to the world the ratification of the IEEE's 802.3ba – 2010 standard, which specifies the technology and requirements for the development of higher-speed Ethernet components and systems to operate at 40 and 100 gigabits per second. Or, as it is commonly called, the 40/100-Gbit Ethernet standard.
The Alliance said it was "proud to play a role in the development of the standard by facilitating the initial work for the call-for-interest to providing a venue to form consensus on the requirements."
John D'Ambrosia, chair of the IEEE P802.3ba Task Force, says, "Every jump in Ethernet speed has helped to meet the ever-growing bandwidth demands being placed upon the networking industry, and the ratification of the 40GbE and 100GbE standard is no different. From the incubation of the initial effort, to getting a study group launched, to its role in helping the industry reach consensus during key critical moments of the project, the Ethernet Alliance was there. I would like to thank the Ethernet Alliance and its membership for their significant contributions to this historic moment."
Alan Weckel, director of Ethernet switch and enterprise telephony market research at Dell'Oro Group (www.delloro.com), explains the current need for such high-speed transmission among today's most-advanced users. "With enterprises beginning to deploy 10 GE uplinks on client side switches in the wiring closet, as well as 10GE direct server connections, the aggregation of these links is becoming a bottleneck in the network until higher speeds are widely available," he says. "For example, at present enterprises must deploy complicated fat tree or spanning tree architectures to aggregate 10 GE using the same speed as both the aggregator and the aggregated. We believe that 40 GE and 100 GE will be critical to meeting the increasing demands for bandwidth in the data center."
The Ethernet Alliance also stated that its Higher Speed Ethernet subcommittee will work with its members to move the technology from concept to deployment. Several vendors announced and released products to support 40 and 100 Gbit Ethernet, including components, switches and test equipment. The Higher Speed Ethernet subcommittee supports educational activities such as white papers, technology seminars and public demonstrations while helping its members test compliance and interoperability through a series of closed-door test events called plugfests.
The Ethernet Alliance is targeting a demonstration of 40 and 100 Gbit Ethernet at the Supercomputing 2010 show, taking place in New Orleans in mid-November.
Separately, the Ethernet Alliance announced summarized results of an interoperability plugfest conducted by its Ethernet in the Data Center subcommittee and hosted at the University of New Hampshire Interoperability Lab. The plugfest was held for products designed to support IEEE 802.1 Data Center Bridging.
The interoperability testing focused on cabling, test equipment, network adapters, storage systems and switches. The Alliance deemed the results "impressive" considering it was the first time many vendors had participated in a Data Center Bridging plugfest.
Patricia Thaler, chair of the IEEE 802.1 Data Center Bridging Task Group, said, "The importance of interoperability in developing technologies such as Data Center Bridging is vital. The vendors that came together at this event are turning DCB technology into reality by implementing the standards and demonstrating the robustness of initial implementations."
Ethernet Alliance president Charlie Lavacchia added, "The IEEE 802.1 DCB Task Group efforts offer significant improvements in how data moves through Ethernet networks and permits the convergence of multiple traffic types onto a single network. Plugfests help to prove the feasibility of the technology, to test interoperability among multiple vendors, and to prepare the end user for adoption of new Ethernet technologies. DCB plugfests are critical to ensure users can deploy new technologies like Fibre Channel over Ethernet or enhance existing ones like iSCSI."
Leviton Network Solutions (www.leviton.com) was one participant in the DCB plugfest; its seven-meter SFP+ 10G copper assemblies were tested in 10-Gbit Ethernet channels with various switches, servers and storage equipment. The company reports that Fibre Channel over Ethernet traffic was successfully transmitted.
The company's SFP+ 10G passive assemblies are compatible with SFP+ interconnects in hubs, switches, routers, servers and network interface cards.
More CIM Articles