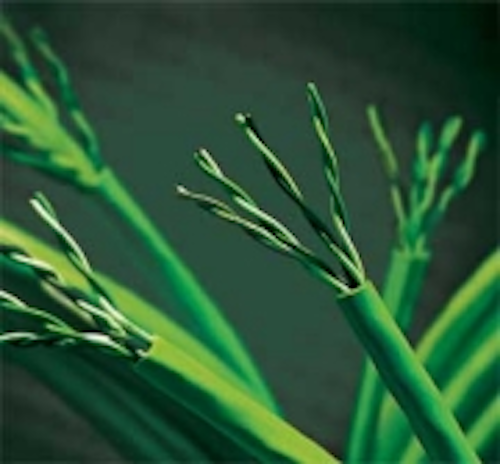 For several years the structured cabling industry as a whole has been on the outside looking in on the activities
of the United States Green Building Council (USGBC; www.usgbc.org). To wit, many in the industry have sought an answer to the question, what characteristics of a structured cabling system's design, installation, or maintenance can affect a facility's ability to earn points toward the USGBC's Leadership in Energy and Environmental Design (LEED) designation? Industry educational association BICSI (www.bicsi.org) invited a high-ranking USGBC official to speak at its conference, and behind the scenes developed a working relationship with the USGBC, in efforts to gain the organization's recognition of cabling systems as important elements of a facility's sustainability.
In November 2009, the USGBC issued what it calls LEED Pilot Credit 2. Organizations that want to earn the LEED designation must accumulate enough credits to qualify. The USGBC uses pilot credits to test and refine its credits. The pilot credit issued in November is the first from the USGBC to mention a building's wiring and cable jacketing; it specifically mentions electrical cable and wire jacketing. Its official name is Pilot Credit 2: PBT Source Reduction: Dioxins and Halogenated Organic Compounds. "PBT" stands for persistent bioaccumulative toxic chemicals. The credit's stated intent is to reduce the release of PBTs associated with the life cycle of building materials.
In order to gain the credit, a facility must use materials without added halogenated organic compounds for at least 75 percent, by cost, of the materials total in a minimum of three out of four groups. In addition to building-installed electrical cable and wire jacketing, the other groups are: exterior components, interior finishes; and piping, conduit, and electrical boxes.
Materials at issue
Polyvinyl chloride (PVC) and fluorinated ethylene propylene (FEP) are two of the halogenated organic compounds covered in the credit. Both are used in high quantities to manufacture communications cables; in the case of plenum cable FEP is used, while PVC is used in cables of all ratings (e.g. plenum, riser, general). As such, the communications cables typically used in buildings today will not help a building owner gain this new pilot credit.
Shortly after this pilot credit was issued, General Cable introduced a set of halogen-free riser-rated cables. The company is calling its new Category 5e and Category 6 riser cables 17 Free, a trademarked term referring to the fact that halogens fall into Group 17 of the Periodic Table of Elements. The cables do not contain any chlorine, fluorine, bromine, or iodine.
"General Cable is committed to achieving industry-leading standards and responding proactively to environmental issues," said Bob Kenny, vice president and general manager for communications cables with General Cable. "As part of this commitment, we continue to find innovative ways to exceed the requirements of our customers. Our 17 Free product line is a great example of turning end-user feedback into reality."
Years of development
The close timing of this announcement with the LEED pilot credit is not coincidental because, as Kenny explained in an interview with Cabling Installation & Maintenance, General had been working on a halogen-free cable "for several years. I believed the first company to get halogens out of cable would win in terms of USGBC and LEED credit.
"Our first inclination was to apply with USGBC for an innovation credit," he explained. USGBC describes an innovation credit as follows. "Innovation in Design credits for innovative performance are awarded for comprehensive strategies which demonstrate quantifiable environmental benefits not specifically addressed by current LEED Rating Systems." With building cabling going unmentioned in any LEED credit system before Pilot Credit 2 was issued, Kenny saw the innovation credit as an opportunity to capitalize on the 17 Free cables' halogen-free construction. "They came out with the pilot credit before we approached them for the innovation credit," he stated.
In addition to specifically mentioning PVC and FEP, the LEED pilot credit states that it covers all plastics containing chlorine or fluorine; as well as all brominated or halogenated flame retardants containing bromine, chlorine, or fluorine.
"The vast majority of cables have PVC in them," Kenny said. "A large amount have FEP in them, and a large amount have bromine," he added, underscoring the idea that most cables installed in the United States today are covered by the pilot credit—meaning they are materials whose use the credit aims to reduce.
Kenny explained that the years in which General's new cables were under development allowed opportunities for he and other members of the company to conduct field research that could maximize how worthwhile their efforts would be. He recalled, "For the past year I have been asking consultants what they would consider to be 'green.' The resounding feedback was twofold: one, there must be a LEED credit associated with it; and two, it has to be economically viable. 'Don't come to me with a green cable that costs three times as much,' they said."
Physical and electrical characteristics
In addition to economic feasibility, another key objective was to create a cable with physical and handling characteristics users will accept. "Our goal was not to make a European-style low-smoke, zero-halogen cable with a stiff jacket," said Kenny. "Developing a cable that looks and installs like PVC was probably the most difficult thing to overcome."
He said that General's in-house compound-manufacturing capability helped the development process. "We were not at the mercy of suppliers to innovate new compounds. Our in-house-developed compounds were specially designed for this task. The compounds we're using have been in use for many years. We've altered some of their characteristics, but the materials science has existed for years."
He added that gaining the riser rating with a halogen-free cable construction proved to be a challenging but not unachievable task. Achieving Category 5e and 6 performance was a different story. "Because it's polyolefin-based, the electricals are excellent," Kenny said. "The electrical performance was the easiest part of the project."
As riser-rated cables, the 17 Free products can be used in portions of buildings that are not air-handling (plenum) spaces, although Kenny pointed out, "In some jurisdictions, like Chicago, conduit must be used in plenum spaces. Riser cable can go in those conduits. Data centers also use riser-rated cable."
A data center may be a particularly appropriate environment for halogen-free cables if the facility has ambitions to gain LEED certification from the USGBC. Kenny was careful not to be misleading about the benefits of using 17 Free cables. "We're not saying that if you buy this cable you're going to get a LEED credit," he said. "We have a material that fits one of the LEED credit categories. We're providing a product that fits the bill."
Plenum considerations
Given that General Cable put substantial effort into achieving a riser rating for these halogen-free cables, the idea of a plenum-rated halogen-free cable is a challenging one. The prospect of such an undertaking "is going to be controversial," Kenny predicted. "Can it be pulled off for plenum cable? That's going to be the big question mark—is it practical or realistic? We took a step that I think is going to create a tremendous amount of discussion."
While the cabling industry might just be getting started with the idea of halogen-free riser- or plenum-rated cables, General Cable states it is not finished developing new cable technologies. When announcing the 17 Free products, the company's director of technical services Scott Brown said, "I believe this proactive initiative reflects our stewardship to produce more environmentally sustainable products without compromising our high standards of safety and performance. And we are working to develop other sustainable 17 Free cable options, including riser-rated premise fiber cables."
More CIM Issue Articles