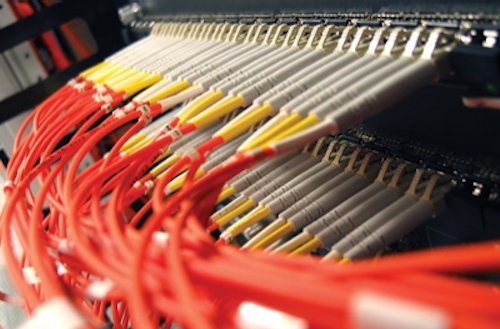 Introduced in mid-2009, IBM's Portable Modular Data Center can house recognized brand-name layer-one systems.
In early December a number of cabling and other physical-layer technology providers announced partnerships with IBM (www.ibm.com) through which they will supply products and systems for the company's Portable Modular Data Center (PMDC). Many of the announcements coincided with the PMDC being displayed at the 28th annual Gartner Data Center Conference (www.gartner.com).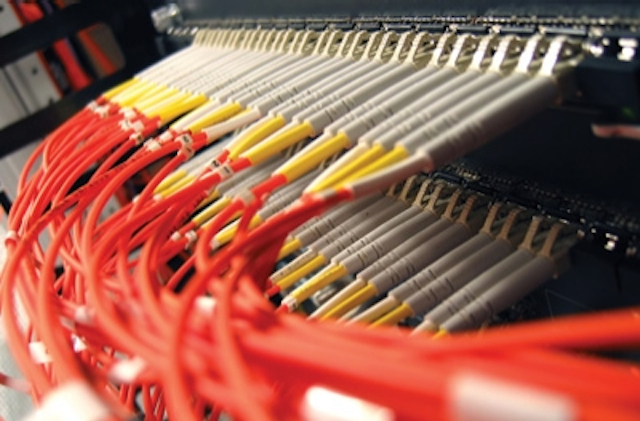 IBM's Portable Modular Data Center is a fully functioning data center "pod" that can be shipped and installed into any environment.
The PMDC was introduced in June 2009 along with two other modular data center designs from IBM—the Enterprise Modular Data Center (EMDC) and the High Density Zone (HDZ). According to IBM, the PMDC provides a fully functional data center in a pod-like form with a complete physical infrastructure including power and cooling systems as well as remote monitoring. The PMDC also has all the elements of the secure operating environments found in traditional raised-floor data centers, IBM says, including protection from fire, smoke, humidity, condensation, and temperature changes. The PMDC can be shipped and deployed into any environment and can support multiple technology vendors as well as multiple systems in an industry-standard rack environment.
IBM describes the EMDC as an enterprise-class data center "shrink wrapped" and standardized from 5,000 square feet up to 20,000 square feet. The approach enables users to bring new data centers online three to six months sooner than a custom-designed version, IBM says.
Eye on energy
The HDZ is a modular system that provides incremental cooling and power capability in existing data centers that are out of capacity. According to IBM, the HDZ can be swapped into an existing data center without disrupting current operations and can provide up to 35 percent cost savings compared to retrofitting an existing data center.
"We've engaged with thousands of businesses, governments, and educational institutions around the world to help them address critical energy challenges in their data centers," said Mike Daniels, senior vice president and group executive of IBM's Global Technology Services at the time of the systems' introduction. "We're unveiling the most advanced green technologies and services to help clients become much more efficient in how they consume and pay for energy, not only in their data centers, but across all of their operations."
The introduction of these three data center systems was the second phase of what IBM dubbed Project Big Green, which it launched in 2007. At the time IBM committed $1 billion to deliver technologies it said would help users dramatically increase levels of energy efficiency in data centers. This second phase of Project Big Green follows that objective by making data centers more flexible in matching information technology needs to capital and operating costs, IBM says.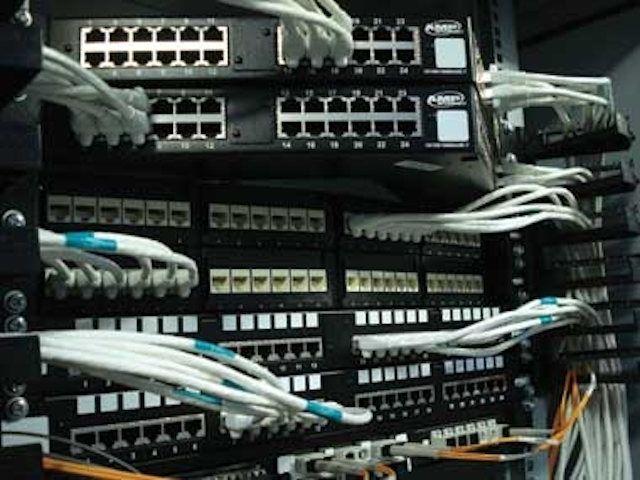 Within the PMDC reside cabling products and systems like these. Recently several cabling suppliers announced partnerships with IBM to provide products for the PMDC.
Infrastructure suppliers
Anixter (www.anixter.com), Eaton Corporation (www.eaton.com), Emerson Network Power (www.emerson.com), Panduit (www.panduit.com), and Siemon (www.siemon.com) all announced partnerships involving IBM's PMDC in December.
In making its announcement, Anixter emphasized that as the need for data centers expands around the world, the call for temporary and mobile solutions such as the PMDC is increasing. "We have seen a growing need for this type of solution," commented Andy Jimenez, Anixter's vice president of technology for enterprise cabling solutions. "By equipping the PMDC with the cabling infrastructure solutions, end users receive a self-contained data center solution that can quickly deliver functionality and capacity when and where it is needed."
Users of the PMDC may find Eaton's and/or Emerson Network Power's power-distribution, power-quality, and cooling products within the system. Eaton stated its 550 kVA uninterruptible power supply (UPS) has already been used in PMDC containers installed at an IBM data center in Europe.
"Power usage represents a significant cost when operating a facility," said Jerry Whitaker, president, electrical sector – Americas for Eaton. "The ability to plan, build, and maintain a highly energy efficient data center is essential to meet business objectives. Eaton has a long history of working with IT managers and CIOs to achieve cost savings and execute sustainable strategies."
Emerson Network Power's Liebert and Knurr brand products can be integrated into the PMDC, the manufacturer says. "Emerson Network Power is excited about this opportunity to further extend our relationship with IBM and provide efficient and flexible options for customers to meet business demand and IT growth while continuing to deliver high availability," commented Fred Stack, vice president of marketing for Liebert brand cooling products. "Offerings such as IBM's portable modular data center will help data center designers and managers scale an infrastructure quickly, reduce capital expenses, and improve efficiency while upholding high availability and performance."
According to Panduit, the company's line of high speed data transport solutions supports the network infrastructure over the data center life cycle, and its QuickNet preterminated 10-Gbit-capable solutions are a good fit for the unique infrastructure requirements of containerized solutions like the PMDC. Panduit emphasizes that its offerings are preterminated and high-density, providing up to 96 fiber and 48 copper connections in one rack space.
"Panduit's Unified Physical Infrastructure approach maps the physical infrastructure to the logical network, enabling customers to conserve valuable data center real estate while managing extreme heat loads and optimizing power and cooling efficiencies," stated Jack Tison, Panduit's vice president of technology. "Working on the IBM PMDC initiative allows us to apply our high-speed data transport, integrated cabinet systems, software, and harsh-environment expertise to optimize the IBM platform and promote scalable, sustainable data center design practices for these critical applications."
Category 6A and 7A twisted-pair copper cabling systems as well as plug-and-play fiber-optic cabling systems and the MapIT G2 Infrastructure Management System from Siemon are also now available as part of the PMDC. Siemon announced that according to its supplier agreement with IBM, PMDCs can be delivered with Siemon cabling already installed, including those systems mentioned above. Additionally, the preinstalled infrastructure systems may include the IBM-branded FTS I-Line. Launched as part of IBM's Fiber Transport System (FTS), the IBM FTS I-Line is a specialized offering of high-performance plug-and-play preterminated fiber cabling developed under Siemon's quality guidelines.
Steve Sams, IBM's vice president of global site and facilities services, served as the company's spokesman when these supplier agreements were announced and offered comments on many of the agreements. "IBM's PMDC is part of our strategy to deliver a cost-effective and flexible family of modular data center solutions to businesses facing significant capital and operational costs," Sams said, then stated separately, "Having a reliable, standards-based infrastructure developed for the container is essential in delivering a high-value modular component to our customers."
Patrick McLaughlin is chief editor of Cabling Installation & Maintenance.
More CIM Issue Articles