Second-generation 10GBase-T switch
Extreme Networks recently began shipping what it dubs as a greener, more energy-efficient version of its Summit X650 10GBase-T switch, a top-of-rack Ethernet switch designed for data center, cloud computing, and hosted environments.
According to Extreme, the Summit X650-24t consumes 200W less power during operation than the company's first-generation 10GBase-T switch. The switch is complemented with Intel's lower-power 10GBase-T adapter that provides state-of-the-art interfaces to high-performance servers, Extreme adds. "Power savings is critical to the data center where space, heat, and bandwidth have to be optimized," said Harpeet Chadha, senior director of product management for Extreme. "Delivery of the latest generation Summit X650 offers excellent energy efficiency and provides customers with cost-effective 10-GbE options for standard RJ-45 copper interfaces."
EXTREME NETWORKS
www.extremenetworks.com
Handheld tester for cable, PoE, network analysis
Psiber Data Systems recently launched the LanExpert, which the company describes as a handheld network analyzer featuring protocol analysis, packet capture, traffic generation, cable testing, and IPv4/IPv6 support. The LanExpert uses a color touch screen interface to access a suite of test and analysis functions. The tester's inline mode allows users to non-intrusively monitor 10/100/1000Base-T network traffic to identify protocols, port usage, VoIP statistics, and network utilization. Psiber says the LanExpert can capture and store up to 10,000 packets with user-defined filters for detailed analysis in the field or downloaded over the network or to a USB flash drive. Using either RJ-45 port, tests including ping, link, trace route, DHCP, and discovery are used to identify network problems. The tester can generate up to 100 percent traffic loading with control of packet rate and size to demonstrate network performance at various traffic levels. Also, a stress test that generates traffic and measures performance metrics, in accordance with RFC 2544, is also provided. Stress tests can be conducted using two independent ports on a single unit, or used with a second unit located remotely on a network. Power over Ethernet tests include voltage and inline current measurement to determine the actual power used by a powered device. The LanExpert also tests cables for shorts, opens, split pairs, reversed pairs, and cable length. It can generate tone for cable tracing. The tester lists for US$1,895.
PSIBER DATA SYSTEMS
www.psiber.com
Cordless slitter for utility-innerduct entry
The Cordless Power Duct Slitter from General Machine Products (GMP) allows field technicians a less time-consuming and labor-intensive way to cut utility-grade innerduct, its manufacturer says. The tool features a battery-powered blade that offers a mechanized method for trimming and slitting innerduct utility conduit, as an alternative to the brute-force method typically required when cutting innerduct by hand. The slitter features a blade diameter of 3-3/8 inches (85 mm) and is adjustable to cut innerduct of 1 to 2 inches (25.4 to 50.8 mm) in diameter. GMP says the slitter's compact design is easily maneuverable and fits comfortably in a worker's hand. The tool is 12-3/8 inches (313 mm) in length and weighs 6 pounds (2.72 kg). The Cordless Power Duct Slitter is constructed with a multi-directional cutting guide to assist with cutting innerduct longitudinally and also around its circumference. It also features a blade guard and a safety stop built into the switch. The tool comes with a rechargeable 9.6-volt battery and a battery charger. The charger weighs 1.19 pounds (0.54 kg) and charges to full capacity in one hour.
GENERAL MACHINE PRODUCTS
www.gmptools.com
Zero-U patching systems
The end-of-row Zero-U patching and cable-management options for Siemon's VersaPOD Data Center Cabinet Solution mount between the VersaPOD cabinet's corner posts and side panels, allowing four standard 1U patch panels or fiber enclosures to be mounted vertically. Previously available as a copper and fiber patching solution that leveraged the vertical space between two bayed VersaPOD cabinets, this new product set brings the same high-density, zero-U capabilities to end-of-row and standalone cabinets. The panels may be mounted on both ends and in the front and rear of the cabinet, providing an additional 16U of mounting space to a standalone cabinet without consuming horizontal mounting space. The manufacturer points out that combining the solution's 24U or zero-U vertical patching space between bayed cabinets, with the new end-of-row capabilities, frees up 40 horizontal mounting spaces for every two cabinets. Ultimately, Siemon says, fewer cabinets are needed, saving cabinet cost and floor space. Additionally, the cable management and patching are located in dedicated zero-U spaces that eliminate cable obstructions in equipment-mounting areas for improved cold-aisle, hot-aisle airflow and thermal management. Zero-U vertical patching areas can also be used to mount power distribution units to service the equipment mounted in the adjacent 45U of horizontal mounting space. The VersaPOD system's end-of-row options also include new thermal-management blanking panels, which seal the air gap between the cabinet corner posts and side panels, thereby enhancing the systems' hot-aisle/cold-aisle isolation capabilities.
SIEMON
www.siemon.com
Handheld tester for carrier-grade Ethernet
The ETS-1000 Ethernet Analyzer from EXFO Electro-Optical Engineering allows turnup and installation of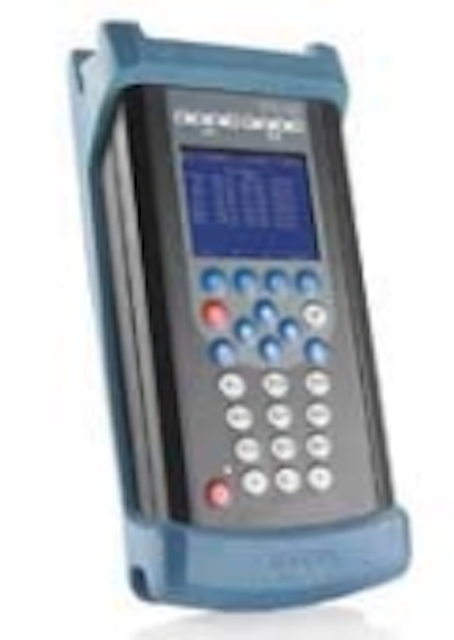 carrier-grade Ethernet services over metropolitan networks. The tester's feature set delivers specific functionality and ease-of-use required by field technicians to meet increasingly demanding Ethernet network testing and compliance measurements. Its manufacturer further states the ETS-1000 is a compact and feature-rich 10-Mbit-to-1-Gbit Ethernet test unit, supporting two independent test ports. Technicians can transmit up to layer-4 traffic, with fully configurable virtual local area networks, multiprotocol label switching, and quality-of-service parameters. The tester supports all necessary Ethernet/IP field testing capabilities including RFC 2544, bit-error rate, packet jitter, and multistream generation and analysis. Also introduced at the same time is the ETS-1000L, a dedicated handheld Ethernet loopback device that EXFO says supports simple user configuration for full wire-speed testing, from layers 1 through 4.
EXFO ELECTRO-OPTICAL ENGINEERING
www.exfo.com
H.264 IP cameras
Optelecom-NKF recently announced the release of the H.264 Siqura HD6x PTZ IP camera series. The high-speed dome camera line comprises three pan/tilt/zoom (PTZ) IP cameras: the indoor HD60 as well as the outdoor HD62 and HD66 WDR. All of the HD6x cameras support open streaming architecture (OSA) for integration with video management systems. The quad-streaming HD6x cameras support H.264 streaming in addition to MPEG-4 and MJPEG dual streaming. This flexibility in compression standards makes it easy for HD6x series cameras to offer the best-quality video while streamlining network performance, Optelecom says. The HD6x cameras can move to predefined preset positions at speeds up to 400-degrees per second. With the HD6x cameras, PTZ coordinate positions can be queried or set through the OSA application programming interface. The cameras offer 26x or 35x autofocus zoom lenses with 12x digital zoom. The HD6x series also comes with a Web-based user interface, allowing users to configure them or view video streams from a PC or handheld devices. Standard features include day/night and backlight compensation that can be applied manually or automatically when lighting conditions require. All HD66 WDR cameras have a built-in image stabilizer to prevent vibrations from disrupting a camera view or footage.
OPTELECOM-NKF
www.optelecom-nkf.com
10-Gig switch for storage, HPC
Fujitsu Frontech North America Inc. recently introduced its XG2600 10-Gbit Ethernet switch, the newest addition to the company's family of XG Layer 2 Ethernet networking switching platforms. The 26-port XG2600 uses SFP+ optical modules and is designed for use with SFP+ twinax copper cables. According to the company, the XG2600 may reduce overall networking costs while ensuring ultra low latency and significantly reduced power consumption. The company claims the switch can reduce power usage more than 30 percent to less than five watts per port. Fujitsu says its XG family of high-speed layer 2 switching solutions is designed to offer superior throughput, ultra low latency, flexible interfaces and extremely low failure rates in a compact form factor.
FUJITSU FRONTECH NORTH AMERICA
www.fujitsufrontechna.com
More CIM Issue Articles