Back on line with patriotic connections
Through recovery efforts, design, and planning, a World Trade Center tenant starts over with a new cabling infrastructure.
May 1st, 2003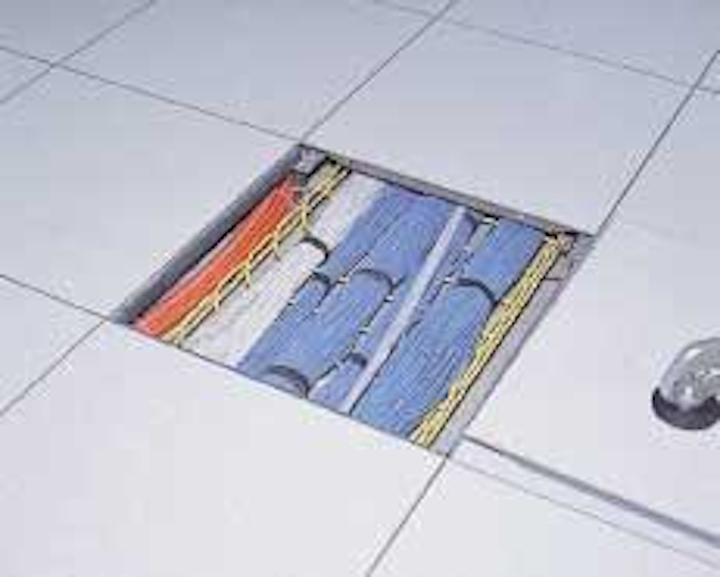 Author's note: Out of respect for the families of the victims of September 11, 2001, and in light of recent global events, the identity of the company presented in this article has been kept anonymous.
Red, white, blue, and black jacks adorn each faceplate at workstations throughout the new home of one of the nation's largest financial-management companies, symbolizing our country's colors and remembrance for the victims of the tragedies of September 11, 2001. Previously located in the World Trade Center, the company is one of many that is starting over, after losing nearly 20% of its employees in the disaster.
Even in the aftermath of disaster, the company set out to acquire a quality cabling infrastructure design at its new location that would support Fast Ethernet and Gigabit Ethernet, take them well into the future, and allow for easy moves, adds, and changes (MACs) while preserving the splendid open-office design reminiscent of the previous space. The new location, however, presents several cabling design and installation challenges that a team of diligent individuals must overcome throughout a yearlong project.
Back to basics
Following 9/11, the company acquired space in a historical landmark building in the heart of New York City. The new space provides approximately 100,000 usable square feet over six floors—half the amount of space the financial-services company had occupied at the World Trade Center. With one floor still occupied by other tenants, and two others under construction, employees initially moved into just 60,000 square feet of space under extremely cramped conditions.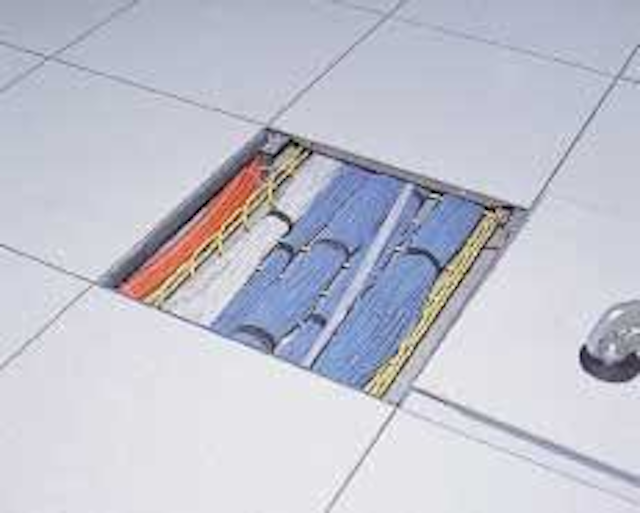 A 4-inch raised floor, rather than the typical 12-inch raised floor, is used to accommodate low ceiling height.
Click here to enlarge image
null
Information-technology staff faced the immediate responsibility of disaster recovery and setting up a temporary server room to maintain connections. "Our first task was to recover our critical data and applications from our disaster-recovery location," says the company's IT manager. "Once we recovered our data, we then had to acquire the basic essentials for each employee—a table, a chair, a phone, and a PC."
The company's IT staff chose a small closet space to set up a temporary server room. There, they installed servers, LAN switches, and routers to establish connectivity with their parent company. "The provisional server room was not at all a true data center," says the IT manager. "We utilized the cabling that existed, but we jammed so many people into such a small space that we had to run a lot more temporary horizontal cable to each workstation." Crews ran cable through drop ceilings out of the way of people, but it was by no means a clean, neat job.
The interim space resembled a busy trading floor with people working side-by-side without privacy on fold-up banquet tables. "
Solution selection
The company employed the services of Bonsignore Design (www.bonsignoredesign.com)—a New York firm specializing in corporate and financial interiors—to carry out the architectural design and oversee the construction of the new space, including the new communications-cabling infrastructure. To design and engineer the new cabling infrastructure, including the audio-visual systems, Bonsignore hired Technology Solutions Group (TSG), a wholly owned division of Lilker Associates Consulting Engineers PC—a New York City-based mechanical and electrical engineering firm. TSG specializes in the design, engineering, and project management of information-technology cabling infrastructure, audio-visual systems, and security systems.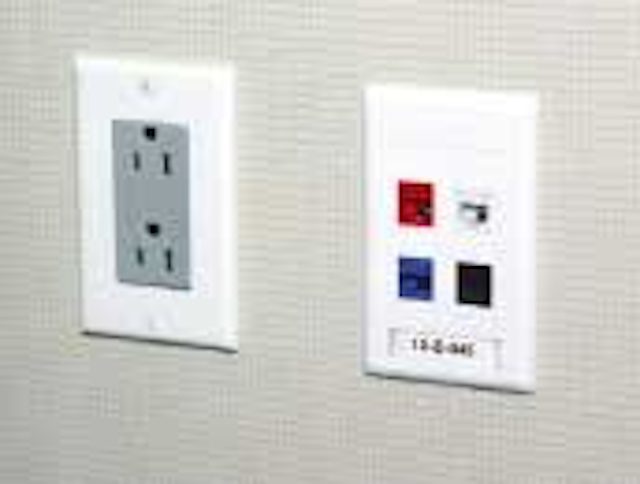 Red, white, blue, and black jacks are housed in faceplates at each workstation, symbolizing our country's colors and remembrance of the victims of September 11, 2001.
Click here to enlarge image
null
The new infrastructure includes a new main data center, or main crossconnect (MC), and nine intermediate crossconnects (ICs) located throughout the six floors. TSG designed the infrastructure with an optical-fiber backbone to support Gigabit Ethernet, and a Category 5e horizontal cabling solution to bring Fast Ethernet to the desktop.
"We decided on Category 5e because when the system was designed, Category 6 had not yet been ratified by TIA/EIA," says Antonio Cruz, project designer for TSG. "Furthermore, the client is running Fast Ethernet over Category 5e, and when they move to Gig-to-the-desktop, the test results show us that the quality Category 5e solution we selected will be able to support it."
For the horizontal cabling, TSG chose the ClearBit solution, a combination of General Cable (generalcable.com) GenSPEED 5500/Platinum Plus Category 5e and Hubbell Premise Wiring (hubbell-premise.com) Category 5e jacks, faceplates, and patch panels. TSG was impressed with the construction and ease of field termination of Hubbell's Xcelerator jacks, and they had a good working relationship with Hubbell and General Cable representatives, which enabled quick response to product needs and technical issues.
Symbolic connections
The company's new main data center features three rows of cabinets. "The first two rows include file servers and LAN equipment," says Anzor Natli, project designer for TSG. "The third row is the main infrastructure cabling distribution row, where all the cabling comes together." Using a raised-floor system, intercabinet cabling connects equipment in the first two rows to the core switches in the main infrastructure row. From optical-fiber riser patch panels, riser cabling runs under the floor to a unique transition point in the corner of the main data center, up into the ceiling, and to the building's core closets where it branches off to the ICs on each floor.
From the new main data center, 12 strands of multimode fiber and 300-pair Category 5e cabling for voice run to each IC on each floor—except for the mailroom, which receives 50-pair Category 3. The Category 3 cabling is managed and terminated in the data center's PBX telephone room and ICs via Hubbell's 110 Crossconnect System, which includes 300-pair wall-mount kits, and cable-management backboards and troughs for a complete 110 crossconnect frame solution.
In the horizontal, GenSPEED 5500/PlatinumPlus Category 5e cabling is terminated onto Hubbell's SpeedGain Category 5e patch panels. With a hinged front cover to access terminations, Hubbell's NextFrame duct panels manage and conceal the patch cords. From each IC, the Category 5e cabling runs to the individual workstations, which each feature two data and two voice connections. At the workstations, Category 5e cable is terminated with Category 5e Xcelerator jacks housed in Infin-e-Station faceplates.
The jacks used at the workstations mean much more to the staff than typical jacks that often go unnoticed. Each workstation features a red, white, blue, and black jack in remembrance of the 9/11 tragedies. "When we chose the jacks, it was only six months following 9/11, and the tragedy was still on everyone's mind," says TSG's Natli. "In looking at the various colors to distinguish between voice and data at the workstation, we suggested red, white, blue, and black as another way to provide a daily reminder of the victims—even with something as small as a data jack."
The project also encompasses a state-of-the-art audio-visual (AV) system that includes an executive AV boardroom and video teleconference chart room. The executive AV boardroom features a rear-projection system controlled via a touch panel. Cameras throughout the room, ceiling speakers, and built-in table microphones offer full videoconferencing capabilities. The chart room features a 61-inch flat plasma display monitor for presentation of VCR-VHS, DVD-video, and PC-generated images. Each teleconference room provides LAN/telephone connections directly at the table.
Forward-thinking
Starting over from scratch gave the financial-management company the opportunity to rethink their business in terms of future growth and easy MACs. Comments Richard Bonsignore of Bonsignore Design, "Part of our design strategy was to come up with two modules—a 10 × 14-foot office for portfolio managers and a 10 × 7-foot office for administration."
The design strategy resulted in a 51/2-foot half-wall that features patterned glass to bring in natural light but still provides a sense of privacy. The half-wall serves as the spine for the movable wood furniture panels that make up the office spaces, and as the raceway for all electrical wiring and voice and data cabling.
With Xcelerator jack connections located in the wall every seven feet, the furniture panels can be easily moved to accommodate the two office sizes. "Reconfiguring workspace is done with minimal disruption, flexibility, and reduced costs during MACs," says Cruz. "We made sure that when furniture panels are rearranged, there would always be a voice and data connection in each office."
"The beauty of the permanent half-wall was that we didn't have to wait for the furniture panels to be in before we could complete the cabling," says Natli. "The cable was pulled, terminated, and tested in the half-wall before the furniture panels were even delivered."
The half-wall design was used on four of the company's six floors. "Where we didn't use the half-wall, we had to wait for the furniture systems to be in place before we could terminate at the workstations," adds Natli.
With staff located in the new space, TSG was faced with the challenge of carrying out its design in an active facility, which required completing the cabling project in four separate phases and shuffling people from one floor‰ to another throughout the process. "Most renovations involve either moving from one building to another, or renovating newly purchased space before staff moves in, which makes for an easy cabling installation," says TSG's Cruz. "This project was different because they had lost everything and had nowhere else to go."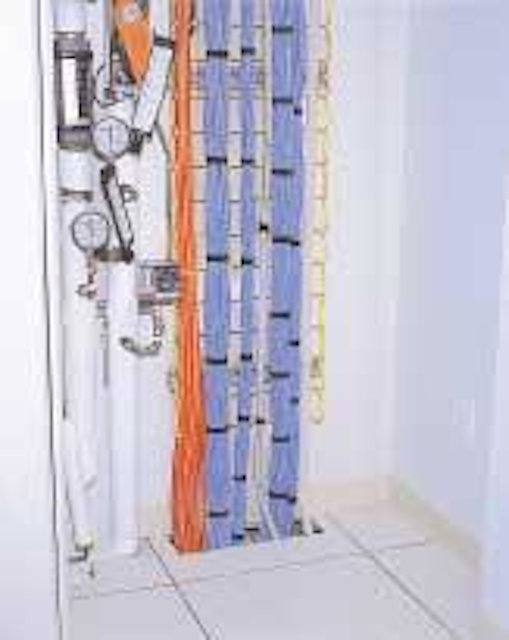 At a transition point, the riser cabling runs up into the ceiling and branches off to ICs on each floor.
Click here to enlarge image
null
In the project's first phase, temporary riser cabling was run to newly constructed areas from the temporary server room that had been set up following disaster-recovery efforts. In the second phase, the new main data center was completed and connected to the temporary server room to avoid downtime. Permanent backbone cabling was then run from the new data center to each floor, and LAN equipment was moved to the new data center. The last two phases of the project involve further renovation of office space, and movement of staff from temporary working conditions to the completed new space.
Trials and tribulations
In addition to shuffling staff and completing the project in four separate phases, the cabling project presented several challenges due to the company occupying nonconsecutive floors, the building's historical landmark status, and limited space. Although the ICs are vertically stacked in the building, riser cabling runs through building core telephone and alarm closets located more than 50 feet from the ICs. "Because we were dealing with nonconsecutive floors and couldn't run cabling through someone else's space, we had to design a riser pathway through the core closets and then branch off on every floor," explains Cruz. "Also, penetration of the floors was prohibited because of the landmark status and existing tenants."
Getting riser cabling from the main data center to the mailroom located on a lower floor proved to be especially tricky. "No one had a clear drawing of the pathways in the building, and just when we thought we had found a path, we would hit a wall," says the company's IT manager. "We had to work with the building management to figure out how to get to the lower floor, and eventually we piggybacked on an existing telco pathway."
In the new main data center, little ceiling space was available due to low clearance and HVAC systems. TSG designed the space with underfloor cabling in a 4-inch raised floor rather than the typical 12-inch raised floor. "We just didn't have the height to do a typical raised floor," says TSG's Natli. "When this building was built over 60 years ago, technology wasn't a factor; we only had eight feet to work with."
With a decrease in overall square footage, space was a major concern for the company. "Not only was the main data center much smaller than what we would have liked, but the closets were also very tiny," says Natli. "We had to squeeze the racks in sideways and use double doors in order to access both sides of the racks." Despite the space challenges, the final system meets the right clearances, features a neat, properly labeled infrastructure, and provides a good workflow.
Morais C. Miranda, RCDD, is director of Technology Solutions Group, a wholly owned division of Lilker Associates Consulting Engineers, PC. He has more than 10 years of experience designing and implementing technology-infrastructure projects for new construction and renovation projects.