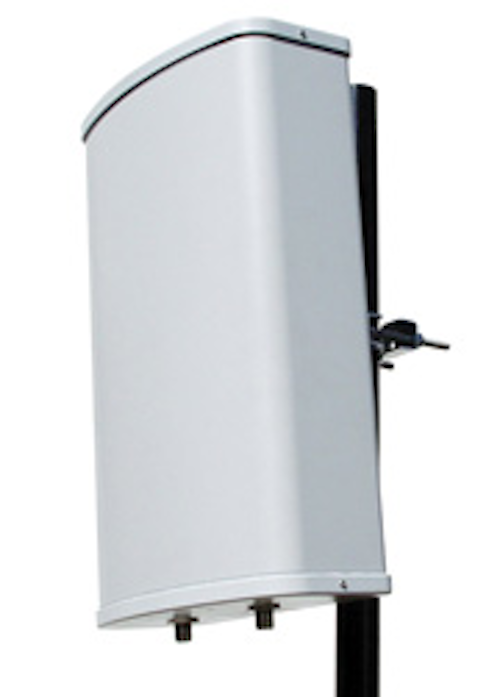 From the September, 2013 Issue of Cabling Installation & Maintenance Magazine
Compiled by Matt Vincent
---
DAS sectorial panel antennas
L-com has added two more antennas to its distributed antenna system (DAS) series. The new sectorial panel antennas come in either 10 dBi gain, 65 degree cross polarized, or 14 dBi gain, 90 degree vertical polarized versions.
The HG72710XP-065 provides 65 degrees of coverage and features two independent antennas with cross polarization. This feature doubles the wireless capacity over the same channels. Providing 90 degrees of coverage, the HG72714P-090 features a single N-Female connector due to the antenna's internal combiner. This simplifies installation since only one coax cable is required to be sent to the antenna.
Both antennas feature wide bandwidths in frequencies ranging from 698-960/1710-2700 MHz, UV resistant radomes for all-weather operation, and come with heavy-duty steel mounting brackets. Designed for use in a wide range of DAS implementations, the new sector antennas can be used to provide wireless coverage to densely populated urban areas, educational campuses, resorts, theme parks and nature centers. Wireless services typically provided by a DAS include PCS, cellular, WiFi, police, fire, and emergency services.
"These sectorial panel antennas are perfect for high-gain applications that require a wider beam-width," explains Patrick Pesa, L-Com's director of product development.
---
AFL adds inspection, loss testing to field fiber connector cleaning kits
AFL has enhanced its Noyes FCP2 Field Portable Cleaning Kits by adding fiber-optic connector inspection and loss testing capabilities, including an inspection scope, power meter and light sources.
The new kits bundle several fiber connector cleaning products into one convenient carrying case to create a complete system for field cleaning of endfaces. And with the addition of the OFS 300-200 inspection scope, the CSm1-2 Contractor Series power meter, the CSS1-MM Contractor Series multimode light source and the CSS1-SM single-mode light source as options, AFL says the FCP2 kits now also give technicians the ability to inspect and verify their work.
Ideal for use in the field, the FCP2 Basic Cleaning Kits now include the following components: the FCC2 Fiber Connector Cleaner, a nonflammable, environmentally-safe, residue-free solvent specifically engineered to clean the end-ace of connectors; AFL's One-Click Cleaners, a simple push-action cleaning tool for effectively cleaning connectors on jumpers and in adapters; the company's FiberWipes, used to remove and trap common contaminants found in fiber-optic installations (can be used dry or with AFL's FCC2 solvent for wet cleaning); the Cletop Cassette Cleaner, a rugged palm-size cleaner with anti-static properties that minimizes re-attachment of dust to ferrule after cleaning; and a convenient duffle bag-style carrying case with room to add supplementary cleaning supplies, inspection scopes or test equipment.
The FCP2 kit's MPO/MTP Option includes the basic cleaning kit plus the MPO/MTP cleaner. The Inspection Option includes the basic cleaning kit plus the OFS300-200 scope. The Inspection and Loss Test Kit Option includes the basic cleaning kit, plus the OFS 300-200 scope, CSm1-2 power meter, CSS1-MM light source and the CSS1-SM light source.
---
Mini ladder rack enclosure for data centers
CablExpress has introduced its mini ladder rack enclosure, designed to mount directly to overhead conveyance in the data center. As part of the company's Skinny-Trunk platform, the compact multimedia enclosure enables more efficient use of conditioned rack space. "We designed the mini ladder rack enclosure to provide another option for organizations with limited space in their data centers," says Matthew Graham, director of CablExpress.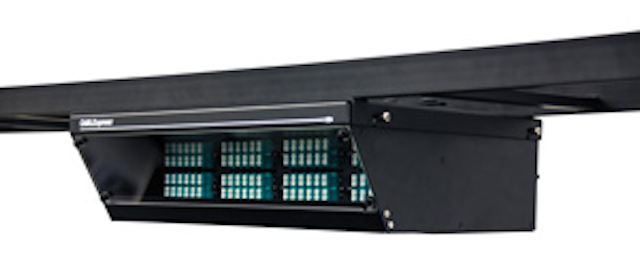 Key features of the Skinny-Trunk mini ladder rack enclosure, according to the company, include: multimedia capabilities for fiber (96 duplex LC ports) or copper (48 ports), or a combination of the two; space for eight modules or feedthrough adapter panels; a lightweight aluminum construction with powder coat finish to ensure a longer product lifespan and a sleek look; an acrylic glass front cover to safeguard data flow; and stable spring couplers to facilitate high performance and maximum uptime.
"By mounting directly to overhead conveyance, the enclosure frees space in the rack below for additional networking equipment," adds Graham. "As the volume and speed of data increases and creates the need for more hardware, the ability to save space without sacrificing manageability or performance will continue to be extremely valuable in this industry."
The mini ladder rack enclosure's design directly integrates with the CablExpress Skinny-Trunk Solution and the recommended TIA-942 structured cabling standard. An optional cable management channel with flexible telescoping is available to protect cables. CablExpress also offers a full-size ladder rack enclosure that can hold 192 LC duplex ports or 96 copper ports.
---
Voltage performance monitor sniffs out critical IT equipment failures in data centers
New from Ideal Industries, the VPM Voltage Performance Monitor works where the symptoms of poor quality voltage occur: at the
point where equipment is connected. The company contends that, when a voltage problem is suspected as a cause of equipment failure, the traditional solution has been to place an analyzer on the main service. However, Ideal notes that this approach misses problems at the branch level where sags, swells, impulses, harmonics and other voltage events can adversely affect electronics.
Simple to use, the VPM offers real-time monitoring of TRMS voltage, frequency and harmonics. Once plugged into an outlet, the VPM will measure, categorize and list each voltage event, including its magnitude, duration and the exact time the event occurred. Armed with such extensive information, an operator can quickly uncover if voltage is the cause of the equipment failure or if some other issue exists. Up to 512 events can be logged onto the VPM for analysis.
The VPM can also be used to determine if voltage is stable enough to connect additional equipment to a circuit or if power conditioners, such as a UPS or surge protector, are required. This is an especially important capability for hospital and IT maintenance engineers who need to monitor voltage quality for mission-critical equipment in the data center or operating room. Immediately available for use on 100-240V single-phase circuits, the device ships with four international plug adapters, a carrying case and a quick reference guide.
---
Sumitomo launches Quantum V-Groove fusion splicer
Sumitomo Electric Lightwave has launched its Quantum Type-Q101-VS V-Groove fusion splicer. As the third model in the company's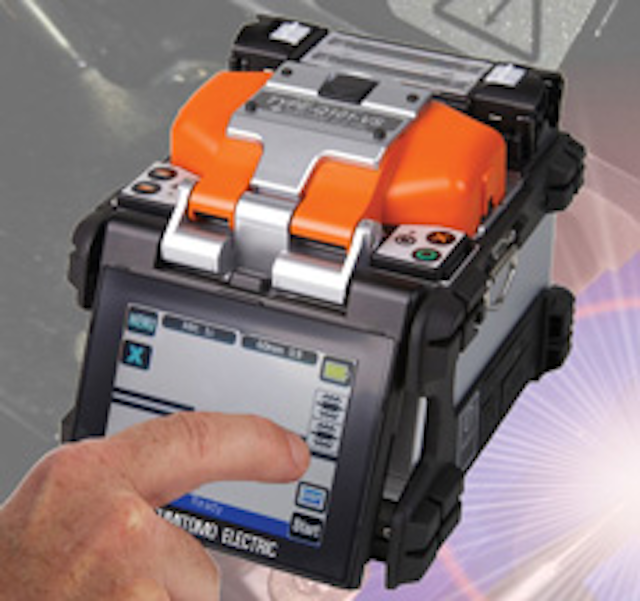 Quantum Splicer product line, Sumitomo says the design of the new Quantum VS is based on market demand for a technologically advanced yet affordable fusion splicer that provides the speed, performance and efficiencies for use in data center, enterprise, FTTx, OEM, and communication network applications.
The Quantum Type-Q101-VS V-Groove fusion splicer features patented dual independent heat shrink ovens that eliminate the heat waiting time for streamlined, consecutive splices, making the tool one of the fastest V-Groove splicers available, that can increase splicing efficiency by 70%, according to the company. Like the previously released Quantum Type-Q101-CA Core Alignment and the Quantum Type-Q101-M12 Mass fusion splicers, the Quantum VS V-groove splicer also features a fully functional touchscreen interface, making splicer function navigation more intuitive, faster, and easier than traditional keypad interfaces. Like its predecessors, the Quantum VS incorporates both the touchscreen and keypad interfaces to offer technicians a preferred choice.
Without compromising full splicing functionality, performance, and ruggedness, the Quantum VS is compact at 120w x 154D x 130H mm and weighs 2.1 kg with battery, making it easier to carry and work within the many small, confined spaces characterizing the data center, enterprise network, FTTx and outside plant work environments. Despite its small footprint and light weight, the Quantum VS boasts a large 640 x 320 fiber view and long electrode life, while complying with the most stringent shock, waterproof, and dust resistance requirements. Like all Quantum fusion splicers, the Quantum VS V-groove splicer also supports an Internet interface for 24/7 remote maintenance, an SD port for virtually unlimited data storage, and the capability of downloading and uploading work related splicing project data, training videos, audio, and software.
The new splicer is compatible with the company's Lynx2 CustomFit Splice-On Connectors for customized, on-site cable builds and terminations. Orders and shipping for the unit are immediately available.
---
Access floor airflow manager segregates copper/fiber, MC cables
Snake Tray recently introduced its Snake Air airflow manager for computer access floors, designed to allow MC (metal clad) cable and copper/fiber cables to pass through a floor without disrupting proper airflow in a data center or near workstations. The Snake Air is designed to segregate the two types of cables to prevent damage to either. The airflow manager installs flush-mount to the floor and comes in a range of sizes and colors to meet various customer specifications.
---
Germany's Laser Components launches fiber-optic cabling line
Laser Components announced that it now offers its own full line of fiber-optic cabling. Available immediately, the product portfolio includes both indoor and outdoor cables, ranging from simplex cables to duplex cables to multi-channel breakout cables that are compatible with all standard connector systems. Custom solutions are also available, says the company. Step-index fibers with a particularly high coupling efficiency are used in all cables, allowing the application of inexpensive emitter and receiver components. The cabling's numerical aperture is 0.37; the diameters of standard cables include 2.2 mm, 2.5 mm, and 3.0 mm.
Most cables can be delivered both with and without aramid yarn for strain relief purposes. The company recommends that its strain relief cabling should be used with SMA and ST connectors. Available cable materials include PVC, PE and PU; OFNR-/OFNP-classified materials with low-smoke characteristics for LSZH, riser, and plenum applications are also available.
---
TIA looking to revise encircled flux fiber-testing specification
The Telecommunications Industry Association (TIA)'s TR-42.11 Engineering Committee on Optical Systems recently issued a call for interest relating to the TIA-526.14-C document, which is titled "Optical Power Loss Measurement of Installed Multimode Fiber Cable Plant." The standard is frequently referred to as the "encircled flux" specification.
In 2010, the TIA published TIA-526-14-B by back-adopting the IEC 61280-4-1 Edition 2/Part 4-1 specification. That specification defines and references encircled flux for multimode fiber testing. By back-adopting the IEC spec, TIA ensured complete harmonization between the two. The 526.14-B spec, however, has a foreword that includes additional information to that in the IEC spec. Now the TR-42.11 is looking to put together a C version of 526.14, including an effort "to modify the current foreword in the standard from adoption to adaptation of IEC 61280-4-1ed2 for regional variances," the TIA said when announcing its call for interest. "These variances would change presently normative aspects of the standard to become informative."
A user must comply with all normative portions of the standard in order to claim adherence to the standard. The user does not, however, have to comply with informative portions of the standard in order to claim adherence to it. The TIA added that "stakeholders may include, but are not limited to, end users, installers performing attenuation tests of installed multimode cabling. TIA is actively seeking participation in these projects from the user and general-interest communities."
---
High-capacity networked fire alarm/emergency communications system
Silent Knight by Honeywell has expanded its Farenhyt line of combined fire alarm and emergency communication systems (ECS) with the IFP-2000ECS, which offers higher capacity and more power to protect larger facilities and multiple buildings. As many as 16 Farenhyt IFP-2000ECS panels can be networked together and support up to 10,176 points (e.g. detectors, pull stations, etc.). The Farenhyt ECS line is now capable of providing nearly all sizes and types of properties with both reliable fire protection and an effective means for broadcasting emergency alerts in one system and from one cabinet, says the company.
The same system can deliver highly intelligible audio communications pertaining to fire alarms as well as weather, terrorist, hazmat and other events. Capable of utilizing up to 16 amplifiers to deliver a maximum of 2,000 Watts of power to audio circuits, Honeywell says the IFP-2000ECS can easily meet required intelligibility levels, even in large spaces with high ambient noise, such as factories and sports arenas. Each IFP-2000ECS includes a microphone for authorized users to send live messages, in addition to eight buttons, which can be programmed with pre-recorded messages.
This same panel can also be equipped with 16 to 64 audio switches to which specific speakers in specific building locations can be assigned. Labels on each switch allow users to quickly choose the area(s) to which specific alerts should be sent, while a standard All-Call switch can be used to communicate with all areas within a building. In the event the main amplifier is damaged, backup audio is available to ensure messages are still delivered. Additionally, for applications such as high-rise buildings where two different messages are required to be sent at the same time, the IFP-2000ECS offers dual channel communications. For example, the Farenhyt ECS can send an evacuation message to the area of an incident, as well as to the floor above and below it, while sending a shelter-in-place message to all other floors to smooth the flow of egress.
Silent Knight's Farenhyt ECS line meets the latest NFPA 72: National Fire Alarm & Signaling Code, UL 2572 Standard for Control and Communication Units for Mass Notification Systems, and Department of Defense United Facilities Criteria standards. The system's intelligent amplifiers also meet the 520 Hz code requirements set forth by NFPA for compliance with Americans with Disabilities Act (ADA) requirements for alerting those with mild to severe hearing loss and those within commercial sleeping quarters. (Per the 2010 version of NFPA 72, on January 1, 2014, 520 Hz fire alarm sounders are required to be installed in commercial sleeping rooms, such as hotels, school dormitories and nursing homes.)
"With the ECS, we've changed the dynamics of a fire alarm to communicate more than just fire alarm evacuations using loud horns and flashing strobes," comments Jim Spooner, Farenhyt product manager, Silent Knight. "You may not want people to go outside. That's why a combined system like Farenhyt's ECS can alert people of a problem, provide instructions and even override the fire alarm evac signal if it was intended to create targets of opportunity."
---
Adtran launches network installation, maintenance, management services
Adtran is now offering enhanced technical services and support programs for its cloud connectivity, enterprise communications and mobility platforms. The company's new ProServices program includes its ProStart installation and ProCare maintenance services, as well as its ProCloud managed networking services. Partnering with Adtran, program participants can rely on the company's expertise for complete installation, maintenance and management of their networks, with services optimized for each customer's individual needs. The flexibility of the ProServices program also affords participants the ability to select individual components to match specific service delivery needs, says the company.
The ProStart installation services are intended for customers challenged by minimal IT staff and/or geographical, business model or internal technical expertise constraints. Technical site surveys, network assessments, cabling, pre-configuration and installation services are provided by Adtran technical experts for flat-rate pricing per geographical footprint. The ProCare service includes network maintenance, hardware replacement and technical support to minimize downtime. Features include service overlays such as configuration management to provide full support for Adtran systems, automatic configuration backups, and hardware spares. Adtran technical experts are available onsite to provide priority trouble resolution, with SLAs ranging from four hours to 30 minutes. 24x7 support for emergency services is also included.
The ProCloud program element provides a complete managed service, especially designed for end-user customers who require a turnkey networking solution. The service provides: highly redundant data center infrastructure; flexible, scalable platforms at affordable pricing options suitable for businesses of all sizes; 99.99% guaranteed uptime and business continuity options; 24x7 network monitoring to ensure network uptime and security; and comprehensive management reports to track system health.
All of the Adtran ProServices offerings are available now.
---
Report discerns slowdown in data center equipment sales
Infonetics Research recently released highlights from its 1st quarter 2013 (1Q13) Data Center Network Equipment report, which tracks data center Ethernet switches, application delivery controllers (ADCs) and WAN optimization appliances. The report reveals that worldwide revenue for all such data center network equipment declined 11% sequentially in 1Q13, to $2.3 billion.
Further, the research finds that following record sales in 2012, ADC revenue dipped 7% sequentially in 1Q13 and is only slightly positive (+2%) from a year ago due to declining sales to the U.S. federal government and delays in tier 1 telco projects. WAN optimization revenue is also apparently declining, due to feature integration and market saturation, claims Infonetics.
Notwithstanding the perceived market slowdown, the research finds that the market for purpose-built data center switches grew 30% year-over-year in 1Q13. The report also finds that that, thanks to its partnership with Cisco--who exited the ADC market last year--Citrix is gaining momentum in the ADC space, growing market share by almost 10 points in the last year and gaining on the number one market share holder, F5.
"Following two strong years of investment, growth in the data center equipment market is starting to slow," commented Matthias Machowinski, directing analyst for enterprise networks and video at Infonetics Research. "While the near term outlook remains positive, ultimately we think the market is headed for a peak, as data center operators improve infrastructure utilization, and adoption of cloud services moves hardware consumption from enterprises to large-scale data center operators."
---
In U.S., copper theft closer to becoming a federal crime
A bill introduced to the United States Senate by a bipartisan foursome of Senators would make the theft of copper--or any metal--a federal crime. In mid-June the four Senators, Lindsay Graham (R-SC), John Hoeven (R-ND), Amy Klobuchar (D-MN) and Charles Schumer (D-NY) announced their bill had passed the Senate Judiciary Committee, "paving the way for a vote in the full Senate," they said.
Called the Metal Theft Prevention Act, the proposed legislation "would help crack down on metal thieves and make it harder for them to sell stolen metal," said a release from Senator Klobuchar. The release also noted that U.S. Congressman Erik Paulsen (R-MN) has introduced companion legislation in the House of Representatives.
Klobuchar said, "In communities across Minnesota, thieves are targeting public infrastructure, churches and even taking brass stars from our veterans' graves to make a quick buck. This is an important step forward for this legislation, and I will continue to work with law enforcement and local officials to crack down on metal thieves and make it more difficult for them to sell their stolen goods."
Graham added, "Thefts and resale of high-priced metals stolen from churches, businesses and our nation's critical infrastructure has skyrocketed in recent years. Our legislation makes it a federal crime to steal from these sites. It also creates common-sense safeguards to prevent resale without interfering with states' rights to prosecute."
The act calls for enforcement by the U.S. attorney general, and gives state attorneys general the ability to bring civil actions to enforce its provisions. Additionally, it directs the U.S. Sentencing Commission to review penalty guidelines as they relate to metal theft, and ensure these guidelines are adequate. Also, the bill makes it an explicit federal crime to steal metal from critical infrastructure.
Also, as Graham alluded to, the bill intends to make it more difficult for metal thieves to sell stolen goods to scrap dealers. Its "do-not-buy" provision bans scrap-metal dealers from buying certain items unless the items' sellers can provide written documentation of their authorization to sell the metal. "As a result of the bill," Klobuchar's statement continued, "scrap metal dealers would be required to keep detailed records of metal purchases for two years and make them available to law enforcement agencies. The bill would also require that purchases of scrap metal over $100 be done by check instead of cash, to further help law enforcement track down thieves."
Of the recent legislative milestone, Schumer noted, "With the passage of the Metal Theft Act out of the Senate Judiciary Committee, we are a step closer to putting thieves who steal scrap metal from homes, businesses, infrastructure behind ironclad bars. This practical plan will combat the rash of metal theft by requiring recyclers to keep detailed documentation of metal purchases, capping the amount of cash recyclers can pay for scrap metal, ensuring that those selling scrap metal are authorized to do so, and by making metal theft a federal crime. I will push for this proposal's full Senate passage, to safeguard families, business owners, and commuters who are endangered by the stripped infrastructure, fires, and financial hit as a result of these crimes."
Hoeven said, "What the federal law does is make sure that thieves can't steal metal in one state and sell it in another state--something that has become increasingly common across the nation. At the same time, we've worked to craft the bill in a way that is flexible and responsive, and takes into consideration the concerns of businesses and attorneys general across the country by making sure that state law supersedes federal law in cases of metal theft."
---
CableOrganizer.com acquired, new CEO named
Paul and Valerie Holstein, co-founders of online retailer CableOrganizer.com, have sold a majority stake in the company to KT Capital Partners LP and CapitalSouth Partners Funds. While the Holsteins retain a minority ownership position, Valerie and Paul have left their respective positions as chief executive officer and chief operating officer. CableOrganizer.com provides products used to install and manage cabling systems.
At the time the acquisition was announced, the company simultaneously announced the appointment of Gerald P. Quindlen as chief executive officer. Quindlen previously served as president and chief executive officer of Logitech. He also was a member of Logitech's board of directors. Previously he held a number of sales, marketing and international-management roles with the Eastman Kodak Company.
Reflecting on the history and looking toward the future of the company he co-founded, Paul Holstein commented, "CableOrganizer.com has been in business over 11 years and has enjoyed sustained, record-breaking double-digit growth and strong vendor relationships, even throughout the economic downturn that adversely affected the retail industry at large in recent years.
"The fresh and broader depth of experience and expertise brought in by KT Capital Partners and CapitalSouth Partners Funds, coupled with the broad leadership and operational experience of the new company CEO Gerald Quindlen, will help CableOrganizer.com establish, sustain and elevate its position as a leading online retailer in all applicable product categories, including telecommunication, low voltage, networking and server-room supplies. In turn, KT Capital Partners and CapitalSouth Partners Funds benefit from a thriving e-commerce company with an aggressive growth trend."
Quindlen described the company as "a tremendous entrepreneurial success story due to the vision and drive of Paul and Valerie Holstein. This acquisition," he continued, "will allow the company to accelerate its already strong growth rate. The shift will maximize customer satisfaction and vendor relations in key areas, such as more on-time deliveries, better price, broader product selection, additional expert advice, longer phone-support hours, more-generous credit terms, and other such service-driven enhancements, while also allowing the company to more-effectively compete in a broad range of categories to become the most comprehensive one-stop online product purveyor in the industry."
---
Emcore launches HDBaseT Cat 5e/6 products for pro AV, broadcast markets
Emcore, a supplier of semiconductor-based components and subsystems for fiber-optic and solar power applications, has launched a new product line designed to support HDBaseT video and audio extension and distribution for the professional audio/visual (pro AV) and broadcast markets. The Opticomm-Emcore HDBaseT line includes the new OTC series of insert cards for the Optiva platform, the c-linx series of standalone extenders, and the High-Definition Multimedia Matrix (HDMX) device, which switches, converts and extends Cat 5e/6 in addition to other video formats.
The OTC Series products are designed for use in the company's Optiva platform 6- or 16-slot 19" rack-mount enclosures, or 1- or 2-slot tabletop, or wall-mountable enclosures and can be combined in the same frame with other Optiva family fiber-optic cards. The HDMX is a multi-format, cross-point switch that supports HDBaseT inputs and outputs along with many other signal types including DVI, HDMI with HDCP, 3G HD-SDI with embedded audio, as well as analog video interfaces component, composite and VGA.
HDBaseT technology enables the proprietary 5Play feature set for the delivery of uncompressed high-definition video, audio, control signals and power over a single Cat 5e/6 cable. HDBaseT is simpler and more cost-effective to implement for video applications up to 100 meters, contends the company, eliminating the common issues professional installers face concerning cable distance and the location of available power outlets.
"Joining the HDBaseT Alliance presented us with an opportunity to launch a new product portfolio for the pro AV market with our most advanced, complementary copper- and fiber-based solutions all in one," comments Henok Tafese, senior director of business development for Emcore. "Our new products maximize the benefits of HDBaseT with PoE [Power over Ethernet] technology to extend power through the CATx, while providing virtually unlimited display connections for multiple applications, all with reduced installation costs."
---
Cable tester includes report management system
T3 Innovation, a provider of advanced handheld test equipment for the cable/telecommunications, datacom/networking, electrical design and maintenance, and residential/CEDIA custom installation markets, has introduced its Cable Prowler cable tester and report management system. Now shipping, the tool combines the functions of a high-end cable and length measurement tester with the capability to identify link status, link capability, and PoE detection. All results are shown in full color on the tester's graphical screen and rely on its internal memory to save results.
"The Cable Prowler provides full cable testing, displaying wire map, numbered ID remotes, and any faults, including shorts, opens, miswires, split pairs, and reverses," explains Ron Vogel, CEO of T3 Innovation. "It also enables quick identification of a network drop's link capability and current link status."
The Cable Prowler measures cable length using TDR technology and generates tone levels for signal tracing and cable identification on all pairs, a selected pair, or a selected pin. All of this is displayed on a full color graphical display for easy viewing in any environment. The Cable Prowler also has the ability to name each cable and save all test results. Cable results can be exported to a computer via micro USB cable for record keeping and printing. The tester also detects the presence of PoE on the network drop and what class of PoE per IEEE 802.3 af/at with load test for voltage drop. These network tests can also be saved for record keeping.
"The high-resolution, full-color graphical display makes reading the Cable Prowler's results as easy as it is to operate the unit," added Vogel. "The Cable Prowler displays wire map in color per T568A/B color codes, and it includes a protective silicone holster and a micro USB connector to export cable and network results, an RJ45 connector and a coax connector."
---
RJ45 keystone module
Copper and fiber-optic cabling-system manufacturer trans data elektronik (tde) recently introduced the tBL-tde Basic Link RJ45 module. The module has a separate cable-termination block, which the company says "can be easily assembled with the tBL crimp tool. By simply plugging it in, the tBL cable termination block is subsequently connected to the tBL RJ45 module."
tde says the module and block eliminate processing problems during an installation. The termination block is available in two version--with 22-24 AWG cables (in yellow) and with 26-27 AWG flexible cables (in white). "The IDC connection technology is designed for long-term use and guarantees a stable and vibration-resistant contact," the company says. tde's managing director Andre Engel said the technology is meant "for high-available applications and data transfer speed of up to 10 Gigabits in real time."
Additionally, tde says, the slim termination block is suited for preassembling the cabling section. An assembled system corresponds to a permanent link according to ISO/IEC 11801, and is designed for Category 6A performance, the company adds.
---
Microarray fiber-optic cables for the data center
The Microarray Data Center cable product line from Superior Essex comprises a variety of loose-tube fiber cables "designed for high-density installations," the company says, "and specifically for plug-and-play installations." The 24-fiber single-unit plenum Microarray Data Center Interconnect cables and the 144-fiber riser and plenum Microarray Breakout cables are new to the product family, the company explains. The portfolio "gives customers a full line of fiber counts and types including plenum and riser 12- and 24-fiber interconnect cables, and 24-, 48-, 72-, 96- and 144-fiber plenum and riser breakout cables," Superior Essex says, "all available in either Teraflex singlemode or multimode bend-insensitive Om3 or Om4 fibers."
Both the breakout and the interconnect cables feature a compact design in a loose-tube form factor. Each cable includes aramid yarns, which allows crimping directly to 12- or 24-fiber MPO-style array connectors. Each cable has a flexible, low-smoke PVC plenum or riser-rated jacket, which Superior Essex says provides for quick and easy installation.
Paul Neveux, director of premises product management with Superior Essex, explained, "The Superior Essex Microarray Data Center cable family offers a broad product set for our customers, allowing them to tailor their cabling system to their specific installation, density and application needs whether the system requires 12- or 24-fiber array connectors, or standard single-ferrule connectors."
---
Liquid cooling system for small and medium data centers
Rittal has introduced the Liquid Cooling Package Direct (LCP DX), which it describes as a "flexible climate-control option for use in small or medium enterprises" that "can dissipate heat losses of up to 12 kW through an integrated cooling unit."
The system is aimed at smaller data centers, which Rittal points out often are situated in places that are more confined than larger, showroom-style data centers. This physical setup of small data centers can increase the risk of hardware failure caused by high temperatures if the servers, switches and storage systems are not completely protected--which they often are not in smaller companies with smaller data centers. Citing a typical setup, Rittal notes, "If the devices are housed in a 19-inch enclosure, air is usually only circulated by a fan in the ceiling plate or a 19-inch rack-mounted fan. If the devices are standing around openly in the room, there may be no climate control or only a less-than-efficient room air-conditioning system."
The DX system includes an integrated speed-controlled compressor, as well as an electronic expansion valve and related refrigeration components including an external condenser mounted outside the data center. This external condenser does not require any active control components because the refrigerant's pressure determines the fan speed.
Two versions of the LCP DX are available; one is for in-rack cooling and the other for in-row cooling. The LCP Rack DX moves cold air either to the right or to the left in a 19-inch rack. The LCP Inline DX mounts between individual racks and blows cool air from the front into the cold aisle. Rittal says that each option is largely preassembled, making them easy to install.
---
Mixed-use facility turns to cloud-based access control
Brivo Systems LLC recently announced its cloud-based ACS WebService access-control system has been installed at a facility in Crown Point, Indiana that converted from being a courthouse to a mixed-use facility. As Brivo explains, the town of Crown Point built a new courthouse complex, after which time the historic courthouse "was transformed into a three-story mix of retail, offices, ballroom function space and a still-functioning courtroom. Security for the remodeled historic courthouse remained standard lock and key, and that's where the problems began.
"For the new mixed-use complex, someone had to manually open all four doors each morning and re-lock them 6pm each evening," Brivo further states. "After-hours access for events was needed, and a way to grant after-hours access to the businesses that maintained offices in the upper floors."
Integrator Phil and Son was enlisted to evaluate the situation, specify and install a new system. Phil and Son's Allen Pante recalls, "Once retail and event-rental operations started up, there were so many people coming and going but somehow access had to be managed for all these different and growing needs." The facility's managing agent, the Crown Point Courthouse Foundation, "wanted access card control, add-and-delete capabilities, remote access, and to provide specific access privileges," Pante explains. "And the retail shop owners wanted a lot more--door scheduling, and to be able to change and add system features."
Pante credits the Brivo ACS WebService system as having "the flexibility for future needs" as well as the ability to solve the here-and-now issues. "The building's internal network is outsourced, so we needed a solution that wouldn't compromise the network," he says. "It was clear the Brivo system would allow the foundation to expand and do whatever the board members could dream up." The system manages the four main doors as well as two restroom entrances. It manages access for more than 100 users daily and nearly 200 users for after-hours events and/or office access.
Additionally, Brivo explains, Phil and Son has helped the foundation staff to create separate groups with specific access for the retailers that are on the basement level, as well as clients on the second and third floors, foundation management, service providers, cleaning crews, and volunteers. The main doors automatically unlock each morning and relock each evening. Specific access is programmed for weekends, as well as to provide specific access for each special event that takes place in the ballroom after hours.
---
Study: Large corporations opting for DAS over small cells, WiFi
ABI Research contends that there is "a fierce battle raging" between distributed antenna systems (DAS), WiFi, and licensed small cells for coverage and capacity in enterprise wireless systems.
Each type of system has its strengths and weaknesses, notes the firm's new study, with active DAS systems emerging as the clear choice for large corporations (defined in the research as over 100,000 square feet and with more than 100 employees). Small and medium-sized enterprises (SMEs) are generally seen choosing between WiFi and small cells.
According to ABI, there are two business models at play for DAS in large corporations: neutral-host or carrier-led. "Neutral hosts are increasingly popular for multi-tenant situations, since multi-carrier DAS systems can add value with either carrier-led, venue-led or third-party business models," says Nick Marshall, principal analyst with ABI Research.
The research postulates that today, adding WiFi is an attractive option for businesses, since these systems are probably the lowest cost to deploy; however, there is a risk of interference because the systems operate on unlicensed frequencies. However, with the promise of next generation hotspot (NGH) well underway, and many vendors including WiFi in their equipment, WiFi is becoming an essential part of the HetNet of the future, says the study.
The study adds that small cells are now emerging as a viable alternative for enterprise coverage, being less costly than DAS systems and much faster to deploy. "Unlike DAS, each small cell is a base station or eNodeB and adds capacity directly where it is required," continues ABI's Marshall.
The findings come from a report entitled "The Battle for Enterprise Coverage – DAS, WiFi, and Small Cells," which discusses this market and profiles 30 companies active in this area, and is part of ABI Research's Enterprise and Consumer Femtocells and In-Building Wireless Research services.
---
Forecast sees AOC sales jumping 30 percent in 2013
The active optical cable (AOC) market won't see a replay of last year's astonishing 65% growth, but it will continue to grow at a more than respectable 35% in 2013, forecasts a new report from market research firm LightCounting. The firm expects AOC revenues this year to reach $150 million, making 2013 the third consecutive strong year for AOC sales.
The market for AOCs has become crowded; LightCounting estimates 26 companies are active in the space. Applications have expanded as well, moving from high-performance computing (HPC) to traditional data centers with support of multiple protocols.
Last year's major jump rode on faster than expected adoption of 14G InfiniBand FDR AOCs, notes the research. The InfiniBand market is the strongest AOC application; the segment has already moved on to 14G FDR QSFP+ fiber-optic cables. Traditional data centers, meanwhile, are sticking with 10G QSFP+ formats. Other protocols, such as SAS, Fibre Channel, and PCI Express, remain potential markets as their data rates pass 10G, LightCounting adds.
Additionally, video and consumer AOCs using Thunderbolt, HDMI, and USB protocols are reportedly gaining traction and attention from vendors. LightCounting admits to being surprised that Corning has entered the market. However, the sales potential of the optical version of Thunderbolt remains undetermined, warns the research.
Data for the report on AOC sales came from such manufacturers as Avago, Emcore, FCI, Finisar, Sumitomo, and TE Connectivity.
---
ETL certifies Level V accuracy of Psiber's WireXpert 4500
Psiber recently announced it has received an ETL Level V compliance certificate for its WireXpert 4500 tester. "Level V refers to the accuracy specifications for field cable testers to 1000 MHz as defined in the draft ISO standard 61935-1 ed. 4," Psiber explained, adding that the accuracy level "confirms a field tester's measurement capability to certify Class FA cabling systems."
The company further explained that WireXpert 4500's frequency range is 2500 MHz (2.5 GHz). "The range of cabling standards supported by WireXpert 4500 include Cat 6A, Class FA, and the draft Cat 8," Psiber said. "With sophisticated software-defined measurement system, WireXpert 4500 will adapt the measurements to requirements of new standards as they evolve, protecting our customers' investment in the tester."
---
Bend-optimized multimode fiber's halo effect explained
A technical report recently issued by optical-fiber manufacturer OFS explains to fiber-optic installers and technicians why a microscopic inspection of a cable containing its LaserWave Flex 50-micron bend-optimized fiber will yield a slightly different look from an inspection of a cable containing the standard LaserWave 50-micron fiber. OFS explains in the report that it "has modified the fiber cladding area surrounding the core to include a trench that prevents light from escaping. The trench area is carefully designed to properly confine and control this light in order to maintain excellent system performance and low connection loss, even when mated to standard 50-micron multimode fiber."
It's the appearance of that trench that makes the fiber look different, OFS explains. The report also reads, "This 'halo effect' is generated by the light source that is used for endface inspection. These light sources fill the entire fiber endface, allowing careful inspection of not just the core, but also the cladding area. This is important when inspecting the quality of a connector finish, but it is not an indication of actual core size."
---
Guide discusses wireless's demands, how cabling can meet them
A selection of articles assembled in one document and available for download from Cabling Installation & Maintenance discusses some technical and market-trend issues that are putting increasing demands on wireless LANs. As a result of these demands, the wireless LANs are in return requiring more-robust performance from the cabling systems that support them.
The guide, titled "Demanding Wireless Applications and the Cabling That Supports Them," includes articles titled "WiFi forecast to become access-interconnect leader," "The coexistence of wireless LANs and distributed antenna systems," and "High-speed wireless requires robust cabling."
In summarizing the guide's contents, Cabling Installation & Maintenance said, "The need for wireless connectivity in enterprise environments is at an all-time high and continues to grow. Next-generation 802.11ac specifications will require an even more robust cabling 'backhaul' infrastructure than existing 802.11n networks do. The ubiquity of mobile-data services is driving the growth of in-building distributed antenna system (DAS) deployments, which have their own sets of cabling-infrastructure requirements."
---
TIA's Herb Congdon discusses TR-42 cabling standards development efforts
In a video that is part of the Telecommunications Industry Association's TIA Now series, the TIA's associate vice president of standards and technology development Herb Congdon offers a wide-ranging update on several of the standards-development efforts taking place in the TR-42 Telecommunications Cabling Systems Engineering Committee.
Hosted by TIA Now anchor Abe Nejad, the 12-minute video segment mainly consists of Congdon explaining six different activities happening within TR-42 and the broader implications of these activities to designers, installers and users of cabling systems. One piece of news covered in the interview is that the committee is working on a 'D' revision of the TIA-568 standard. Congdon details some of the efforts being made on that front.
Congdon also addresses the following topics, in order.
Physical security of installed cabling systems
Category 8 cabling
STEP – Sustainable Technology Environments Program, and associated TIA standards efforts
Encircled flux
Earthing (grounding)
The video can be viewed at tianow.org.
---
comCables names VP of sales
comCables recently appointed Michael Capulli to the position vice president of sales. Most recently Capulli was director of sales at Security General International Ltd. (SGI), and vice president of sales at SGI California LLC. He has worked in executive-level positions for companies including Tyco, GVI-Samsung, Digital Security Controls and Tri-Ed Inc.
comCables' vice president and general manager Andy Work said, "We are very pleased to welcome Mike as our new VP of sales. He is an experienced security-industry executive whose expertise in developing sales and marketing programs will support and achieve our sales goals. Mike's solid leadership skills, combined with an influential, team-based management style will serve him well in this new position."
---
Datwyler investing in Swiss, Chinese fiber-cable plants
Datwyler Cabling Solutions, which has produced fiber-optic cables in Switzerland for 27 years and has also maintained manufacturing operations in China for 15 years, recently announced it has been investing--and will continue to invest--tens of millions of Swiss francs in fiber-optic-cable production facilities in the two countries. The company recalled, "Twenty-seven years ago on the Altdorf site Datwyler was one of the first Swiss companies to begin producing fiber-optic cable, and Datwyler has been manufacturing in China for 15 years now. Datwyler Cabling Solutions intends using these many years of know- how to profit from the rapidly growing demand for fiber-optic cable. To this end, the company will be investing a further 10 million Swiss francs in in its fiber-optic cable production facilities.
"Since 2011 roughly 30 million Swiss francs--around 24.3 million euros--have been invested in the Swiss cabling plant. By the end of 2013 17 million will have gone into modernization and the acquisition of new production facilities, 13 million into renewing the building infrastructure."
In the future, Datwyler says, it will operate two centers of excellence for the production of fiber-optic cable. "The technically sophisticated cables for outdoor use will be fabricated exclusively in Altdorf, while the personnel-intensive cables for indoor applications will be manufactured and assembled in Datwyler's new plant in Taicang." The company said it will commission its Taicang, China production facility in 2014.
---
Pliers have camouflage handle
The Limited Edition Camouflage 2000 Series High-Leverage Side-Cutting Pliers from Klein Tools is available for a limited time, the company says. Klein says it "transformed the look of its most popular 2000 Series Side-Cutting Pliers with an exclusive plastic-dipped camouflage handle design and a distinct black-oxide plier head with a special laser-etched 'Support Our Troops' logo." The fully functional tools are manufactured at the company's Mansfield, TX plant.
Company chairman Mat Klein III commented that the firm "is thrilled to partner with a great organization like Operation Homefront." In conjunction with the release of the limited-edition pliers, Klein is donating $25,000 to Operation Homefront--a volunteer organization that provides emergency and other financial assistance to the families of service members and wounded warriors. "So many of our customers and their loved ones are current or retired military members," Mat Klein III added, "and it is an honor to give them our support."
Operation Homefront's chief development officer Amy Palmer said, "Our mission is to support service members and their families in need of immediate help. Klein Tools' generous contribution will play an integral part in fulfilling those pressing needs."
---
BTX now distributing OCC cabling products to AV and broadcast markets
BTX Technologies recently announced it is now an authorized distributor of Optical Cable Corporation's (OCC) cable and connectivity products. BTX is a value-added distributor and manufacturer of interface, integration and system products. The company's president, Greg Schwartz, indicated in a statement the distribution agreement will enable BTX to serve unmet needs in the audio/video (A/V) and broadcast markets. "OCC's extensive offering of military and commercial fiber cable and connectivity solutions fills a void in the A/V and broadcast marketplace--especially as demand for fiber solutions in our customers' designs continues to grow," he said. "This partnership will enable us to offer OCC products in bulk or integrate them directly into the assemblies and breakout boxes that we build in our in-house fiber lab based in Metro New York, giving our customers access to an incredible range of solutions."
OCC's vice president of sales for the U.S. and global business development, James Enochs, added, "OCC is pleased to add BTX as an authorized distributor serving the A/V and broadcast market. BTX's reputation in providing exceptional solutions to its customers is a natural fit with the products OCC manufactures. We look forward to expanding our partnership with BTX and exploring new opportunities with them in the years to come."
---
Cannon T4 Inc. appoints Cullop CEO
Cannon Technologies recently appointed Carl Cullop to the position of chief executive officer (CEO) of the company's American operation, Cannon T4 Inc. "Cullop is tasked with enhancing the company's presence, market penetration and sales, and he will spearhead initiatives that will drive demand for the award-winning T4 Data Center Solutions range," the company said when announcing the appointment. Data center systems offered by Cannon T4 include the Data Center Manager, the Mini Data Center and the Cold Aisle Cocooning System. The company describes them as "solutions that lead the way in making mission-critical facilities more robust, resilient and energy efficient."
Cullop will be based at Cannon T4's Northern Virginia headquarters and according to the company, one of his first jobs will be "to complement his existing team with a series of new appointments across a variety of roles." Additionally, Cullop will "look to develop a full manufacturing site in order to offer shorter lead times and a level of service similar to that enjoyed by customers in Europe." On a medium-term basis, Cullop also is tasked with expanding Cannon T4's operations into Canada and Mexico.
Cullop has both an engineering background and experience in sales and channel management, including positions in which he worked to specify and deploy mission-critical power systems in data centers, as well as distribute data center infrastructure systems.
In an announcement of his appointment, Cullop stated, "The USA continues to boast a thriving data center sector worth tens of billions of dollars and I'm excited about the prospect of ensuring that owners and managers of these facilities experience the benefits of using products from Cannon T4 Inc."
Cannon Technologies chairman Ted Reddcliffe added, "This is an incredibly exciting time and I'm pleased that Carl has joined us to take the company to the next level in the USA. His abundant knowledge, drive and enthusiasm combine to give me the utmost confidence that Cannon T4 Inc. will become a major force in data center solutions in this country."
---
Optical components create 8-fiber connections for 10-to-40-to-100G conversion
Corning Cable Systems' new Pretium Edge AO (Advanced Optics) Solutions is a set of components meant to be used with the existing Pretium Edge platform to enable data centers to efficiently migrate their cabling infrastructure from 10G to 40G and 100G speeds, maximizing the use of the fibers in parallel optics systems in the process.
AO Solutions components include conversion models and harnesses "that allow networks to fully utilize base-12 fiber count trunks when migrating to 40G," the company explains, "which uses base-8 fiber counts--four fibers transmitting at 10G in each direction. Without this conversion, data centers running 40G parallel optics on their existing fiber backbone only use 66 percent of the installed fiber."
The company further explains the practical implementation of its new AO Solutions: "Use your existing Pretium Edge infrastructure and, when it's time, swap out today's modules and harnesses for the advanced optical components of the Pretium Edge AO Solutions. Leave your existing hardware and trunk cables in place." It says users who do so get "waste-free links--the highest possible fiber utilization at 40 and 100G," as well as "fully managed link polarity and the ability for on-site changes."
The Pretium Edge AO Conversion Module is the core component of the AO Solutions set. The module "has 12-fiber MTP adapters in the rear for mating to backbone trunks and breaks out to 8-fiber MTPs in the front for connectivity to electronics," Corning Cable Systems says. It then explains, "This is the 'conversion' that makes Pretium Edge AO Solutions so efficient. Transmission at 40G is based on eight fibers in the link--four transmitting at 10G in each direction. The anticipated 100GBase-SR4 standard will also utilize eight fibers, at 4x25 in each direction. In a simple pass-through connection scheme, this means only eight of the fibers in a standard base-12 network trunk are used. The conversion module fully utilizes all fibers in each base-12 set by breaking out base-12 MTPs at the rear of the module into base-8 MTPs at the front, which then use high-bandwidth 8-fiber MTP assemblies to connect to electronics."
The conversion modules are available in two configurations: 2x3 (two 12-fiber MTP adapters in the rear and three 8-fiber MTP adapters in the front), and 4x6 (four 12-fiber adapters in the rear and six 8-fiber adapters in the front).
As part of the system release, Corning Cable Systems also is introducing a port tap module for network monitoring of Ethernet 40GBase-SR multimode fiber parallel optical circuits. "This passive tap device integrates directly into the Pretium Edge Solutions infrastructure, and its all-MTP footprint enables seamless migration with 40G electronics…Corning's integrated approach allows monitored ports to be added or removed without disruption to the live network link and creates a 'zero-U' footprint that improves rack utilization."
---
TIA issues call for interest as it undertakes 'D' revision of TIA-568 cabling standards
The Telecommunications Industry Association's (TIA) TR-42 Engineering Committee on Telecommunications Cabling Systems is in the initial stages of developing the fourth revision of its flagship standard, ANSI/TIA-568. The current third revision, ANSI/TIA-568-C is being revised according to ANSI-specified timelines, and work is just beginning on what will become the ANSI/TIA-568-D set of cabling standards.
Those standards will be ANSI/TIA-568.0-D Generic Telecommunications Cabling for Customer Premises, TIA-568.1-D Commercial Building Telecommunications Cabling Standard, and ANSI/TIA-568.3-D Optical Fiber Cabling Component Standard.
The current 'C' revision of 568 uses slightly different nomenclature: 568-C.0,5 68-C.1, etc. However, the actual standard, to use one example, is 568.1 and the current revision is C. That rationale will dictate the nomenclature of the D revisions … 568.0-D, 568-1.D, etc.
When announcing this revision effort, TIA said it "is actively seeking participation in these projects from the user and general interest communities. The stakeholders for these standards projects include, but are not limited to: network designers; installers; building owners; building tenants; and facility operators. To inquire about participating in TIA standards developing efforts, please contact the TIA Technology and Standards Department at 703-907-7000 or via email at standards@tiaonline.org."
The 568.0 standard falls under the domain of the TR-42.1 Subcommittee. "The standard specifies requirements for generic cabling system structure, application support, topologies and distances, installation, performance and testing," TIA explained in the announcement. "The TIA-568.0-D standard serves as the foundation for all premises cabling standards developed in TR-42, including the developing premises standards for educational facilities and places of assembly."
The TIA-568.1-D spec will specify "requirements for office-oriented telecommunications cabling within a commercial building and between commercial buildings in a campus environment," according to TIA. "It specifies cabling topology, lists cabling requirements, establishes cabling distances, sets telecommunications outlet/connector configurations, and provides additional useful information."
568.3-D, being developed in the TR-42.11 Subcommittee, will specify requirements for fiber-optic cable, connectors, connecting hardware and cords. "Connectivity arrangements formed from these components are also specified in this standard," TIA says, "as are connector test requirements and guidelines for field testing."
Ray Emplit, engineering manager with OBO Betterman and chair of the TR-42.1 Subcommittee, explained, "The evolution of key telecommunications standards is a collective, continuing effort. There's rarely a shortage of subject matter to consider, and a revision gives the committee a chance to make decisions to truly benefit the industry. It's not uncommon to see the contribution of even more new subjects when a revision project is announced."
Valerie Maguire, The Siemon Company's global sales engineer and vice chair of the TR-42.7 Subcommittee, added, "One of the key technological innovations today is the development of performance, testing and connections of Category 8 cabling to support the next generation of Ethernet applications on balanced twisted-pair cabling. Incorporating new technologies, like Category 8, is key to the revision process."
---
Concert Technologies rolls out data center services
Technology rollout company Concert Technologies recently announced its new data center support services program, which offers cabling, management, support and maintenance services for data centers in the U.S. and internationally. The program, Concert explains, provides data centers of any size with "a single, trusted partner available 24/7, providing a variety of cabling and physical-infrastructure services--whether at a single location or multiple locations spread across the globe."
Services offered through the program include the following, each of which Concert describes in detail in a video it released to coincide with the announcement of the program.
Installation of data center equipment and physical infrastructure cabling
Data center consolidation or moves
Data center physical infrastructure cleanup
Data center physical infrastructure management including equipment patching, telecom circuit testing, smart- hands assistance with server access and equipment configurations, and verification and documentation of existing conditions.
Concert Technologies president and chief executive officer Dennis Mazaris commented, "Our data center support services program was launched as a result of the high demand from our customers to provide a full suite of data center services for nationwide and global rollouts. Our team of skilled local resources is available 24/7 to support the planning and management of even the most demanding of data center requirements."
---
Preterminated fiber-cabling system for 1, 10, 40, 100G
Opticonx describes it P3Link Xtreme preterminated fiber-optic cabling system as "compact, high-density, low-loss and high-performance," in addition to being "an easy way to update or install new fiber-optic cabling systems in data center, storage area network and local area network environments."
The Pull, Plug and Patch system includes MTP brand cassette modules, MTP trunks, harnesses, patch cords and patch panels. Opticonx says all products are manufactured in the United States, provide up to 144 fibers in 1U of rack space, and deliver guaranteed performance for 1, 10, 40 and 100 Gigabit Ethernet.
Brian Keane, vice president of Opticonx, explained, "Our system is fully scalable, making this product the perfect fit for any upgrade or new system installation. Our objective was to create the fastest and easiest-to-deploy, high-performance fiber-optic cabling systems."
All system components with optical fiber include bend-insensitive fiber, and components are available in low-loss (LL) and extreme-low-loss (XLL) performance levels.
---
Auger bits for cable installs on wood, composite and fiberglass utility poles
Three new auger bits available from Burndy have specialized drilling capabilities making them suitable for cable installations on utility poles made of hard treated wood, composite materials or fiberglass.
The Razor bit, made from hardened steel, is designed to cut fast, clean and straight into a variety of treated wood poles, Burndy says. Its cutting head incorporates a single spur and a design that scores and shapes the hole. The lead-screw design pulls the bit through the wood while the flute design evacuates debris.
Burndy's Hollow Core and Solid Core auger bits are designed for use on both fiberglass and composite poles. According to the company, these carbide-tipped auger bits feature unique cutting edges and flute designs that are meant to withstand the rugged surfaces of composite materials, along with the ability to evacuate debris while keeping the bit centered during drilling.
---
Concurrent dual-radio transmission architecture combats interference in industrial wireless LANs
Moxa recently announced it has introduced a proprietary concurrent dual-radio technology to combat interference in industrial wireless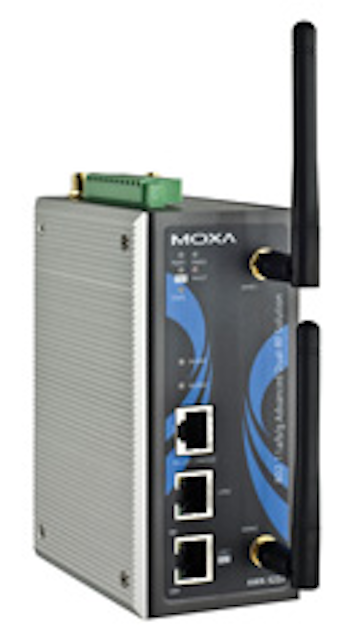 LAN applications. Moxa is claiming the technology "ensures zero wireless packet loss" in these applications, "eliminating problems such as video frame skips, screen freezes and dropouts in safety-critical and real-time wireless applications."
The company's AWK-5222 and AWK-6222 series industrial wireless access points include the company's new "Zero Wireless Packet Loss" solution, which uses two independent RF modules to simultaneously transmit duplicate packets on two different bands (2.4 GHz and/or 5 GHz). This ensures that at least one of the packets reaches the receiver, Moxa explains. Simultaneous dual-radio transmissions also increase the throughput by reducing the number of resend requests, the company adds.
Ariana Drivdahl, product marketing manager for Moxa, commented, "The unpredictability of radio interference has long been a deterring factor for industrial operators wanting to deploy wireless technology. While self-healing and dual-band devices have been developed to somewhat mitigate this impact, signal recovery and renegotiation in band switchover can still result in unacceptable packet loss. Concurrent dual-radio transmission architecture is the first and only technology that completely bypasses all interference.
"Even when routing measures are taken to identify and eliminate environmental interference, wireless interference still remains a possibility and can compromise network reliability and system safety. Moxa's concurrent dual-radio transmission with interference immunity is what operators need to ensure real-time performance with zero-data- loss communication."
The access points are 802.11a/b/g compliant, support 100-ms redundant roaming, comply with what Moxa calls "essential sections" of EN 50155, and operate in temperatures ranging from -40 to +75 degrees Celsius. The AWK-6222 includes an IP68-rated metal housing.
---
TIA explains standards-based design and testing of passive optical LANs
In a 75-minute web seminar available for on-demand viewing, the Telecommunications Industry Association's (TIA) Fiber Optic Technology Consortium (FOTC) takes a standards-based look at the design and testing of passive optical LAN (POL) systems. The material is presented by 3M's Loni Le Van-Etter. 3M is a member of the FOTC.
"POLs are changing the way we think about designing the local area network," the FOTC said when announcing the seminar. "Large enterprises and government customers are adopting this technology due to the immediate and long-term benefits such as simplified IT management, optimized bandwidth handling, and the sustainable benefits achieved by reducing energy consumption when compared to current IT switching solutions."
The FOTC says the seminar includes the following.
An introduction to POL technology
Comparison between POL and traditional Ethernet switching architectures
Diagrams of POL cabling configurations
Review of TIA structured cabling standards applicable to the design and testing of POL solutions
Other considerations for POL design, including splitters, connectors, fiber count and planning, fiber cable-installation considerations, layouts, cost tradeoffs
Calculating the optical fiber budget
Seminar attendees will receive one ITS continuing education credit (CEC) from BICSI. You can view the webinar at tiafotc.org.
---
Fiber optic adapters have external or internal shutters
Alliance Fiber Optic Products (AFOP) recently released a new series of LC and SC fiber-optic adapters with external or internal shutters. The adapters are fully intermateable with standard LC and SC licensed products, AFOP explains, and are intended to offer stability and reliability in a number of applications and environmental conditions.
The external shutters include both built-in and snap-on designs to guard against dust and prevent accidental exposure to laser optical power. The internal shutters are fully automatic, AFOP says, "will not damage the ferrule tip, and provide necessary eye safety from potentially harmful light without any manual intervention."
The fiber-optic adapters are available in LC duplex/quad and SC simplex/duplex options.
---
BusinessWeek: Fiber-optic cables help fracking
A story written over the summer by BusinessWeek's David Wethe describes how and why Halliburton and other companies are using fiber-optic cables to make the process of hydraulic fracturing in oil-and-gas exploration more efficient. In the July 11 article titled "Better Fracking Through Sound-Sensing Fiber Optics," Wethe explains fiber-optic cables that can collect sound and temperature information--the same type are used on United States submarines--are enabling drillers to "record sounds that signal the perfect frack.
"The industry started experimenting with fiber-optic lines' temperature-sensing abilities about a decade ago," Wethe writes, "and later began testing their use in analyzing sound." He adds that the fiber-optic lines are producing an abundance of data--"enough to fill a DVD every 28 seconds."
Thanks to this newly realized capability of these fiber-optic cables, Wethe reports that the market for them--he calls them distributed fiber-optic lines--will nearly double from its current size of $586 million over the next three years. He cites studies from Information Gatekeepers and Light Wave Venture as sources of that growth projection.
He points out, however, that, "Installing the fiber can cost as much as several hundred thousand dollars per well," likely limiting its financial feasibility to the largest of these wells.
---
Two new 10G UTP network cables
Hitachi Cable America recently introduced two unshielded twisted-pair (UTP) network cables designed to support copper-based 10-Gbit Ethernet transmission. The company emphasizes both cables' small outside diameter and explains that users may find one or the other appropriate for their needs depending on the 10G link lengths that must be supported.
The 10G RD is a "highly enhanced Category 6 cable," Hitachi Cable America explains, that delivers "guaranteed 10-Gigabit Ethernet support up to 90 meters in a channel configuration." The cable exceeds the alien-crosstalk performance requirements necessary for effective 10G throughput, the company notes. Its 0.29-inch outside diameter allows for a greater number of cables to be installed in a conduit when compared to other 10G-capable cables, Hitachi Cable America adds.
"The 10G RD is an unshielded cable and therefore does not require the bonding associated with shielded cables," the company notes.
Also new from Hitachi Cable America is the Supra 10G, a Category 6A UTP cable with a 0.32-inch outside diameter that has been verified by Underwriters Laboratories to the TIA-568-C.2 Category 6A specifications, the company says. "The Supra 10G will accommodate 10-Gigabit Ethernet up to the maximum distance identified in the standard, 100 meters in a channel configuration," Hitachi Cable America says. "The Supra 10G is fully compatible with all component-compliant Category 6A connectivity."
Both cables, when used as part of Hitachi Cable certified installations, can be covered by the manufacturer's lifetime warranty.
---
Gap seals aid data center cooling efficiency
The AirBlock Flexible Gap Seals from Simplex help cooling efficiency inside a data center by closing off half-inch to six-inch gaps between server enclosures or closed-frame racks. The company explains the seals "attach to the racks with a flexible magnetic side trim. Squeeze the two magnet edges together and slide into the gap. The magnets seal to the sides of the racks, completing the installation. Trim the seal to fit the rack height with a knife or scissors."
The seals are made of proprietary materials black PolySim polyurethane and black FlexSim PVC. Simplex says both materials are Class 1 fire-rated and meet NFPA 701 and NFPA 76 standards for data center applications. The company adds that PolySim is a non-outgassing material with permanent static- dissipative properties.
The FGS-784 model seals gaps from half-inch to three inches wide, and the FGS-1084 model fills gaps from half-inch to six inches wide. Both models come in standard heights of 84 inches. Custom heights are also available.
---
Four-port USB-cable hub connects industrial machines at 480 Mbits/sec
UH104 is the latest industrial-grade USB 2.0 hub from B&B Electronics Manufacturing Co. The four-port mini-USB hub connects multiple peripheral devices to a single USB port. As B&B explains, "Powered exclusively by the host USB port, it provides downstream devices with 100 mA of power and high-speed USB connectivity at 480 Mbits/sec.
"Designed for easy mounting in harsh environments and cramped spaces, the mini [2.4x1.75x1.10 in] USB hub features a rugged ABS [acrylonitrile butadiene styrene] plastic housing, built-in mounting tabs, a wide operating temperature [-40 to 80 deg. C], and high-retention USB connectors that require up to 3.4 pounds of force to disconnect, ensuring tight connections even in high-vibration situations," the company adds.
The hub is made primarily for industrial automation, instrumentation, security, kiosks, point-of-sale and laboratory market applications. It is "designed, tested and proven rugged enough for industrial EN61000-6-1 harsh environments," B&B adds. "Its construction was validated using IEC60068-2-32 drop testing, and it also adheres to 15 kV ESD protection and FCC/CISPR Class B standards."
With an MSRP of $129, the UH104 does not include the built-in surge protection and electrical isolation that many of B&B's hubs do. The product carries a five-year warranty. ::
More CIM Articles

Archived CIM Issues