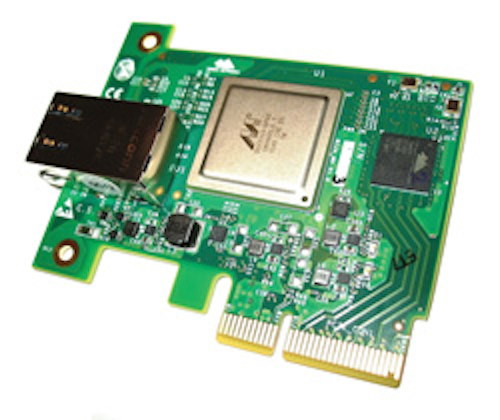 From the June, 2013 Issue of Cabling Installation & Maintenance Magazine
Compiled by Matt vincent
---
Tehuti shrinks 10GBase-T footprint
Israel's Tehuti Networks has released what it heralds as the industry's smallest 10 Gigabit Ethernet (10 GbE) adapter with integrated support for 10GBase-T connectivity. The TN9210 adapter pairs Tehuti's TN4010 MAC with Marvell's Alaska 88X3120 transceiver, a single-port, low-power, high-performance 10 GbE PHY, to enable tri-speed connectivity (10GBase-T, 1000Base-T and 100Base-TX) over standard Category 6A Ethernet cabling, supporting distances up to 100 meters. Category 5e and Category 6 cabling is also supported, compliant to link segment specifications.
Designed to support low-end servers and storage systems and high-performance desktop applications, the small form factor TN9210 network adapter hosts Tehuti's TN4010 10 GbE controller, designed for low-power, single-port applications required by application servers, high-end workstations and PCs. The adapter is designed to enable seamless migration of existing Gigabit Ethernet on workstations and network appliances to 10GBase-T connectivity. A reference design is available for evaluation by OEMs.
---
3M's tower dome terminals manage fiber, power cables at cell sites
3M's Tower Dome Terminals line offers hardware for fiber-to-the-antenna (FTTA) cabling configurations commonly used in advanced 3G and LTE/4G networks, including trunked fiber cables, power cables and hybrid cables. The new product family offers wireless network operators a scalable, flexible method for managing fiber and power cables at the wireless network cell site. The terminals are used at cell sites where fiber and power feeder cables connect to the jumper cables leading to remote radio units (RRUs). The company says the tower dome terminals simplify cable management while weatherproofing sensitive connections, and enable quick and easy installation, leading to reduced operating costs and improved network reliability.
The plug-and-play External Cable Assembly Module (ECAM) system, exclusive to 3M, enables fast, craft-friendly installation and sealing. The system allows cables to be prepared for installation on the ground at the cell site and/or factory. On the tower, the ECAM plugs containing the cables simply snap into the terminal ports, so the tower hand spends less time in the air performing cumbersome tasks, such as sealing and strain-relieving cable ports. The IP68-rated terminals (with integrated fixed O-ring) provide a highly reliable, weather-tight seal and reduce the chance of installation error, helping to protect network reliability.
A tool-less dome latching mechanism allows quick sealing and re-entry for easy changes and maintenance. Designed to enhance performance and signal integrity, the terminals separately manage fiber and power cables and accommodate standard fiber bend radius specifications. The terminal's modular design allows the addition of optional surge protectors or power terminal blocks, enhancing system flexibility. The product family can accommodate up to 12 RRUs. The terminal's small, sturdy mounting bracket and low-profile design help reduce tower loading and further simplify installation.
The new product family was launched at the CTIA Wireless 2013 show (May 20-23) in Las Vegas.
---
Analyst: Most data centers use virtualization for select applications only
The recently released Data Center Deployment Strategies: Global Service Provider Survey from Infonetics Research delves into major data center operators' plans for expansion, interconnection, capacity, physical servers, virtualization, and SAN and storage technologies. "Server virtualization has been the focus of the data center industry for several years now, and the largest data center owners and Internet content providers like Google are ubiquitously exploiting virtual machines," points out Michael Howard, principal analyst for carrier networks and co-founder of Infonetics Research.
For the 23-page data center survey, Infonetics interviewed incumbent and competitive service providers and cloud specialists that have data centers with at least 100 servers. Highlights of the survey are illuminating. The number of data center server LAN connections is growing quickly, finds that data, with 10 Gigabit Ethernet connections growing the most. Further, the average capacity of a data center WAN connection is expected to increase more than twofold from 2012 to 2014. While the use of virtual machines in data centers continues to grow, many servers are not yet virtualized. Additionally, the study found more operators than anticipated saying they plan to continue investing in Fibre Channel for their data centers, even in the face of growing usage of the newer Fibre Channel over Ethernet (FCoE).
Howard notes, "To be sure, data center owners want to increase the value of their existing data center assets—no matter the extent of server virtualization—as a means to increase revenue via cloud services, both to keep their current customers satisfied and to attract new customers." Notably, however, he adds, "Yet the reality is the bulk of data center owners are more pedestrian in their deployments, finding it more operationally convenient to leave many areas of their data centers alone, using server virtualization for only select applications."
Specifically, the survey provides insights into data center interconnection strategies; storage network investments; data network technologies deployed; WAN/internet connection capacities; and number of physical servers, virtual machines, Ethernet and SAN interfaces in use at medium, large, and super data centers.
---
AFL brings Fujikura 70S fusion splicer to North American market
AFL has introduced its Fujikura 70S fusion splicer to the North American market. The upgraded splicer retains all of the advanced features pioneered by the company's previous fusion splicer model FSM-60S, while offering much faster field splicing capability and new easy-to-use features. "With this new model, Fujikura has focused improvement in two major areas: speed and reliability," explains Greg Pickeral, product manager, fusion splicing systems for AFL. "To increase efficiency, both the wind protector and tube heater have been motorized. The tube heater clamps the splice protection sleeve from both sides, resulting in shrink time of an impressive 14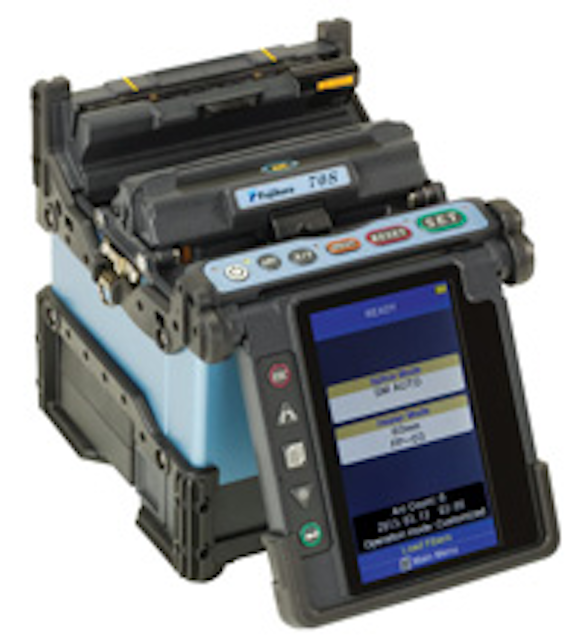 seconds."
The Fujikura 70S is fully compatible with AFL's FuseConnect line of splice-on connectors. The tool's sheath clamps are easily removed for FuseConnect installations or for use with fiber holders for standard splicing applications. A short cleave length of 5 mm allows versatility for splice-on connectors or small packaging splicing needs. Configurable automation allows users to customize automated functions. A powerful Li-ion battery supports 200 splices and heating cycles with each full charge. Other enhanced features of the 70S fusion splicer include: a motorized wind protector and tube heater with ultra-fast heating time; long-life electrodes that provide 3,000 splices; and a high resolution, 4.73-inch color LCD monitor with 300x fiber magnification for improved visibility in low-light conditions.
The 70S includes transit case with a detachable, built-in worktable. Video guides for operation and troubleshooting are incorporated into the splicer's software. The tool's six-direction drop-proof design features fully weather-ruggedized rubber casing.
---
CommScope unveils rapid-deployment DAS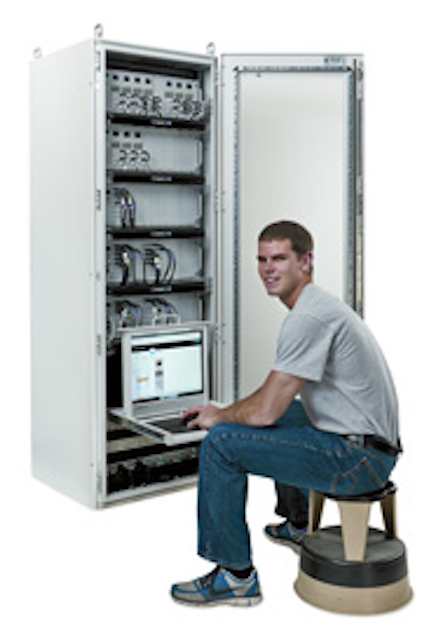 The ION-U distributed antenna system (DAS) platform from CommScope strips the complexity out of integrating a DAS into a macro wireless network, the company says. The ION-U is an upgrade to CommScope's existing ION platform that the company dubs a "simple to use, plug-and-play solution." While aimed primarily at the wireless-carrier market for inclusion in their networks, the ION-U is also an appropriate platform for airports, railways, arenas, corporate offices, school campuses, hospitals and other enterprise-network environments that can benefit from owning and operating a DAS, the company says.
Matt Melester, CommScope's senior vice president and general manager for distributed coverage and capacity solutions, comments, "The ION-U has built-in intelligence that greatly simplifies installation, transforming a job that required considerable expertise into a relatively easy task. If you can connect a new printer to a computer or navigate a software installation wizard, then you can install the ION-U." The company notes further, "Although DAS is a well-proven solution for network capacity, innovation for simplifying the practical implementation of that solution has been stubbornly slow. This lack of simplification has meant longer time to market, prohibitively expensive engineering-skill requirements and notoriously difficult optimization, testing and maintenance. Every stage of traditional DAS deployment can be an exercise in extra expense and delayed ROI."
For easier DAS deployment, the ION-U platform's embedded intelligence intuitively guides configuration design, planning, installation, setup, commissioning and optimization. Remote configuration tools enable operators to re-sectorize and access auto-leveling functions from anywhere, immediately at the headend. Built-in monitoring measures network quality, keeps track of interference and passive intermodulation (PIM), and conducts detailed uplink/downlink spectrum analysis. Smart alarms enable fast troubleshooting quality-of-service issues, while automatic documentation—including bill of materials, system configuration files, interconnect diagrams, rack elevation drawings according to power/thermal loading specs and commissioning records—saves contractors time and reduces errors.
The unified indoor/outdoor, low- and high-power platform is housed in a single master unit, reducing space requirements and the number of cable runs while maximizing design flexibility. The ION-U is available in North America now; CommScope expects to make the DAS available later this year in Europe, then in other global regions.
---
Indoor, outdoor hemispheric cameras provide 360-degree coverage
Vicon Industries' V9360 series hemispheric cameras provide high-resolution, continuous 180- or 360-degree coverage. The cameras are available in indoor and outdoor models with a range of mounting options. "Whether they are used as an alternative to or in conjunction with our PTZ solutions, their ability to provide continuous 360-degree coverage will be of great value in many types of installations," comments Margie Gurwin, director of marketing for Vicon.
A MicroSD/MicroSDHC card slot allows for local storage. Power-over-Ethernet eliminates the need for power cables. The cameras may be used with many popular VMS systems. When used with the proprietary ViconNet system, users may digitally zoom into live or recorded video for a closer look at any object within the two panoramic views. Pixilation is minimal due to the cameras' 4MP resolution. Further, all V9360 models are day/night cameras that perform well in a wide range of lighting conditions, thanks to advanced WDR technology and a mechanical IR cut filter.
The V9360 cameras' integral fisheye lens and 4-megapixel sensor captures a complete 360-degree view, which is delivered as two 180-degree panoramic images visually stacked on top of each other within a single video stream. All de-morphing is performed within the cameras prior to transmission, so a distortion-free image is delivered to the VMS ready for live display and recording. The cameras transmit a choice of H.264, MPEG-4 SP and M-JPEG compressions with dual streaming capability.
---
8-inch residential combo enclosures ease phone, video cable installation
Introduced in packs of six (6), ICC's new 8" residential cable combo communications enclosure is designed to act as the central
distribution point in a residence for phone and video connectivity. The enclosures are intended for installation in apartments, condos and small townhomes with 2 to 3 bedrooms.
The enclosure is made of UL-rated ABS plastic, with a base designed to be installed between wall studs or wall-mounted. The base has knockouts allowing cables to enter and exit from the top, bottom and sides. The enclosure's cover snaps on with a tab for a padlock to prevent unwanted access. The included voice module has a 110 IDC bridged design with 8-ports, allowing phones to be installed in eight locations. The included 2 GHz CATV module has one input and six outputs allowing video to be connected to six locations.
Each box contains six enclosures, covers, and voice/video modules. Offering the combo in six packs offers convenience and lowers the unit cost of each enclosure compared to buying them individually, says ICC.
---
FTTH Council urges FCC to advance all-fiber upgrades over legacy copper networks
The Fiber to the Home Council Americas (FTTH Council) recently filed comments explicitly urging the Federal Communications Commission (FCC) to support the efforts of telephone companies to deploy all-fiber networks and eliminate "their more costly and duplicative copper facilities" once those fiber upgrades are made. "It is clear that fiber technology is superior, that consumer demand is increasing rapidly for higher-performance networks, and, as a result, wireline providers of all types are by necessity deploying fiber plant," the FTTH Council wrote in its comments filed with the FCC.
According to a press release, a group of competitive broadband providers, which under FCC "unbundling" regulations are afforded access to offer their services over legacy copper networks, have petitioned the FCC to require telephone companies to keep those networks in service after they upgrade to fiber. Given the high cost of maintaining old copper networks, FTTH Council said that such proposals would "turn back the clock" on the FCC's stated goal of accelerating private sector deployment of Gigabit-capable, all-fiber networks. "In sum, the technology of choice for wireline network providers—and for their customers—is fiber," the Council wrote. "And the real issue before policymakers is how to remove barriers and provide incentives to increase the pace of these deployments."
"The Commission has demonstrated it understands the great value of having high-performance networks deployed throughout the country and the need for regulatory policies to align with this objective," the Council wrote. As examples, FTTH Council cited the FCC's Broadband Acceleration Initiative to expand the reach of robust broadband, and its internal Broadband Acceleration Task Force that seeks to reduce barriers to broadband build-out by at least 20 percent, as well as federal broadband stimulus programs that have focused largely on bringing fiber to community anchor institutions and supporting fiber to the home projects in hundreds of rural communities. The filing also quoted former FCC Chairman Julius Genachowski's statement that "high-speed broadband is vitally important to our global competitiveness and the continued growth of our economy, and we must keep pushing for faster speeds and greater capacity through new investments in broadband networks."
The Council wrote that virtually no network provider is presently installing "new" copper in its access network in any meaningful way. "Keeping copper lines in place after fiber is built imposes substantial additional costs on [local exchange carriers], materially harming the business case for fiber deployments," the Council argued, saying that the overall effect will be to slow "the critical and inevitable evolution" to all-fiber wireline communications infrastructure. To support its argument, FTTH Council cited the FCC's 2010 National Broadband Plan finding that "requiring an incumbent to maintain two networks—one copper and one fiber—would be costly, possibly inefficient and reduce the incentive for incumbents to deploy fiber facilities."
---
Certification-training courses for TIA-942 data center standard series under development
The Telecommunications Industry Association (TIA) recently announced it has entered into a licensing agreement with Enterprise Product Integration (EPI) that allows EPI to build and conduct international certified training courses for the ANSI/TIA-942 series Telecommunications Infrastructure Standards for Data Centers.
The courses will initially be launched in Asia, TIA said, but will eventually become available to data center professionals worldwide. "In a recent poll more than 75 percent of certified data center professionals said they refer to and use TIA- 942 standards more than any other reference," the TIA said when announcing its agreement with EPI. "Through its relationship with EPI, which offers worldwide accredited courses designed to improve organizations' data center availability and manageability, TIA will address the high global demand for training for these standards."
EPI offers data center infrastructure services including data center consultancy, audit, certification and training. TIA's president Grant Seiffert said, "The data center market is truly global, and good data center designs are universally applicable. TIA standards have played a significant role in growth of this market, which has expanded the availability, reliability and efficiency of data center and cloud services. EPI has a proven track record in delivering consistent, high-quality courses worldwide."
EPI's chairman and chief executive officer Edward van Leent commented, "We are extremely pleased with TIA's decision to work with EPI as it builds and conducts the TIA-942 courses. We have been conducting compliance audits based on the ANSI/TIA-942 standard since it was released and many of our customers, designers and consultants have indicated that they want to understand the details of this global standard. We will initially release the Certified TIA-942 Design Consultant [CTDC] course aimed at consultants and data center designers, followed by the Certified TIA-942 Auditor [CTA] course. The courses and exams will be globally accredited and certified by EXIN [Examination International]."
---
CDFP MSA group forms to advance 400G cabling, modules
At OFC/NFOEC 2013 in March, five companies announced their entry into a multi-source agreement (MSA) to create the CDFP (400-Gbit/sec form-factor pluggable) industry consortium to define a transceiver module/plug mechanical form factor and a host-board electrical edge connector and cage for the technology. The new CDFP MSA is intended to specify and encourage the development and commercialization of a 400-Gbit/sec hot-pluggable module that integrates 16 transmit and 16 receive channels supporting passive and active copper cables, and active optical modules. The companies involved in the CDFP MSA group are Avago Technologies, Brocade Communications Systems, JDS Uniphase Corporation, Molex and TE Connectivity.
"This highly integrated transceiver module is expected to enable network equipment manufacturers to implement 400-Gbit/sec solutions with high port density and increased system data throughput," commented Scott Kipp, senior technologist, Brocade. "The MSA group intends to make specification details available to promote industry-wide adoption of compatible high density products."
The CDFP MSA participants desire to provide products that are mechanically and electrically interchangeable. The project scope will specify the electrical interfaces, optical interfaces and mechanical interfaces, which may include the optical connector and mating fiber-optic cable plug, as well as electrical connector, guide rail, front panel and host PCB layout requirements. Additionally, the MSA specification is expected to include thermal, electromagnetic and electrostatic discharge design recommendations.
"The collaboration is committed to enhancing customer choice and assuring interoperation and interchangeability by establishing multiple compatible sources of front panel, hot-pluggable, 16-channel 400-Gbit/sec modules that will essentially allow the entire copper cable and fiber-optics transceiver market to grow more rapidly," said Scott Sommers, group product manager, Molex.
---
DAS Forum rebrands as HetNet Forum
The DAS Forum, a special membership section of PCIA - The Wireless Infrastructure Association, has been renamed to the HetNet Forum. Parent organization PCIA says the name shift reflects the group's increasingly diverse membership and its focus on advancing the variety of small cell solutions—distributed antenna systems (DAS), microcells, picocells, WiFi and remote radio units—that use licensed and unlicensed spectrum to link to the macrocellular network.
The HetNet Forum will host an event, HetNet Expo, expected to occur in 2014 and showcasing a variety of small cell technologies used in wireless broadband network deployment. The group says its focused advocacy on small cell issues has resulted in a number of recent policy successes, including signal booster categorization, DAS-related provisions in the Middle Class Tax Relief and Jobs Creation Act of 2012, and a court ruling that upheld the FCC's pole attachment order, which granted timely, non-discriminatory access to utility poles and technology-neutral rates for attachers.
According to a press release, the HetNet Forum represents the interests of more than 60 companies that deploy small cell network architectures through advocacy, information exchange and the promotion of best practices. HetNet Forum members include OEMs, infrastructure providers, systems integrators and end- user companies.
"This is a key transition at the right time for our industry," commented Jonathan Adelstein, president and CEO of PCIA. "HetNet Forum members are using every tool in their toolbox to deliver wireless broadband to consumers everywhere—indoors and outdoors, urban and rural. This unique organization provides an excellent forum for members to further develop their businesses and deploy urgently needed wireless capacity to meet the exploding demand for wireless data to be available at any time, and in any place."
---
Serial-to-fiber converters for industrial networks
Weidmuller has added new serial-to-fiber-optic Ethernet converters to its Industrial Ethernet portfolio. The converters enable a simple, reliable method for integrating serial port devices into industrial networks for transmission over longer distances, according to the company.
The company says the serial converters help to maintain existing automation components while upgrading overall network infrastructure. It also notes that, within large facilities, it is common to transmit serial data to multiple remote devices. The challenge today is overcoming the 15-meter cable-length limit when using copper-based interfaces for RS-232; Weidmuller says its new converters extend serial transmission channels up to 5 kilometers and protect from electromagnetic interference.
The compact new devices offer conversions from RS-232, RS-422 or RS-485 protocols into fiber-optic signals. Fiber-optic multimode technology allows for signal transmission distance of up to 5 kilometers without any external signal boosters. The devices come in SC and ST fiber-connection options. The converters are equipped with automatic baud-rate recognition, the company explains, allowing for simple installation and reduced setup time. If the baud rate changes, signals still are routed without any data loss. universal compatibility with RS-232, RS-422 and RS-485 allows almost any serial terminal device to be connected, Weidmuller says.
The serial-to-fiber-optic media converters also enable the chaining of converters, allowing networks to extend with multiple fiber connections. The devices also provide real-time connections to multiple remote serial devices all connected on the network up to 100 kilometers in length, without any loss of data nor significant lag time, Weidmuller says.
They are suitable for use in harsh industrial environments, and offer extended surge-voltage protection for the serial connections and power supply, according to the company. Screw-type terminal blocks ensure the power supply and serial connectors are reliably connected. DC power supply inputs, 12- to 48-VDC, and low power consumption ensure safety and reliability, Weidmuller points out. The converters have a temperature range of -40 to +75 degrees Celsius.
---
Preterminated fiber-trunk cable system
Legrand has introduced the Ortronics Preterminated Trunk Cable Assembly System, which the company explains "provides a streamlined approach to network design by reducing the number of individual components in the structured cabling system, while factory testing and quality engineering ensure performance, reliability and a successful installation."
The trunk cables are fully configurable, Legrand adds, and available with a variety of cable and connector combinations, including fiber-connector types, breakout configurations and jacket materials. Each trunk can have multiple fiber connectors on either end, as well as a choice of cable designs. Singlemode and multimode versions are available, as well as micro array data and indoor/outdoor cables. Connector options include MTP, LC and SC.
"The number of finished trunk cable configurations can be overwhelming due to unique network installations, variable transmission rates and multiple fiber, cable and connector choices," Legrand adds. "Understanding the complex process of designing customized trunk-cable solutions, Legrand has created a simple but powerful cable configurator that takes into consideration the application, fiber and connector needs, as well as packaging requirements. It is designed to take into account all the variables of fiber cable assemblies."
---
Ground bonding kits
PDU Cables' ground bonding kits increase reliability and efficiency of data center electrical equipment, the company says. It further explains that while minimum grounding requirements are designed for personnel safety and fire-prevention purposes, according to the IEEE, the typical AC third-prong ground plug is almost never sufficient to prevent damage to network equipment. Furthermore, TIA-942 best practices require each rack to bond directly to the grounding grid or common bonding network. The kits provide a low-impedance path to earth ground for electrical surges and transient voltages. ::
More CIM Articles

View Archived CIM Issues