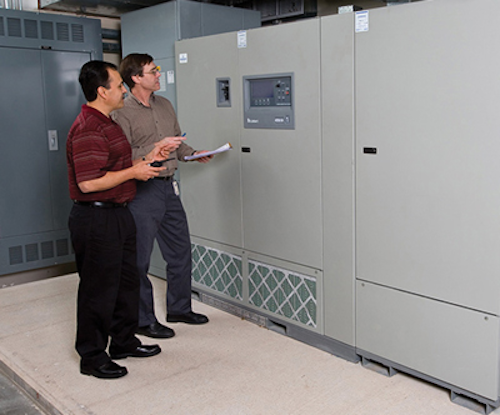 From the May, 2013 Issue of Cabling Installation & Maintenance Magazine
There's more than just the NEC to think about, as a data center's electrical equipment is subject to other NFPA as well as OSHA specifications.
By Wally Vahlstrom, Emerson Network Power
Working with electrical equipment in a data center can be a dangerous job. Electrocutions are the fourth-leading cause of traumatic occupational fatalities, and according to the American Society of Safety Engineers, the United States averages more than 3,600 disabling electrical contact injuries annually. On average, one person dies in the workplace from electrocution every day.
While working on electrical equipment can be dangerous, the U.S. Occupational Safety and Health Administration (OSHA) and the National Fire Protection Association (NFPA) have gone to great lengths to create standards and codes to help create safe environments and to prevent electrical accidents.. Most recently, in 2012, the NFPA released an update to NFPA 70E: Standard for Electrical Safety in the Workplace, making significant changes in the areas of safety, maintenance and training.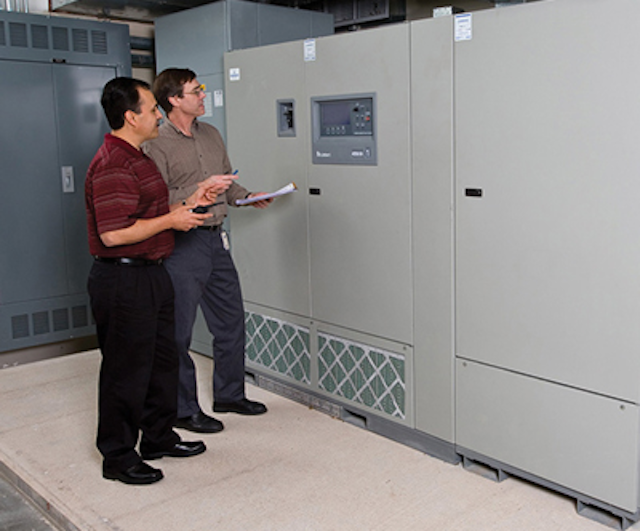 The National Electrical Code's Article 100 states that approval of conductors and equipment required or permitted by the Code must come from the local jurisdictional authority. Listing and labeling equipment provides evidence of the equipment's acceptability to that AHJ, the article adds.
Compliance with OSHA codes and regulations is mandatory. Compliance with NFPA 70E, while technically not required, is about the only practical way to demonstrate and assure compliance with OSHA requirements. If a data center is noncompliant, it not only jeopardizes the safety of its workers, but it also faces costly fines, shutdowns or even litigation.
NFPA 70E
Looking specifically at the 2012 NFPA 70E standard, there are several best practices that data center managers should be aware of to ensure their facilities are code-compliant. Those best practices include the following.
Electrical Safety Program—NFPA 70E requires the employer to develop, implement and document an overall safety program (Article 110.3). The program must be designed to train and provide awareness of electrical hazards to employees. It should identify hazard/risk evaluation procedures, electrically safe work procedures, tools and personal protective equipment (PPE), plus risk-mitigation strategies. NFPA also requires the electrical safety program to be audited for compliance at least every three years (Article 110.3).
Employee Training—The requirements to provide electrical safety training for employees are not new. But this standard now requires the employer to annually verify that employees are complying with safety-related work practices contained in the NFPA 70E standard (Article 110.2). The standard also specifies that retraining shall be performed at intervals not exceeding every three years (Article 110.2).
Single-line Diagrams—NFPA 70E mandates accurate, up-to-date and legible single-line diagrams in every data center (Article 205.2). A single-line diagram provides a simplified representation of the power distribution system. It uses "one line" to represent all three-phase (plus ground and neutral) conductors of a power system. They also include information such as the ratings and size of electrical equipment and circuit conductors. They show power sources and downstream loads and/or panel boards. Building maintenance personnel, electricians and engineers rely on single-line diagrams as a map to guide them around the electrical system, making these diagrams essential for documenting, troubleshooting, and communicating information about the electrical system. Depending on the data center, change can be routine, and as a result, the single-line diagram can become outdated very quickly. Should anything change in the data center, the single-line diagram should be immediately updated.
General Maintenance—New to NFPA 70E are requirements for conducting maintenance on electrical equipment. Prior to this edition, it was only specified for overcurrent protective devices. Article 205.3 requires electrical equipment to be maintained in accordance with manufacturers' instructions or industry-consensus standards to reduce the risk of failure and the subsequent exposure of employees to electrical hazards. In addition, documentation is now required (Article 205.4) for overcurrent protective devices to show they have been maintained, tested and inspected in accordance with manufacturers' instructions or industry-consensus standards such as ANSI/NETA 2011 Standard for Maintenance Testing Specifications and NFPA 70B Recommended Practice for Electrical Equipment Maintenance.
Short Circuit and Coordination Studies—Circuit breakers and fuses come with a load current rating and a short circuit interrupting rating. The load current rating defines the maximum electrical current the device should tolerate without overheating or damage, and the interrupting rating defines the maximum electrical current the device can interrupt without failure. Short circuit and coordination studies are used to calculate momentary, interrupting and arcing current values, compare available fault currents to protective device ratings, and establish trip settings for all types of protective devices. Such studies are very important and are required by the National Electrical Code (NEC) 110.09 and 110.10. The NEC is another standard written by the NFPA.
Arc Flash Hazard Analysis and Labeling—Both the NEC (Article 110.16) and NFPA 70E (Article 130.5[C]) require facility owners to apply an arc flash hazard warning to all electrical equipment such as switchboards, panel boards, industrial control panels and motor control centers that are likely to require maintenance when energized. The NFPA 70E standard provides detailed requirements and reference information regarding analysis methods; defines and provides requirements regarding boundaries for limited, restricted and prohibited approaches; and provides recommendations for flash protection. The required arc flash analysis identifies the presence and location of potential hazards and provides information to help select proper PPE. The arc flash label is to be applied in the field and specific requirements for what must be included on such labels is outlined in NFPA 70E 130.5. This article also requires that the arc flash hazard analysis must be updated periodically, not to exceed five years, to account for any changes.
The 2011 NEC
Data center managers also need to be aware of best practices that come from the 2011 NEC. Ensuring compliance with these specifications will require an understanding of listing and labeling as well as field evaluation.
Listing and Labeling—Article 110.2 of the NEC states: "The conductors and equipment required or permitted by this code shall be acceptable only if approved." Article 100 indicates this approval must come from the local jurisdictional authority. This same article also describes how listing and labeling of equipment provides evidence of the equipment's acceptability to the jurisdictional authority. Cables need to be separated and routed correctly. All conductors and devices need to be identified, rated, protected and installed correctly.
Field Evaluation—Most new equipment will already be properly labeled or listed. But older equipment, any customized equipment, relocated equipment and some equipment from foreign countries most likely is not. In these cases, field evaluations are required. NFPA 790 and 791 are the standards that establish minimum competency requirements and methods for organizations that perform field evaluations. These standards require that field evaluation bodies establish rigorous assessment/testing procedures and apply recognized safety standards applicable to the equipment being evaluated.
The data center is the backbone of a business. If something goes wrong in the data center, it can have devastating financial effects on the business as a whole. However, if a data center is not code compliant, a problem in the facility can lead to much more than downtime for the business; it can also lead to an unsafe work environment and in unfortunate cases, fatality.
It is imperative that facility managers ensure compliance with OSHA, NFPA and other applicable standards. Maintaining compliance can be a difficult task for facility managers to accomplish in-house without the assistance of resources familiar with industry standards and recommended practice. However, by judiciously using the resources of a certified field evaluation body and/or a qualified electrical testing company, data center managers can be assured they comply with electrical safety regulations, incorporate best practices and maintain an effective electrical safety program. ::
Wally Vahlstrom is director of technical services with Emerson Network Power's electrical reliability services business (www.emersonnetworkpower.com).
More CIM Articles

View Archived CIM Issues