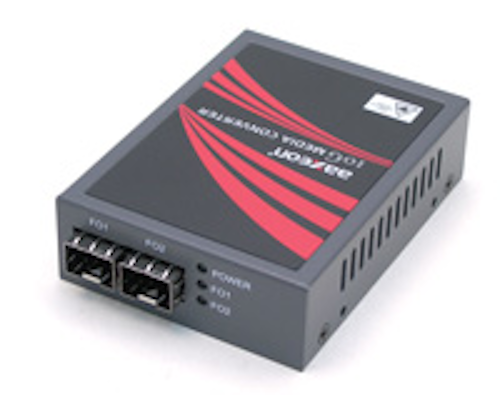 From the January, 2013 Issue of Cabling Installation & Maintenance Magazine
Compiled by Matt Vincent
Media converter facilitates 10G to 40km
Aaxeon Technologies' FCU-5002-SFP+ media converter, the first 10-Gbit/sec speed converter from Aaxeon, offers two SFP+ ports and provides a point-to-point fiber connection for long-distance deployment. IEEE 802.3ae 10GBaseR-compliant, the converter accommodates SFP plug-and-play modules that can extend the reach of a fiber link to 40 kilometers. The modules are sold separately.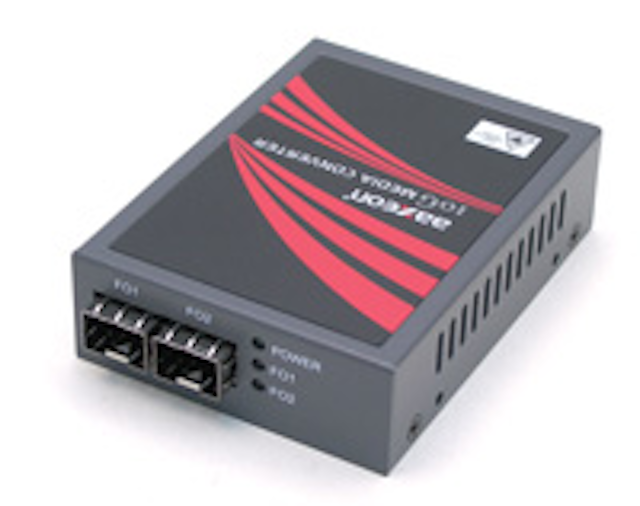 The converter comes with a five-year warranty and is compatible with the manufacturer's FCU-Rack16 series.
"When transmitting long distances, fiber transmission systems can be affected by many factors such as noise, dispersion, crosstalk," Aaxeon noted when announcing the FCU-5002-SFP+'s release. "The media converter's 3R signal regeneration relays or regenerates the optical signal that may have been degraded during the transmission, therefore allowing the signal to reach longer distances without fear of instability or degradation."
---
Anritsu enhances OTDR capability
The MT9083 Access Master OTDR from Anritsu now features up to 150,000 data points, which the company says allows accurate mapping of events, dead zones of less than one meter and dynamic range up to 46 dB. These capabilities allow "field technicians, engineers and contractors to accurately and completely conduct fiber evaluation of any network—premises to access, metro to core—including PON-based FTTx networks with up to a 1x128 split," the company says.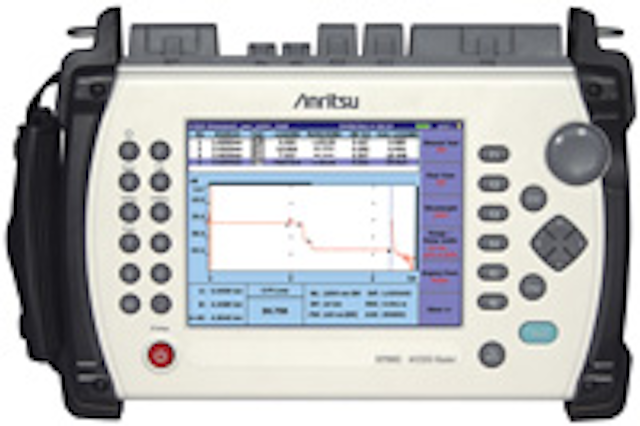 The improved dynamic range and performance of mid-range pulsewidths provide better resolution, Anritsu explains, eliminating the need to test at multiple pulsewidths and thereby reducing measurement time and overall simplifying the testing process. The Access Master, like all OTDRs in the MT9083 series, can be customized for specific testing requirements. Any OTDR in the series also can also be configured with a power meter, light source, loss test set and connector-inspection microscope, Anritsu adds.
The seven-inch TFT (thin film transistor) display provides indoor/outdoor performance, appropriate for the outside-plant environments for which the OTDR was designed. Function keys located below the display provide shortcuts to switch between trace and event table views, or to jump from one event to the next. Anritsu says the OTDR weighs 5.7 pounds, including battery and options, with a battery life that can stretch to 12 hours.
---
Study: Containerized data center shipments rising rapidly
Shipments of containerized data centers are forecasted to grow 40 percent in 2013 compared to 2012, following a near doubling of the market in 2012, according to an upcoming report on the industry from IMS Research.
Containerized solutions have been around since 2005, but only in the last two years has the market begun to establish itself, contends the new report. IMS Research has defined a containerized data center as a prefabricated, fully enclosed, mobile, structure that houses data center infrastructure. Within that definition three distinct product types were identified: all-in-one, IT, and facility containers.
Shipments of IT containers will account for the greatest share in 2012, says the research. One facility container often supports multiple IT containers, which has an effect on ratios. In terms of product share, IT and facility containers are seen growing faster than all-in-one solutions over the next five years.
Regionally, the greatest number of containerized data centers will ship to North America in 2012. Some of the earliest adopters of containerized solutions are headquartered in the U.S.: Google, Microsoft, eBay and Amazon. While growth will continue to be strong for shipments to North America, shipments to China are forecasted to grow at nearly double the rate over the next five years due to the rapid growth in data centers in the region and the need for faster deployment times.
IMS Research believes that this market needs to reach price parity with traditional data center builds to ever achieve widespread adoption.
The firm's senior analyst Liz Cruz explains, "The benefits of containerized data centers are significant: mobility, speed of deployment, off-site manufacturing, outsourcing of design, and potential tax savings. Unfortunately, the current higher price of containerized solutions, as compared to like-for-like traditional builds, outweighs these benefits in many customer decisions. However, IMS Research believes that standardization of products, and the resulting economies of scale, will allow for prices to drop and the market to really take off."
---
Data center OTDR simplifies fiber installation, troubleshooting
AFL has introduced its Noyes M310 Data Center OTDR, specifically designed to address the technical challenges associated with data center architectures and network speeds.
According to AFL, the Noyes M310 OTDR combines short dead zones and generous dynamic range, enabling technicians to easily troubleshoot fiber runs abundant with connections and short jumpers. An integrated visible fault locator provides a quick means of validating fiber polarity and identifying workmanship issues like broken, kinked or crushed fibers.
Further, all M310 models include an integrated OPM and when used in conjunction with OTDR pass/fail limits, provide the required functions for capturing accurate Tier 1 and Tier 2 loss measurements. Dirt and damaged fibers, which are often responsible for network outages, are quickly and easily inspected with the optional DFS1 Digital FiberScope.
The M310 also incorporates ease-of-use features including the company's Touch and Test user interface, Wave ID, Live Fiber Detection, Front Panel and First Connector Checks capabilities, which enable experts and novices to quickly and efficiently resolve network challenges characteristic of modern data centers.
The M310 is available in certification kits that provide all the tools necessary for cleaning, inspecting, Tier 1 and Tier 2 testing and documenting data center networks. The kits are available as multimode, singlemode or QUAD kits. The kit includes an M310 OTDR with integrated OPM and VFL, an Optical Light Source, a Digital FiberScope, TRM Test Results Manager and TRM 2.0 Basic, the PC companion reporting and analysis software package which can be used to create certification documents including loss tables, OTDR traces and endface images.
An advanced analysis software package that provides macrobend/microbend detection and bidirectional trace averaging is available as an option. Macrobend/microbend detection can indicate installation problems due to crushed or stressed fibers in splice trays, cabinets and cable pathways. These losses can limit fibers from meeting the demands of current and emerging applications. Advanced analysis software is available for the M310 and in TRM 2.0 advanced analysis.
Stating the value proposition of the new tool, AFL has the following to say: "Inherent in top of rack (TOR) and end of row (EOR) data center configurations are ultra-short fiber links, numerous patch panels and crossconnections. At the same time bandwidth demand is accelerating the deployment of 40 and 100G Ethernet with concurrent reductions in optical budgets. Network uptime is critical in data center networks, and the ability to pinpoint faults to an end of a jumper cable and get the network back online is crucial."
"The M310 has industry leading specifications, including sub-1-m event and 2.5-m attenuation dead zones and integrated OTDR, OPM, VFL and inspection support. This enables technicians to test and characterize data center fibers as outlined in the ANSI 002-2011 Data Center Design and Implementation Best Practices," adds Michelle Collier, RCDD, senior product marketing manager at AFL.
---
Graybar Tucson achieves LEED Gold certification
Electrical, communications and data networking products distributor Graybar announced that its newly constructed Tucson facility is LEED Gold certified. Graybar achieved LEED's second-highest certification for implementing practical and measurable strategies and solutions aimed at achieving high performance in sustainable site development, water savings, energy efficiency, materials selection and indoor environmental quality.
The LEED rating system, developed by the U.S. Green Building Council (USGBC), is the foremost program for buildings, homes and communities that was designed, constructed, maintained and operated for improved environmental and human health performance. The 55,000 square-foot Tucson facility features many of the green technologies Graybar distributes to its customers, including solar panels, energy-efficient lighting and electric vehicle charging stations. The facility also has plumbing fixtures that reduce water consumption, sustainable and recycled building materials and furniture, as well as a building-wide recycling program.
"We are incredibly proud of this achievement," comments Larry Giglio, Graybar senior vice president, operations. "Our Tucson facility is not only a great opportunity to demonstrate Graybar's commitment to preserving the environment, but it is also a way for us to showcase intelligent energy solutions we can offer our customers. We worked with a great team of contractors and LEED professionals to receive this prestigious certification."
---
Cabling-system design software
CableProject CAD, a computer-aided design tool created specifically to assist in the design and layout of structured cabling systems, is available in the United States through Network Connections Group USA. The package was created by ExpertSoft, which was established in 2001 and says its software products have assisted more than 8,000 construction and architectural companies in Eastern Europe in that time.
"As a result of research conducted by known system integrators and network engineers and designers, a new design automation technology for structured cabling systems was finally developed," ExpertSoft said when describing CableProject CAD. The software package "enables automation of all network cabling design within an integral system," the company added. "It contains an extended and updated component library, which includes a general classification listing and design characteristics for all products." The company adds that this system "permits visual development of projects rapidly and generates report documentation automatically."
The company offers a free 14-day trial use of the system, and is actively seeking cooperation with manufacturers (to incorporate their product information into the system's database) as well as with distribution/reseller partners.
---
CommScope unveils global certified partner program for network infrastructure
CommScope has announced its PartnerPRO network of trained, certified network infrastructure partners, supporting customers in the company's three main markets: cable television, business enterprise, telecom wireline/wireless. The global partner program consists of consultants, integrators, installers, distributors and alliance partners who are trained and certified by CommScope to deliver the company's range of network infrastructure platforms, while providing skilled expertise and support for network deployments.
"Through the PartnerPRO network, CommScope is building an extensive network of skilled professionals focused on solving our customers' most complex technological problems," comments Stephen Kowal, vice president, global partners, CommScope. "CommScope partners are closely aligned with us in selecting, supplying and/or implementing world-class communications solutions for cable plants, data centers, wireless systems and other networks."
The new program's value proposition is stated by the company as follows, "Network technology complexity and subscriber expectations are increasing. When a rural cable operator wants to add fiber to the network, an IT manager needs to upgrade the data center, or a facility manager receives complaints about slow in-building wireless service, the CommScope PartnerPRO network can help. PartnerPRO links the right people with the right solutions so customers can make the right choices when implementing CommScope solutions."
Via the PartnerPRO network, CommScope says its customers may receive: state-of-the-art technology solutions with upgrade paths that can decrease capital and operating expenses; warranty protection on CommScope certified solutions; consistent installation services globally; peace of mind from working with expert industry professionals. Becoming a CommScope certified partner may also help consultants, integrators, installers and distributors differentiate themselves in an increasingly competitive market. According to the company, partners also receive: training and certification supported by the CommScope Infrastructure Academy; the ability to offer CommScope warranty programs; increased access to CommScope's global customer base; increased recognition in the marketplace; potential early access to new technology; ongoing training.
In addition to consultation, installation and commissioning services, CommScope partners will be able to offer and support the company's brands, including: Andrew solutions for wireless networks, especially challenging coverage and capacity applications; Systimax solutions for data centers and intelligent buildings; BOS (BrightPath Optical Solutions) for "fiber to the x" broadband; Uniprise solutions for structured cabling needs.
"CommScope has successfully operated a BusinessPartner program for years, which PartnerPRO expands upon and replaces," adds Kowal. "Partners and customers have consistently verified the benefits of participating in a CommScope partner program, and we're confident that this new CommScope partner program raises the bar even further."
---
Megapixel cameras a key facet of facial-recognition system
Biometric-technology provider FaceFirst is teaming with Samsung Techwin America to incorporate Samsung's megapixel video-surveillance cameras into FaceFirst's facial recognition system. "The FaceFirst product platform uses the Samsung cameras to complement its proprietary facial-recognition software system," Samsung announced. "Facial images captured by the cameras are automatically matched with watch-list photos and when a person of interest is identified, alerts are instantly sent directly to preprovisioned computers, cell phones or cash registers."
FaceFirst's director of business development Joseph Saad explained, "By leveraging Samsung's powerful megapixel imaging technology with FaceFirst's expertise in software development and integration, the FaceFirst platform is primed to detect and defeat potentially dangerous or criminal activities."
Users of the FaceFirst system can select the facial databases of their choice and a web-based portal enables them to self-provision biometric enrollments, alerting and notification preferences. The companies say users with little or no training can navigate the process successfully. They add that the system identifies individuals matching client records at a rate of millions of comparisons per second, saying the system is ideally suited for transportation facilities and sports arenas, or for entrances where people normally pass through without stopping.
The Samsung cameras used in the system include day/night functionality, 16:9 full HD 1080p resolution, the company's SSNRIII noise-reduction technology, and a wide dynamic range, the company says.
---
MRJ21-to-RJ45 connections in 48-port 1RU patch panel
The MRJ21 48-port, 1U patch panels now available from Bel Stewart Connector are engineered to assist installers in rapidly connecting equipment using MRJ21 interfaces to infrastructure or equipment with RJ45 ports, the company explains. It also saves rack and cabinet space in data centers or telecommunications rooms, Bel Stewart Connector adds. The patch panels are available with 10/100Base-T or 10/100/1000Base-T capability.
"Stewart Connector's MRJ21 Cabling System supports high-density, small-form-factor connectivity in any plug-and-play environment including data centers and zoned cabled or office environments," Bel Stewart said when announcing the panels' availability. "The panels fit into standard 19-inch racks and are ideally suited for use with Stewart Connectors' MRJ21 cable assemblies, which offer the ability to connect 24 twisted pairs [12, two-pair or 6, four-pair ports] with just one connection. Available in common and custom sizes, the factory-terminated and -tested cable assemblies facilitate quicker installation together with highly reliable and robust connections. The cables are supplied in shielded and unshielded configurations in addition to plenum, riser and LSZH jacket constructions. Multiple versions of MRJ21 end configurations, including MRJ21-to-RJ45 and RJ21, are provided."
The patch panels feature a straight-panel design with push-on keyed connection, jackscrews for positive latching and secure cable retention, and on-site configuration label, Bel Stewart Connector adds. Also, designs for T1/E1 and DSL applications, along with custom connector terminations, are available upon request.
---
ASHRAE updates data center thermal guidelines for energy efficiency
Four new data center classes that can enable full-time economizers for a number of facilities applications in varying climates are contained in the latest edition of the principal book in the ASHRAE Datacom Series of publications.
Since its first edition in 2004, ASHRAE's "Thermal Guidelines for Data Processing Environments," published by the organization's Technical Committee (TC) 9.9, Mission Critical Facilities, Technology Spaces and Electronic Equipment, has become the de-facto reference material for unbiased and vendor-neutral information on the design and operational parameters for the entire datacom (i.e. data centers and telecommunications) industry.
Based on the latest information from major IT equipment manufacturers, ASHRAE says the third edition of the guide contains meaningful data to guide data center designers and operations staff to design and run their facilities in the most energy efficient manner possible, including how to operate in a completely "chillerless" environment. Further, the latest guidance enables a more energy efficient operation without compromising the reliability or "mission" of the data center, says ASHRAE.
"This third edition creates more opportunities to reduce energy and water consumption but it is important to provide this information in a manner that empowers the ultimate decision makers with regards to their overall strategy and approach," comments Don Beaty, chair of ASHRAE's Publications Subcommittee of TC 9.9. "The idea is to provide objective data, methodology and guidance, but at the same time, respect the right of the data center designers, owners and operators to optimize the operating environment of their data center based on the criteria most important to their business needs."
Highlights in this third edition of the guide include new air and liquid equipment classes and expanded thermal envelopes for facilities that are willing to explore the tradeoffs associated with the additional energy saving of the cooling system through increased economizer usage and what that means in terms of the impact to IT equipment attributes such as reliability, internal energy, cost, performance and contamination.
"The most valuable update to this edition is the inclusion of IT equipment failure rate estimates based on inlet air temperature," Beaty adds. "These server failure rates are the result of the major IT original equipment manufacturers [OEM] evaluating field data, such as warranty returns, as well as component reliability data. This data will allow data center operators to weigh the potential reliability consequences of operating in various environmental conditions versus the cost and energy consequences."
---
Police call on Cat 6, Om3 for new headquarters
In the United States, the number most closely associated with police departments is 9-1-1, the emergency number that can be called from any phone in the country to obtain emergency services. For the Cumbria Constabulary in Carlisle, Cumbria U.K., the number 9-2-2 has some significance as it relates to their new headquarters' communications capabilities. That is because a total of 922 Category 6 connections were installed in the new facility.

The new facility was constructed after the constabulary was flooded out of its previous location in 2005 and spent time working in temporary premises. Construction of the new facility began in 2008. Cabling-system supplier Excel provided the end-to-end copper solution as well as Om3 fiber-optic cabling for the facility. "The chosen technology was Excel Cat 6 UTP cable," Excel noted. "This type of cable is designed for optimal support of high-speed data protocols delivering 1-Gbit/sec performance to the workstation … Combined with the cable was a mixture of Euro, low-profile and 6c modules. When installed with Excel Category 6 cables and patch panels, full link and channel compliance can be achieved. Category 6 unshielded RJ45 patch panels were also installed."
Backbone technologies for the constabulary facility include Excel 24 core Om3 fiber-optic cabling and 100-pair CW1308 telephone cable.
Local cabling contractor Compass Cabling Systems worked with the project's consultant, DSSR, to bring the project to completion.
Andy Little of the Cumbria Police commented, "We needed a constabulary building that would enable us to grow, both with the expansion of our workforce and the increase of services offered to the general public. The infrastructure now in place has allowed us to do just that, and I have every confidence that we will be able to operate successfully from these premises for many years to come now that we have a flexible, quality cabling system."
---
Cable cubbies house AV, data, power connections
Cable Cubby Enclosures TLE 350 and TLE 710 from Extron Electronics are "durable, furniture-mountable metal housings for AV, data and power connections," the company says. The enclosures complement the look of Extron's TouchLink TLP 350CV and TLP 710CV touchpanels, the company adds, with identical dimensions.
When not in use, cables can be stored out of sight while they remain connected to the system. The TLE 350 offers 9 architectural adapter plate (AAP) openings and the TLE 710 offers 11 openings, which can be populated with a combination of Extron AAP modules and Extron retractors. Both enclosures can be mounted to a tabletop, lectern or other flat surface, and they are available in black-anodized or brushed-aluminum finishes. Extron offers AC power modules for U.S., Europe and other world markets.
---
KVM extender enables 100-meter full HD over Cat 5 cable
Built on HDBase-T technology, the HD KVM ELR (Extra Long Range) extender from Gefen enables a single Category 5 cable to transmit 1080p full HD with 3DTV pass-through and USB from source to display, up to 100 meters. Previous-generation extenders still required two Cat 5 cables for transmissions of that length.
"With the HD KVM ELR, you can extend hi-def video to the ideal area for your display and peripherals," said Gefen president and chief executive officer Hagai Gefen. The extender is ideally suited for post-production editing suites where computers are isolated in machine rooms or closets, and high-definition video with keyboard/mouse peripherals are extended to the edit room.
The device extends laptops, Blu-rays and any other electronics using HDMI to a flat-panel display or projector equipped with HDMI. The ELR technology bundles the delivery of 1080p full HD with USB peripherals for excellent performance, Gefen says. The receiver unit supports the connection of HDMI and three USB devices.
Locking power supplies on both sender and receiver eliminate potential system interrupts. USB data speeds reach up to 100 Mbits/sec. A mini-USB port is provided for field upgrades to enhance the product's lifespan.
---
Data center census: Investment on pace to grow 22 percent for 2012
A global data center census conducted by DCD Intelligence (DatacenterDynamics Intelligence) found that worldwide investment in data centers was growing from approximately US$86 billion in 2011 to $105 billion in 2012. Results were released in October 2012. The census is described by DCD Intelligence as "the largest worldwide quantitative survey of the data center industry." DCD Intelligence managing director Nicola Hayes commented, "Our forecast for 2013 shows a slower rate of growth but still a very healthy 14.5 percent over 2012 levels, with a further $15 billion of additional investment."
The survey incorporated systems across data centers, including facilities management, mechanical and electrical systems including power supply and cooling, as well as IT equipment. That sector includes active equipment such as servers, storage, switches and routers, and showed 16.7-percent growth – from $30 billion to $35 billion – in the then-current year, with a 12-percent growth rate forecast for 2013.
Of data centers overall, Hayes said, "Much of the increase in investment in this sector is being driven by growth in less-developed markets, although we continue to see some growth in the mature data center markets of North America and Western Europe. Regions such as Asia Pacific and Latin America are the ones really fueling global data center investment levels."
Perhaps the most eye-popping figure coming from the census is a 63.3-percent increase in power requirements over the past 12 months, to a worldwide total of 38 gigawatts. By comparison, the anticipated 17-percent demand increase for the coming year looks modest. Looking a little more closely at power-consumption numbers, DCD Intelligence found that the percentage of racks housing more than 10kW of power rose from 15 percent last year to 18 percent this year.
"The global trend for data center 'white space' – the area in a data center which houses the IT equipment – grew globally by a relatively small 8.3 percent from 24 million square meters to 26 million square meters," DCD Intelligence said, "though a sharper rise by 19.2 percent to 31 million square meters is forecast for 2013."
To reiterate: while white space increased 8.3 percent over a year, the requirement for power increased 63.3 percent over the same period.
Then came this statistic, which appears on its surface to be a head-scratcher: "Surprisingly, concern as to power availability and cost – both of which have been constant topics in the media and data center professional groups in recent years – is actually down on a global basis," Hayes said.
She then offered a cure for the head-scratching: "This is explained in part by the increasing representation amongst the sample of companies in less developed markets where power requirements are smaller and so less constrained than in mature markets. Also in part by efficiency and other strategies put in place by data center companies over the past 12 months to mitigate against increased power costs and to overcome issues to do with availability."
The census also found that outsourcing, and particularly colocation, increased significantly from $16 billion to $21 billion – a 31.3-percent jump – over the past year "and is projected to continue with a further $5-billion increase into 2013," DCD Intelligence said.
The North American market's 14-percent growth can be considered modest when compared to other global regions, DCD Intelligence explained, but Hayes put the figures into perspective. "It should be remembered that this market is a far more mature one than other regions and so growth levels will naturally be lower than in the developing markets. For example although investment in Latin America has grown by 31.4 percent over the same period, the total amount invested is $13.8 billion compared to North America, where the investment over the past 12 months is estimated to be $44.1 billion. The economic impact has however had a slight impact on IT and in particular data center spend with companies being more cautious than in previous years with regards to where investments are made."
On North American power consumption, DCD Intelligence points out that requirements grew by 5.3 percent over the year. "Figures from the census relating to power usage awareness, carbon emissions monitoring and overall energy monitoring are also positive in the region, showing a growing commitment to reducing energy costs and addressing high PUE ratios."
---
Five elected to BICSI's board of directors
BICSI members have elected five individuals to serve on the association's board of directors for two-year terms between 2013 and 2015. Voting took place in September and the four new and one re-elected board members will be inaugurated at the BICSI Winter Conference in January 2013.
Here are the incoming board members.
Secretary – Robert "Bob" Erickson, RCDD, RTPM, NTS, OSP, WD; Communications Network Design (Haysville, KS)
Canadian Region Director – Peter Levoy, RCDD (re-elected); Anixter (Ottawa, ON)
U.S. South-Central Region Director – Jeffrey Beavers, RCDD, OSP; Black and Veatch (Lenexa, KS)
U.S. Southeast Region Director – Charles "Chuck" Wilson, RCDD, NTS, OSP; Wilson Technology Group Inc. (Brooksville, FL)
U.S. Western Region Director – Larry Gillen, RCDD, ESS, OSP, CTS; Pentair Technical Products – Hoffman (Rancho Cucamonga, CA)
The six other members of BICSI's board of directors are in the midst of serving two-year terms that commenced in 2012 and expire in 2014.
---
Halogen-free flame-retardant producer expands capacity
Specialty chemical company Clariant recently announced the opening of a second production unit for its Exolit OP halogen-free flame-retardant product at its Hurth-Knapsack facility near Cologne, Germany. The company says the new facility doubles the capacity for DEPAL (diethyl phosphinic acid aluminum salt)-based flame retardants.
"Exolit OP has proven successful as a halogen-free flame retardant, particularly for engineering thermoplastics" the company said. "Applications include thermosetting resins as well as cable sheaths and insulation made from thermoplastic elastomers."
Michael Grosskopf, who heads the additives business unit for Clariant, commented, "The environmental and safety awareness of our customers has increased considerably, resulting in growing demand for our non-halogenated flame retardants. Key customers are indicating that their requirements will see further strong increases in the years ahead."
The company further explained the advantages of its chemical in use: "Plastics containing flame retardants release gases when burning, which cause the material to foam, quickly forming a carbonized non-combustible protective layer. This isolates the as-yet unaffected plastic against heat and keeps away atmospheric oxygen. Part of the flame retardant also acts in the gas phase by preventing chemical reactions in the flames. Both effects ensure that the fire is not fueled further and gradually extinguishes itself. This technology can be used to achieve the highest fire resistance classes for plastics.
"The non-halogenated Exolit products do not contain any of the dangerous substances listed in the RoHS directive," the company continued. "The flame retardants have barely any negative impact on the properties of the end product and also do not generate corrosive toxic fumes in case of fire, which reduces the risk of fire damage."
---
Rittal explains how more fans consume less energy
A provider of liquid-based cooling systems for data centers, Rittal recently announced the latest versions of its Liquid Cooling Package (LCP) units, which have added fans "to move air more efficiently and with less effort," the company says. It then noted, "Using six fans has proven to consume less energy than the traditional use of three or four. More fans, each running at slower speeds, draw less energy while moving an equal or greater volume of cool air."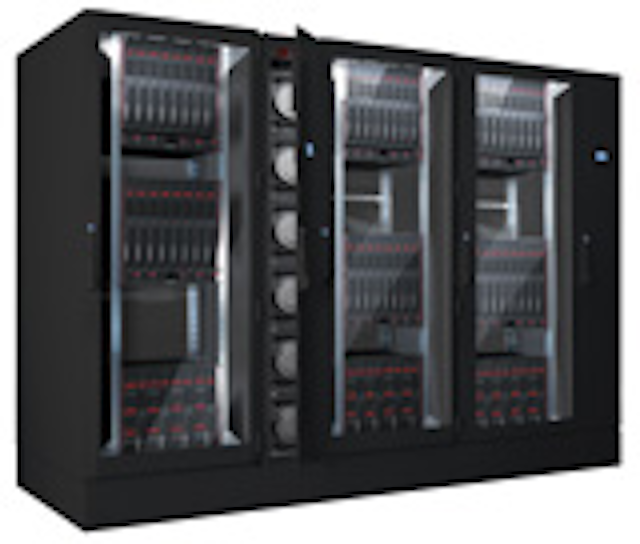 The company's standard 30kW LCP comes with three EC fans, while the latest adaptation "makes the cooling solution more scalable, improves redundancy and reduces overall noise levels," the company says, adding, "All the fans have been moved to the front of the units away from the maximum heat generated by computer components. This design feature not only improves heat dissipation, it will extend the life of the fans."
The LCP units can be configured to cool from 10 to 60 kW in 10-kW increments. The newest generation of units is described by the company as "truly scalable—going from 10 to 20 and 20 to 30 kW just by adding fans to the system; or from 40 to 50 or 60 kW by adding fans and a larger heat exchanger."
The company further breaks down the more-fans-use-less-energy claim as follows: "Under normal conditions, three EC fans require approximately 1,168 watts of power and operate at 67 dbA [decibels]. Adding a fourth fan reduces the power consumption to 893 watts and reduces the accompanying noise to 64 dbA. Using five fans reduces power consumption to 717 watts while further reducing overall noise levels to 62 dbA. Adding a sixth fan reduces energy consumption to 669 watts and further reduces noise levels to just 60 dbA. The addition of these high-efficiency fans means that each fan can run less and run at a slower speed, reducing the energy it requires and the level of sound it produces."
Rittal also emphasized that this increased capacity of its LCP units is available within the same footprint as existing models. "60kW cooling can be achieved from a unit that's still just 12 inches wide," the company said.
---
Nexans puts 1008 fibers inside one cable
Nexans, parent company of Berk-Tek, has developed a cable for fiber-to-the-home applications that puts 1008 fibers inside a single sheath. The company describes the solution, which is part of its Kinoptic product line, as "particularly compact and will therefore help operators to implement their broadband strategies cost-effectively. This solution comprises up to 1008 optical fibers distributed across seven strands, which are in turn made of 12 microsheaths containing 12 fibers each." Nexans says this cable doubles the capacity of other systems while increasing the cable diameter by only 15 percent. It is ideally suited for midspan applications, the company says.
Explaining the fiber-to-the-home deployment dynamics that have given rise to this cable's development, Nexans says, "As increasingly densely populated cities place a heavy load on underground infrastructure, the mass deployment of FTTH networks requires careful consideration of how best to control investment in civil engineering works. Duct sharing, as recommended by regulators in several Western European countries, provides an answer to this problem. This results in the need for higher-capacity equipment at all stages of the transmission chain." The company added that the 1008-fiber cable "is complemented with a specific range of high-density accessories."
Raymond Voillat, vice president of sales and marketing operations with Nexans, noted, "The current challenge is to connect as many subscribers as possible while at the same time minimizing the impact of civil engineering works, which account for up to 80 percent of the FTTH infrastructure cost. With this high-density solution, we significantly reduce time on site for our customers."
Nexans says the cable is flexible, tension-resistant and designed for easy installation. The microsheaths can be stripped by hand.
---
Floor box accepts 6 conduits
The Evolution series floor box from Legrand Wiremold has been enhanced to accept 6, 2-inch conduit feeds while maintaining a 4-inch pour in concrete floors. In addition to concrete, the box can be installed in raised and wood floors without any additional parts or accessories.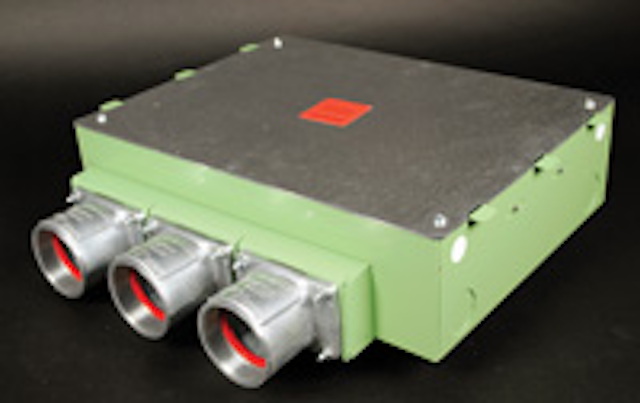 The ability to accept 6 conduit feeds "increases capacity and flexibility for supplying power, communications and audio/video," the company says. Also, the 6-gang on-grade Evolution floor box includes a 2-inch conduit knockout on the bottom for additional capacity and flexibility.
In addition to this upgrade of the Evolution box, Legrand Wiremold has introduced one-piece molded tunnels that are sized for 6-, 8- and 10-gang boxes. The company explains these tunnels create discrete channels for wires and cables, and make it easy to wrap cables around from one side of the box to the other.
Also, steel mounting brackets have been added to accept standard 4-gang device plates for the 8-gang box, and standard 5-gang plates for the 10-gang box.
The Evolution series floor box systems are available through Middle Atlantic Products, which is now part of Legrand.
---
Molex upgrades intelligent infrastructure management
Molex Premise Networks has released the latest version of MIIM, the company's "intelligent infrastructure" platform for providing enhanced network management capabilities at the physical layer.
According to the company, MIIM System application software version 3.0 continuously monitors and maps the physical layer, facilitates work order management, and enables patch guidance for technicians using patch panel LED's for port indication. In addition to MAC and work order management, the upgraded platform also detects network device connect/disconnects regardless of power or broken cables. An event-driven discovery feature provides constant information on network devices connected to the work area outlets.
The company notes that the latest MIIM system is also easy to implement and manage via industry standard components (no special-construction patch cables, interconnection cables, or sensor strips are required), thereby reducing the incremental cost of installation. Molex asserts that the new MIIM platform offers "true centralized management of the channel not just in the cabinet/comms room, but right out to the work area regardless of LAN topology." ::