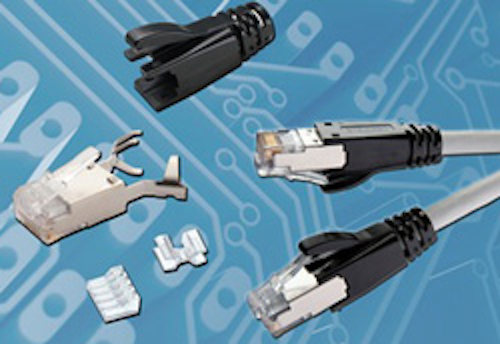 From the August, 2013 Issue of Cabling Installation & Maintenance Magazine
Compiled by Matt Vincent
Bel Fuse's Stewart Connector division has developed a large-diameter Category 6A 8P8C modular plug (SS-39200-027) that accepts a cable diameter range of AWG23 to AWG24 and accommodates conductor sizes up to 0.048 inches in diameter. The new RJ45 plugs are the latest addition to the company's range of connectors designed to support Gigabit Ethernet (1000Base-T) and 10 Gigabit Ethernet (10GBase-T) transfer rates, along with PoE (Power over Ethernet). The UL-listed, RoHS-compliant connectors are specifically offered to support terminations requiring horizontal cabling that extends from the telecommunications outlet in the work area to the horizontal crossconnect in the telecommunications room.
Horizontal cabling is often specified in direct connect or consolidation point applications where link lengths exceed 10 meters (33 feet). Because the cabling used in these systems is typically made of AWG23 or AWG24 solid conductor copper and is larger than traditional patch cable, standard modular plugs cannot be used. Stewart's proprietary contact design and unique conductor load bar allows the SS-39200-027 large-diameter plug to terminate large-diameter horizontal cabling in the same form factor as traditional RJ45 modular plugs. The company says the new low-profile modular plugs are well suited for high-density switches and routers, and can be used in both shielded and unshielded applications.
The plugs feature a snagless strain-relief boot to prevent plug tab damage during installation and a wire aligner to ensure precise conductor placement during assembly. Moreover, the Category 6A connectors incorporate 360 degrees of shielding to protect signals from external noise. The unit's plug, load bar and wire aligner are manufactured of UL94-V0 polycarbonate and feature gold-plated contacts for robust, long-lasting connections. Additional specifications include an operating temperature range of -40 degrees C to +85 degrees C, and durability of 750 mating cycles. Voltage rating is 150 VAC, and current rating is 1.5 A at 25 degrees C. Parts are field installable with Stewart Connector's standard termination tooling. Plug kits are offered individually bagged in packaging suited for field installation as well as bulk packaged for factory terminations. Average pricing for the plugs is $1.93 each in quantities of 500.
---
Directional drill provides muscle for outside-plant cable installs
The JT25 horizontal directional drill from Ditch Witch provides the muscle sometimes needed in difficult outside-plant cabling-installation projects. Its thrust and pullback of 27,000 pounds, as well as the rotational drive that produces 4,000 foot-pounds of torque make the drill "ideal for installing utility pipe and cables of up to four inches in diameter at lengths up to 500 feet," the company says.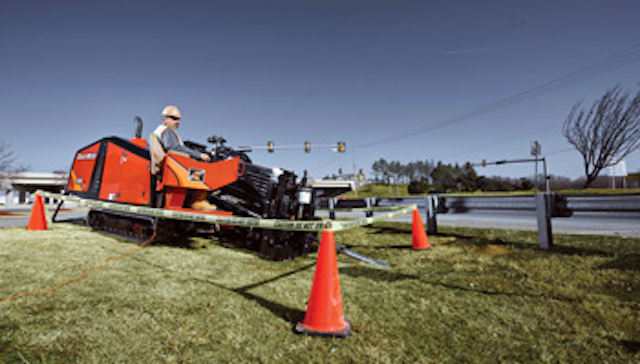 Ditch Witch adds that the rotational drive system features a single low-speed, high-torque motor "that is smooth, quiet and efficient." The drill is powered by a 130-horsepower, Tier 4i Cummins diesel engine. Operators use either a single- or dual-joystick to control thrust and rotation. The company also says the drill's automated, intuitive carve mode reduces operator fatigue and error. "The field-proven pipe-loading system is simple but exceptionally efficient, with minimal moving parts, and open-top vise wrenches give the operator an excellent view of the tool joint," the company notes.
---
Copper cable testers include ADSL, VDSL capabilities
To enable technicians to diagnose a wider variety of problems in copper-cable based communications networks, Greenlee has updated its Sidekick Plus line of multifunction test sets. In addition to the standard selection of copper cable testing tools, new options are now available for step TDR, wideband analysis, and ADSL/VDSL sync and service testing.
The new suite of ADSL/VDSL tests displays features such as DSL showtime, bits-to-tone, signal-to-noise ratio, and upper layer testing, including ping, traceroute, HTTP, and FTP. All main features are accessed on the physical unit via a rotating mode selection dial, eliminating any complicated menu system. Easy setup allows for a quick learning curve and lower downtime, as users can more quickly select and familiarize themselves with the new features, contends Greenlee. Target applications for the Sidekick Plus multifunction tester include CATV, railways, and government/military deployments.
---
Arista boosts 10/40/100G data center switching
Arista Networks recently announced significant enhancements to its flagship 7500 modular switching platform that enable cloud networks to scale to over 100,000 servers and millions of virtual machines, while delivering a network architecture that can concurrently support cloud computing variants including Hadoop, Big Data, storage, Web 2.0, VM farms and other virtualization technologies.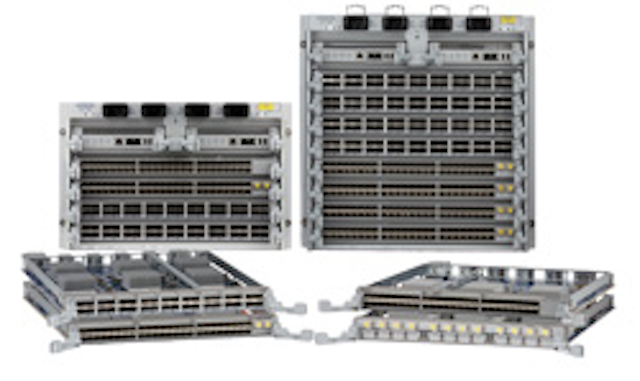 Offering among the industry's highest 10/40/100-GbE port densities, the Arista 7500E supports 1,152 10-GbE, 288 40-GbE, or 96 100-GbE wire-speed ports. Key improvements to the 7500E, as compared to the first-generation Arista 7500 switches, include four triple-speed 10/40/100G Ethernet switching line cards with integrated MXP (multi-speed-port) optics that can be software-configured on a per-port basis. In 100-GbE mode, the triple-speed line card offers an order-of-magnitude cost reduction over competing 100-Gbit Ethernet switch products in the market, claims Arista.
With the Arista 7500E platform, customers can achieve the level of automation necessary to build effective software defined networks (SDN). Featuring the fully programmable Arista EOS (Extensible Operating System) software, the 7500E delivers a set of advanced SDN capabilities that support programmatic control, enhanced monitoring, and self-healing resilience to every aspect of the switch, says the company.
Arista notes that cloud networks have universally adopted a leaf-spine architecture, using Layer-3 load-balancing to provide scalable performance. With the Arista 7500E as the spine and Arista 7150/7050 as the leaf, these network topologies can support cloud data centers with more than 100,000 servers that deliver consistent performance for dynamically scaling workloads in public or private clouds. The 7500E series switches and line-card modules are generally available now. Entry level U.S. list prices start at $99,995 for the switch and $10,000 per 100-GbE, $2,200 per 40-GbE, and under $600 per 10-GbE port.
---
Intelligent outdoor PTZ cameras offer HDTV, rugged wall-mounting
Axis Communications' P5414-E PTZ dome network camera is the first in a line of outdoor-ready pan/tilt/zoom domes featuring the company's "direct drive" technology, meant especially for wall-mounting. The new HDTV 720p-quality PTZ dome with 18x optical zoom is targeted for use in city and perimeter network video surveillance applications, including parking garages, campuses and schoolyards, and outside of retail and medical buildings. The unit's intelligent direct drive pan/tilt system facilitates easy wall-mount installation and supports mechanical PTZ endurance by limiting the amount of moving mechanical parts such as belts or gears. The camera is directly attached to the drive shaft of two motors--one for panning and another for tilting the camera.
Other innovations include a built-in wall bracket that eliminates the need to purchase a separate mounting accessory, which makes for more efficient installation. The camera has a hidden junction box that supports two-way audio, a memory card slot, four configurable inputs/outputs to external devices, and the option to use either 24 VDC or Power over Ethernet Plus (IEEE 802.3at). The Axis P5414-E also supports an Advanced Gatekeeper feature, which enables the camera to automatically pan, tilt and zoom to a preset position when motion is detected in a predefined area. Outdoor-ready with IP66 and NEMA 4X ratings that ensure protection against dust, rain, snow and corrosion, the camera also includes support for ONVIF for easy camera system integration.
The Axis P5414-E's 18x zoom with autofocus in combination with HDTV resolution delivers the advantage of a wider (16:9) field of view while providing zoomed-in views with the same level of detail as a standard-resolution, 36x-zoom camera. Other key features include multiple, individually configurable streams in H.264 and Motion JPEG video formats; and day/night functionality with an automatically removable infrared(IR)-cut filter for color video during daytime, and high-quality black and white video in low light. Intelligent functionalities also include video motion and audio detection and access to proprietary video management software. With the ability to pan 270 degrees, the Axis P5414-E can also be mounted on the corner of a building using a corner-mount bracket to enable wide area coverage and high optical zoom for detailed surveillance in HDTV resolution.
The dome camera also features an integrated sunshield designed for easy removal, allowing customers to paint it to match the installation environment. The sunshield's sloping form helps the camera resist attempts by vandals to pull it down.
---
LSZH right-angle Cat 5e cable assemblies
L-com has launched a line of right-angle Category 5e cable assemblies with low-smoke, zero halogen (LSZH) jackets. The cables are intended to allow the use of right-angle networking cables in locations where fire and combustion are a risk, such as ships, airplanes, and military bases and vehicles.
The cables use a patent-pending technology to enable a tight right angle at the connection point without risking untwisting the twisted pairs that allow the cable to pass Category testing. The company first introduced its right angle RJ45 cable assemblies in 2010 with shielded and unshielded Category 5e cable lines and unshielded Category 6 lines. Since then, L-com greatly expanded the line to include hundreds of different lengths, connector orientations, and jacket colors.
The new products build on these lines by offering similar cables with LSZH jacket materials that will release minimal smoke and no toxic gas if burned in the case of a fire. "Our right angle technology has resulted in cleaner, neater server racks, easier drop-point connections, and networks that operate faster due to cables maintaining the required Category rating," comments David Gallagher, product manager at L-Com. "We can now offer a huge variety of choices to engineers and technicians who work in environments with stringent flame/smoke regulations."
In addition to the right-angle feature, the new LSZH cables use 24 AWG stranded conductors for flexibility, and are available in 15 standard lengths ranging from 1 foot to 100 feet, and three standard colors. Detailed engineering drawings and 3D CAD models are available on L-com's website.
---
HomePlug AV2 powerline networking kits
Linksys has released its Powerline HomePlug AV2 Kit (PLEK500), which leverages HomePlug AV2 Powerline networking technology to allow consumers to upgrade their home networks to handle high-bandwidth capabilities including HD/3D video streaming, gaming and other data-intensive applications at faster speeds, by employing existing wall power outlets. Incorporating a Gigabit Ethernet port and the HomePlug AV2 technology, the kit may help boost data to speeds up to 500 Mbits/sec for computers, tablets, consoles and televisions used throughout the home. Backward-compatible with HomePlug AV and GreenPHY products, the kit includes two 1-port network Gigabit Ethernet adapters, one for connecting to a home router and the other for connecting a device to the network.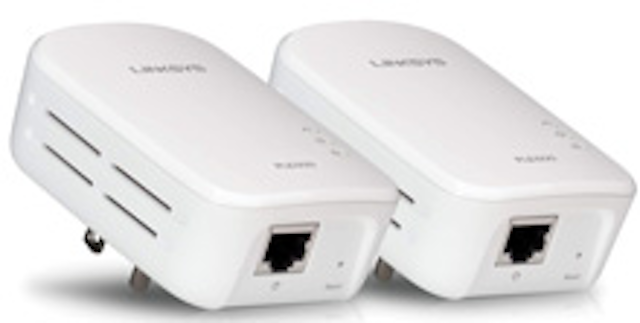 Linksys says the PLEK500 kit provides a simple way to help extend home networks into rooms that may not have wired Ethernet, or that have wireless dead spots or a limited wireless signal due to building materials such as concrete or steel. With easy setup software and simple plug-and-play technology, users can network their devices by connecting one of the Powerline adapters via a Gigabit Ethernet cable to a router and plugging it into the wall, then plugging the second adapter into the device to be connected to the network and the other end into an electrical outlet. The kit uses the latest HomePlug AV2 industry-standard technology to turn any home wall outlet into a network connection source without requiring electrical rewiring. The compact design of the PLEK500 kit, along with its upgraded coloring, blends the adapters with walls and leaves room for other appliances to be plugged into the same outlet or power strip. Household 120-volt electrical service is unaffected when using the Powerline AV2 kit.
"With numerous Internet-enabled devices such as computers, gaming consoles and set-top boxes entering today's homes, at times these devices require high-speed network connections that cannot be served by wireless network due to a home's construction," comments Mike Chen, senior director, product management, Linksys. "The PLEK500 helps eliminate cumbersome wiring throughout a home and serves as an economical, complimentary solution to wireless or Ethernet where Powerline might be the only option." The PLEK500 kit is now available at major retailers for $129.99.
---
Analyst: Most data centers use virtualization for select applications only
Infonetics Research recently released its Data Center Deployment Strategies: Global Service Provider Survey. "Server virtualization has been the focus of the data center industry for several years now, and the largest data center owners and Internet content providers like Google are ubiquitously exploiting virtual machines," says Michael Howard, principal analyst for carrier networks and co-founder of Infonetics Research.
However, Howard notes, "Yet the reality is the bulk of data center owners are more pedestrian in their deployments, finding it more operationally convenient to leave many areas of their data centers alone, using server virtualization for only select applications."
For the 23-page data center survey, Infonetics interviewed incumbent and competitive service providers and cloud specialists that have data centers with at least 100 servers. The survey also reveals that more operators than anticipated plan to continue investing in Fibre Channel for their data centers, even in the face of growing usage of the newer Fibre Channel over Ethernet (FCoE). The survey also finds the number of data center server LAN connections growing quickly, with 10 Gigabit Ethernet connections growing the most.
The average capacity of a data center WAN connection is projected to increase more than twofold from 2012 to 2014. While the use of virtual machines in data centers continues to grow, in many places servers are not yet virtualized. Infonetics' Howard is quick to add, "To be sure, data center owners want to increase the value of their existing data center assets--no matter the extent of server virtualization--as a means to increase revenue via cloud services, both to keep their current customers satisfied and to attract new customers."
The report delves into major operators' plans for data center expansion, interconnection, capacity, physical servers, virtualization and SAN and storage technologies.
---
Conduit seal kit fits outdoor telecom cable installations
The CES Conduit Seal from Roxtec was developed for use with conduits, hybrid cables and coaxial-cable applications found in the telecommunications industry. The company says the seal system is lightweight and easy to install, and allows the use of preterminated cables. Additionally, its retrofit feature allows adding the seal to existing sites without having to disconnect cables.
"The new seal eliminates the problem of water and rodents entering the conduits causing damage to the system, fiber, coax and power cables--especially during freezing temperatures," Roxtec says. The company adds that the seal eliminates the need for silicones, butyl and other sealing masses "that will eventually fail in a short time."
The CES Conduit Seal is supplied as a kit, which includes two stainless-steel clamps and Roxtec sealing modules that are adaptable to cables of different sizes. "This kit simplifies everything from design and planning through to purchasing, installation and logistics," the company says. Modules are adjustable to fit a variety of cable and pipe diameters.
---
Pre-standard Category 8 cable
The CU 8203 4P cable from Datwyler is a "compact, S/FTP AWG23 cable which complies fully with the anticipated requirements of the new Category 8.2 as specified in the ISO/IEC draft," the company says. The cable comprises four twisted pairs, each of which is protected by a metal shield. An overall foil also covers all four twisted pairs. Datwyler adds that it intends to follow the release of this cable with "other new developments with S/FTP and F/FTP as well as the appropriate patch cables."
The company provides perspective on this announcement by summarizing the Category 8 standard-development landscape within ISO/IEC. "The new international standards for Category 8 copper cable and balanced cabling systems for 40-Gbit/sec are currently being developed as draft standard IEC 46C/976/NP and ISO/IEC TR 11801-99-1. Unlike the proposed standards for symmetrical Category 8 data cables discussed just a few years ago--at that time for structured cabling premises cabling and with a maximum limiting frequency of 1.2 Gigahertz--the sole use foreseen by today's international standardization bodies is in data centers with a maximum limiting frequency of 2 GHz."
The ISO/IEC TR 11801-99-1 draft "defines a point-to-point connection between active devices at a maximum distance of 30 meters," Datwyler explains, "comprising 26 meters of installation cable and 2 meters of patch cable on either side. Such a connection can replace expensive fiber-optic and twinax cabling in data centers."
The exact channel specifications "will be drawn up over the next few months," the company continues. "Many issues are still unresolved, particularly in relation to future connection technology and the transmission method." Even so, when announcing the CU 8203 4P, Datwyler said it "lays particular emphasis on the fact that with regard to attenuation [NEXT, PSNEXT], the new cables provide a large amount of spare capacity at the limit values discussed and defined."
---
Modules allow passive tapping of fiber-optic cabling
CablExpress has introduced tap modules that allow for passive optical tapping, thereby enabling more-efficient network monitoring and cabling-infrastructure management, the company explains. The MTP-to-LC tap modules split fiber-optic signals into two fibers, CablExpress further notes, sending a portion of the data to the live network and the remaining data to a test environment.
Matthew Graham, director of CablExpress, said, "The CablExpress tap modules provide an effective way for enterprise data center managers to assess their network traffic. By integrating with the Skinny-Trunk Solution, the modules save space in the data center and minimize the need for additional cabling and hardware for testing purposes."
The modules' design directly integrates into the company's Skinny-Trunk system. The modules also include "ultra-low-loss components that provide flexibility in fiber network design," the company says, as well as a "rugged design that allows fiber to remain secure." The modules are available in 1-, 6- and 10-U H Series options as well as 1-, 2- and 4-U RSD Series options. They are available in Om3 and Om4 multimode versions as well as singlemode versions.
---
Report: Colo data center space is hard to come by in Latin America
DCD Intelligence's report "Latin American Colocation" says that demand for colocation facilities in the Latin American region looks likely to outstrip supply, although no specific timetable for that crossover point was mentioned in the research firm's announcement of the report's availability.
The company explained: "Most of the countries in Latin America are classed as emerging markets in terms of data center market growth and in common with other emerging markets such as those in Asia Pacific, colocation is now seen as a viable option for businesses in terms of outsourcing their data center requirements. In fact, a larger percentage of data center white space is outsourced in the LatAm region than in many western countries."
DCD Intelligence's managing director Nicola Hayes added, "What we see in the Latin American markets is that companies are far less reluctant to outsource data center requirements than has been the case at the same stage of market development in other regions. In previous years the colocation market was hampered in Latin America by a lack of suitable pure colocation space, but this has changed over the past two years with a greater variety of stock now available."
She added that in many of the countries covered in the report, a significant amount of new-build and expansion projects took place in 2012. "While Brazil continues to offer the largest amount of colocation space and has the largest number of providers across the region, other countries are gaining momentum," Hayes said. "For example Colombia witnessed the highest number of new entrants to the market and Chile's growth rate in terms of available space has overtaken that of Mexico."
While the supply is increasing, demand also is doing so with at least as much fervor. "There is still room for new entrants," DCD Intelligence said, "particularly as demand is rising not only in the major cities where the majority of space is located, but also in secondary locations."
One noteworthy business dynamic coming out of the report is that few Latin American-based providers have crossed borders to serve more than one country. Hayes noted, "There are indications that some of the larger country providers are looking to establish a presence in neighboring countries in order to capitalize on opportunities outside of their own markets, but at present regional coverage is the domain of the large international players."
---
2.5-GHz tester guarantees support for Category 8 cabling certification
Psiber Data Systems has introduced the WireXpert 4500, which has a 2.5-GHz (2,500-MHz) frequency range through which it "will fully support the proposed TIA Cat 8 standard," as an in-the-field cabling certification tool, the company says.
"There will be a great deal of change in the network cabling industry over the coming months," Psiber Data Systems said when announcing the tester's availability. "Driven by new bandwidth-hungry applications and the increasing number of data centers hosting a large volume of critical data, new high-performance cabling systems are becoming necessary."
As we have reported, both the Telecommunications Industry Association (TIA) and the International Organization for Standardization/International Electrotechnical Commission (ISO/IEC) are developing specifications for twisted-pair cabling systems to support 40-Gbit/sec Ethernet transmission--40GBase-T. The organizations are using slightly different nomenclature to describe their systems, with the TIA's spec-under-development called Category 8 and the ISO/IEC developing Category 8.1/Class I and Category 8.2/Class II.
Psiber notes, "It is anticipated that major cabling systems and component vendors will announce new next-generation cabling technologies in the near future. In order to test all current and future (next-generation) systems, new higher-speed and more-accurate test equipment will be needed."
The company says its WireXpert 4500 is exactly what is needed. "Equipped with the field accuracy of a precise laboratory measurement and a frequency range up to 2,500 MHz, the WireXpert 4500 offers more than sufficient bandwidth to handle all existing and future standards," Psiber says. "Psiber Data already guarantees that the new WireXpert 4500 will fully support the proposed TIA Cat 8 standard."
The tester also meets the draft IEC 61935-1 specification for Level V accuracy. "Accuracy is also important during acceptance tests in the field, since the measurements reported are an essential part of a guarantee of future cabling system performance," Psiber says.
According to Psiber, a number of accessories and adapters are available for the WireXpert 4500, through which the tester "offers link and channel measurement modules configured for all common systems such as RJ45, GG45 and TERA interfaces." Also available are link and channel adapters for testing M12 as well as x-coded M12 industrial applications, the company adds.
Users can also conduct Tier 1 fiber certification using the WireXpert 4500 along with optional test adapters for multimode and singlemode fiber, Psiber says. Plus, "New compact MPO fiber modules allow testing of MPO/MTP fiber links and components up to 12 fibers," the company concludes.
The WireXpert 4500 is currently available and lists for US$8,800.
---
Redesigned ladder-style cable tray
Legrand recently introduced a redesigned all-aluminum ladder-style cable tray that the company says "offers enhanced functionality, faster installation and easier ordering." Called Itray, the product features side rails designed to allow midspan splicing while maintaining full NEMA load class, Legrand explains. "The tray is lighter and stronger than its conventional equivalents, and minimizes total tray width for tight spaces," the company adds.
Part of the PW product line, the redesigned Itray was brought to market after study into how to simplify the product line. Bob Crain, director of marketing and product development with Legrand, recalled, "Once we decided to start from scratch on the design, many new features became possible."
The sidewall, Legrand explains, is designed with structural offsets and a matching splice that makes midspan splices possible, thereby reducing the number of supports and the amount of attachment hardware needed. The tray's aluminum I-beam design "minimizes total tray width and creates a smooth transition between straight sections and fittings," the company points out.
Splices snap-in-place and remain in place without the need for bolts, Legrand says, adding that studies showed Itray can be installed up to 30 percent faster than standard tray. Crain said, "We feel this design will significantly reduce installation time and move the contractor off the jobsite much sooner."
The tray bottoms now feature an I-beam rung design, with heavier gauges for wider widths, Legrand says.
The Itray products are available as of summer 2013, in 4- to 7-inch tray depths and 6- to 36-inch widths. Several bottom and cover designs are also available. The reference to easier ordering comes from the fact that this new design reduces the number of SKUs needed, thereby speeding up shipping times. ::
More CIM Articles

View Archived CIM Issues