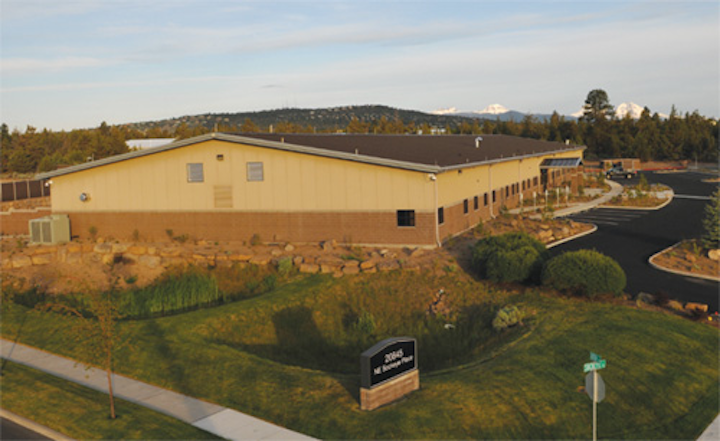 Oregon collocation facility provides a map to sustainability, showing green tech as a way of the future.
By Jenny Furniss
Data centers are huge consumers of energy; most operate at a Power Usage Effectiveness (PUE) ratio of 2 or higher. The Vault has changed all that. One of the only collocation data centers in the nation that is dedicated to sustainable energy use and has Tier III Constructed Facility certification, the Vault operates at a PUE of less than 1.2. The key to this feat? Two 450-kW-capacity KyotoCooling systems, a solar array and a series of flywheels that store energy for the active power uninterruptible power supply units.
"Data centers consume a disproportionate amount of energy," said Leonard Weitman, vice-president of technical operations for the Vault, "and regulation may be on the horizon as a means to limit the growth in data center power consumption. We designed the Vault with the future in mind—to be environmentally conscious. Frankly, it's the right thing to do. As a result, however, we can set an example and serve as a model for other centers coming on line."
BendBroadband (www.bendbroadband.com), a leader in the cable and broadband sectors, created the 30,000-square-foot collocation data center. Besides pursuing LEED (Leadership in Energy and Environmental Design) Gold and Energy Star certifications, the data center is located in a geographic area safe from most natural disasters. The Vault welcomed its first clients in April 2011.
KyotoCooling in action
Designed by Netherlands-based KyotoCooling International BV (www.kyotocooling.com), the 450-kW-capacity cooling systems use outside air to cool the building 75 percent of the time. When outside temperatures rise above 75 degrees, conventional compressed fluid cooling is used. These systems are new to the U.S. Besides the cooling system used in the Vault, there is one other system installed in the U.S., one in Canada and one underway in Washington State. In other words, the Vault is a unique facility and could be leading a trend toward using green technology in data centers.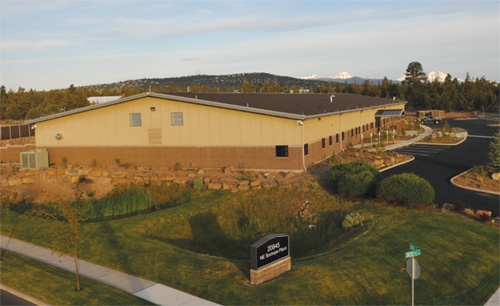 Located in Central Oregon, whose climate provides a natural benefit for data center location, The Vault is a Tier III Constructed Facility that operates at a Power Usage Effectiveness less than 1.2.
The cooling system works off a principle of a heat exchange, which functions better if there's a large difference in temperature between the hot air inside and cold air outside the building. The system becomes more efficient by concentrating hot air. A central aspect of the system is three, two-and-a-half-ton aluminum mesh wheels. These wheels are cooled by the outside air, and then they cool the air coming from the data center and stream it back into the center. Central Oregon's high desert climate is an asset to this system.
"It's very simple from a technological standpoint and extremely efficient," said Weitman, "The Kyoto system is a great fit for the weather we have here in Central Oregon. Even when it's 90 degrees outside in the daytime, it cools down to the 50s by the evening."
The Kyoto units deliver air into the data center at a steady 72 degrees, and they have the capacity to cool the air by as much as 30 degrees. Each unit can move up to 66,000 cubic feet of air per minute. Because the system recycles air that's already been filtered and humidified, the air doesn't require additional filtration or humidification as it circulates back into the data center. This also conserves water.
In addition to a KyotoCooling system, The Vault boasts energy-efficiency measures including the installation of 624 solar panels on its roof. The panels generate 152 kW of power, which is one-sixth the power that the building consumes when the data hall is full.
UPS efficiency
The second key, energy-saving system in the Vault, the uninterruptible power supply (UPS) flywheel system, requires less floor space than a traditional battery-operated UPS.
The flywheel motors use electric current from the utility grid, supplied by the local utility's Blue Sky renewable power program. This electricity powers and spins the flywheel rotors in a near-frictionless magnetic bearing. The addition of a vacuum within the chamber reduces the drag on the flywheels even more, which allows the devices to spin constantly and maintain an active supply of kinetic energy. The Vault's two UPS units contain three flywheels, each weighing about 700 pounds and spinning at about 7,000 rotations per minute.
Once this energy supply is needed, the UPS generator converts the kinetic energy into electricity, which is then transferred to the load and supplied to the field coil to maintain power consistency during any power threats. This provides ample power for the duration required for the Vault backup generators to engage.
Because the energy is not stored in lead-acid batteries, the UPS avoids the hazards of hydrogen released when a battery is charged, and also avoids the environmental impacts of lead and acid.
"The flywheels were easy to install and require little maintenance," said Weitman. "We can also remotely monitor them from different locations. Altogether, using flywheel technology was a great decision, and important to our mission of being LEED Gold certified."
Solar energy and aisle containment
Besides the KyotoCooling system and UPS, there are two other energy-saving systems in the Vault. Six hundred twenty-four solar panels manufactured by SolarWorld and installed by Sunlight Solar on the roof generate 152kW of power, 1/6th of power consumed by the building.
The second system is an energy-efficient hot air containment design that allows cooling only where necessary. Conventionally, cool air is pumped into a data center from under a raised floor and the cool air is drawn into the cabinets to cool off the equipment.
"In traditional data centers the hot air from the cabinets mixes with the cool air," explains Weitman. "It's not as efficient as the hot air containment design in the Vault and you have to move a lot more air."
The hot air containment design also supports high-density virtualization—running several virtual servers in one physical server chassis, and several of these blade chassis in one rack, a practice that creates hot spots within a data center. The Vault is able to efficiently deliver up to 21.6 kW of power to each rack and then efficiently cool these hot spots. Conventional data center design cannot support this power or equipment density.
Vault tenant St. Charles Health System capitalizes on the facility's use of virtualization and a high-density server platform.
All of the green systems used in the Vault contribute to the 80-percent reduction in the power needed for non-computing functions to operate the data center.
Sustainable design
BendBroadband used sustainability to design the rest of the building, as well. The wall insulation is made from recycled denim jeans rather than fiberglass pads. Low-heat, low-energy LED lights were installed rather than incandescent or fluorescent lights. Instead of traditional asphalt or concrete, which funnels water into storm sewers and then into rivers and streams, pervious pavement was used. This allows water to seep directly into the ground. Plus, indigenous plants that require no irrigation once they are established were used in the landscaping.
Carbon credits are also purchased from Woodlands Carbon Company, an Oregon-based company sequestering carbon in the state's forests. This additional effort makes the Vault 100 percent carbon neutral.
The Vault's sustainable technology and design was appealing to their anchor tenant, St. Charles Health System, from both an environmental and cost-saving point of view. St. Charles Health System, headquartered in Bend, owns and operates the St. Charles medical centers in Bend and Redmond.
Previously, they had collocated their data and servers in Hillsboro, OR, but wanted to relocate to Bend for a variety of reasons, such as reducing data transport costs and investing money in the local community. Plus, they knew they could save money by collocating at the Vault and using green server technologies, such as virtualization and a high-density server platform.
St. Charles has reduced its collocation power costs by 30 percent. They estimate that they will receive a return on investment over a five-year period of $7.1 million.
As a medical provider, St. Charles complies with the Health Insurance Portability and Accountability Act of 1996 (HIPAA) privacy and security rules, so data security is paramount. The Vault has a network operations center monitoring all aspects of system-wide performance with on-site staff 24 hours a day, seven days a week, and state-of-the-art security systems allow flexible data logging and retrieval. Physical barriers to entry and biometric access controls allow only authorized personnel into selected areas of the building.
Other aspects of the Vault that were important to St. Charles are the Vault's certification by the Uptime Institute as a Tier-III Constructed Facility and the strong preliminary SSAE-16 audit results from an external auditor. Tier-III certification ensures a facility that has been designed and constructed to meet stringent redundant system requirements that enable concurrent maintenance and reliable operation, independent of local utility service or individual equipment failure. SSAE-16 is a set of international data center industry standards used to measure operational and procedural integrity and strength, with regard to security and reliability.
Bend—and Oregon, in general—is known for its quality of life and environmentally conscious philosophy. BendBroadband wanted to be on the cutting edge of the technology that sustainability has engendered.
"The technology used in the Vault is at the front edge for data centers internationally," said BendBroadband chief executive officer Amy Tykeson. "In the past, designers did not have scalable, reliable tools like passive heat exchange, UPS flywheel technology and solar solutions available for facilities like the Vault. I'm proud that the Vault not only meets the highest industry performance standards, but because it's an example of how sustainable technology can change the face of an industry."
Jenny Furniss is a freelance writer based in Oregon.