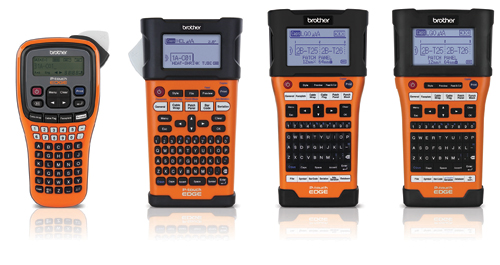 From the November, 2014 Issue of Cabling Installation & Maintenance Magazine
Labelers by pros, for pros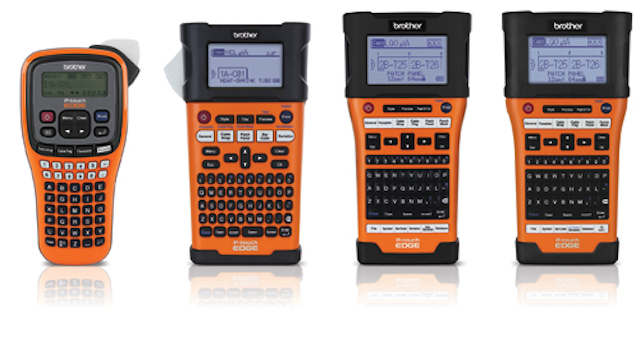 Brother says its P-touch Edge labelers are designed by industry pros for industry pros "to make labeling cable easier than ever." The company adds that over the past two years it has added an Edge labeling tool "for virtually every job-from simple labeling of faceplates and electrical panels to producing sophisticated auto-incremented labels from downloaded databases for the largest data center labeling projects." The Edge product family includes the PT-E100, PT-E300, PT-E500, and PT-E550W.
Brother emphasizes the Edge labelers' ease-of-use. "Intuitive menus and built-in label application keys make it easier for just about anyone to mark wires, cables, patch panels, faceplates and more like a pro," the company says, "quickly and easily, with labels that last and leave a lasting professional impression."
Brother Mobile Solutions
www.edgelabeling.com
Safety labels to minimize injuries and liability

HellermannTyton, discussing the importance of safety labeling in the workplace, reminds us, "According to the U.S. Bureau of Labor Statistics, over 2.8 billion non-fatal workplace injuries were reported in 2012-in addition to the 4,628 fatal injuries. Proper safety labeling minimizes injuries and liability. From label design software and thermal transfer labels and printers, to comprehensive labeling posters and guides, HellermannTyton safety labeling solutions help demystify industrial codes for employers and safety personnel."
The labels are useful and practical for manufacturers of electrical or industrial-automation equipment, as well as installers and operators of such equipment, HellermannTyton noted. The company said it "helps sort through hundreds of pages of codes and standards set forth by NEC, NFPA, ANSI and OSHA, to identify the most relevant labeling codes."
HellermannTyton
www.hellermann.tyton.com/safetylabels
Preprinted, 'fiber-only' labels
William Frick and Company explains users can easily identify fiber-optic cabling racks and ducts in environments like central offices, data centers, and network centers using the company's preprinted "Fiber Optics Only" labels. They are "a great alternative to labels printed on-site," William Frick and Company said. "The long-lasting aggressive adhesive ensures labels remain securely affixed to mounted surfaces. Polyester laminate protects against scuffs and scratches." These labels save time and money compared to the routine of constantly replacing labels that will not hold up to repeated handling, the company added.
The "Fiber Optics Only" labels are available in horizontal and vertical configurations and are sold in packs of 100.
William Frick and Company
shop.fricknet.com
Portable, flexible, affordable labeling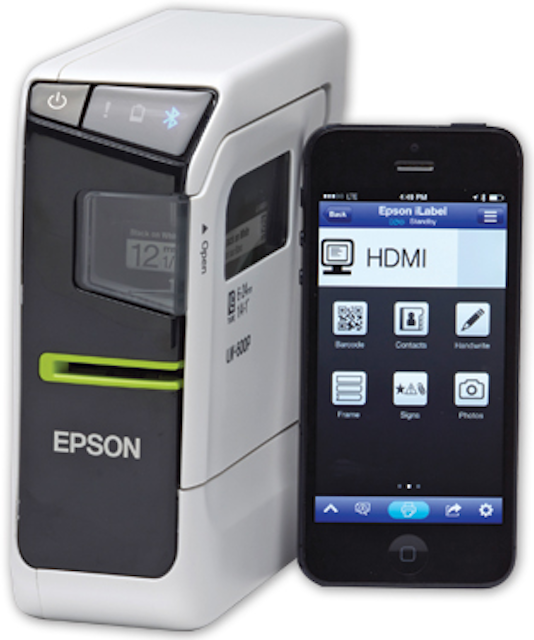 Epson recently introduced the LabelWorks LW-600P and with it, introduced "a whole new paradigm for how datacom companies, IT managers and AV professionals address the labeling of network hardware and/or AV equipment," the company says. "Unmatched in portability, flexibility and affordability, the LW-600P is a complete label-printing solution that fits easily into a toolbox or briefcase. Using Bluetooth connectivity and AA batteries, the LW-600P enables wireless printing of durable adhesive labels from mobile apps (iOS or Android)," the company notes-adding that an AC adapter also is included.
The LabelWorks LW-600P enables users to free themselves from limitations associated with existing handheld label-creation solutions, Epson added, citing these specific conveniences: "Print custom labels in the field or label batches from the office. Execute labeling jobs using pre-set templates and enjoy the convenience of creating labels from your mobile device. The printer's automatic cutter also saves time while the label preview feature reduces waste and saves time and money."
Epson,
www.epson.com/LW600P
Tough exterior, smart printing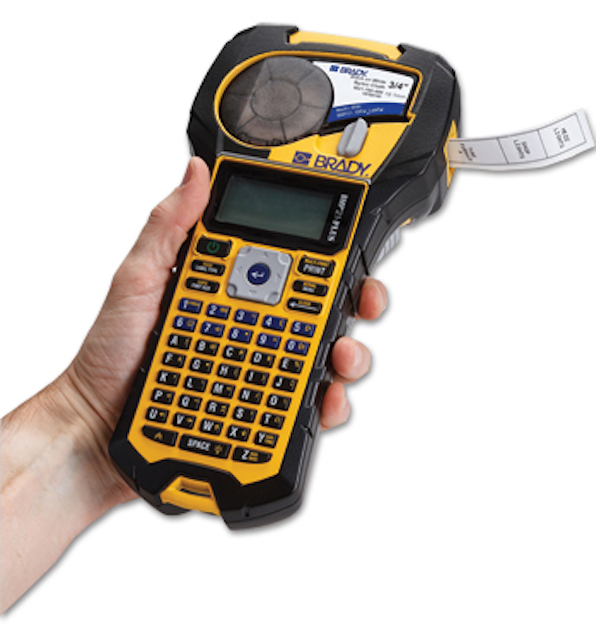 Brady's BMP21-PLUS handheld label printer "combines a tough exterior with smart printing capabilities," the company said The labeler's shape has been re-engineered to improve durability and ergonomic performance; improvements include a center balance and ridges that assist gripping and handling. The yellow and black colors, as well as rubber bumpers, give the printer visibility on the jobsite, the company noted. The BMP21-PLUS has passed shock and vibration testing per MIL-STD-810G Method 5.16 S4.6.5, Brady added.
"The printer features a new lithium-ion long-life battery, a large backlit LCD display and a graphics library with 104 symbols," the company explained. "It also has automatic label formatting for nine common applications, including wire markers and patch panels, allowing users to simply drop in a label cartridge and begin printing-no setup required." It also features expanded material color and size options beyond those available on the original BMP21, "including 70 highly engineered material parts on 0.25- to 0.75-inch-wide continuous label formats," Brady said.
Brady,
www.bradyid.com
Rotating labels allow increased visibility
Turn-Tell labels from Panduit "offer a unique identification solution to ensure safety and organization of wiring and cabling, and optimal efficiency of enterprise and data center networks," the company said. "Turn-Tell labels' unique rotating feature, after installation, allows visibility from any angle to meet the application needs of data centers, industrial, and other structured cabling infrastructure." The company also said that laser/inkjet Turn-Tell labels now are available in five color options "to ensure safe and organized identification of wires and cables in any application.
"Moves, adds, and changes are costly," the company continued. "Eliminate wasted time on a job by properly identifying network or electrical cables with wire labels and cable tags, while providing a safer work environment and meeting regulatory compliances. From the central plant to the work area, the Panduit Identification Solution, featuring handheld and desktop printers, labeling software, and consumables, can save time and money with a complete identification offering.
Panduit,
www.panduit.com