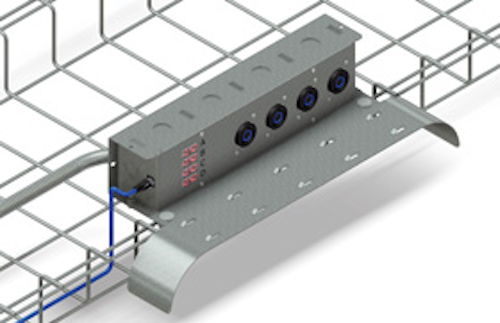 From the April, 2014 Issue of Cabling Installation & Maintenance Magazine
Now visible in data centers that run their cabling overhead, cable trays combine evolution and revolution to serve their intended purposes.
By Patrick McLaughlin
As data centers continue to grapple with the most-efficient way to do everything, cabling-system design is coming under increasing scrutiny. In many cases, whether by choice or necessity, data centers include overhead rather than underfloor cabling runs. In these cases, where cable is visible rather than hidden, the aesthetics of cable-conveyance systems becomes a consideration--but in fairness, function trumps form almost universally. So an overhead cable-conveyance system must perform and, like other components of a data center network, should do so efficiently.
Recent introductions by several cable-tray providers show that efficiency can take several forms. For example, Snake Tray (www.snaketray.com) has introduced a number of new products and modifications to existing systems aimed at meeting practical needs within data centers. In late 2013 the company announced that its Mega Snake conveyance system is available in a hand-bendable construction to bend around obstacles in buildings. At the time of the introduction, the company explained, "Mega Snake is the preconfigured high-capacity overhead cable tray that comes in straights, turns and T's to make installation quick and cost-effective. Now with the new bendable Mega Snake component, even the most cumbersome obstacles can be easily managed."
Also late in 2013, Snake Tray introduced a new component for Mega Snake--a cable turnout module specifically designed to safely manage fiber-optic cables. "The module maintains the proper bend radius as the cable exits the cable tray, and protects the cable as it drops down," Snake Tray said. Single and double modules are available.
Then in January of this year, Snake Tray introduced a module that can integrate with any of its cable trays, or be mounted on cabinets and racks. The new current-monitoring power-reception module allows data center managers to observe the current of four independent power receptacles, either numerically displayed on the device or offsite via the Web. "Data center managers can now easily set alarm criteria for circuit overloads," Snake Tray pointed out.
Some other technological developments having to do with cable trays involve the installation and management of the tray systems. WBTechnologies (www.wbtray.com) recently introduced its WBT No Splice, a piece of hardware that doubles as both a support and a tray splice point. When announcing the product, WBT commented, "Since basket tray was introduced, installers have become accustomed to splicing tray sections end to end, over and over again … [This] redesigned support hardware now pulls double duty, so it works as both support and tray-splice point. The time savings on installation nears 94 percent, while also eliminating the material cost of the splice hardware."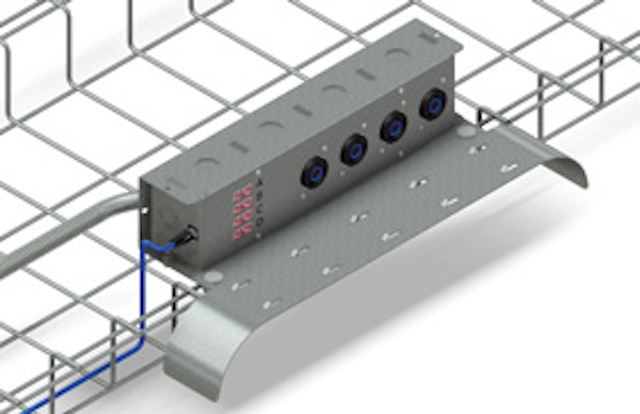 Snake Tray's current-monitoring power-reception module can mount to any Snake Tray system, as shown here, or to cabinets and racks.
Legrand (www.legrand.us) probably would describe its recent cable-tray introduction as more "revolution" than "evolution." When the company announced Itray in mid-2013, director of marketing and product development Bob Crain pointed out, "Once we decided to start from scratch on the design, many new features became possible."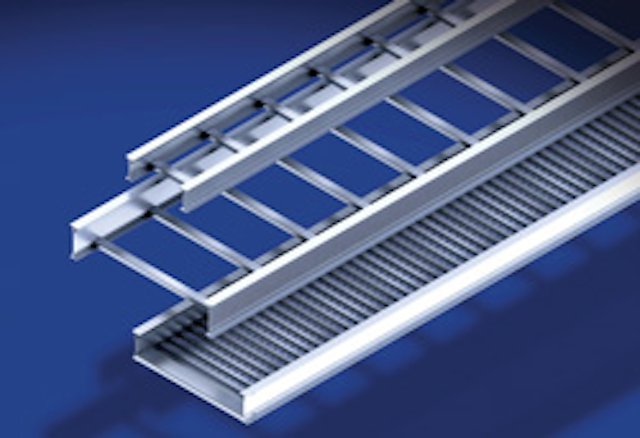 Legrand "started from scratch" when designing its new Itray system, enabling the development of several new features.
The company describes Itray as an all-aluminum ladder tray that "is lighter and stronger than its conventional equivalents, and minimizes total tray width for tight spaces." Legrand says Itray offers enhanced functionality and faster installation than others, as well. The optimized side-rail design allows midspan splicing while maintaining full NEMA load class, the company explained.
"The sidewall is engineered with structural offsets and a matching splice that makes midspan splices possible, reducing the number of supports and the amount of attachment hardware needed. The aluminum I-beam design minimizes total tray width and creates a smooth transition between straight sections and fittings." Thanks to the design, splices snap in place and stay in place without bolts. Legrand added that these midspan capabilities reduce support needs by 30 percent.
The Itray's bottoms include an I-beam rung design that the company says "reduces twist and deflection under load with heavier gauges for wider widths." The tray is available in 4- and 7-inch depths, and widths from 6 to 36 inches.
Patrick McLaughlin is our chief editor.
More CIM Articles
Archived CIM Issues