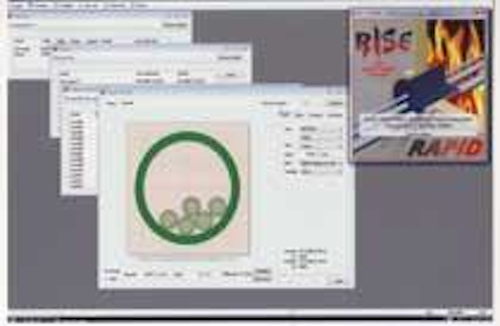 Beele Engineering's RISE System (www.rise-system.com) cable sealing calculation software now lets you work out the required amounts of materials needed for the penetration systems, including an option for creating a database for all penetrations and for compiling a materials list for specific penetrations or the project as a whole.
Enhancements to the RISE System cable penetration calculation software include the ability to determine the amount of materials needed for a specific installation.
Click here to enlarge image
The calculation software is designed to provide support for determining the material require- ments for sealed cable or pipe penetrations that are required to be fire- resistant as well as gas- and smoke-tight. The updated Windows-based software, which can be downloaded from the RISE website, includes a range of options for implementing future adjustments or alterations, and the ability to export and forward selected project or penetration files.
The RISE system is used for sealing cable and pipe penetrations, while RISE/NOFIRNO has been developed for ducting metal and plastic pipes, and RISWAT is for cable and pipe penetrations that must be sealed water- and gas-tight.
---

Short runs. . .
MINNEAPOLIS, MN—Recent independent test results compiled by Data Center Air Management Solutions, a division of Electronic Environments Corp. (www.eecnet.com) indicates PDU Cables' (www.pducables.com) Air Guard cable grommets with nylon brushes significantly reduce bypass airflow and reduce an operating data center's room temperature by 8 º C, compared to other comparable solutions. IQS Inc. (www.iqscorp.com), an independent certified testing lab, conducted the tests on behalf of Data Center Air Management. Under varied conditions, four typical conditions found in most data centers were simulated to measure the actual bypass airflow: Open hole, closed hole with brushed grommet, grommet with half-inch cable power, and grommet with 3/4-inch cable. The test also included measurement of actual temperatures within an operating data center, both before and after, using cable grommets.
RICHMOND, VA—Power Distribution Inc. (PDI; www.pdicorp.com), a manufacturer of mission-critical distribution equipment for data centers, has added the branch circuit monitoring system (BCMS) solution as a field add-on for its equipment, and for any other manufacturer's power distribution units and remote power panels. The power distribution retrofit fits on the top of any manufacturer's unit and integrates the BCMS product and split-core or solid-core CT strips for up to 168 breakers. The power panel retrofit fits on the top of any manufacturer's remote power panel and provides the same solution as the power distribution unit retrofit. Installation can be performed by PDI technicians, a local contractor, or the owner's representatives.
E. SYRACUSE, NY—PPC (www.ppc-online.com), a global manufacturer of connector technology for cable TV, satellite, wireless, and telecommunications, ranked third for Industry Impact among the top 35 most innovative companies in the U.S., according to the Industrial Components & Fixtures Patent Scoreboard recently published by the Wall Street Journal. The company's innovations include the Universal Compression Connector, widely used by all major cable TV and satellite companies worldwide; the wireless compression connector; and a proprietary locking HDMI connector that prevents cable fallout in home HDTV.
LISLE, IL—Molex Inc. (www.molex.com), through its Premise Networks business unit, has become a substantial shareholder in HCS, a Turkish manufacturer of high-performance cables for the structured cabling market. "We are confident that adding high-performance cables to our solutions portfolio will significantly improve our competitive position in the structured cabling marketplace," says Dennis Curtis, president of Molex Premise Networks.