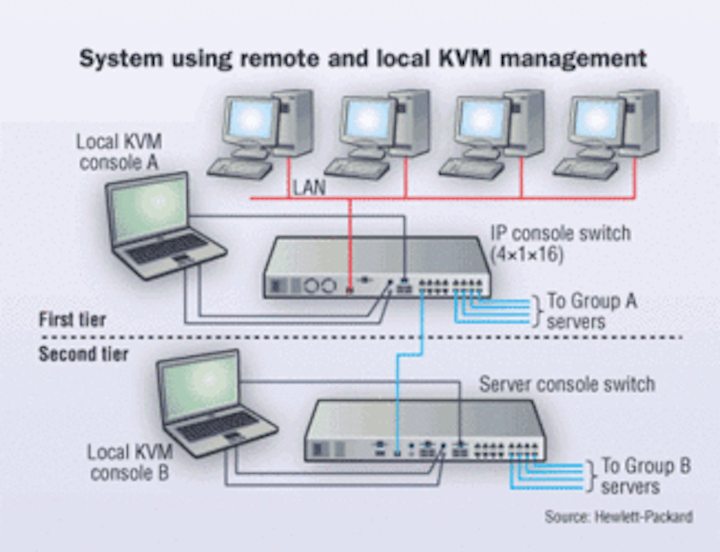 In the data center, IT tries to do more remote connectivity with less, and be everywhere at once. With advances in KVM switch technology, greater security is within reach.
KVM switches have evolved from direct server control to an IP-based console connection. In a data center environment, this innovation has offered two key advantages—remote connectivity, and the ability to manage KVM functions on multiple servers from a single workstation.
Console switches provide connections for local KVM console management. The IP console switch also provides an Ethernet port allowing up to four workstations to operate as remote KVM consoles over a LAN or the Internet. The example shows a two-tiered system with local and remote KVM consoles attached to an IP console switch at the first tier and a local KVM console attached to a server console switch on the second tier. The Local KVM Console A and four remote KVM Consoles have access to all servers (Groups A and B) in the system, while the Local KVM Console B has access only to the servers in Group B. A tiered server console switch has only local port B available for local KVM use.
Click here to enlarge image
And now the latest generation of IP-connected KVM consoles are also able to share virtual media, such as CD-ROMs, DVD-ROMs, USB flash drives, or floppies. With this added functionality, administrators can not only remotely access KVM functions for day-to-day management, but can also map a drive on their workstation to target servers to perform application and OS upgrades, firmware upgrades, or even installations. Image files of optical and mass storage drives (in the format of .iso and .img) can also be used from the remote client through IP console software.
Anywhere, anytime management
This kind of development in the KVM world is already an important step in the remote management of data centers, and provides a building block for overall infrastructure management. Servers can now be managed from anywhere, anytime—even by multiple users simultaneously. A remote session can also be shared by multiple users for training or collaborative management efforts.
Security is significantly improved both because operators don't need to be physically within the data center and because the IP switch encrypts keyboard, mouse, video, and virtual media for all data transfers. In addition, LDAP functionality within the KVM allows system administrators the use of directory services for managing remote KVM console switch users with the same efficiency of managing network users and resources. Security is further improved since existing user account information is leveraged.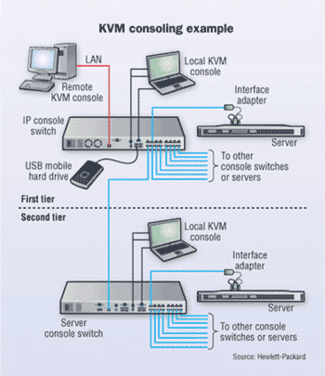 This graphic illustrates an example of a KVM console requirement where virtual media support is needed for all managed servers. A network PC running IP console software acting as the remote KVM console can access servers in both tiers. It can also map a USB device or an ISO image on its hard drive to any server in the system. The local KVM console attached to the IP console switch can also manage any server in the system and can map the USB mobile hard drive attached to the IP console switch to any server in either tier. The local KVM console attached to the server console switch can manage any server in the second tier.
Click here to enlarge image
Another key step towards remote management of data centers is the introduction of Serial Over LAN (SOL) technology. Traditionally, to manage different infrastructure components in the data center, it has been necessary to connect a laptop via a serial cable to the device, which needs to be managed. This has had the double disadvantage of requiring the operator to be inside the data center and the cable to be connected to each device for each separate operation.
To address the issue of a separate connection for each operation, serial console servers have been developed to consolidate access to serial devices and manage with a single interface. The serial console server has multiple ports, usually 16 or 48, each one connecting to the serial management port on the device to be managed within the data center. This allows the operator to walk up to a single video console within the data center and from there manage a number of serial components. While it greatly improves efficiency, it still requires an operator to be physically inside the data center.
Remote access via IP
As a further development, some serial console servers are now also IP-based and remotely accessible. In this scenario, we have serial over IP, or more commonly known in the industry as Serial Over LAN (SOL). The operator no longer needs to be inside the data center but can remotely connect to the serial console server and can access in near-real-time any of the components that are connected to it.
These serial console servers are operating system- and hardware-independent so that multiple server and device types, as well as different operating systems (such as Cisco, Linux, Unix, and Microsoft Windows 2003 or newer), can be managed from a single high-performance, remote console. The Emergency Management Services (EMS) protocol included with Windows Server 2003 and 2008 helps to further automate data center management. EMS allows the administrator to interact with a system that might not be available through the usual graphical interface.
Server management processors and on-board administrators (for blade servers) have serial management interfaces as well. The introduction of serial console servers brings increased efficiency, simplified cable management, and improved performance to a data center environment.
View, control, group
The last piece that ties everything together and enables the leap from simple remote KVM or serial management to true data center and infrastructure management is the IP console software. It lets you view, control, and group KVM or serial console switches, and remotely access and manage virtually anything within the data center—servers, network appliances, blades, chassis, firewalls, and so forth.
In summary, we have outlined how the evolution of a technology such as KVM switches, which actually predates the development of rack-mount servers, is providing a key contribution to the overall management of the data center infrastructure.
As a result of these combined developments, tasks that needed to be managed individually and required the presence of several operators within the data center can now be handled remotely. This translates into improved efficiency at the department level and in increased security for the data center environment.
ANKIT GUPTA is worldwide product manager for cooling, racks infrastructure, and KVM solutions at Hewlett-Packard (www.hp.com).