Editor's Picks
The DBRF Flexible Low Loss 50 Ohm Coaxial Cables from General Cable are a recent addition to the company's Carol Brand ...

Dec 1st, 2012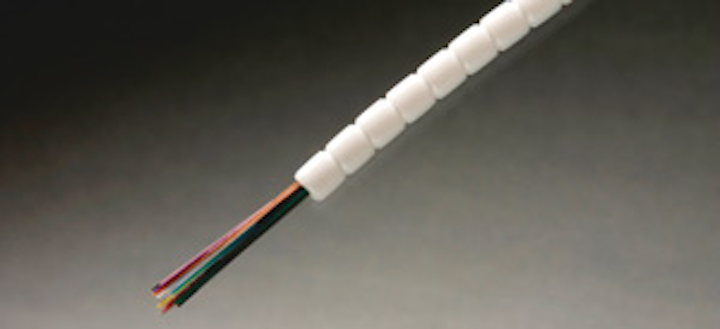 December, 2012 Issue of Cabling Installation & Maintenance Magazine
Compiled by Matt Vincent
---
Flexible 50-ohm coaxial cables for DAS
The DBRF Flexible Low Loss 50 Ohm Coaxial Cables from General Cable are a recent addition to the company's Carol Brand Electronic wire and cable product line. The DBRF cables are "designed with DAS in mind," General Cable says, adding that they can be used in wireless applications including the following.
2-way land mobile radios
Telemetry
802.11 wireless LANs
Wireless local loop
Wireless Internet (WISP)
Wireless cable (MMDS)
Wireless broadband data
"Our Carol DBRF coax cables have RF performance that is comparable to traditional corrugated copper cables," said Damien Sebald, product manager for Carol Electronic Products with General Cable. "But unlike corrugated copper cables, they are highly flexible, non-kinking and easier to terminate. When compared to traditional braided RG coax cables, our DBRF cables offer low attenuation and better RF shielding."
The cables use standard connectors and are used in internal component and equipment wiring, inter- and intra-cabinet jumpers, base stations and antenna jumpers, tower and pole feeder runs, in-building runs, and any application requiring a 50-ohm low-loss RF cable, the company says.
When announcing the cables' availability, General Cable explained, "The ability to communicate anywhere with wireless devices or cell phones, both indoors and out, continues to be a growing demand that requires distributed antenna systems [DAS]. DAS provide signal coverage anywhere outdoors or in buildings as part of their existing voice and data networks, while assisting with weak cellular phone service and improving WiFi connections to smart phones, laptop computers or tablets. They also assist with public safety communications infrastructures found in large business and office campus environments, as well as in commercial buildings, residential housing, public stadiums and arenas, transportation hubs, primary and secondary schools, universities and colleges, and government and municipalities."
---
FCI's QSFP+ active optical cabling gets Infiniband compliance nod
FCI announced that its recently developed QSFP+-based (quad small form-factor pluggable) active optical cabling meets Infiniband Compliance Testing requirements. The company's XLerate High Speed I/O active optical cable assembly is fully compliant to the Infiniband FDR (Fourteen Data Rate - 14 Gbit/sec per channel) specification, and is now on the Infiniband Trade Association (IBTA) Integrator's List.
"The independent verification that FCI's XLerate High Speed I/O cable assemblies meet Infiniband performance specifications validates the robustness of our cable terminations and manufacturing processes, established quality systems, and internal cable test procedures," comments Rob Poort, General Manager of the Optical Solutions Group at FCI.
The company notes that its XLerate-4X QSFP+ FDR cables are used in applications that require greater aggregate bandwidth of up to 56 Gbits/sec, exceeding the capability of QDR QSFP+ cables that can only deliver 40-Gbit/sec aggregate bandwidth with using 10-Gbit/sec signals per channel. The XLerate-4X QSFP+ FDR cables from FCI are available in both direct attach copper (DAC) as well as active optical variants.
The cables are designed to increase linear PCB port signal density to meet emerging industry bandwidth requirements of 56-Gbit/sec per-port capability as defined by the Infiniband QDR and FDR standard. The connector interface and EEPROM are fully compliant to the SFF-8436 specification and these QSFP+ cables deliver four times the port bandwidth that the SFP+ systems deliver.
The XLerate-4X QSFP+ Series consists of an SMT 38-position edge card connector (10G compliant), a PCB-mounted EMI metal cage, a diecast heat sink with mounting clip and copper-based passive and active optical cable assemblies. The cable assemblies are intended for high performance computing applications where the Infiniband reliability and low latency features are key considerations.
FCI says the XLerate-4X QSFP+ Series is particularly well suited for high transactional systems that are typically deployed in data center, networking and high performance computing applications.
---
2.5-Gbit/sec free-space optical wireless systems
fSONA Systems has introduced two new free-space optical (FSO) wireless systems capable of transmitting up to 2.5 Gbits/sec (2xGigabit Ethernet or OC-48/STM-16) of full-duplex bandwidth. The company claims that the SONAbeam 2500-E and SONAbeam 2500-Z are the highest-capacity single-link products on the market today. The new systems are aimed at enterprises that need high-capacity connections between offices, but are also options for service providers who want to offer high-capacity services to enterprise customers.
"Our customers have told us they require more bandwidth for certain applications, but they prefer a single-link solution – other 2.5 Gbits/sec wireless solutions pair two systems together at added expense," said fSONA's CEO, Andrew Grieve. "The SONAbeam 2500-E and 2500-Z both offer the highest-capacity wireless connection in an economical, single-link solution, making them ideal for connecting satellite or campus office buildings or for service providers who need to bridge the last mile."
The SONAbeam 2500-E typically operates at distances up to 1 km, and the SONAbeam 2500-Z up to 350 m. Both systems use a pair of Gigabit Ethernet interface ports to provide 2.5 Gbits/sec, full-duplex links via an indoor multiplexer. The company points out that FSO systems such as SONAbeam eliminate the costs of digging up streets and sidewalks required to install fiber while also avoiding recurring costs. Unlike other wireless options, the SONAbeam is immune to electro-magnetic (EM) and radio-frequency (RF) interference; no licensing is required.
fSONA's products operate at a wavelength of 1550 nm, which provides a broad spectrum of safety and performance advantages, the company adds. As a result, the SONAbeam's high-powered laser transmitters are able to penetrate heavy rain, snow, and fog more effectively and consistently than other types of FSO technology, fSONA asserts.
---
Plenum fiber-optic cable has non-metallic armor
The Miniflex plenum fiber-optic cable from m2fx has a flexible, hard-plastic jacket that provides protection for the optical fibers without the use of a metal armor, its manufacturer says.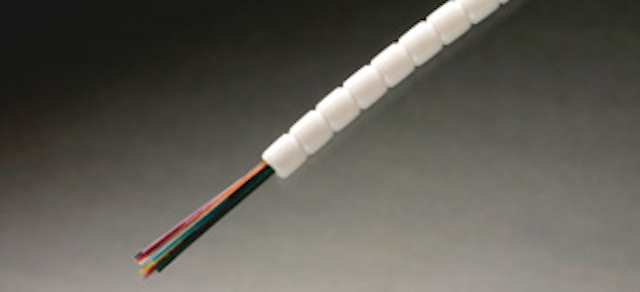 The cable is available in 4mm PVDF, m2fx says, with up to 24 singlemode or multimode fibers, optional aramid strength members and can be delivered terminated or unterminated. A 6,500-foot reel weighs 36 pounds, the company adds, saying the cable "can be used in any indoor environment even without the use of raceway ducting and is designed for standard and extreme situations which demand a stronger fiber cable in the plenum space."
m2fx's Americas president Larry Malone said, "Designers of commercial buildings and our clients that install fiber in hospitals and government buildings have been asking us to produce an indoor plenum product that provided them a fiber cable solution that was tough enough to be stapled, lightweight, maneuverable indoors, and ultra-flexible for easy routing with anti-kink properties to protect the fiber at the point of install. With Miniflex plenum cable, we know we have a game-changing cable that's full of innovation. Something that sets the standard in plenum fiber cable."
---
Security company claims world's first cable-sniffing dog
A security company in the United Kingdom is claiming to have trained the world's first cable-sniffing dog, to aid law enforcement in the discovery of stolen copper cabling. According to Selectamark Security Systems, a two-year-old black Labrador named Jazz has been trained to detect forensic markings of the company's proprietary SelectaDNA coding, which the company says "is being used in many police-backed crime reduction initiatives across the U.K. and by companies such as Network Rail to protect copper cable from metal theft.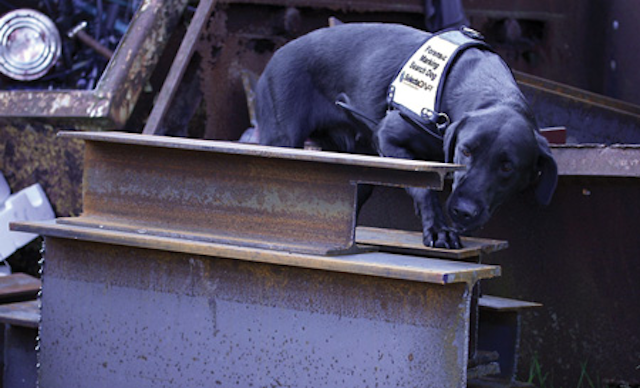 "Instead of locating drugs or human remains, Jazz has been trained by former police officer and home-office police-dog instructor Mick Swindells to locate SelectaDNA forensic markings on a range of metals including copper, lead and aluminum," the company added.
Swindells started the company called Search Dogs UK after he retired as a police officer, and since doing so has trained dogs for such tasks as drug detection, tracking and trailing, as well as disaster recovery. He said he trained Jazz in two months for her current metal-sniffing duties. "She has been trained to sniff out SelectaDNA, which is a unique covert security marker being used by more than three quarters of U.K. police forces to track down burglars, robbers and metal thieves and bring them to justice," Swindells said. "Jazz is able to touch the marked metal with her nose identifying the target scent of SelectaDNA, allowing officers to move in at this point and make further investigations."
Selectamark's James Brown explained the efficiency of such a trained dog: "Previously, officers had to search manually for marked metal, which could prove time consuming and at times not successful, as often the process was like finding a needle in a haystack."
---
CommScope launches EPON, GPON products
CommScope has expanded its optical access network products to offer a scalable, end-to-end Passive Optical Network (PON) platform with flexibility to accommodate both EPON (Ethernet Passive Optical Network) and GPON (Gigabit Passive Optical Network) technologies for delivering IP and Ethernet services and business communications. The complete product line includes optical line terminals (OLTs), optical network units (ONUs), system-management software and installation components. With both 1G and 10G capabilities, the system provides operators an easy migration path for future capacity.
CommScope says the new PON family of active and passive optical devices provides rural communities, electric cooperatives, multiple system operators, municipalities and governments the ability to deliver advanced voice, video, and data services to their subscribers using fiber-optic cables. According to the company, the OLTs provide high throughput and capacity in an easily deployed and maintained chassis. ONUs include single- and multi-user and small form factor pluggable units, which feature an assortment of Ethernet, Power over Ethernet (PoE), and voice ports, along with WiFi capabilities for the connectivity a subscriber requires.
The entire platform is designed to integrate seamlessly into an operator's management architecture with software that performs system backups and upgrades, as well as real-time fault monitoring. Small and large OLTs and multiple ONUs provide operators with the instruments needed to optimize their network architecture while minimizing first-install costs and reducing operating costs and capital expenditures, claims the company.
The platform has been designed to be deployed in various situations including residential FTTX, access networks for commercial accounts, multi-dwelling units, commercial in-building, security and building automation and wireless access points. Via the new PON solution and combined with proprietary optical tap technology, FTTX deployments are affordable even in low-density applications, contends CommScope.
"Technology is continuing to progress at a rapid pace and operators must keep up with their customers' increasing demand for bandwidth," comments Ric Johnsen, senior vice president, broadband, CommScope. "Our new PON solution provides an alternative technology for operators to deploy competitive Ethernet services to small- and medium-sized business and improved bandwidth to rural areas."
---
Manufacturer recalls Cat 5e riser cable for non-compliance
Pan-Asia Cable Limited issued a notice on September 7 letting purchasers of its cables know that certain riser cables "may be absent key fire retardant elements," and as a result not exhibit the fire-resistance performance levels that would merit a riser rating.
"Customers are asked to stop using it," the company said. "Customers may either return to place of purchase or contact Pan-Asia Cable Limited for a free replacement." Pan-Asia Cable Limited is located at Shenghui Southern Industrial Area, Nantou Town, Zhongshan City, Guangdon Province, China.
The cable manufacturer further stated, "Although these products are marked with the UL marks, they do not comply with Underwriters Laboratories Inc. [UL] safety requirements and are not authorized to bear the UL marks."
The cables for which the notification was sent are red in color and are marked as follows:
EAGLE ASPEN 80 CAT5E TESTED UP TO 350MHZ 4PR 24AWG TYPE CMR 75 (UL) C(UL) E 245025 VERIFIED TO TIA/569.B.20 7/49
The notification indicates the cables were sold in the United States.
---
CableOrganizer.com gains ISO 9001 certification
CableOrganizer.com recently announced it has achieved ISO 9001:2008 certification through Quality Management Systems registrar BSI, Inc. The company said in a statement, "This achievement, which took merely nine months to accomplish, exemplifies the commitment of CableOrganizer.com staffers and top management alike, to quality and customers by virtue of its compliance with stringent ISO certification requirements for the following scope: Sales, distribution and customer service of cable and wire management, electrical, network and data products to consumers, businesses and the government."
The company's co-founder and chief operating officer, Paul Holstein, commented, "Seeking and rapidly earning ISO 9001:2008 certification is indicative of our utmost commitment to quality, which is always top-of-mind as we pursue our varied business objectives and interface with customers and vendors. This achievement demonstrates our compliance with a rigorous customer service standard, and intention to maintain and even improve upon that high level of service as verified by annual registrar audits required to maintain our certification. This is one key way we intend to sustain our leading marketplace edge."
On its website, CableOrganizer lists and explains several benefits of ISO certification, as described by ISO consultancy Core Business Solutions Inc. The benefits include the following.
Improved customer satisfaction
International recognition of the certification
Defined processes
Reduced costs
More business and business in new markets
More consistent quality
Involvement of all employees in making improvements
Greater management visibility
Fewer disruptions
External audits
---
Coaxial-cable compression tools
The Linear X1 and Linear X3 compression hand tools for coaxial cables are Ideal Industries' value-line tools for contractors installing CATV, CCTV and other coaxial-based audio/video systems. According to Ideal Datacomm tools and supplies business-unit manager Jeff Meader, the Linear X models possess several characteristics of the company's OmniSeal Pro series of compression tools, but in a smaller and simpler design. Meader describes Linear X1 and Linear X3 as "perfect for installers that are migrating from traditional crimping tools or those who only occasionally work with coaxial cable terminations."
Ideal says the tools' characteristics include a zinc-coated, die-cast body, a double-dipped textured-cushion-grip handle, and a short spread distance in the open position that provides for a comfortable compression cycle for any user. One-handed operation is possible with compatible connectors, and a hinged hasp keeps the tool in a compact closed position when it is not being used.
Linear X1 is exclusively for F connectors. The factory-calibrated tool is set to compress 21mm F compression connectors, including Ideal's own line of connectivity. The company says this tool provides users with a consistent stoke length and compression cycle, without worry that it could be set incorrectly.
Linear X3 has an adjustable post, which can be raised or lowered to accommodate different-sized F, BNC and RCA compression connectors. It requires no separate or loose adapters for BNC or RCA connections. Ideal says it's a good tool for CCTV, A/V and CATV/SATV installers who work with multiple types of coaxial connectors and want an all-in-one product. It is compatible with Ideal's F, BNC and RCA compression connectors.
---
AFCOM names new president
Data center management association AFCOM has announced Tom Roberts, a 30-year veteran of the data center industry, as its new president. AFCOM said in a statement that Roberts' domain expertise combined with his long history with the association makes him uniquely qualified to lead.
Roberts most recently served as senior technical architect for data centers at Trinity Health, a $9 billion health care system where he was responsible for 25 data centers across nine states. His experience as a data center professional spans all facets of the data center including IT and facilities management, computer operations and data center management. The depth and breadth of his experience led him to be named AFCOM's Data Center Manager of the Year in 2011.
Roberts was one of the founders of AFCOM's Michigan chapter and served as its chapter president from 2003 to 2012. He has attended more than 13 Data Center World conferences and most recently delivered the keynote at AFCOM's Data Center Symposium in Australia. He has served on the Data Center Institute Board, AFCOM's research think tank, since 2004.
In all, the association states that Roberts "has lived the life of an AFCOM member, chapter leader and industry visionary focused on what information and tools are needed today to prepare for the operational and technological changes looming ahead for data center professionals."
"After 30 years growing as a data center professional, I could not have found a greater next step in my career nor such a fulfilling opportunity to give back to an industry and a profession I have passionately practiced for so long, " commented Roberts. "The data center industry is evolving rapidly and creating greater pressures on the ongoing knowledge demands of data center and facilities managers. My vision is to ensure that AFCOM delivers data center management professionals the relevant tools and knowledge to share, connect and learn in preparation for opportunities and challenges in the future."
After 20 years working key roles at AFCOM with the most recent 10 as AFCOM's president, Jill Yaoz is stepping down to pursue new ambitions including the start of a family. "I know Tom well and believe he is the perfect person to lead this association," said Ms. Yaoz. "He brings an incomparable wealth of industry knowledge and a love of AFCOM that is sure to help him succeed at this new venture in his life."
Roberts' responsibilities as AFCOM president will include the growth and continual improvement of AFCOM's chapter program and member services. In addition, he will serve as chair of Data Center World events with direct responsibility for developing world-class educational programs. Additionally, he will lead the Data Center Institute with a focus on thought leading research and best practices.
"Jill has been an exceptional leader for AFCOM and its members, keeping the association current and relevant in the face of enormous changes in technology and economic volatility," concludes Roberts. "I look forward to leveraging what I have learned to take AFCOM to the next level in serving the needs of data center professionals around the world."
---
Aquantia buys PLX
10GBase-T integrated-circuit provider Aquantia has signed an agreement to acquire the 10GBase-T assets of PLX Technology, including products and patent portfolios. PLX counts Cisco, Intel and Arista Networks among its 10GBase-T customers. "As a result of this acquisition, Aquantia's combined list of customers is larger than all its competitors combined," Aquantia said when announcing the deal.
The company also explained that PLX's 10GBase-T assets were built from its acquisition of Teranetics in October 2010. "A significant number of PLX's engineers will join Aquantia, conjointly with the closing of the transaction," the Aquantia statement said.
PLX's president and chief executive officer Ralph Schmitt said, "Aquantia is the best home for this business. They are the leader in this space and will seamlessly support our customer base while offering a compelling product roadmap for the future."
Aquantia president and CEO Faraj Aalaei said the 10GBase-T market "is witnessing a tremendous uptick in its adoption in large-scale data centers following the launch of the Romley server platform in March. A broad base of server OEMs have begun shipping products with LAN-on-motherboard [LOM] and other form factors, while most switch platforms are shipping very high density 10GBase-T interfaces."
---
Data center users find value in wireless monitoring
A recent survey of data center users, conducted by Emerson Network Power, underscored the importance these users place on infrastructure monitoring and management capabilities. And part of the survey uncovered specifics about the benefits these users see in wireless monitoring technologies.
The twice-a-year survey polls members of the Data Center Users' Group (DCUG), an association of IT and facility managers. The most recent survey captured information from more than 120 respondents in North America and asked about issues including monitoring and management, power density and management, precision cooling and energy efficiency.
According to the survey, 56 percent of the respondents listed "adequate monitoring and data center management capabilities" among their three biggest concerns. According to Emerson Network Power, that makes it the top concern among this year's survey respondents, and that 56-percent statistic is the highest percentage for the monitoring/management topic in the survey's seven-year history. Clearly, the importance of monitoring/management capabilities has spiked among this group of users. "In the five most recent DCUG surveys, no other concern topped that 56-percent mark," Emerson Network Power noted. "In the spring 2012 survey, 52 percent of respondents listed 'availability' among their top three concerns, ranking second in the survey, and 45 percent listed 'energy efficiency.'"
Vice president for Emerson Network Power's Liebert products in North America, Bob Miller, commented, "Clearly, visibility into the network is of critical concern to today's data center professionals, and with good reason. Today's data center is an incredibly complex, dynamic environment and increasingly critical to the success of most businesses. Those businesses are consolidating and virtualizing servers and putting a premium on flexibility and scalability for their IT systems, and that requires a level of visibility into the data center infrastructure that only recently became possible."
One additional result from the survey was that 31 percent of respondents already have implemented wireless monitoring technologies in their data centers, and an additional 21 percent are considering doing so. Respondents were asked to rate four attributes of wireless-monitoring technology on a 1-10 scale, with 1 being not at all valuable and 10 being extremely valuable. Those attributes, and their 1-10 rankings, are as follows.
Flexibility to make changes quickly - 8.04
Reduced cabling, which leads to reduced clutter - 7.97
Quick implementation - 7.83
Reduced cost - 7.56
Other data points of note from the survey include 56 percent of respondents believe their existing data center capacity will suffice for three years or less, and 76 percent who had consolidated and/or virtualized servers experienced some type of problem in the aftermath. Those problems included asset management, hot spots and power capacity.
"Eighty-nine percent of those surveyed said they had implemented some server consolidation or virtualization in the last 18 months, and 87 percent of those respondents indicated they expected to start another project within the year," Emerson Network Power said, confirming that the problems experienced with consolidation and virtualization will not slow down these activities.
"The trend toward consolidation and virtualization is reflected in a sharp increase in average power density in the facilities of those surveyed," Emerson Network Power continued. "The average reported power density was 7.89 kW per rack, compared to just 6.0 kW per rack a year ago. DCUG members do not see that trend slowing, as respondents predicted densities of 12.17 kW per rack in just two years. Already, when asked what the maximum power density per rack was in their data centers, respondents indicated an average of 12.67 kW."
DCUG is a group of approximately 1,000 members, founded in 2003. It meets twice per year to collaboratively discuss best practices, share experiences and address the most relevant issues affecting the reliability, availability and cost of operation for critical installations.
---
Panel fits 48 Cat 6A ports in 1RU
The newly introduced Procyon copper panel from OCC is designed to be interchangeable with fiber panels, and for high-density copper connectivity. Each copper module provides 48 Category 6A shielded ports in a single rack unit. The copper panel mates with 12 preterminated high-density copper cable assemblies, with each assembly providing cabling for four RJ45 ports. OCC says its rugged, shielded assembly allows for quick installation of high-speed copper interconnects.
The panel was designed with shielded and unshielded cabling in mind, OCC explains, and is compatible with UTP, F/UTP and S/FTP cables in Category 5e, Category 6, Category 6A and Category 7A configurations. The panel slides forward for easy access to the patching field. It features integrated equipment/patch-cord and rear cable-management features.
---
Gig-speed media converter extends distance, acts as PoE injector
The OmniConverter GPoE/SE Gigabit Ethernet media converter with Power over Ethernet capability from Omnitron Systems converts 1000Base-X fiber to 10/100/1000 UTP and functions as power sourcing equipment (PSE) by injecting PoE through the RJ45 port, the company says.
Part of the OmniConverter family of midspan media converters, the GPoE/SE features one or two 802.3af-powered RJ45 ports.
According to Rammy Bahalul, vice president of marketing for Omnitron Systems, the converter "overcomes the 100-meter distance limitation of copper UTP cabling and extends distances up to 140 kilometers to PoE surveillance cameras, IP phones and wireless access points with fiber. The GPoE/SE costs up to 60 percent less than other converters, and delivers value with plug-and-play installation and hardened operating temperature range."
---
Cabling-service provider acquires telecom, DAS installation businesses
Genesis Group Holdings, which operates through subsidiaries including Digital Comm Inc., recently acquired two telecom-installation service-provider companies, including one that brings distributed antenna system (DAS) experience.
ADEX Corporation is an Atlanta-based telecommunications service provider offering turnkey services and project staffing. "ADEX assists telecommunications companies throughout the project life cycle of any network deployment," Genesis said when announcing the acquisition. The deal was for approximately $15 million; ADEX reported approximately $38 million in revenue and $2.2 million in earnings for the 12-month period that ended July 31, 2012.
Genesis also acquired Chicago-based structured cabling and DAS installer TNS Inc. for approximately $4.8 million. "Performing full-service structured cabling design and turnkey installations, TNS has generated close to $4 million in gross revenues over the 12-month period ended July 31 and approximately $300K in earnings," Genesis said.
Mark Munro, Genesis's chief executive officer, said, "By bringing these entities into our fold, we believe we have developed a comprehensive platform to enable us to more effectively vie for new business with our larger competitors and accelerate our growth organically and through additional strategic acquisitions." He also said that on a consolidated pro-forma basis, Genesis expects it will report approximately $50 million in revenues and $4.5 million in adjusted earnings for the 12-month period that ended July 31.
Genesis said it financed $13 million of the approximately $19-million value of these acquisitions with a loan from MidMarket Capital.
---
PricewaterhouseCoopers dangles possibility of U.S. manufacturing 'reshoring'
PricewaterhouseCoopers (PwC) recently published a report entitled "A Homecoming for U.S. Manufacturing?" in which the firm dangled seven factors that play into manufacturers' decisions whether or not to pull offshored production back into the United States. "While rising labor costs are part of the story, a range of factors could drive a sustained manufacturing renaissance in the U.S. beyond any cyclical recovery," PwC said when announcing the report's availability, "potentially improving investment, employment, production output and research-and-development."
Bob McCutcheon, who leads PwC's U.S. Industrial Products business, said, "The reviving industrial manufacturing sector is instrumental to U.S. economic recovery. Beyond the cyclical rebound, however, a host of structural changes is emerging that may lead to the U.S. becoming an important location for basing production and R&D facilities for several industries. In addition to trends in labor costs, other factors include the need to reduce transportation and energy costs, the emergence of the U.S. as a more-attractive exporter, and the relative attractiveness of the U.S. markets."
The report details the impact the following seven factors are likely to have on the potential reshoring of manufacturing.
Transportation and energy costs
Currency fluctuation
U.S. market demand
U.S. talent
Availability of capital
Tax and regulatory climate
U.S. labor costs
In its summary of the report, PwC points out that some product types are more likely to be reshored than others. Those that suffer the most from supply-chain disruptions are better candidates, PwC says, because such disruptions "totaled $2.2 billion in financial impact for U.S. industrial products companies in 2011."
Beyond the supply-chain impact, "relocating manufacturing production in the U.S. generally holds greater advantages for some industries over others," PwC says. It points out that "chemicals, primary metals and heavy-equipment manufacturing industries stand to benefit the most from maintaining or expanding facilities in the U.S. given opportunities and cost incentives to reshore domestically." On the other hand, "Wood, plastic and rubber products companies could also benefit from changes in domestic costs, but lower net imports in these industries may limit the full economic benefits of onshoring in the U.S."
PwC downplays the labor-cost rise in China as a minor rather than major factor in these decisions. "The cost premium [for U.S. labor over China labor], based upon the difference in absolute wages ... has continued to expand," PwC says, "making it possible that labor arbitrage involving China and other low-labor-cost emerging markets will persist."
---
Adapters add depth to two-post racks
The RDAB series Equipment Rail Depth Adapter from Hammond Manufacturing mounts to a two-post rack, making it possible for the rack to support equipment without it sagging or being damaged. The adapters are available in 15-, 20-, 26- and 31-inch depths and mount securely to the two-post rack, positioning equipment in the center of the rack, Hammond says. This setup helps to stabilize the rack while using less space than having equipment mounted behind, the company further explains.
The adapters occupy 2U of rack space and measure 3.5 inches in height by 1.57 inches in width, regardless of depth. Each comes with an installation guide, mounting hardware and rack-mounting brackets. They are designed for use with uninterruptible power supplies, servers, DVRs or PCs.
---
Online training for fiber-to-the-home planning, design, installation
The Light Brigade now provides online fiber-optic training, and is rolling out its web-based educational offerings with a set of training that supports the Fiber To The Home Council's Certified Fiber to the Home Professional (CFHP) program.
"Through a combination of proven instructional methods, student interaction, and a final practice exam, The Light Brigade's CFHP online training program will prepare the student for the CFHP certification exam on the FTTH Council's website," The Light Brigade said when announcing the training's availability.
Attributes of the online-training opportunity include an organized, interesting and interactive environment, The Light Brigade says, as well as the ability to grasp key concepts at the student's own pace and gain training experience without having to travel. The course's practice exam enables the student to gauge his or her own mastery of the subject matter before taking the actual exam from the FTTH Council, The Light Brigade adds. ::