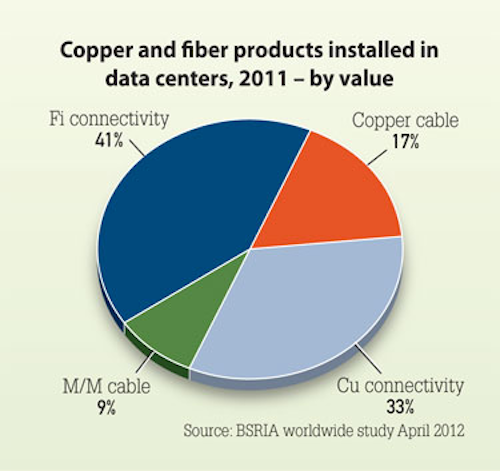 From the October 2012 Issue of Cabling Installation & Maintenance Magazine
---
LAN and data center cabling market analysis by BSRIA also showed that 7-percent worldwide growth last year pushed the global market back to its previous high achieved in 2008.
by Patrick McLaughlin
A study of the global market for structured cabling in 2011, conducted by the U.K.-based Building Services Research and Information Association (BSRIA; www.bsria.co.uk) showed that the United States' adoption rate of Category 6A systems-at 5 percent-lagged far behind the worldwide adoption rate of 12 percent. The worldwide average, though, is heavily skewed by Europe's 29-percent adoption rate, which dwarfs that of every other world region. The Asia-Pacific region adopted Cat 6A at a 4-percent clip in 2011 and South Africa at 3 percent. The total worldwide adoption rate for the year was 12 percent.
"The penetration of Cat 6A systems is driven by Europe and the 'shielded' countries in particular," BSRIA said about its findings. "Sales of Cat 6A solutions did not increase in the U.S. in 2011. A significant amount of Cat 5e is still sold worldwide," BSRIA continued, "with the only exception being Germany and other shielded countries such as Switzerland, Austria and France."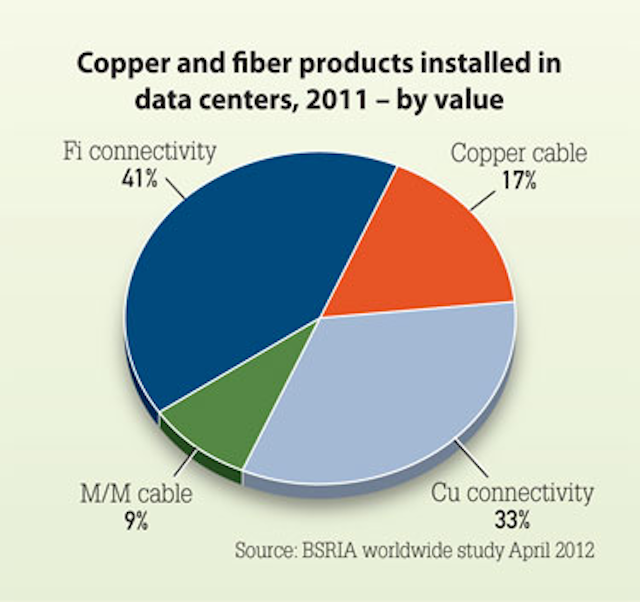 According to BSRIA, 2011 was the year in which expenditures on fiber-optic cabling systems for data centers equaled those for copper cabling systems. As evidenced by this exploded pie chart, connectivity accounted for a significant majority of overall expenditures-totaling 74 percent to cable's 26 percent.
BSRIA researched 17 individual countries and included the information from 15 of those countries in a report it issued earlier this year. The researched countries account for 90 to 95 percent of the global structured cabling market.
"The countries covered in BSRIA's research increased by almost 7 percent to $5.7 billion in 2011, from $5.3 billion in 2010," the organization said. "The market value is now at the same level as 2008." BSRIA also points out that with the countries not included in the researching making up 5 to 10 percent of the global market, the worldwide number is $6 billion for 2011.
The U.S. accounted for 35 percent of that market, followed by China with 11 percent and Germany with 9 percent. Following Germany in market size are the U.K., France, India and Australia.
The market for data center cabling had a healthy 2011, as it has in recent years with the exception of 2009 when it decreased slightly. BSRIA characterized the data center market as having "significant growth rates in 2007, 2008 and 2010, increasing by 16 to 22 percent in those years ... The cabling installed in data centers accounts for 18 percent [of the combined LAN/data center market] and is expected to continue to account for 18 to 19 percent of the total cabling sold over the next three years," BSRIA added.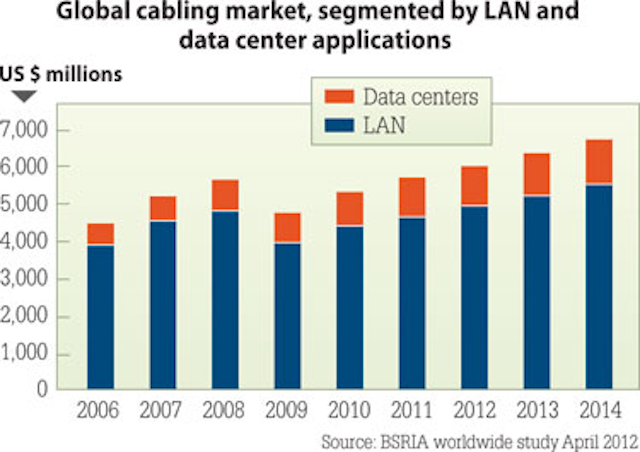 This chart tracks historical numbers and projects into the future, for global local area network (LAN) and data center cabling systems. As BSRIA details in a recently published report, 2011's 7-percent growth rate for the combined LAN and data center markets among the countries it studied pushed the total back up to its 2008 level of approximately $5.7 billion. BSRIA says that figure represents 90 to 95 percent of the world's total cabling markets for LANs and data centers.
The global LAN cabling market grew by nearly 7 percent in 2011, after 11-percent growth in 2010 that followed a decline of 18 percent in 2009.
Specific to the data center market, BSRIA reports that it is "targeted by many suppliers as customers generally buy higher-value products, such as MPOs, Om4 fiber and Cat 6A copper. The significant increase in sales of MPOs is mainly driven by top-of-rack and end-of-row architectures."
And 2011 was the year fiber finally caught up to copper in terms of product sales, accounting for 50 percent of data center cabling value-up from 46 percent in 2010. Overall, connectivity far outweighs cable in terms of value of product shipped. Fiber-optic connectivity accounted for 41 percent of the overall data center cabling market, followed by copper connectivity at 33 percent. Copper cable was 17 percent; multimode fiber cable was 9 percent.
Patrick McLaughlin is our chief editor.