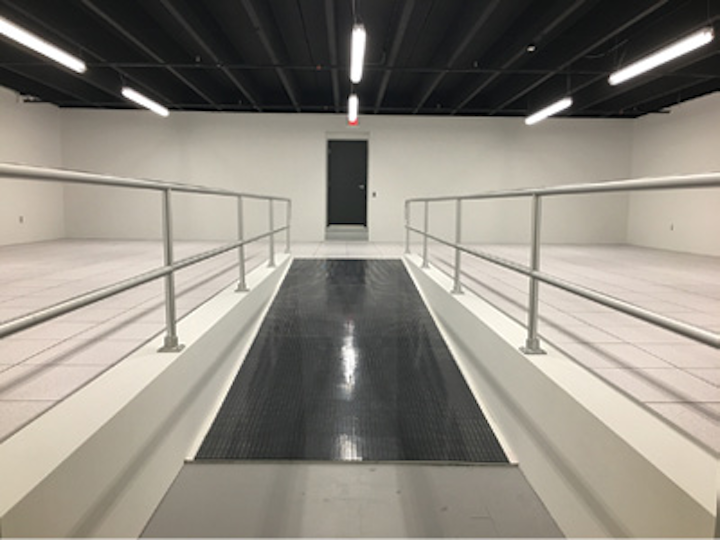 News, products and trends for the communications systems industry
DATA CENTERS
Carrier-1 adds private suites in colocation building: 'Data center within a data center'
Carrier-1 recently announced the availability of "private, purpose-built, dedicated" suites within its large, fault-tolerant, wholesale colocation building in Dallas, Texas. Within the same 106,866 square foot facility, current and prospective tenants may now lease a private, customized data center suite starting with 1,000 square feet. Per the company, "A private data center suite separated from the general colocation community is ideal for a private cloud deployment or organizations required to comply with regulations and standards related to their business including financial and medical institutions. The Carrier-1 building is an SSAE 16 SOC 1 Type II audited facility and therefore supports compliant requirements including PCI, HIPAA, FedRAMP, FISMA and Sarbanes-Oxley."
One of the company's new private suite clients, Jose Quinones of Tailor Made Servers, asserts, "The private suite gives us the feeling that we work out of our own data center. It's a data center within a data center." Tailor Made Servers rents a custom-built private suite with their own cooling and power distribution. They said they chose Carrier-1's private suites because they needed flexibility to create a specialized environment to allow their technicians to work quickly to support their customers. They use non-standard custom-sized hardware and racks, and require additional space to inventory all parts and equipment. Quinones continued, "Other centers offered a cage, where everything feels somewhat exposed. I love the privacy of the suite, because it gives us a more individual and independent feeling."
Carrier-1 contends that "the Dallas-Fort Worth area has been one of the top five U.S. markets for data center demand for many reasons. Companies want to establish a data footprint in Dallas, Texas, without the capital expenditures, liability or long lead time that comes with a build. Whether it's a primary site, a secondary location for disaster recovery, or a tertiary point to diversify their footprint, businesses typically want to turn up a data center solution quickly and cost-efficiently. On some occasions, a standard colocation solution is not always the best fit. Carrier-1's private suites are designed to address this type of requirement by allowing customers to be a single tenant with the autonomy, protection and control they need."
"Tenants may design their own infrastructure deployment while benefiting from the shared overhead costs that come with our colocation environment," says Carrier-1's CEO, Peter Pathos. "The core environmental systems, network redundancies, operational efficiencies, local support and security protocols are already in place, allowing us to turn-up dedicated space for a tenant within a few weeks."
Key features of Carrier-1's private data center suites include: customizable size and floorplan layouts; enhanced security for access control; multi-factor authentication options; tailored temperature and humidity controls; high density power options; flexible network connectivity; adjoining private workspace if desired; access to on-site conference rooms, breakrooms and other amenities; 24/7/365 facility monitoring and maintenance; 24/7/365 secure physical access with audited controls; 24/7/365 portal access for bandwidth utilization, ticketing system and billing information; remote hands-and-eyes support plus rack-and-stack service options; shipping/receiving loading dock assistance; account managed by executive management (VP level or higher); competitive wholesale pricing; 100-percent uptime SLA.
Companies may establish, expand or diversify their web infrastructure in Dallas, Texas by leveraging Carrier-1's private data center suites. Suites are available now at wholesale pricing.
PHYSICAL SECURITY
Arecont Vision unveils new surveillance dome cameras, plus 4K ultra-high res box camera, at ASIS 2017
IP-based megapixel camera technology provider Arecont Vision recently announced important additions to its MegaDome indoor/outdoor dome surveillance camera series that bring new capabilities and easy installation, as well as the availability of its full-featured MegaVideo 4K/1080p dual-mode day/night indoor box camera series. The company's new MegaDome G3 and G3 RS (remote setup) dome cameras, and its MegaVideo 4K camera series, were showcased at Arecont Vision's booth at the annual ASIS International (Sept. 26-28) security expo in Dallas, TX.
"The MegaDome G3 and G3 RS series include installer-friendly housings with motorized remote focus and zoom for easy installation, while the RS models go even further with revolutionary hands-free setup," says Brad Donaldson, vice president, product development, for Arecont Vision. "Both of the new MegaDome series are packed with advanced capabilities, including bandwidth reduction and day/night technologies for unmatched performance for the widest possible range of customer requirements."
According to the company, the MegaDome G3 offers 1.2, 1080p, 3, 5, and 10MP choices to address any application need. All models offer an IR-corrected motorized P-iris wide angle or telephoto varifocal lens with remote focus/zoom for outstanding image clarity and easy installation. Arecont Vision's H.264 compression and advanced SNAPstream (Smart Noise Adaptation and Processing) technology reduce bandwidth consumption and storage requirements without impacting image quality in all MegaDome G3 models. Optional STELLAR (Spatio Temporal Low Light Architecture) technology is available in select models for best-in-class light sensitivity to capture full color details in near complete darkness, or with enhanced wide dynamic range (WDR) technology for applications with varied or over-saturated lighting conditions. For enhanced lighting, integrated IR (infrared) illuminators are available in select models. Per the company, the "MegaDome G3 features an installer-friendly housing that is easier than ever to install, while maintaining both IP66 environmental and IK-10 impact resistant ratings."
The MegaDome G3 RS offers 3 or 5MP resolution choices, SNAPstream, models with optional Enhanced WDR, IP66/IK-10 ratings, and an extensive list of advanced features. "MegaDome G3 RS makes installation and setup faster than ever," says the company. "With remote setup, the installer mounts the camera and installs the PoE (Power over Ethernet) network cable and then dismounts the ladder or lift. The camera's motorized varifocal lens package features remote positioning, focus, pan (359-deg.), tilt (90-deg.), and zoom capabilities for rapid, completely hands-free setup while the installer is safely on the ground. Future changes or adjustments to the view and focus can be made without requiring mounting a ladder or lift."
The MegaVideo 4K is the latest member of Arecont Vision's customer-proven box-style camera family. The new dual-mode camera covers a wide range of project requirements with a choice of full 8.3MP (3840x2160 megapixels) for 4K ultra-high resolution image quality at 30 fps (frames per second) or 1080p mode for ultra-fast frame rates of 60 fps. "The new MegaVideo 4K compact box camera affordably delivers many of Arecont Vision's most advanced features and technologies while offering our unique cybersecurity protection and future-proof upgradability," adds Donaldson. "Remote focus and zoom make setup quick and easy for the installer, with a range of lenses and optional enclosures to meet any surveillance requirement for ultra-high definition 4K video."
Per the company, "The MegaVideo 4K features a choice of remote focus/remote zoom motorized P-Iris lens (4.4–10mm, 12-50mm, or 30-120mm). Optional camera housings (11" and 16" models) and mounting accessories ensure the indoor camera can also be used for a wide range of outdoor ultra-high resolution surveillance applications with any of the three lens choices. The proprietary NightView low light color imaging technology, P-Iris control for enhanced depth of field and image clarity, and binning mode (in 1080p resolution) with integrated mechanical IR cut filter features deliver true day/night functionality. WDR (Wide Dynamic Range) sees clearly in varied and overexposed areas."
The MegaVideo 4K includes the company's SNAPstream (Smart Noise Adaptation and Processing) technology to reduce bandwidth and storage requirements without impacting image quality. Other key features include dual encoders (H.264/MJPEG), casino mode (to maintain a continuous 30fps), privacy mask, real-time 1024-zone motion detection, non-integer scaling, multi-casting, multi-streaming (4 non-identical streams), bit rate control, flexible cropping, adjustable shutter speed, picture-in-picture (simultaneous delivery of full field of view and zoomed images), and forensic zooming. The camera also includes a MicroSD (SDHC) card reader for onboard storage requirements. Power can be supplied via a single PoE-compliant network cable with no external power required, or by use of a 12-48V DC/24V AC power supply. The built-in camera webpage allows for an intuitive and fast configuration, while the company's AV IP Utility tool allows quick configuring or updating of one or multiple MegaVideo 4K cameras simultaneously. Network protocols HTTPS, 802.1x, IPv4, SNMP, and DHCP are among those supported for network security, integration, and simplified setup.
All Arecont Vision cameras run the company's in-house developed Massively Parallel Image Processing (MPIP) architecture on a field programmable gate array (FPGA) integrated circuit. All core features and technologies are developed by Arecont Vision, and installed cameras can be upgraded with new capabilities and enhancements via remote firmware updates, thereby extending the useful life of the device.
CONNECTIVITY
Ethernet chip supplier Aquantia files registration statement for proposed IPO
On October 9, Aquantia Corp. announced that it has publicly filed a registration statement with the U.S. Securities and Exchange Commission relating to a proposed initial public offering of shares of its common stock. The number of shares to be offered and the price range for the proposed offering had not yet been determined at press time. Aquantia has applied to list its common stock on the New York Stock Exchange under the ticker symbol "AQ."
The company is a specialist in the design, development and marketing of advanced, high-speed communications ICs for Ethernet connectivity in the data center, enterprise infrastructure and access markets. Aquantia says its products are designed to cost-effectively deliver leading-edge data speeds for use in the latest generation of communications infrastructure to alleviate network bandwidth bottlenecks caused by the growth of global IP traffic.
Morgan Stanley & Co. LLC, Barclays Capital Inc., and Deutsche Bank Securities are acting as bookrunners for the proposed offering. Needham & Company and Raymond James are acting as co-managers.
FIBER OPTICS
Clearfield fiber termination process certified by Telcordia for Tier 1 service provider applications
Clearfield, Inc., a specialist in fiber management products for communication service providers, announced that its fiber termination processes, used to manufacture the Clearfield LC/UPC 900 μm 1.6 mm and 2.0 mm jumpers and fiber assemblies, have been tested by an independent test lab compliant to the Telcordia GR-326-Core requirements.
With Telcordia GR-326 certification, Clearfield notes that now can provide maximum assurances for the Tier 1 telecommunications market, which requires the highest standards for manufacturing processes, procedures and quality components. Per a company statement, "As major service providers seek to provide higher density in their networks with a smaller form factor connector, many opt to use LC/UPC jumpers and fiber assemblies in an outside plant (OSP) environment. The Clearfield LC/UPC connectors surpassed rigorous testing to meet a myriad of environmental, handling, use and mechanical functions to survive the stresses in the OSP environment."
"Successfully securing the certifications required to meet the needs of national carriers and cable operators is a sign that our strategy and execution is working," comments Cheri Beranek, Clearfield's president and CEO. "It is yet another sign that we are well-positioned to build the infrastructure needed for Internet of Things device connectivity, 5G and our fiber-driven future."
WIRELESS
Verizon, Ericsson, Qualcomm notch superfast 953-Mbit/sec wireless speed in real-world 4G LTE demo
Claiming a U.S. wireless industry first, Verizon, Ericsson, and Qualcomm Technologies, Inc., a subsidiary of Qualcomm Incorporated, on Aug. 2 announced that the companies jointly reached an astounding 953 Mbits/sec in a joint commercial network deployment in Boca Raton, Florida. While lab tests have shown comparable speeds in recent months, this is the fastest announced speed achieved in a real-world, dynamic network environment leveraging Licensed Assisted Access (LAA) technologym, say the companies.
To reach gigabit class speeds, for the demo Verizon used a combination of licensed and unlicensed spectrum for the first time. This four carrier aggregation uses LAA (License Assisted Access) to combine Verizon's spectrum holdings with unlicensed spectrum, which takes advantage of spectrum where home and commercial WiFi technologies exist. In addition to four channel carrier aggregation, other technological advancements include: 4x4 MIMO (multiple in, multiple out) which uses multiple antennae at the cell tower and on consumers' devices to optimize data speeds; 256 QAM which enables customer devices and the network to exchange information in large amounts, delivering more bits of data in each transmission, significantly enhancing data speeds.
According to a press release, "The demonstration used all commercially available Verizon network components including a cell site, hardware, software, and backhaul. Riding on the backbone of Verizon's most reliable network infrastructure, Ericsson provided the most advanced remote radio head in the industry. The micro Radio 2205 for LAA, designed for unlicensed spectrum use, provides small dimensions, flexible mounting and superior performance, and is a component of the Ericsson Radio System, an end-to-end modular radio network portfolio of hardware and software designed to fit all site types and traffic scenarios as networks grow in scale and complexity on the road to 5G. Qualcomm Technologies provided a Qualcomm Snapdragon 835 mobile platform test device, with Gigabit LTE capability thanks to the integrated Snapdragon X16 LTE modem."
"These technologies produce record speeds for wireless technology and we are proud to be leading the way to commercialization with such strong partnerships," said Joakim Sorelius, head of product area network systems at Ericsson.
"It is exciting to see Gigabit LTE momentum globally and in the U.S., especially as we move closer to a 5G world. With leading operators and infrastructure vendors like Verizon and Ericsson, we will continue to develop and deploy innovative technologies to power future networks and devices," added Mike Finley, president, Qualcomm North America.
Verizon notes that it was the first national wireless provider to introduce 4G LTE speeds in 2010, spurring an ecosystem of video viewing and data sharing at a pace not realized before. Since that time, Verizon and its partners have continued to evolve the 4G LTE network, enabling it to carry more robust applications and solutions for consumers, enterprise customers and government agencies.
"Today's milestone is a great example of our approach to new technology–we deploy the latest capabilities reliably and in real-world environments, not just in a lab," said Nicola Palmer, Chief Wireless Network Officer for Verizon. "By continuing to deploy the latest technologies on our 4G LTE advanced network, we pave the way for better and faster performance for the things our customers do now, and provide the groundwork for our future advancements."
As further noted by Verizon, "a combination of the latest 4G LTE wireless technologies is required to reach these industry-leading speeds. Carrier aggregation, a key technological advancement, bands multiple spectrum channels together to allow data to flow more efficiently resulting in dramatically faster peak speeds. Verizon led the industry last summer when it launched LTE advanced with two channel carrier aggregation nationally and has completed deployment of three channel carrier aggregation using its licensed spectrum."
AROUND THE INDUSTRY
Superior Essex, Legrand team on next-generation building intelligence at 2017 BICSI Fall show
Superior Essex and Legrand, partner providers of cabling and connectivity solutions, teamed at the 2017 BICSI Fall Conference and Exhibition in Las Vegas (Sep. 24-28) to give attendees a glimpse at the roadmap next generation of building intelligence. In their shared exhibition booth, the companies showcased recent advances in Power-over-Ethernet communications and structured cabling technologies that the companies note "have vastly expanded the scope and value of the Internet of Things (IoT)" by enabling advanced building controls and analytics and helping to create more efficient and more productive environments.
The BICSI showcase featured the award-winning Superior Essex PowerWise 4-pair Power-over-Ethernet (4PPoE) products, including the debut of the new PowerWise 10G 4PPoE cable designed to support the high power and data demands of next-generation Power-over-Ethernet applications. Superior Essex and Legrand also featured the nCompass Systems, their co-engineered structured cabling solution, which is optimized to support a variety of digital building and IoT applications. Additionally, in the BICSI Fall panel sessions, the two companies brought together leading innovators in digital building technologies to discuss the features, capabilities and strategies for designing and deploying cutting-edge, IoT-ready building solutions.
"The BICSI Fall Conference is a great opportunity for us and our partners to demonstrate first-hand the next generation of communications technologies and the value that these technologies can bring to a variety of enterprises and industries," commented Will Bryan, vice president of technology and market development at Superior Essex.
AROUND THE INDUSTRY
Leviton showcases latest data center, AV network innovations at 2017 BICSI Fall Conference
Leviton exhibited its latest system solutions for copper, fiber, and IT/AV networks at the 2017 BICSI Fall Conference (Sep. 24-28) in Las Vegas, Nevada. Leviton also delivered two technology-focused presentations during the conference. Attendees heard from Leviton experts on how recent TIA standard updates will impact network management and the latest enterprise wireless deployment trends and technologies.
For his talk entitled, "A Fork in the Road: OM5 vs. Single-Mode in the Data Center" on September 27, Gary Bernstein, Leviton's senior director of global product management, fiber and data center solutions, discussed how the actions of technology leaders and recent market trends can offer insight into whether OM5 will leave networks better prepared for growth than singlemode. Also on Sep. 27, in a talk entitled "Enterprise Wireless: 4 Steps to Successful Deployment" Leviton senior product manager Yuna Shin covered the latest in wireless trends and technologies, including what's coming next, planning the right wireless network based on the environment and applications, and cable and connectivity choices including 2.5/5GBase-T.
On display at Leviton's BICSI show booth in the Mandalay Bay Hotel and Convention Center were systems that enable copper and fiber migration from 10 to 400 Gb/s networks, and solve some of the latest IT/AV network challenges. Leviton's Atlas-X1 system is built on a unified connector form factor and termination method across Cat 5e, Cat 6, Cat 6A and Cat 8 media. The feature-rich system supports mission-critical networks and allows for a seamless migration from 1GBASE-T to 40GBase-T. On the fiber-optic networking side, the Leviton Opt-X Unity System of MTP connectors, trunk cables, harnesses, array cords, adapter plates, and cassettes provides options for installing and reusing a 24-fiber backbone through multiple tech upgrades from 10 to 40,100, 200 and 400 Gb/s. Additionally, the company's HDX TAP Cassettes, part of the popular HDX platform, help provide real-time monitoring for security and performance in the network or storage area network (SAN), with options for LC, MTP, 40 to 10 Gb/s conversion and BiDi transceivers.
Finally, Leviton's IT/AV Systems product line at the BICSI Fall show included its AV control wallplates that connect, switch and extend multiple high-definition AV signals to displays or projectors, with no programming required, to prepare classrooms and conference rooms for the latest technologies such as UHD displays with 4K resolution.
FIBER OPTICS
OFS expands gel-free AccuRibbon DC fiber-optic ribbon cable family
At ISE Expo (Sep. 12-14), OFS announced the expansion of its AccuRibbon DC Fiber Optic Cable product family to include fiber counts up to 864. The 100-percent gel-free ribbon cables will be available in dielectric and metallic/armored versions. Currently, AccuRibbon DC cables are offered in fiber counts up to 432.
The gel-free cables are designed to significantly reduce both cable preparation times and cable weights, which helps lower deployment costs, reduces splicing expenses and speeds installation/restoration times, according to OFS. Super-absorbent polymer (SAP) tapes replace the gel in AccuRibbon DC cables to impede water migration in the cable core. Per the company, these cables and water-blocking tapes have a 15-year, field-proven history in diverse outside plant (OSP) installations and applications.
In addition to meeting Telcordia GR-20 Issue 4 requirements, the AccuRibbon DC cables have successfully met OFS's aggressive coiling simulations where the cables are twisted and coiled under real-world installation conditions. "The installation simulation testing performed is significantly beyond the current minimum testing standards utilized by the industry," adds the company.
The cables are scheduled for commercial availability during fourth quarter 2017.