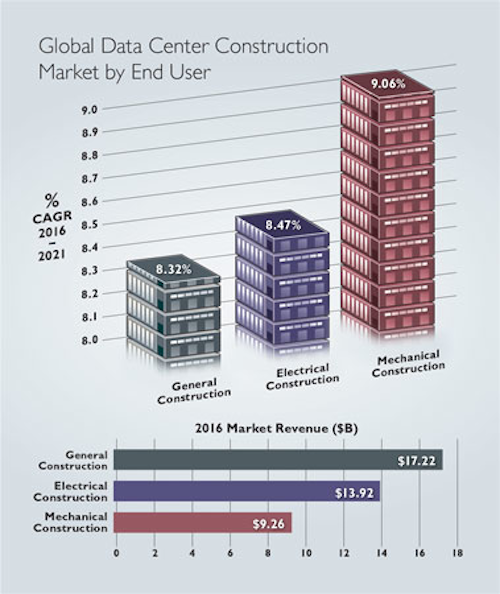 According to a recent market study by Technavio, the global data center construction market is projected to grow to USD $73.87 billion by 2021, at a compound annual growth rate (CAGR) of more than 8 percent over the forecast period. The "Global Data Center Construction Market 2017-2021" report provides an in-depth analysis of the market in terms of revenue and emerging market trends, with forecasts for all global regions.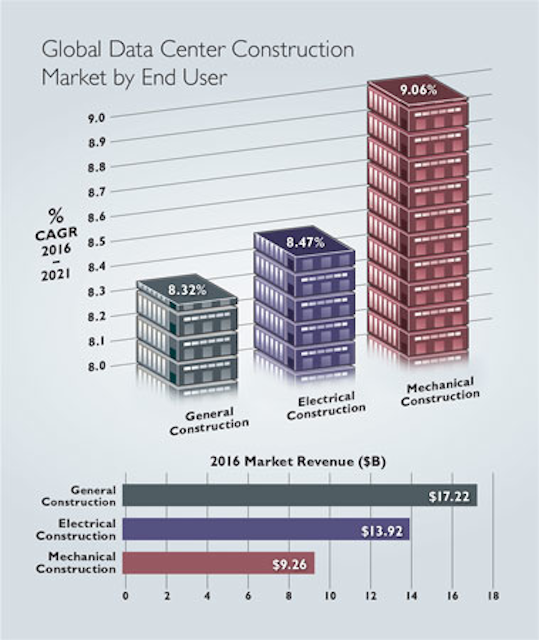 Per the report's executive summary, "The construction of a data center includes design, architecture, installation of electrical and mechanical systems, as well as general construction services." Significantly, the analyst states, "Enterprises are showing a growing trend towards the adoption of cloud-based services, which is a key factor positively impacting the growth of the ... market."
Based on end-users, the report categorizes the market into three segments for general, electrical, and mechanical construction:
General construction: "The general construction sector occupies a majority 43 percent of the global data center construction market," says Abhishek Sharma, lead analyst at Technavio for data center research. "This sector encompasses the design and construction of a well-secured facility, in addition to installing the setup, flooring, internal frames, external walls, windows, doors, installation of infrastructure, and disposal fittings." The report states that currently, growth in the market's general construction segment is driven by multiple security concerns among end-users, leading to an increase in the investments made by data center owners in the installation of high-tech security infrastructures. The rise in modular data centers is identified as another key driver of this market segment.
Electrical construction: The electrical construction segment of the market is expected to be worth USD $20.9 billion by 2021, "driven by several innovations and continual change in the design requirements for the development of green data centers," says Technavio. According to the report, the most popularly used electrical data center infrastructure includes the UPS, rack PDUs, generators, transfer switches, and switchgear. "Effective planning and procurement of the proper electrical infrastructure streamlines the entire data center operation by achieving better uptime and reliability in operations," notes Sharma.
Mechanical construction: As defined by the report, "Data center designs include mechanical components such as cooling solutions and racks. Cooling solutions can be broadly categorized into air-based and liquid-based cooling to ensure maximum energy efficiency and reduce the total cost of ownership." This category also includes sprinklers, piping, belts, filters, water pipework installations, and lifts. "This segment is expected to grow swiftly at a CAGR of more than 9 percent over the forecast period, driven by the installation of innovative products to improve power usage effectiveness," says Sharma. "Also, modern data center design incorporates better cable and airflow management features, which further enhances data center efficiency."