Data center breakthrough remedies expansion crisis
A planned upgrade was bumped to high-priority status after an unexpected failure.
Jan 1st, 2004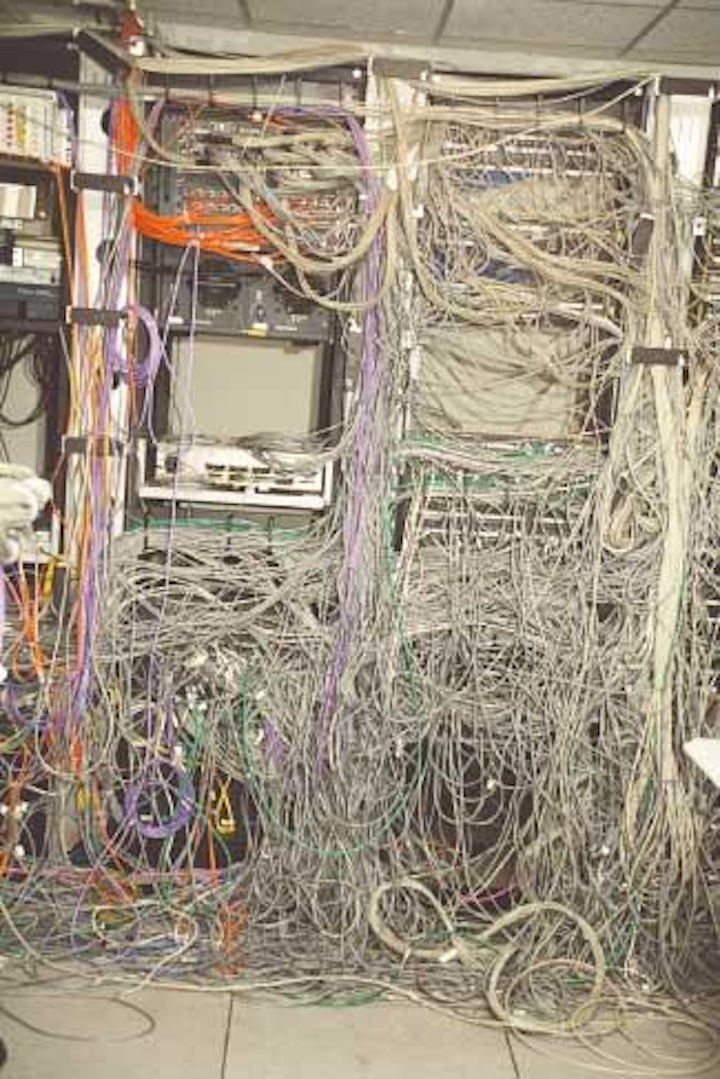 A planned upgrade was bumped to high-priority status after an unexpected failure.
Last Thanksgiving, Beth Israel Deaconess Medical Center (BIDMC) in Boston did not have much to be thankful for. "Our entire network went down," says Sandra Denekamp, manager of telecommunications for . BIDMC, a founding member of the CareGroup network—one of New England's largest conglomerates of hospitals and medical centers. "At that time, we already had a review committee in place to revamp our data center and, subsequently, our complete network system to maximize our data and voice capabilities; however, the disaster pushed this to a priority in a hurry."
The networking review and design committee consisted of the internal information-technology team of Denekamp along with John Powers, chief information administrative officer/vice president of information systems; Bob Doherty, operations manager; Bob Messier, production operations director; John Casavant, telecommunications supervisor; Harold McGregor, network manager; and a few other key CareGroup IT members, together with outside consulting from LAN-TEL Communications of Norwood, MA; MGN Associates, a manufacturer's rep firm from Sterling, MA; and Anixter, a major stocking distributor.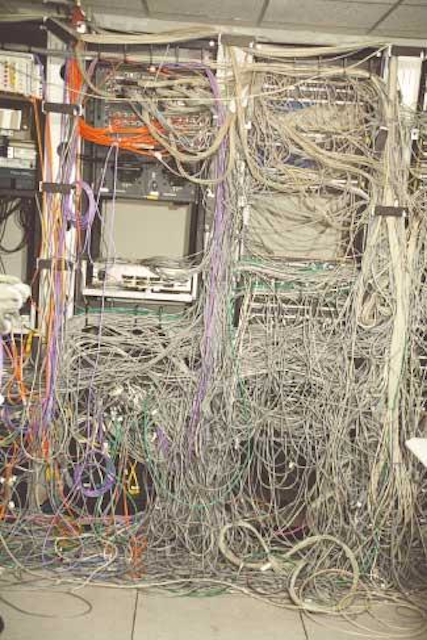 The network outage at Boston's Beth Israel Deaconess Medical Center may have been predictable, based on this look at its data center before the upgrade.
Click here to enlarge image
"The contractor and MGN Associates approached Anixter to present the latest trends and technology being installed in state-of-the-art data centers, since that has become one of our major markets," says Mark Barrett, Anixter's account representative for LAN-TEL and the CareGroup. Representatives of LAN-TEL and MGN, along with Suzy Murray, account representative for Anixter out of Boston, and Randy Clark, Anixter sales engineer out of Rochester, NY, contributed to the project's design and layout. They recommended a 10-Gbit/sec optical-fiber backbone with Category 6 horizontal cabling to the server and equipment cabinets for the new data center.
This team orchestrated the design and installation of the new networking system through a methodical, multi-phase plan. The first phase was the redesign of an existing off-site data center with a better-than-Category 6 copper-based cabling infrastructure. The second phase included switching over to a 10-Gbit/sec backbone in the data center with Category 6 in the horizontal between the equipment and the server cabinets.
These first two phases incorporate an Ortronics/Berk-Tek NetClearGT2 Enhanced Category 6 channel solution, with the speed and bandwidth required for the data center. The products are designed to give CareGroup the assurance of a reliable networking system and protection against future disasters. Subsequent phases will include campus-wide cable upgrades, retrofitting existing facilities and outfitting new facilities to incorporate either a Category 5e or Category 6 system solution, depending on the applications and data density at each location. In all cases, CareGroup will deploy NetClear solutions—NetClearGT Category 5e or NetClearGT2 Category 6.
Off the growth charts
With more than 13,000 employees and 2,000 medical staff, CareGroup offers community-based primary care and a wide range of specialty services in Massachusetts. The CareGroup hospitals include BIDMC in Boston, Mount Auburn Hospital in Cambridge, New England Baptist Hospital in Boston, Deaconess-Glover Hospital in Needham, and many off-site clinics and physician practices.
Five years ago, the data centers of the former Deaconess and Beth Israel hospitals, both major teaching hospitals for Harvard Medical School, were merged. "Shortly thereafter, we combined our medical staffs and had gone well over our estimated 30 to 40% growth in our cabling infrastructure," says John Casavant, CareGroup Health System's telecommunications supervisor. "With the combination of the data centers, our total network requirements doubled and the system was pushed to its limits.
"To compound the problem," Casavant adds, "every patch cord was 12 feet long. If the connection was only two feet away, you can imagine the amount of slack and mess." Casavant continues, "With the excessive patch cords draped all over the cable-management racks and patch panels, and looped through cable-management panels, it was extremely time-consuming to trace a cable between connections, which made moves, adds, and changes a nightmare."
From Sneakernet to safety net
"During the four days of the network outage, all documents and lab reports had to be hand-carried to their destination, which we called 'Sneakernet,'" explains Denekamp. "All data up to that point was stored through a back-up system. But we lost Internet and network access to patient files, administration and accounting, and had limited dial-up access in certain areas for key tasks. Luckily, we didn't lose our phone system, which consists of about 15,000 connections at the main campus; but we found out quickly how crucial our data system is to everyday tasks.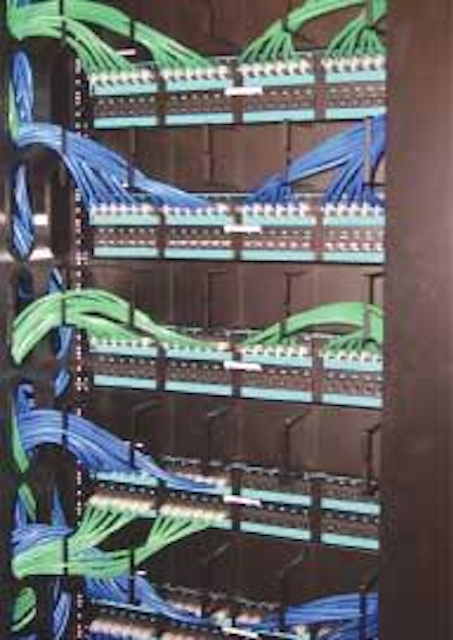 All blue patch cords connect nodes to Switch A, while all green patch cords connect nodes to Switch B, helping to ensure redundancy and easy identification.
Click here to enlarge image
"When we merged our data centers five years ago, we took the best of the equipment and upgraded, and put in a SONET ring to connect several sites," Denekamp adds. "Today, the main campus of the medical center and the off-site data center are linked through an OC-12 SONET ring, with a combination of fiber, direct T-1s, and Frame Relay connecting other facilities."
The first phase, to upgrade the core network through a redesign of the data center, includes a 100% redundancy back-up design to provide a total safety net. In the new data center, all the cables run in and out of alternate loops through two main switches—Switch A and Switch B. If one goes down, the other immediately takes over.
The main brain
The revamped data center includes 5,500 square feet of 24-inch raised floor to allow sufficient space underneath for cable trays, power distribution, and adequate airflow to the equipment racks and data-storage cabinets. The data center houses 14 rows of equipment cabinets, each containing servers dedicated to specific divisions of the CareGroup. This core row, located in the middle of the data center, is the main brain and houses the redundant switches and hubs for the storage area network. Each row is connected to the core equipment row through Berk-Tek LANmark-1000 Category 6 station cables.
MGN Associates president Bob Gingras, explaining the value and logic behind the high-performance cabling system, says, "The Berk-Tek LANmark-1000 Category 6 cable for the horizontal cabling is matched and balanced to Ortronics Clarity6 high-density 48-port patch panels for optimized channel performance. Therefore, it could handle gigabit bandwidth and the high speed needed for the customers' evolving applications."
Casavant elaborates, "In each 48-port panel, there are 24 connections for Switch A and 24 are for Switch B, for total redundancy. All the main equipment connections run through Ortronics Clarity6 Category 6 patch panels and are patched with custom-length Clarity cords. We didn't want to end up with a lot of slack by using only four feet of a 20-foot patch cord, so Bob Harris [RCDD with LAN-TEL] specified length cuts anywhere from 10 to 25 feet depending on the installed environment. These were supplied to us through Anixter."
The patch cords, which are color-coded blue and green to differentiate between Switches A and B, are neatly organized using Ortronics cable-management panels. In addition, all patch panels are precisely labeled with the switch and identification number from port to port. This organization and documentation will make it easier to control moves, adds, and changes.
"Not all ports are active in the 14 server rows, but all are terminated, labeled, and ready to go," explains Casavant. "This way, a small network team can keep a tighter rein on all the connections, as opposed to the many CareGroup IS personnel who had access to the data center."
Tenfold backbone increase
The project's second phase also involved installing 50-µm multimode optical-fiber cable from Berk-Tek to allow 10-Gigabit Ethernet for additional connections. The fiber is terminated through Ortronics rack-mount ORMMAC fiber cabinets.
The backbone includes 1,200 cable connections out of the core middle row to serve the equipment rows. All cables from the equipment racks within the core row cabinets run through underfloor cable trays to the server-row cabinets. The green and blue patch cords run overhead between the cabinets and patch panels in the core distribution row. "We placed additional innerduct in the cable tray as well as empty shelves within the cabinets to allow for any growth and upgrades," adds Harris.
Future network systems
CareGroup is in the process of recabling the hospitals and outside facilities anywhere the cabling infrastructure is not up to standards. Taking a standardized design and layout from the data center, they will continue to use all warranted cable and connectivity through Ortronics/Berk-Tek NetClearGT or NetClearGT2 channel solutions. "Whether it is Category 5e or a Category 6 25-year system warranty, we are assured that all cables and connectivity are completely tested and documented to meet the latest TIA/EIA industry requirements and that all the work is completed by certified Ortronics/Berk-Tek installers," notes Casavant. "That includes our inside staff, which have also completed the Ortronics/Berk-Tek certification."
Casavant concludes, "The plan is to get many years out of the system. With thoughtful planning and design by the network review team, we are confident that our newly installed redundant network will prevent any future disasters. This will allow our staff to focus on what is really important—caring for our patients."
Carol Everett Oliver, RCDD is a freelance writer for the cabling industry and principal of Everett Communications (www.everettcom.com). Arlene Franchini is director of communications for Ortronics (www.ortronics.com).