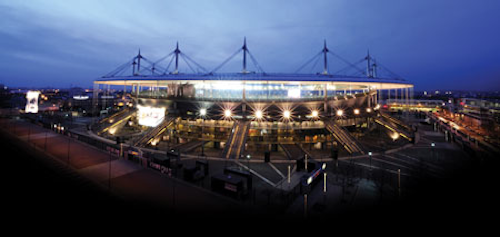 Legendary Stade de France stadium picks CommScope as official network supplier
To provide the highest quality experience for stadium visitors and staff, the Stade de France is making significant upgrades to its communications network infrastructure and has signed CommScope as the official supplier for its telecommunications and IT networks.
The deal with CommScope will ensure that the legendary stadium has the necessary flexibility and bandwidth to meet fan expectations and support stadium operations. Fans and staff will enjoy high connectivity speeds and interactive services on the stadium's WiFi and IPTV networks. The new network infrastructure will provide future-ready capability, enabling Stade de France to offer future services throughout the property without requiring costly upgrades.
"The experience of our visitors is very important to us," said Karim Benslimane, IT research and development manager, Stade de France. "We want to provide the best atmosphere for the two million visitors that we welcome each year. After much research and visiting other venues, we were very impressed with the capabilities and experience of CommScope in working with large stadiums like ours."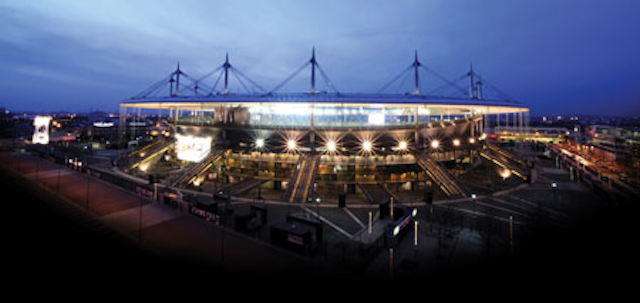 As part of the deal, CommScope will provide approximately 70 kilometers of its Systimax LazrSpeed multimode fiber cabling to connect almost 1,000 high-bandwidth WiFi access points and 400 IP televisions all across the stadium. CommScope will also supply about 44 kilometers of its GigaSpeed X10D Category 6A cabling and its imVision intelligent infrastructure solution for advanced infrastructure management in the stadium's data center.
"As a European football fan, Stade de France is one of the most impressive places to watch a match, and I am thrilled to be working with them," said Koen ter Linde, vice president, enterprise sales, CommScope. "It has a reputation for hosting some of the world's top sporting events and concerts. We trust that reputation soon will include having a world-class wireless and wired network."
CommScope has deployed advanced connectivity solutions for large sports and entertainment venues around the world. Some of these venues include AT&T Stadium, Daytona Speedway and nine stadiums used during the 2010 FIFA World Cup.
Fuji Electric unveils data center UPS for North American market
Fuji Electric Corp. of America announced that it will enter the North American uninterruptible power systems (UPS) market with a new model, aimed at the growing data center segment.
The UL-certified UPS7000HX-T3U Series is offered in 300, 400, and 500kVA power ratings, and is built on an open architecture for ease-of-installation and convenient service, says Fuji. The 480V 3-phase, 3-wire, transformer-less UPS is based on the manufacturer's Reverse Blocking IGBT (RB-IGBT) technology, achieving efficiency ratings of over 97 percent.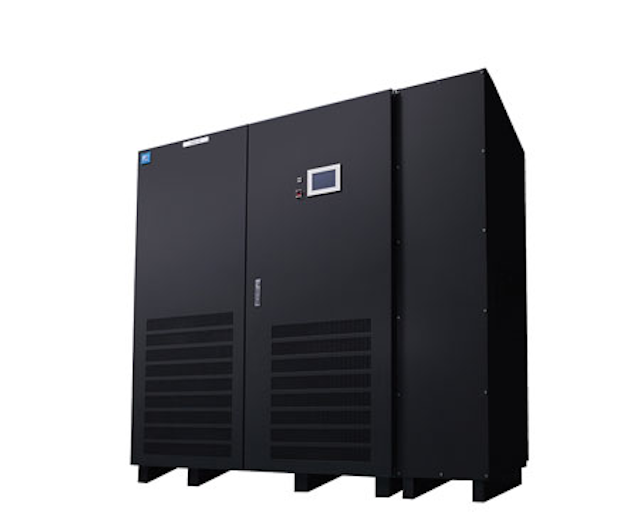 As stated by Fuji Electric, the UPS7000HX utilizes its proprietary Advanced T-type Neutral Point Clamped 3-level circuit topology, which provides superior efficiency and effectively reduces the system's total cost of ownership. By adopting the patented RB-IGBT technology, the company says it has achieved reduction in power losses, and has reduced the total number of components in the system.
As part of its channel strategy for the new product, Fuji Electric says it will partner with both national and regional integrators and service providers to penetrate markets that require mid-to-large sized uninterruptible power systems.
"Fuji Electric has been manufacturing and selling UPS products in the overseas market for over 30 years, so our expansion into North America was a natural progression for us," says Phil Charatz, president and CEO of Fuji Electric Corp. of America. "The protection of valuable data is critical in today's world, and the statistics regarding the cost of power outages to data centers are staggering. We are excited about this product launch, and we look forward to providing data centers and other mission critical applications with the peace of mind they need."
Unirise says 28-AWG patch cord uses 50 percent less space in high-density installation pathways
Power cord and data cable manufacturer Unirise USA announced the release of its new ClearFit Slim patch cord, which the company claims uses 50 percent less space in pathways in high-density installations, offering improved energy efficiency and airflow, and a cleaner deployment.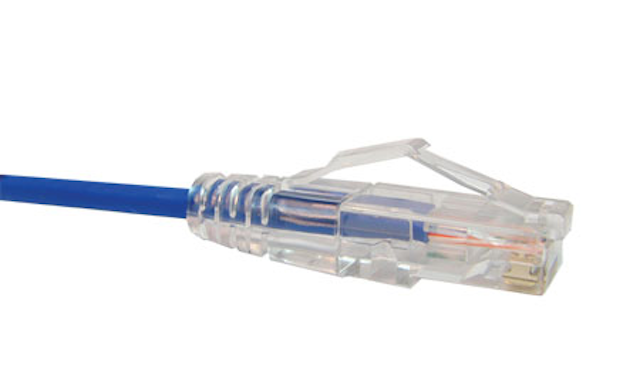 The ClearFit Slim patch cord is available in industry-standard lengths and colors up to 100 feet, and is made with the proprietary Clearfit technology, which affords the cable a clear, easy-release, snagless retainer clip design. The smaller 28-AWG cable improves flexibility and has a tighter bend radius than larger traditional cords of the same gauge, says Unirise.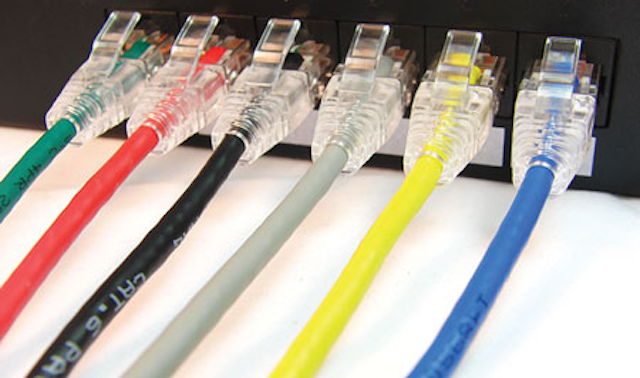 Amanda Garcia, national director of channel sales for Unirise, commented, "ClearFit Slim will enable end users to dramatically improve the airflow over their critical IT equipment, prolonging the life of that equipment and saving hundreds of thousands of dollars in replacement costs, all from one little cable."

All ClearFit Slim patch cords are certified and tested to exceed all ANSI/TIA-568-C.2 standards and are maintained by a limited lifetime warranty.
Super-duty cable tray splice plate reduces number of required structural supports
New from Thomas & Betts (T&B), the T&B Cable Tray Super-Duty Splice Plate may reduce costs by eliminating the need for additional supports at the expansion joint that the National Electrical Manufacturers Association (NEMA) would otherwise recommend. It also can be used for midspan splicing.
"The Super-Duty Splice Plate is designed for expansion splicing, which reduces the number of additional supports required for structural integrity," says Ralph Donati, product marketing director at T&B. "By also doubling as a midspan splice, it provides the contractor with greater flexibility in the use of materials and further reduces cost by reducing the number of stock-keeping units [SKUs] the contractor needs at the jobsite."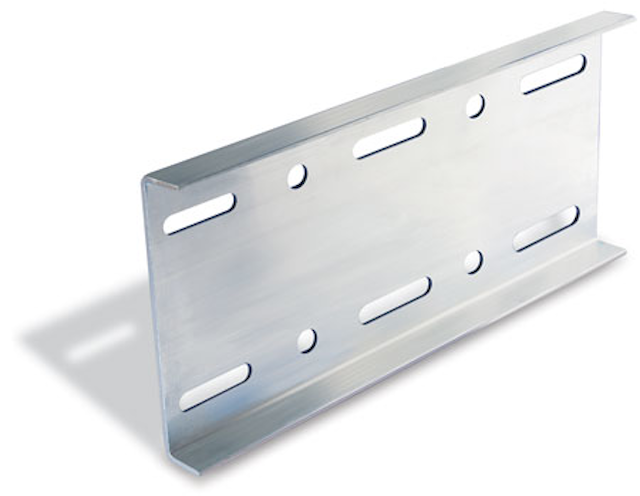 The new splice plate also eliminates the need to drill and install additional hardware on the flange, notes T&B, saving additional installation time. It also features nylon washers that facilitate movement by reducing friction and require no lubrication of the side rail during installation or maintenance. The reinforced design of the plate provides rigidity, resistance and strength, and allows for true contraction and expansion under full loads.
Made of high-strength, heat-treated aluminum, the Super-Duty Splice Plate is 13 inches (330 mm) wide and rated for 6-inch aluminum side rails (Series AH36-AH66). The plate is predrilled for expansion and midspan applications, and is supplied with all hardware needed for both types of installations.
Panduit adds UTP, shielded Category 6A patch cords to small diameter 28-AWG cabling selection
Panduit has added UTP and shielded Category 6A performance patch cords to its existing 28-AWG cabling offering. The new cords enable unmatched ease of management in high density rack and panel configurations, as compared to 24-AWG patch cords, asserts the company.
According to Panduit, with a diameter of only 0.185 inch for both UTP and shielded versions, the new Category 6A patch cords occupy just 45 percent of the space of standard Category 6A 24-AWG patch cords, bringing the advantages of higher cabling density and increased pathway capacity to users of 10GBASE-T networks.

The company notes that, due to their significantly smaller size, more than twice as many of the new 28-AWG patch cords can fit within existing pathways, as compared to typical 24-AWG cords, providing immediate relief for congested pathways simply by using the smaller size cords.
Panduit adds that the new cords allow up to 27 percent more open space between cords on a panel, which provides increased visibility of port numbers and more room for accessing plugs and routing cords. As an indication of the growing market acceptance of smaller diameter cords, the company notes that it recently passed the 1 million mark in the total number of 28-AWG patch cords sold in 2015.
"The demand for small diameter cabling solutions continues to grow, showing that IT managers around the globe value the space-savings benefits these offerings bring," comments Dennis Renaud, vice president of Panduit's enterprise business. "As more types of enterprise systems are networked, it is driving the need to fit more equipment into overburdened telecommunication rooms and data centers. Panduit 28-AWG patch cords are a key piece of the solution that helps maximize this valuable real estate."
Datwyler improves fibers in singlemode cables
Smaller bending radii, improved attenuation properties and higher transmission quality are the significant benefits passed on to Datwyler's customers, the company asserts, as it switches to two new singlemode fibers based on G.652.D (BLO) and ITU-T G.657.A2 fibers.
According to a press release, in the future, the company's fiber-optic (FO) indoor cables-previously incorporating bend-optimized singlemode ITU-T G.657.A1 fiber-will be supplied as standard by Datwyler with bend-optimized G.652.D bend-loss optimized (BLO) fiber, or optionally with bend-optimized ITU-T G.657.A2 fiber.
The latter has been tried and tested in FTTx networks and data centers, notes Datwyler, with users benefitting from a low bending radius of 10 to 7.5 mm for added operational safety.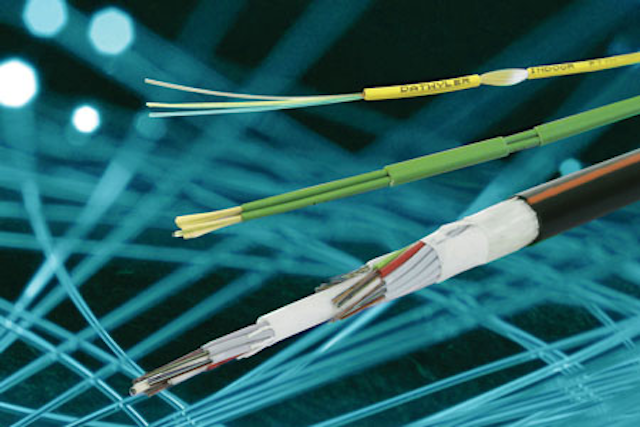 The company clarifies that its FO Universal and FO Outdoor series cables will now no longer be offered with ITU-T G.657.A1 fiber but, from now on, in addition to ITU-T G.652.D, will be available with G.652.D BLO fiber.
"The convincing argument for this new fiber is not only that it has improved attenuation properties, e.g. ≤0.21 dB/km @ 1550 nm (installed), but also that it incorporates the essential advantages of the 'old' fibers, namely the comparatively large mode-field-diameter of G.652.D and the low bending losses of G.657.A1," said a Datwyler representative.
The representative added that planners and network operators of LANs, data centers, FTTx and city networks "will gain from using the cables with the new G.652.D BLO fibers, in that they no longer have to allow for additional attenuation losses when connecting fibers of different mode field diameters. These fibers therefore give them and the companies installing them a greater safety buffer."
Alliance promotes shortwave multiplexing over multimode fiber
Nine companies recently announced the formation of the SWDM Alliance (Shortwave Wavelength Division Multiplexing)-an interest group with a stated purpose "to drive cost-effective utilization of duplex multimode fiber infrastructure in cloud and enterprise data centers." The group will promote SWDM technology, "allowing data center operators to continue to extract value from their existing duplex multimode fiber deployments and extend the usable lifetime of newly deployed MMF," the group said.
The SWDM Alliance's founding members are CommScope, Corning, Dell, Finisar, H3C, Huawei, Juniper Networks, Lumentum and OFS. The alliance is neither a standards organization nor a multisource agreement, the group explained. It does not address market segmentation, pricing, or competitive issues.
"Optical shortwave technology is enabled by vertical cavity surface emitting lasers (VCSELs)," the group stated, "which are the most cost-effective lasers used in data center interconnections. VCSELs have been widely deployed at data rates up to 10 Gbits/sec, and these deployments have driven large-scale installations of duplex multimode fiber in enterprise and cloud data centers. A common technique to increase the data rate beyond 10 Gbits/sec is the use of four parallel VCSELs, each running at 10 or 25 Gbits/sec, transmitted over ribbons of parallel fiber. This technique requires eight fibers instead of two-four to transmit and four to receive. Installing such parallel fiber can represent an expensive overhaul to the fiber plant in the data center due to the need for increased fiber capacity in the trunk and also new patch cables to the optical modules."
"By contrast, SWDM technology allows users to leverage their installed duplex multimode fiber at 40 or 100 Gbits/sec, using four VCSELs operating at different wavelengths multiplexed onto a single strand of multimode fiber, thereby requiring only one transmit fiber and one receive fiber," the SWDM Alliance further explained. "This provides the ability to migrate from 10 to 40 or 100 Gbits/sec while minimizing overall power dissipation and maximizing transmission distance."
Steffen Koehler, senior director of marketing at Finisar, added, "Multimode fiber and VCSEL technology have been the workhorse of the modern data center. SWDM builds on this history of cost-effective, high-bandwidth interconnect technology to continue the evolution of these data centers."
AT&T, Comcast join TIA
The Telecommunications Industry Association (TIA) recently announced that the TIA board of directors has approved eight companies as new members, including the addition of AT&T and Comcast.
The new companies joining TIA represent the complete communications value chain, contends the association, from Internet and wireless service providers and solution services providers to the electronic equipment and component manufacturers. The complete list of new members announced include: AASKI, AT&T, Comcast Corporation, Orchestra Technology, RideScout, Saft Batteries, TRX Systems, and VocalZoom.
The approval of the new members follows the appointment of Scott Belcher as chief executive officer (CEO) late last year, along with the addition of a new CTO, senior VP of government affairs, and senior VP and counsel for TIA.
"From a legendary global carrier to a dynamic new business that's revolutionizing transportation, these are great companies that represent the diversity and impact of our members," said Belcher.
"The range of TIA's member companies offers a remarkable view of the ways in which technology and communications are ingrained in nearly every aspect of our economy and our society. And because of this, TIA is working to make certain that policymakers and the business community understand the vital role that network innovators and infrastructure play in advancing our economy, creating jobs and serving consumers."
Hubbell Building Automation adds networked intelligent day-lighting controls
Hubbell Building Automation announced that its NX networked lighting controls system now has added day-lighting capability, whereby the system's NXDS daylight sensor auto-configures with the new NX room controller to control multiple zones of lighting within a space.
Hubbell's NXDS daylight sensor is designed for open loop operation, measuring natural light coming in through a window. It communicates with the company's recently launched NXRC series room controller, which directs switching or dimming of a facility's lighting.
"The NX system is perfect for spaces that require room-level lighting control, such as classrooms and personal offices," said a Hubbell representative. "It provides energy-code compliance right out of the box. Auto-configuration makes it easy and affordable. Installation and commissioning are efficient and trouble free. Users benefit from intuitive energy-saving control over the lighting in their space."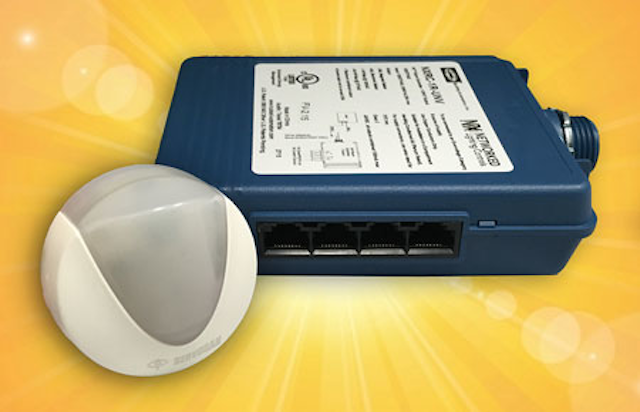 Both indoor and outdoor versions of the NXDS sensor are available. The system's devices connect via standard Category 5 cables. The product is available to ship now.
TESSCO to distribute Samsung's wireless LAN products in North America
Tessco Technologies, a provider of solutions required to build, use, and maintain wireless systems, announced that it has signed an agreement with Samsung to be an authorized distribution partner in North America. With more than 30 years of experience in the networking and communications product world, Tessco can now deliver end-to-end solutions that feature Samsung's wireless LAN products.
"With Samsung's market leadership and expertise in WiFi-enabled mobile devices, we are excited to offer our customers the Samsung Wireless LAN portfolio for high performance WiFi and WLAN networks," said Robert Barnhill, Tessco's CEO and chairman. "Leveraging our capability to design, configure and supply wireless networks, the addition of Samsung's WLAN innovative products and software allows Tessco to provide comprehensive solutions in a wide variety of environments."
Light Brigade unveils online fiber-optic training series
The Light Brigade, the training and education division of AFL, will be launching its "Light Bites Online Training Series," a series of training modules that cover a variety of fiber-optic topics, both introductory and advanced.
According to the company, like other Light Brigade courses, the Light Bites modules feature high-quality images, animations, charts, and reference material that enhance the learning experience and help to reinforce important concepts. The modules are user-friendly, can be completed in 60 to 90 minutes, and feature easy-to-use stop, pause and rewind controls.
The first module of the Light Bites Training Series to be available is entitled, "Single-mode Technology: Theory and Fibers."
The premise of the new online course is as follows: "A good understanding of fiber-optic theory is critical for anyone working in fiber optics, and this module goes beyond the fundamentals to provide an even deeper understanding of how optical theory applies to single-mode fibers and applications. Key topics include attenuation, dispersion, wavelength, windows and bands, and industry standards. The module also examines related applications and technologies, and details how different types of single-mode fibers are designed to address specific requirements."
The online course module concludes with a review quiz to ensure mastery of the content. Those who successfully pass the quiz will receive a Light Brigade certificate of completion.
"Along with our Certified Fiber to the Home Professional course, this first module is just the beginning of our online learning plans," says Lee Kellett, general manager of Light Brigade. "We understand that education needs to come in many different forms today. Light Bites will be an easy way for anyone to get quality fiber-optic education where and when they need it."
Greenlee's XT Cobalt step bits cleanly cut holes in stainless steel
Greenlee, a Textron company, announced that its new XT Cobalt Step Bits are designed specifically for drilling clean, smooth holes through stainless steel in commercial, industrial and residential applications.
"More users are working with stainless steel than ever before, and stainless steel is a very difficult material to drill or cut into," comments Rob Bentley, product manager for Greenlee. "Contractors were asking us for a step bit that was tough enough to stand up to stainless steel. They prefer step bits over other solutions because a single bit can make multiple-sized holes in various materials and do it very quickly. With our new XT Cobalt Step Bits our users finally have a solution for stainless steel as well."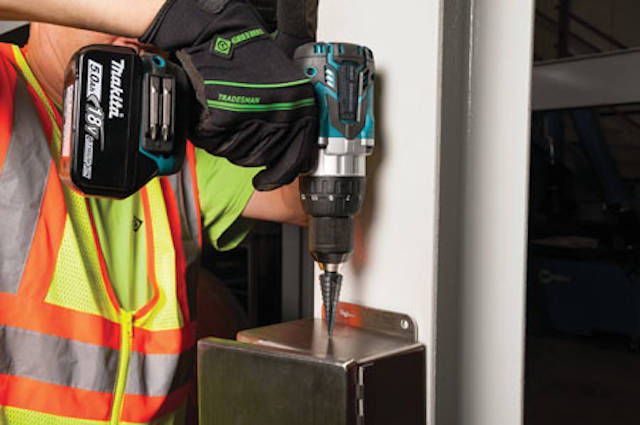 Made in the U.S., the XT Cobalt Step Bits are available in 1/2", 7/8" and 1-1/8" sizes and are engineered using high speed steel with a cobalt additive, which maximizes the bits' resistance to the heat and abrasion created by drilling. These bits also feature a new split point tip that eliminates walking and penetrates 10GA stainless steel in under 10 seconds, adds the company. Like all other Greenlee step bits, the XT Cobalt series features a dual-flute design and a steam oxide finish.
The company notes that the new bits' dual-flute design gives users two cutting edges that share the load and allows for faster cuts with less force, while the steam oxide finish penetrates the bit, enabling them to run cooler and last even longer. The XT Cobalt step bits can also cut through mild steel, copper, brass, aluminum, fiberglass, plastic, wood and laminates.
Avago releases 40G BiDi MMF QSFP+ transceiver for data centers, cloud infrastructure
Avago Technologies has announced the general availability of its 40G bidirectional (BiDi) multimode fiber (MMF) QSFP+ transceiver module, the AFBR-79EBPZ, designed for high-speed data center interconnect and networking applications.
According to the company, the AFBR-79EBPZ supports 40GbE data transfer over 100 meters of Om3 fiber or 150 meters of Om4 fiber. Based on 2x20G BiDi optics, the new module enables 40GbE links on existing installed LC duplex multimode fiber of 10G networks, providing a cost-effective upgrade path to 40G Ethernet in the data center.
"Our 40G BiDi transceiver technology is an important breakthrough that has facilitated many of our end customers to transition from 10G to 40G networks to meet the ever increasing demand for bandwidth," comments Philip Gadd, senior vice president and general manager of the fiber optics product division at Avago. "With the general availability of Avago 40G BiDi MMF QSFP+ transceiver, there will be an accelerated market adoption of 40G Ethernet for data centers."
Compliant to the 40GbE XLPPI electrical specification per IEEE 802.3ba-2010, as well as to the QSFP+ SFF-8436 specification, Avago's 40G BiDi MMF QSFP+ transceiver is billed as a field-proven 40G bidirectional fiber-optic solution that provides for seamless and cost-effective transitioning from 10G to 40G Ethernet using existing 10G MMF cabling infrastructure. The company notes that the new transceiver module operates over two fibers via LC connector, as opposed to over eight fibers with and MPO connector, as with conventional 40G QSFP+ MMF solutions.
"40G Ethernet is an important technology in the data center as enterprises transition the aggregation/spine layers of their network towards higher speeds," asserts Alan Weckel, vice president of Ethernet switch market research at Dell'Oro Group. "As this transition occurs, we expect 40G Ethernet switches to surpass 10 million ports in 2017, almost a four-fold increase from 2014 levels, especially with the increased availability of high-ROI, low-TCO solutions that leverage the existing 10G cabling infrastructure."
Avago has shipped high volume production quantities of the 40G BiDi fiber optics solution and is now accepting orders for the module.
Emerson's Liebert DSE thermal management approved for use in California data centers
Emerson Network Power, a provider of critical infrastructure for information and communications technology systems, announced that the California Energy Commission (CEC) has approved for use in California data centers the company's Liebert DSE thermal management system, with the Liebert EconoPhase Pumped Refrigerant Economizer.
The Liebert DSE system represents a breakthrough technology that uses no water and saves up to 50 percent of thermal energy, says Emerson, through its patented design and advanced Liebert iCOM controls. According to a press release, the CEC has approved the Liebert DSE system with Liebert EconoPhase as a prescriptive economization option, as part of Title 24 of the the CEC's 2013 Building Energy Efficiency Standards For Residential and Non Residential Buildings, meeting the code's requirements for energy efficiency and its prescriptive requirements for economizers.
Emerson notes that the Liebert DSE system eliminates the need for any water in the heat rejection process and associated chemical water treatment, and it eliminates the risk of exposure to harmful waterbound bacteria. In addition, Emerson claims its modeling for the CEC compliance program demonstrated an 8 to 10 percent reduction in the data center Time Dependent Valuation measure, compared to the water economizer prescriptive option.
The Liebert DSE system design also reduces or eliminates several of the power components associated with water economizers.
"The Liebert DSE system is a great environmental steward," asserts John Peter Valiulis, vice president North America marketing, thermal management, Emerson Network Power. "When used in a typical mid-sized data center of one megawatt load, the Liebert DSE is significantly more efficient than current cooling systems. If deployed broadly in California data centers, the Liebert DSE with EconoPhase could save hundreds of millions of gallons of water every year."
Data center airflow expert Upsite appoints former Staples exec as sales, marketing VP
Upsite Technologies, Inc., a specialist in data center airflow management systems, announced the appointment of Alan Zoldos to the position of vice president of sales and marketing, where, according to a company statement, he will be responsible "for designing strategies to support the company's partners in increasing distribution and channel sales growth, while identifying and developing new global verticals, and directing and coordinating sales and corporate messaging."
In his new role, Zoldos brings to Upsite more than 25 years of experience in technology, business, and commercial solution sales. Most recently, he was vice president of sales for the technology solutions team at office-supplies retailer Staples, where he oversaw a nationwide team of business-to-business sales representatives and was responsible for driving sales to commercial accounts. In addition, Zoldos played an instrumental role in implementing a number of new initiatives.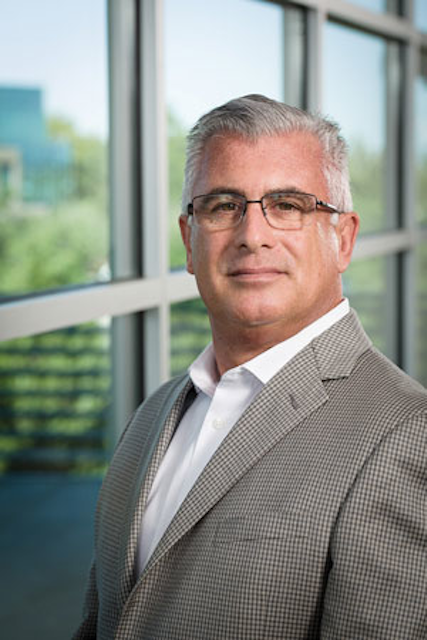 "Upsite has positioned itself as one of the leading providers of data center airflow management optimization," Zoldos commented. "I look forward to directing a seasoned sales and marketing team to help Upsite grow new initiatives as the next step in their successful global expansion."
Prior to its acquisition by Staples, Zoldos was vice president of sales for Corporate Express's technology division, where his accomplishments include scaling the company's data center business to become a respected and valued supplier to many enterprise customers. He has also worked in technology startups with computer hardware and peripheral distribution companies.
"Al's robust experience with b-to-b technology sales, along with his long track record of growing new revenue streams, will be a great asset to Upsite as we broaden our global reach," said Peter Crook, president and CEO of Upsite Technologies. "We are delighted that he has joined and will utilize his expertise as part of our strategic plan to grow our domestic market and penetrate new foreign markets."
Earlier this year, Upsite Technologies' AisleLok Modular Containment system was named winner of the "Bright Idea" category at the 2015 Modern Infrastructure Impact Awards. The company also recently released its Environmental Monitoring System 200, a wired sensor network manager designed to track a variety of threats in data centers and mission-critical facilities.
TIA, Project 25 partner on interoperable public safety communications standards
The Telecommunications Industry Association (TIA) and the Project 25 Technology Interest Group (PTIG) have formally announced a friendship agreement to facilitate communication regarding standards development for interoperable radio communications systems and equipment for public safety. PTIG is a non-profit organization made up of individuals and organizations who share the mutual interest of advancing the refinement, development, deployment, and applications of the digital communications technology represented by Project 25 (P25) industry standards.
Stephanie Montgomery, vice president of technology and standards for TIA, comments, "Today, the P25 standard for interoperable public safety communications is a robust technology solution deployed in more than 80 countries. Part of what makes this standard a success is that the technical work is informed by the user community and PTIG. This input and feedback allows TIA to address the specific needs of public safety communications professionals and advance the technology."
The P25 standard was developed by state, local and federal representatives and is governed by TIA's Mobile and Personal Private Radio Standards Engineering Committee (TR-8). Radio equipment that demonstrates compliance with the P25 standard is able to meet a set of minimum requirements for public safety needs.
Del Smith, operations manager for Alaska Land Mobile Radio Communications, and chairman of PTIG, asserts, "P25 technology has been very instrumental in the advances in public safety communications and interoperability we have seen over the years. The PTIG was formed to further this technology. By providing a forum for vendors and the public safety communications community, PTIG will continue to inform TIA's technical work to further build on and improve the P25 standard."
Panduit appoints Tom Donovan as new president and CEO
Panduit recently promoted Tom Donovan to president and chief executive officer. Donovan most recently served as the company's president and chief operating officer.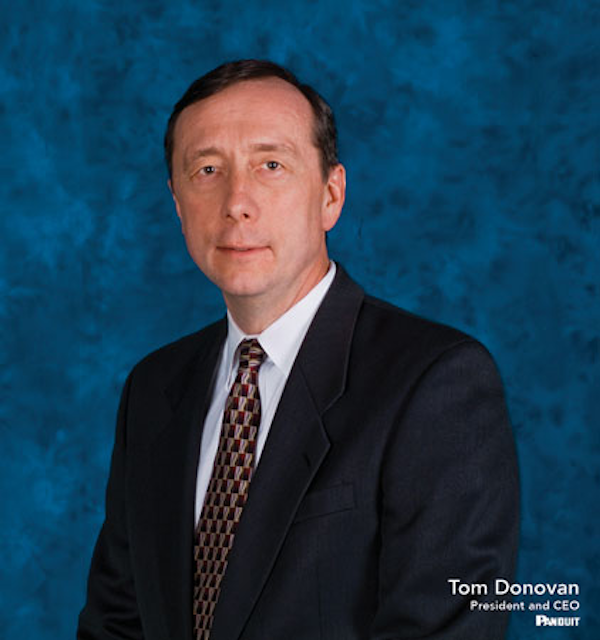 Donovan joined Panduit in 1982 and was named president and COO in 2013. He is a graduate of the Illinois Institute of Technology, with a bachelor's degree in Mechanical Engineering, and holds an MBA in Industrial Management.
"I am honored to have been chosen to lead the Panduit organization into the next chapter of its 60-year history," said Donovan. "I look forward to working with our partners and employees to build new business capabilities, develop industry-leading innovation and to continue enhancing our performance around the world."
Report: Ecosystem to monetize WiFi nearly 400 million strong
New data from ABI Research indicates that service providers and enterprises continue to find new revenue opportunities in WiFi, as the number of installed access points ramps up to nearly 400 million commercial and enterprise units by 2019. Emerging technologies like Hotspot 2.0, VoWiFi, and 802.11ac in the WiFi space support further development of the current business models and encourage business model innovation, says the firm's new report.
"Collaboration between different stakeholders is essential to create new business models and expand the value chain in order to maintain continuous profit for all parties," asserts Ahmed Ali, research analyst at ABI Research. "Service providers and enterprises have direct relationships with end-user customers and therefore play an important role in aggregating valuable data and controlling the delivery channels for products like mobile ads and apps. The potential B2C segment is extensive and ranges from small local shops to large international brands."
The research adds that many businesses in different verticals like retail and hospitality have dropped the fees on WiFi usage and have started offering it as a free amenity service, in order to attract more footfalls, increase customer satisfaction and eventually generate more sales and activity. Furthermore, data analytics and targeted advertising provide tools for hotspot owners to increase the value of their networks, enhance end-user experience, attract strategic partners, and create a collaboration ecosystem.
"Bringing together the supply from hotspot owners with the demand from various businesses creates an expanding B2B ecosystem of innovative solution providers," adds ABI's Ali. "We find app developers, platform providers, advertising agencies, and marketing firms are all examples of companies that seize many opportunities in the WiFi market."
The findings are part of ABI Research's Carrier and Managed WiFi Market Research.