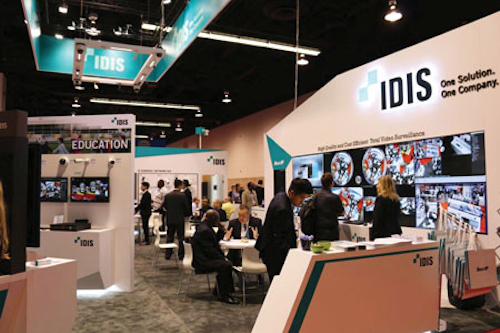 Video surveillance specialist IDIS debuts at ASIS 2015
IDIS made its debut at the ASIS 2015 security expo, held September 28 to October 1, showcasing its total video surveillance solution.
At the show, alongside the company's DirectIP surveillance technology, IDIS highlighted the fruits of its industry-responsive R&D/engineering focus, including what it claims is the world's highest performing NVR, its 360-degree Fisheye Camera with de-warping and digital zoom technology, and the DirectCX, a comprehensive HD over coaxial cable offering.
"We are very excited to be here at ASIS for the first time, and to have the chance to show visitors how the comprehensive IDIS total solution-fully designed, developed, and manufactured in house-delivers unprecedented ease of installation and use, bringing down total cost of ownership significantly," said Keith Drummond, senior director of U.S. sales for IDIS.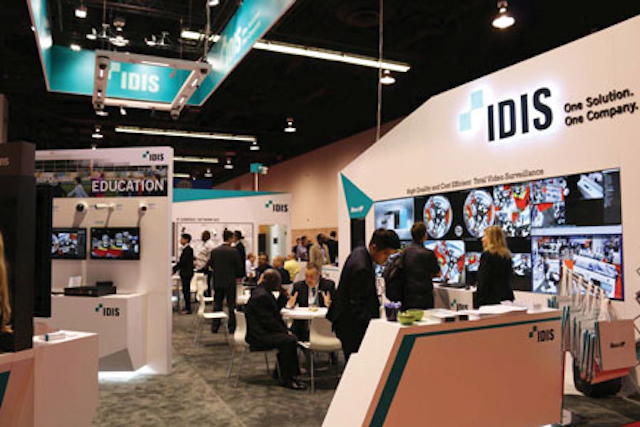 The IDIS DirectIP range of cameras, monitors, NVRs, and accessories "leverage a revolutionary NVR-based approach to bring greater simplicity, performance, and affordability" to video surveillance applications, the company says. The DirectIP technology was presented with the IDIS Solution Suite (ISS), a scalable and flexible VMS "that works across all recording platforms in a modular manner that delivers customized feature sets at an affordable price point," added the company.
Also showcased at ASIS 2015 was the IDIS DirectCX platform, a high definition surveillance system for coaxial cable installations, supporting the HD-TVI 2.0 protocol, which offers the opportunity for those with existing coaxial cabling to leverage signature IDIS quality and performance.
Video surveillance solution offerings featured in the IDIS booth at ASIS also included the following: the IDIS DR-6316P-S 4K NVR, offering network throughput up to 310 Mbits/sec (including significantly enhanced image quality on remote clients), leading-edge 4K video out capability, and support for H.265, which allows savings of up to 50 percent in storage space; the IDIS 5MP 360-degree Fisheye Camera, with dual camera- and client-side de-warping technology (including mobile client de-warping), e-PTZ, auto-pan functions, and support for varied image layouts, with 256 independent views.
Instor Solutions launches data center earthquake protection service
Global data center infrastructure specialist Instor Solutions formally announced the company's Data Center Earthquake Protection Service. Designed to help data center owners and operators avoid downtime and rebuilding costs, the new offering uses the company's ISO-Base Seismic Isolation Platform Technology to protect data centers from seismic disruptions.
"With the recent passing of the 26th anniversary of the Loma Prieta earthquake, which had a magnitude of 6.9 and centered within 10 miles of Santa Cruz, now is the time for data centers across California to reevaluate their earthquake disaster strategies and look at the availability of proactive protection plans," said an Instor press release.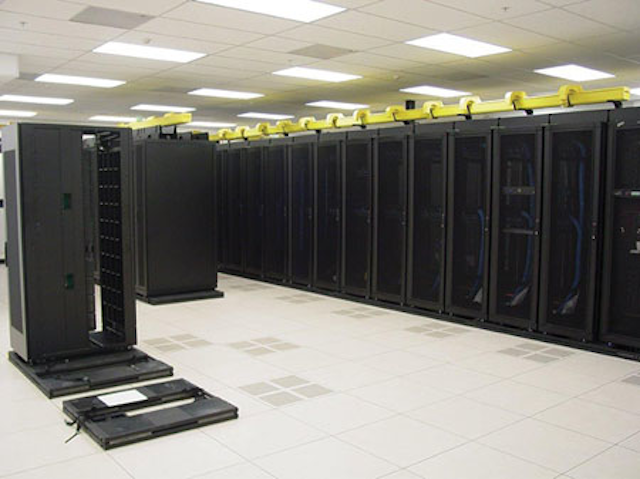 As the exclusive Bay Area provider of the ISO-Base Seismic Platform, Instor believes it is well positioned to assist colocation providers and enterprise data centers with the preservation of their mission-critical operations should an earthquake hit the booming tech region. The seismic base isolation solution works by de-coupling away strong seismic ground motions and vibrations from a structure, eliminating or drastically reducing the path through which damaging shock waves and vibrations can travel.
Allowing for a multitude of design and layout options, each plank assembly of the ISO-Base Seismic Platform includes a top and bottom platform with two Ball-N-Cone isolators, with planks connected with tubing into a front channel. The front load feature of the product allows for easy assembly and the flexibility to add additional planks as data center needs change.
"Technology and our relationship with it have changed since 1989 and we are all now inextricably tethered to the Internet and the data we share across it," points out Jack Vonich, vice president of sales and marketing for Instor Solutions. "If an earthquake with the severity of Loma Prieta were to strike again, how many data centers in Northern California would survive? It's critical for data center owners and operators to be proactive when it comes to seismic events and I'm pleased that Instor now offers a solution to mitigate this threat."
AFL boosts M310 OTDR with new fiber mapping technology
AFL announced that its M310 OTDR is now available with the company's recently introduced LinkMap capability, a technology that interprets the tested network and presents an icon-based view of network elements clearly identifying fiber start, end, connectors, splices, and macrobends.
The M310 is billed as an ideal solution for addressing the many testing challenges associated with data centers and enterprise LAN/WAN networks. With the addition of the LinkMap technology, the M310 OTDR provides greater functionality and simplifies network troubleshooting for enterprise networks, contends the company.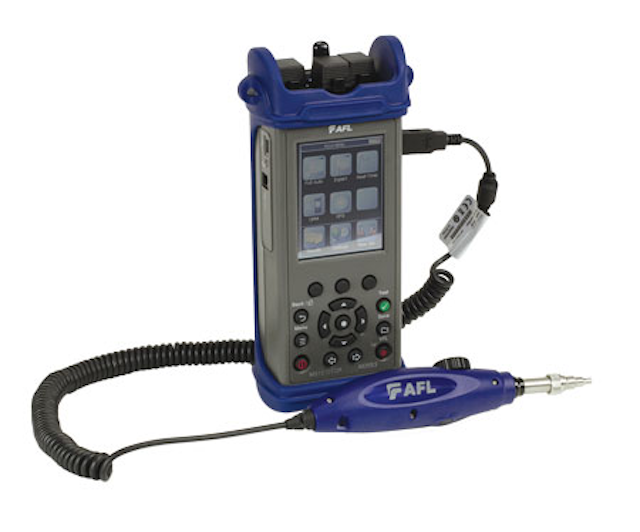 According to AFL, via LinkMap, loss and reflectance of network elements are compared to user-settable pass/fail thresholds and displayed with clear pass/fail indications. Users can instantly toggle between LinkMap and Trace views at the press of a button. Along with launch quality check and integrated macrobend detection capabilities, LinkMap also provides a Link Summary, showing end-to-end link length, loss, loss/distance and ORL indications.
"Adding the LinkMap feature to the M310 provides a more comprehensive OTDR solution for enterprise LAN/WAN customers," comments Ye Rong, OTDR product manager for AFL's test and inspection division. "Being able to visually view events with clearly displayed pass/fail indicators helps technicians by making it easier to identify issues and troubleshoot."
Originally released in 2013, the M310 OTDR accurately locates and measures events on a network, without increasing the likelihood of chasing false events, via AFL's TruEvent technology. Coupled with the M310 Touch and Test touch-screen interface, users can obtain accurate locations and measurements of all events, without the confusing introduction of false events.
No special knowledge, training or test setups are required to achieve these results, notes AFL, saving users both time and money.
Middle Atlantic Products launches all-in-one, tech-ready Hub furniture solution for collaborative A/V spaces
Middle Atlantic Products (MAP) announced the launch of its Hub system, billed as a technology-ready, all-in-one furniture solution for collaboration spaces that is designed to maximize equipment storage and cable management. Created for easy integration, MAP says its Hub is ideal for unified communications and collaboration environments including huddle spaces, active learning spaces, and videoconferencing applications.
"Hub is a direct response to overwhelming interest from our A/V contractor partners for a flexible, comprehensive solution to create collaborative spaces with great ease," says Tim Troast, director of product management for MAP. "Hub offers the complete foundation to optimize performance from the technology and people who use these collaborative spaces. End users get a smart, elegant solution that seamlessly blends into any active environment. Integrators get a comprehensive solution that is easy to buy and simple to install, creating a new revenue opportunity beyond electronics, labor, and services."
Each Hub includes a tabletop featuring a Wiremold InteGreat table box, providing power and data for easy BYOD integration. These are supported by Middle Atlantic's TechPed technology pedestal, featuring integrated Lever Lock plates for small device mounting, and two Wiremold HDMI cable retractors to facilitate connectivity for anyone at the table. (MAP has been part of the Legrand group since Legrand acquired the company in 2011.)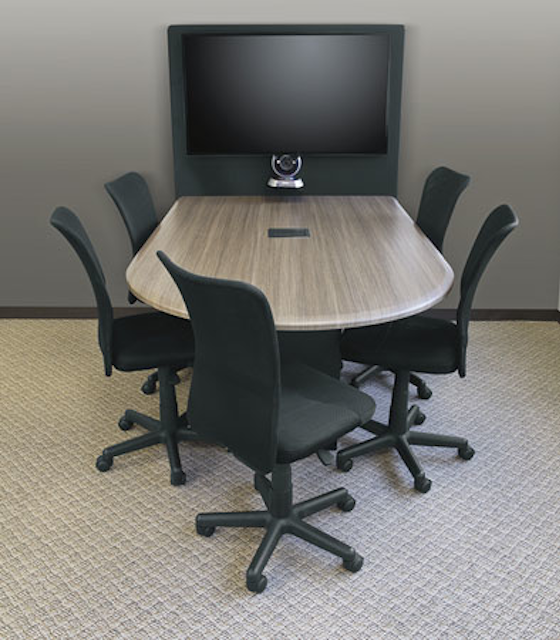 Shipping fully assembled for easy integration, the TechPed also includes 4RU of space with room for additional cable retractors and power distribution with a four-outlet power strip. In addition, the Hub platform includes a wall-mount bracket for flat-panel displays, with an additional four-outlet power strip that mounts to the table bracket for connections close to the display. An optional tower, available in black or white, can be used to mount displays directly to the table in a freestanding configuration.
As a GREENGUARD Gold-certified product designated for use in multiple environments including public, educational, and institutional spaces, MAP notes that the Hub solution is available in more than 50 color options, with a choice of HPL or thermolaminate table finishes. Customers may choose from a range of table configurations to support design flexibility and a variety of applications.
Hub's tabletop is available in two design options: Angle, a trapezoidal shape ideal for videoconferencing, and Bullet, rounded at one end to enable face-to-face collaboration. Table lengths include 6, 7, and 8 feet, accommodating from 5 to 7 people. Each Hub includes an integrated cable trough for tidy cable management and simplified servicing down the line.
Klein Tools' latest all-purpose long-nose pliers combine crimper, wire stripper
Klein Tools has introduced its All-Purpose Pliers with Crimper, positioned as a more durable wire stripping implement that also has the functionality of a long-nose pliers and crimper, combined in one tool.

Key features of Klein's All-Purpose Pliers With Crimper (Cat. No. J207-8CR) include the following: cuts and strips 10-18 AWG solid and 12-20 AWG stranded wire; long nose grabs and loops wire; includes shearing holes for 6-32 and 8-32 screws; crimps non-insulated connectors, lugs and terminals; forged steel for maximum durability; induction-hardened cutting knives for long life; hot-riveted joint ensures smooth action and no handle wobble; dual-material journeyman handles provide a firm grip and added comfort.
"Multi-functional tools, like the All-Purpose Pliers with Crimper, are becoming more popular among electricians," notes product manager David Klein. "These products save time, save money, and save space on the belt or in the bag, making them more efficient and effective tools."
CommScope's mini Rapid Fiber cable, connectivity products help speed MDU installations
During the SCTE Cable-Tec Expo held in New Orleans October 13 to 15, CommScope introduced its enhanced fiber wall box portfolio, designed to simplify installation and reduce the cost of taking fiber deeper into both multi-dwelling unit (MDU) and single-family dwelling unit (SFU) environments.
As part of the recently acquired Broadband Network Solutions (BNS) business from TE Connectivity, CommScope notes that the new offering of fiber wall boxes is available in multiple sizes and configurations for splice, connectorized and indoor/outdoor applications; provides an end-to-end solution for in-building construction; and addresses the need for targeted installation budgets.
The new product line comprises the following elements.
CommScope's mini Rapid Fiber distribution terminal (RDT), previously only available for indoor MDU applications, is now available for outdoor use. Using CommScope's RapidReel cable spool, the mini RDT can deploy several hundred feet of 3.6-mm indoor/outdoor cable. The far end of the cable terminates to a 12-fiber multifiber push-on (MPO) or hardened multifiber optical connector (HMFOC), which ensures faster cable routing and equipment terminations by the technician. The RapidReel cable spool, multi-fiber cable and connector technologies help reduce site survey inspections, streamline cable inventory requirements and speed overall MDU installations.
To support cascaded MDU architectures, the mini RDT indoor model is also now available with a 1x4 or 1x8 integrated splitter option. A single optical fiber cable feeds the mini RDT, which splits the signal up to eight available SC plug-and-play adapter ports. To turn up service, installers use preconnectorized drops to quickly feed up to eight living units per floor. All-front access to customer terminations ensures easy maintenance, changes and additions for technicians.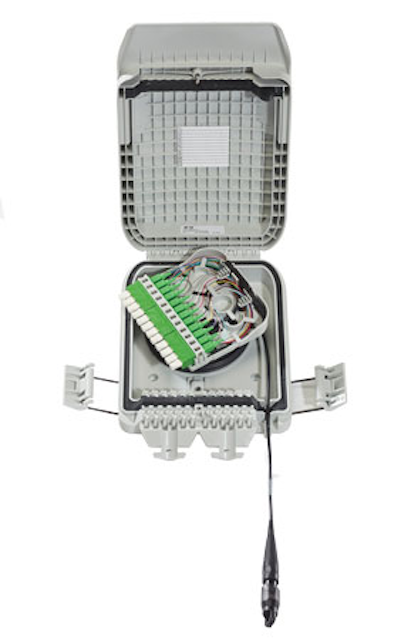 Next, the company's optical wall box (OWB-S) is an outdoor fiber termination solution for connecting fiber-to-the-home (FTTH) devices, but it can also be used in other outdoor above-ground applications. Built for mechanical and environmental protection, the OWB-S offers flexible options for fiber storage, splicing, patching and passive component integration in a small footprint. The OWB-S offers multiple cable access points for indoor/outdoor applications. A simple hinge and latch design ensures quick and easy technician access. For security applications, the OWB-S includes an optional padlock.
"CommScope recognizes the unique challenges of bringing fiber into the MDU and SFU," comments Jaxon Lang, general manager and vice president, BNS, CommScope. "Service providers have targeted budgets and timelines to work with. We can help by offering products with the flexibility to adapt to a variety of building types and environments. With the expansion of our fiber wall box portfolio, we give our customers more choices for bringing fiber deeper into the home or business without exceeding their budget or having to sacrifice anything in network performance and reliability."
TIA adds new 7 members, expands board to include Viavi, CommScope
The Telecommunications Industry Association (TIA) recently announced that its board of directors has approved Jaxon Lang, vice president for broadband network solutions at CommScope, and Susan Schramm, vice president of sales and channel effectiveness at Viavi Solutions, as new board members.
CommScope recently acquired TE Connectivity's telecom, enterprise and wireless businesses. Viavi Solutions, formerly JDSU, is a provider of software and hardware platforms and instruments delivering end-to-end visibility for wireline, wireless and cloud service providers, enterprises and equipment manufacturers.
"Jaxon and Susan are both strong and experienced leaders within the information and communications technology industry and their guidance will be invaluable as we continue to grow," said TIA's CEO Scott Belcher. "I look forward to working closely with them to advance TIA's presence on behalf of our members."
The TIA also announced it has added a diverse group of 7 new member companies. The TIA's board of directors approved the new members, who represent a broad range of businesses in the information and communications technology (ICT) industry. TIA says the new members add diversity to the organization by providing engineering consulting, data storage and machine-to-machine communications solutions, cabling technologies, and cutting-edge research in connected vehicles.
The new TIA member companies announced are: Beveridge and Diamond; Layer 3 Technologies; Sierra Telecom, Inc.; Syston Cable Technology; Tower Consultants, Inc.; University of Michigan Transportation Research Institute; and Walker Engineering Inc.
"The ICT industry is changing rapidly and every day a new technology is being created that relies on the connectivity of the network our members build," concluded TIA's Belcher. "TIA's broad membership base is an added value to each individual member company as we collectively leverage our market insights and perspectives to navigate this sea change. These new members are a continued sign of TIA's growth, and our strength as the voice of modern communications networks."
General Cable's GenSpeed products first to achieve UL's LP listing for high-power PoE products
General Cable announced that its GenSpeed brand data communications cables are the first in the industry to achieve the Underwriters Laboratories (UL) LP listing for efficient operation in high-power Power over Ethernet (PoE) applications.
The company notes that, "over the past decade, PoE has become a viable powering option for a wide range of applications. Anticipating future standards, device manufacturers are pushing the envelope and designing more sophisticated equipment that demands increased power."
General Cable adds that UL's new LP listing, which stands for Limited Power, provides a simple way to ensure installations are futureproofed against ever-increasing PoE standards, and not susceptible to performance issues caused by heat generation. The listing accounts for large bundle sizes, high ambient temperatures and other issues related to environmental effects such as enclosed spaces or conduits.
The new LP listing is denoted as a suffix and is followed by the ampacity rating of the particular cable.
According to General Cable, the following products from the company are the industry's first cables to be certified LP, along with their respective rating and the wattage they support when using 50 volts over four pairs.
GenSpeed 6 Category 6 (Plenum) - UL Listed CMP-LP (0.5A) supporting up to 100 watts
GenSpeed Brand's EfficienC Max Category 6 (Plenum) - UL Listed CMP-LP (0.6A) supporting up to 120 watts
GenSpeed 10 MTP Thin-Profile Category 6A featuring EfficienC Max technology (Plenum) - UL Listed CMP-LP (0.7A) supporting up to 140 watts
"With PoE technology becoming more established, General Cable has led the industry in providing cables that support the advancements," concludes Scott Brown, director of technical services, communications products, General Cable. "When the new listing became available, it only made sense to work with UL Wire & Cable to have the first UL CMP-LP listing, which will make choosing cables to ensure the future performance of a system easier."
General Cable manufactures a wide range of the high performance GenSpeed brand copper data communications cables and NextGen brand fiber-optic cables. u
FairPoint's data center risk assessment questionnaire covers 9 critical areas
FairPoint Communications, Inc., a provider of advanced communications technology in northern New England, has developed a new customer resource questionnaire that assists with assessing the risk of municipal data center operations.
"In today's complex world, municipalities face a variety of threats associated with their data center operations, especially when they are located on premises," says Chris Alberding, FairPoint Communications' vice president of product management. "The level of the risk depends on how effectively the data center and its staff address a number of issues."
The FairPoint risk assessment questionnaire is designed for local governments and covers nine critical areas of data center operations. These areas include:
Location of compute and storage resources
Disaster recovery plans
Physical security
Compliance
Power infrastructure reliability
Environmental controls
IT talent
Scalability
Access to network services
"Looking at the most critical issues, FairPoint's Risk Assessment Questionnaire for Municipalities helps municipalities assess their data centers' potential vulnerabilities," continued Alberding. "By answering nine questions, municipalities will gain valuable insight into their data center operations."
Non-metallic expansion/deflection couplings ruggedize RTRC fiberglass raceways
Developed for polyvinylchloride (PVC) systems, the T&B Fittings Non-Metallic Expansion/Deflection Couplings from Thomas & Betts (T&B) are now compatible with fiberglass raceway, also known as reinforced thermosetting resin conduit (RTRC), when bonded with methacrylate adhesive.
"The use of a methacrylate adhesive has enabled the expansion of the couplings' applications beyond PVC systems to include RTRC systems," comments Ralph Donati, product marketing director at T&B. "Contractors now have the option of using T&B's non-metallic expansion/deflection couplings in applications that require the strength and light weight of fiberglass. Their use with RTRC has been successful in pullout and water-tightness testing."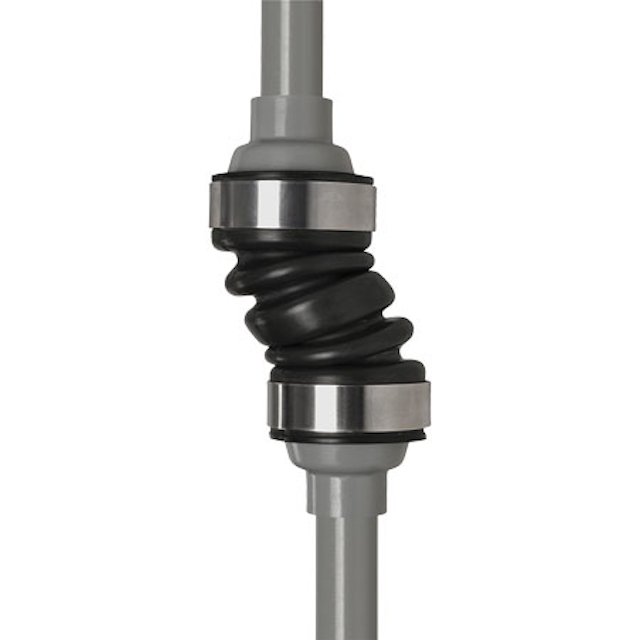 The company says its T&B Fittings Non-Metallic Expansion/Deflection Couplings provide flexible connections of PVC and fiberglass conduit runs that resist moisture ingress and stress caused by movement at structural joints. They safely accommodate axial or parallel movement of up to ¾ inch, and angular deflection up to 30 degrees from the relaxed position.
The couplings may be used indoors or outdoors, for direct burial or embedded in concrete, and where a raceway crosses a structural joint intended for expansion, contraction or deflection in buildings, bridges, parking garages, piers, hospitals, and water and waste water treatment plants. The couplings are NEC compliant and UL approved.
California's PCC Network Solutions named authorized BICSI training facility
PCC Network Solutions (PCC) announced that its PCC Network Solutions Education Center has been certified as a BICSI Authorized Training Facility. The announcement renews a training agreement between PCC and BICSI first established in 2000.
Founded in 1985 and headquartered in Chatsworth, CA, PCC Network Solutions is a design-build contractor specializing in low-voltage structured cabling systems supporting data, voice, and physical security networks. At the Education Center, certified BICSI technical training is conducted for PCC technicians, along with independent students throughout the West Coast.
"Throughout our history, PCC has advocated the highest technical training standards in the industry," said Dave Burr, PCC's founder and CEO. "We're privileged to offer certified BICSI technical training to all interested students in our Chatsworth, CA Education Center."
PCC operates regional offices in Anaheim, CA; Scottsdale, AZ; and Lewisville, TX.
OFS says TeraWave ULL fiber offers longer optical reach, lower loss for 400G, terabit networking
At the ECOC 2015 tradeshow, held in Spain September 27 to October 1, fiber-optic network products specialist OFS announced an expansion of its terrestrial long-haul product line with the addition of its TeraWave Ultra Low Loss (ULL) fiber, which the company says supports a 50 percent greater effective area than G.652.D fiber, and less than 0.17 dB/km loss at 1550 nm.
Aimed at the growing market for terabit transport, OFS's TeraWave ULL fiber offering is an ultra-low loss version of the company's TeraWave fiber, designed to improve the performance of long-distance coherent systems. OFS says the TeraWave fibers can enable greater transmission distances with more wavelengths than ITU-T G.652.D fibers, reducing the need for signal regeneration.
OFS' G.654 terrestrial product line was launched with TeraWave singlemode fiber in April 2014 with low optical loss (less than 0.19 dB/km at 1550 nm) to improve the system power budget. With the introduction of the TeraWave ULL fiber, the loss has been further reduced to 0.17 dB/km at 1550 nm.
OFS contends that its TeraWave and TeraWave ULL fiber offer a combination of an optimized effective area of 125 square microns, excellent cabling performance, and reduced attenuation, as compared to conventional ITU-T G.652.D singlemode fibers. These benefits improve coherent transport, including higher spectral efficiency at 100 Gbits/sec and improved regeneration distances at 400 Gbits/sec.
Pierre Marty, vice president of sales and marketing for OFS, comments, "OFS has a long heritage of development and commercialization of optical fibers specially designed for submarine and long-haul applications. Building upon this experience OFS is now offering our customers longer optical reach enabled by TeraWave ULL fiber, which can provide 50 percent farther reach than the best G.652.D fiber. This means fewer regeneration sites, which helps our customers save capital costs in building their terabit networks."