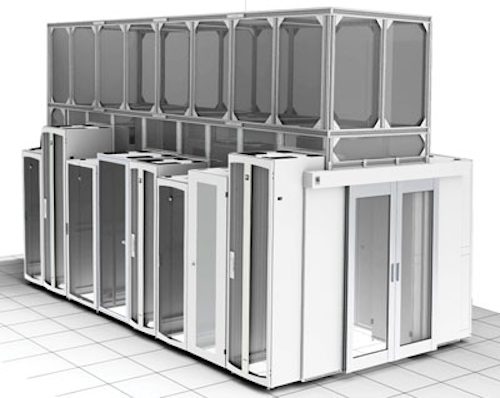 From the June 2015 Issue of Cabling Installation & Maintenance Magazine
Some aspects remain the same, such as whether to contain the hot or cold aisle, while others evolve, like how to deal with various cabinet heights.
In some ways, the challenges of keeping data center equipment sufficiently cool are the same they have been for some time. In other ways, the challenges evolve with overall data center trends. For example, discussing whether an isolation strategy should contain the hot aisles or the cold aisles is like a debate about the world's greatest (baseball player, rock band, etc.). The conversation is timeless and no matter when it's being discussed, there's a case to be made for either side.
While not coming down squarely on one side or the other, some providers of equipment used for aisle containment provide information acknowledging the benefits of each. Simplex Isolation Systems (www.simplexstripdoors.com) says, "There is a huge discussion in the industry about whether it makes more sense to isolate the hot aisle or the cold aisle. Different data center experts advocate different theories. The reality is your decision on this question, especially in a legacy data center, is largely decided by your existing infrastructure. Where is the cold air coming from? Where does the warm air have to go in order to be exhausted from the data center or rerouted back into the HVAC or CRAC units? Certain factors will dictate whether you isolate the hot aisle or the cold aisle. Every case is site-specific."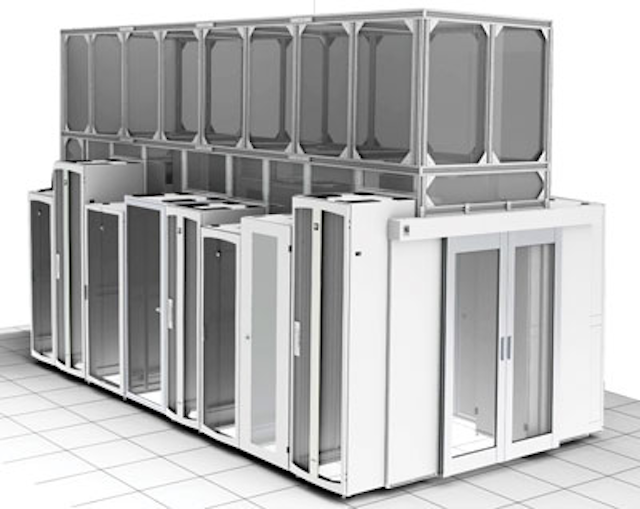 Chatsworth Products Inc.'s Build To Spec Kit, a hot-aisle containment system, accommodates the "skyline" look of rows that contain cabinets of various heights.
Polargy (www.polargy.com) describes the options as follows: "Hot aisle containment focuses on isolating hot exhaust air on its return to the CRAC units or on its way out of the building. And this method of containment is clearly the trend for most new enterprise data center builds. Why do so many architects and engineers prefer and specify this method of air segregation? Three reasons. One, with the often-accompanying energy efficiency measure of airside economization, designs that flood the whole room with cold air are easy to build. Two, it is much easier to achieve airflow balance with a common cold zone. Three, a common cool area in the space is more comfortable for users. For these reasons, containment on the hot side sees wide adoption in new data center builds."
Of cold aisle containment, the company says it "confines the cold supply air within the aisle so that it is only available to the equipment and cannot escape out the aisle ends or over the top of the aisle. The most common model of this containment approach is aisle end doors and roof panels on a raised floor with perimeter CRACs. Cold aisle containment is widely used on retrofits of existing sites because the roofing approach can avoid the need to modify fire suppression, and fits below existing cable trays and other obstructions. Colocation and wholesale providers like this model because it provides flexibility for layout changes. With individual contained cold aisles, it is particularly important to monitor and balance the airflow within the aisles. And in all cases, the roofing model needs to be approved by the local fire marshal."
Simplex brings cabling into the conversation: "Data center managers can spend a lot of energy, time, and money making sure they have sealed off the wide open walls in a data center, but they will overlook the small area above a rack or wiring loom, or the hole in a Plexiglas wall through which wires and cables pass. But air is like fluid in a data center. It will take the path of least resistance and you will experience serious leaks in these overlooked areas as cool air comes rushing through to mix with the warm air. Specially designed short curtains and brush seals can be used to close off these areas."
Simplex and Polargy both offer curtains as well as doors and other air-isolation products and systems for the purposes described here. Another provider of isolation products and systems, Upsite Technologies (www.upsite.com), recently added to its cadre of offerings to accommodate the fact that some data centers are installing racks taller than 42U in height. In November, Upsite announced that its AisleLok Modular Containment line of products includes bidirectional doors and adjustable rack-gap panels in 42, 45, and 48U heights. The company said it launched these new sizes in response to the growing demand for taller equipment cabinets.
Upsite's senior engineer and science officer, Lars Strong, took to the company blog in December to explain the need for, and implications of, taller cabinets or racks. "On top of the challenges that are accompanied with installing taller racks, cable management also becomes a significant problem," he explained. "The taller the racks, the more servers can be deployed, and the more cables you have. Cable management must be done well and kept tight, straight, and to the side of enclosures to allow clearance for exhaust air to freely leave the cabinet.
"However, even if cables are properly managed, sometimes there just simply is not enough space in the back of the cabinet. This increases the demand for wider and deeper cabinets to accommodate more cables … When taller racks are installed in a row, very rarely is the entire row changed out. Most of the time taller cabinets are added to existing rows of shorter cabinets, creating a 'skyline' effect. This creates challenges for the installation of containment systems."
Strong continued, "At the aisle level, it's common for there to be just enough conditioned airflow to meet the IT airflow demand. In these situations [taller cabinets containing more equipment] the volume of conditioned air delivered to the aisle will need to be increased before additional IT equipment can be added. This usually only requires better management of the open areas in the raised floor to direct the air where it's needed."
Chatsworth Products Inc. (CPI; www.chatsworth.com) offers the Build To Spec (BTS) Kit as part of its hot-aisle containment portfolio. The company offers separate hot-aisle and cold-aisle containment systems.
The BTS kit addresses the "skyline" situation in which a row contains cabinets of various heights. According to CPI, the BTS kit "includes all the components needed to construct a ceiling-supported or cabinet-supported duct to capture and direct airflow in the contained aisle. This design adapts to a mix of cabinets and allows cabinets to be changed when required."
For facilities that use the BTS Hot Aisle Containment Solution, CPI advises, "The specific combination of components needed to create a complete solution will depend on a number of factors, including room layout, ceiling height, and what types of cabinet models are selected." The company also offers a pre-installation site survey, during which a technical representative from CPI visits the deployment site to provide a detailed recommendation. CPI also offers supervision services for the on-site installation of the BTS Hot Aisle Containment Kit.
Upsite's Strong sums up: "The trend towards taller, deeper, and wider IT equipment racks continues to grow with increasing business and customer demands. Although this growing trend often allows for better space utilization, it doesn't come without its challenges. In order to ensure the effectiveness and efficiency of installing larger cabinets, a rigorous and holistic approach to layout and cable and airflow management must be taken."
Carrying out such an approach may incorporate some combinations of the tools discussed here. ::
Patrick McLaughlin is our chief editor.