Fuji Electric unveils data center UPS for North American market
Aimed at medium-to-large mission critical applications, Fuji Electric's UPS7000HX-T3U series of uninterruptible power systems for North America is available in 300-, 400-, and 500kVA models.
Aug 25th, 2015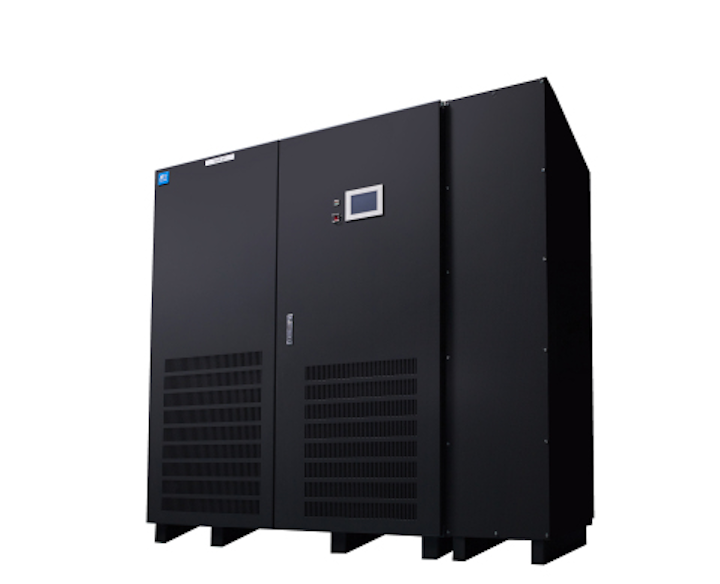 Fuji Electric Corp. of America announced that it will enter the North American uninterruptible power systems (UPS) market with a new model, aimed at the growing data center segment. The UL-certified UPS7000HX-T3U Series is offered in 300, 400, and 500kVA power ratings and is built on an open architecture for ease-of-installation and convenient service, says the company. The 480V 3-phase 3-wire transformer-less UPS is based on the manufacturer's proprietary Reverse Blocking IGBT (RB-IGBT) technology, achieving efficiency ratings of over 97%.

"Fuji Electric has been manufacturing and selling UPS products in the overseas market for over 30 years, so our expansion into North America was a natural progression for us," says Phil Charatz, President and CEO of Fuji Electric Corp. of America. "The protection of valuable data is critical in today's world, and the statistics regarding the cost of power outages to data centers are staggering. We are excited about this product launch, and we look forward to providing data centers and other mission critical applications with the peace of mind they need."

As stated by Fuji Electric, the UPS7000HX utilizes Advanced T-type Neutral Point Clamped 3-level circuit topology, which provides superior efficiency and effectively reduces the total cost of ownership. By adopting the patented RB-IGBT technology, the company says it has achieved reduction in power losses, and has reduced the total number of components in the system.
As part of its channel strategy for the new product, Fuji Electric says it will partner with both national and regional integrators and service providers to penetrate markets that require mid-to-large sized uninterruptible power systems.
"Our goal is for customers to experience the advantages of working with a global manufacturer, while receiving the kind of support you typically expect from smaller companies," concludes Gareth Davis, the newly appointed UPS Department Manager for Fuji Electric Corp. of America. "Fuji Electric's people are what set us apart, and we are focused on developing strong, long-lasting relationships with our customers as we enter this market."

For more information, visit www.americas.fujielectric.com.