Opinion: 24-fiber connectivity still the long-term answer
Leviton's Gary Bernstein says 8-fiber-based systems, unlike 24-fiber connectivity, require data centers to rip-and-replace their cabling.
Aug 6th, 2015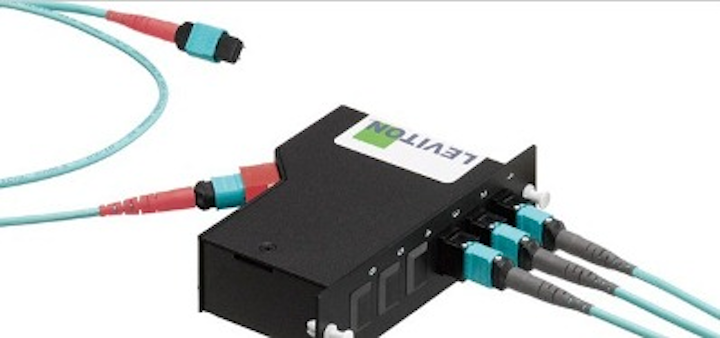 In a post to the Leviton Blog, the company's senior director of product management, Gary Bernstein, comments on the recent emergence of 8-fiber-based connectivity systems for high-speed networking; he asserts that 24-fiber-based connectivity remains the best long-term solution for data centers. The blog post highlights the company's Opt-X Unity 24-fiber MTP-based system (pictured).
In the post, Bernstein explains, "In April 2015 the IEEE published a new standard, IEEE 802.3bm, that defines requirements for 100GBase-SR4. The new standard reduces lane count from 10 lanes at 10GbE to 4 lanes at 25GbE, requiring only 8 total fibers instead of the 20 needed for 100GBase-SR10 … Recent trends suggest using an 8-fiber-based MTP system. These systems claim to support easy migration to 40G, 100G, and 400G, with 100-percent fiber utilization. However, to move forward with this type of migration solution, data center managers would need to rip out their existing cabling infrastructure and replace it with a proprietary 8-fiber-based system. But investing in a brand new cable infrastructure is a costly endeavor, and many data center managers are hesitant to make that level of commitment."
He says a more ideal solution would be to install a cabling infrastructure that can provide the flexibility to meet a data center manager's current needs and retain the ability to adapt to higher-speed applications as they emerge without replacing the entire infrastructure. A 24-fiber-based infrastructure represents that more ideal solution, he says.
Leviton introduced the Opt-X Unity 24-fiber system in early 2011 and since then, Bernstein explains, the company "has continued to develop new innovations that support easy migration to 10/40/100G transceivers; use 2, 8, 20 and/or 24 fibers to provide 100-percent fiber utilization; provide maximum flexibility; and offer higher density with fewer trunk cables required." He adds that the company recently worked closely with Berk-Tek to enhance the system, such as the availability of fiber trunks with Berk-Tek's Micro Data Plenum cable.
He concludes, "As new trends emerge that require greater bandwidths, more 100G and 400G transceivers are expected to be introduced. For data center managers, it will be critical to maintain their investment in cabling infrastructure while having the flexibility to support these new applications. Why invest in a system that only satisfies the next step of migration trends?"