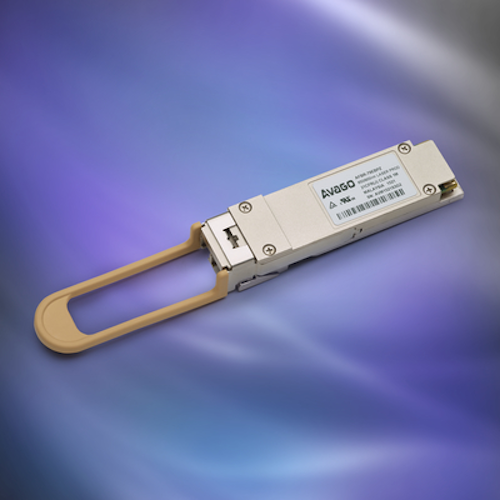 Avago Technologies (NASDAQ: AVGO) has announced the general availability of its 40G bidirectional (BiDi) multimode fiber (MMF) QSFP+ transceiver module, the AFBR-79EBPZ, designed for high-speed data center interconnect and networking applications.
According to the company, the AFBR-79EBPZ supports 40GbE data transfer over 100 meters of OM3 fiber or 150 meters of OM4 fiber. Based on 2x20G BiDi optics, the new module enables 40GbE links on existing installed LC duplex multimode fiber of 10G networks, providing a cost-effective upgrade path to 40G Ethernet in the data center.

"Our 40G BiDi transceiver technology is an important breakthrough that has facilitated many of our end customers to transition from 10G to 40G networks to meet the ever increasing demand for bandwidth," comments Philip Gadd, senior vice president and general manager of the Fiber Optics Product Division at Avago. "With the general availability of Avago 40G BiDi MMF QSFP+ transceiver, there will be an accelerated market adoption of 40G Ethernet for data centers."

Compliant to the 40GbE XLPPI electrical specification per IEEE 802.3ba-2010, as well as to the QSFP+ SFF-8436 specification, Avago's 40G BiDi MMF QSFP+ transceiver is billed as a field-proven 40G bidirectional fiber optics solution that provides for seamless and cost-effective transitioning from 10G to 40G Ethernet using existing 10G MMF cabling infrastructure. The company notes the new transceiver module operates over two fibers via LC connector, as opposed to over 8 fibers with and MPO connector, as with conventional 40G QSFP+ MMF solutions.

"40G Ethernet is an important technology in the data center as enterprises transition the aggregation/spine layers of their network towards higher speeds," asserts Alan Weckel, vice president of Ethernet Switch Market research at Dell'Oro Group. "As this transition occurs, we expect 40G Ethernet switches to surpass 10 million ports in 2017, almost a four-fold increase from 2014 levels, especially with the increased availability of high ROI-, low-TCO solutions that leverage the existing 10G cabling infrastructure."

Avago has shipped high volume production quantities of the 40G BiDi fiber optics solution and is now accepting orders for the module. Learn more about Avago's AFBR-79EBPZ transceiver.